The PFF team has made their rounds across every snap of the FBS weekend and it's now time to highlight the best performances of what proved to be a wild week of action. There are a few familiar names as well as a few new additions to the list — even a couple of players who many finally be living up to their high preseason expectations.
Let's have a look at the Week 5 Team of the Week.
Quarterback: Greg Ward, Jr, Houston 87.6
One of the best rushing quarterbacks in the nation came out with one of the best passing games of his career as Ward picked apart the UConn defense, completing 32 of his 38 attempts for 389 yards and three touchdowns. Ward tacked on another 74 yards on 10 carries for two scores in one of the best all-around quarterback performances we've seen this season.
Running back: Shock Linwood, Baylor 85.6 and Jamaal Williams, BYU 84.0
Bouncing back from a six-snap outing in Week 4, Linwood was dominant in Baylor's running game, finishing with 237 yards on 25 carries (9.5 yards per carry) including 179 of those yards coming after contact (7.2 yards after contact per rush). He forced seven missed tackles as a runner to lead the nation this week. Williams continued his strong season with a five-touchdown performance against Toledo that included 151 of his 286 yards coming after contact and five forced missed tackles.
Wide receiver: Calvin Ridley, Alabama 85.5 and JuJu Smith-Schuster, USC 81.8
Ridley made the most of his 17 targets, catching 11 for 174 yards and two touchdowns. He made plays in the short, intermediate, and deep game as the focal point of the Alabama passing game. Smith-Schuster had his best game of the season, finding the end zone three times while catching seven of his eight targets for 123 yards.
Slot: Linell Bonner, Houston 84.2
Bonner caught all 12 of his targets for 159 yards, including a five-for-five effort for 110 yards on passes thrown at least 10 yards in the air. His 4.80 yards per route from the slot ranked second in the nation this week.
Tight end: Josiah Price, Michigan State 85.1
It's not all about glamour at the tight end position as Price earns this week's award on the strength of his run blocking. His 81.8 run blocking grade ranked third in the nation while he complemented it with four receptions including a touchdown.
Offensive tackle: Brendan Mahon, Penn State 86.5 and Roderick Johnson, Florida State 82.9
Mahon simply didn't lose in the run game on his way to the best game of his three-year career. He allowed one hit on his 49 attempts in pass protection. Johnson had a clean day on his 36 pass-blocking attempts, but it was his second level in blocking in the run game that stood out in Florida State's loss.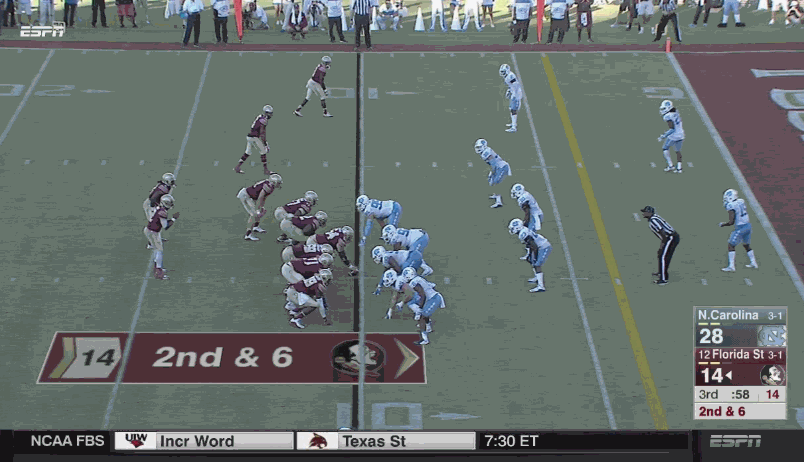 Guard: Josh Boutte, LSU 86.8 and Cody O'Connell, Washington State 82.1
Boutte didn't allow a pressure on his 31 attempts while creating holes in the run game at the line of scrimmage, as a puller, and at the second level. O'Connell was a key cog in Washington State's surprisingly dominant run game and he performed well in the run and pass game while also doing a nice job in the Cougars' screen game.
Center: Pat Elflein, Ohio State 84.1
Elflein has had his struggles in his move from guard to center but he put together his best game of the season. It was his first pressure-free game in pass protection on his 33 snaps and he had his way with Rutgers' defensive tackles and linebackers in the run game.
Defense
Edge rusher: Rashad Dillard, Troy 87.6 and Marquis Haynes, Ole Miss 86.7
Quietly one of the nation's best pass-rushers this season, Dillard pressured the quarterback on 12 of his 32 pass rushes against Idaho, including three sacks and nine hurries. Haynes had his best pass rushing day of the season, finishing with a strip sack, two QB hits, and eight hurries on his 36 rushes while adding five more stops in the run game.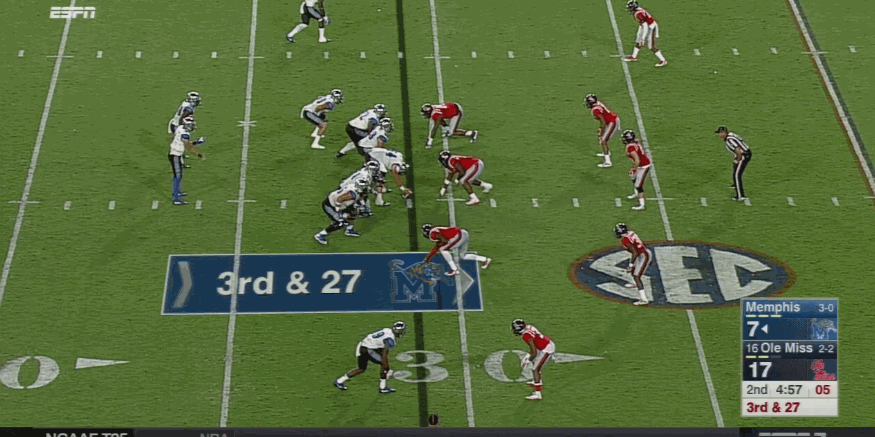 Defensive interior: Ryan Glasgow, Michigan 86.4 and Eddie Vanderdoes, UCLA 85.6
Glasgow led the dominant performance by Michigan's defense with a stout game against the run (83.5) and his best pass rushing effort of the season with a ridiculous sack, QB hit, two hurries, and batted pass on only 16 rushes. Vanderdoes returns to the team after posting the week's top run-stopping grade at 89.4 as he continues to quickly shed blocks and disrupt the run game like few interior defensive linemen in the nation.
Linebacker: Jarrad Davis, Florida 89.5; Reuben Foster, Alabama 86.9; Jack Cichy, Wisconsin 86.8
Davis filled up the stat sheet with three passes defensed, six stops, a QB hit, and two hurries, including the pass defensed that led to the game-ending interception. Foster is currently the nation's top-graded linebacker at 91.2 and he did his usual fine work taking on blockers to finish with four stops and three QB hits. Cichy was a potential breakout performer this season and he did his part in Wisconsin's loss to Michigan, finish with two sacks, a QB hit, hurry, four stops and a pass defensed.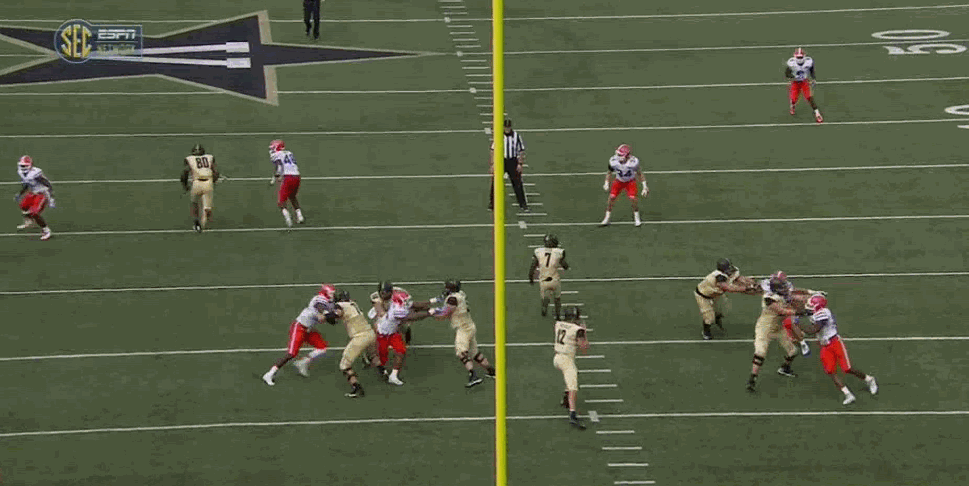 Cornerback: Jack Tocho, NC State 89.1 and Tre'Davious White, LSU 88.0
Tocho did it all for NC State, allowing only three catches on his seven targets for 10 yards to go with two passes defensed and a sack, QB hit and hurry as a blitzer. White was highlighted as a matchup to watch coming into the week and he stood out with an interception, pass defensed and only 39 yards allowed on his 10 targets.
Safety: Aaron Davis, Georgia 88.0 and Mike Edwards, Kentucky 87.7
It was a nice all-around game for Davis who led the nation with an 88.0 grade against the run this week, finishing a number plays around the line of scrimmage. He also broke up a pass and recovered a fumble. Edwards had a strong game against Alabama, providing tight coverage against both wide receivers and tight ends while attacking the screen game.
From lead special teams analyst Gordon McGuinness: 
Kicker: Emmit Carpenter, Minnesota
Maintaining his perfect start to the year, Carpenter was good on all four field goal attempts against Penn State. He's yet to attempt a kick from 50 yards or further this season, but he's hit everything from 49 and closer.
Punter: Jonny Linehan, BYU
As hard as it might be to believe based on how the game ended, there was actually some punting in that BYU-Toledo game. Linehan had his best game of the year so far averaging 41.4 net yards per punt and saw just one of his five punts returned, with three going out of bounds and the other resulting in a fair catch
Kicker/Punt returner: Brisly Estime, Syracuse
Estime didn't return a kickoff, but averaged 42.7 yards per punt return, including one that went for 74 yards.
SEC — Gordon McGuinness 
QB: Chad Kelly, Ole Miss, 79.9
HB: Joshua Jacobs, Alabama, 82.1
FB: J.D. Moore, LSU, 81.7
WR: Calvin Ridley, Alabama, 85.5
WR: Jared Cornelius, Arkansas, 82.9
TE: Evan Engram, Ole Miss, 83.3
OT: Sean Rawlings, Ole Miss, 82.1; Cam Robinson, Alabama, 80.1
OG: Josh Boutte, LSU, 86.8; Lamont Gaillard, 77.3
C: Frank Ragnow, Arkansas, 84.2
ED: Marquis Haynes, Ole Miss, 86.7; Tim Williams, Alabama, 85.7
DT: Dalvin Tomlinson, Alabama, 81.5; Jonathan Allen 84.5
LB: Jarrad Davis, Florida, 89.5; Reuben Foster, Alabama, 86.9; Zach Cunningham, Vanderbilt, 84.4
CB: Tre'Davious White, LSU, 88.0; Duke Dawson, Florida, 87.0
S: Aaron Davis, Georgia, 88.0; Mike Edwards, Kentucky, 87.7
K: Eddy Pineiro, Florida
P: Corey Fatony, Missouri
K/PR: Reggie Davis, Georgia
Big 12 — Bryson Vesnaver 
QB: Joel Lanning, Iowa State, 82.7
HB: Shock Linwood, Baylor, 85.6; D'Onta Foreman, Texas, 75.9
WR: Dede Westbrook, Oklahoma, 80.5; Jonathan Giles, Texas Tech 77.3; Blake Lynch, Baylor, 75.4
OT: Mo Porter, Baylor, 83.5; Brandon Hodges, Texas, 78.8
OG: Blake Blackmar, Baylor, 75.0; Ishmael Wilson, Baylor, 74.1
C: Tyler Orlosky, West Virginia, 82.3
ED: Reggie Walker, Kansas State, 81.5; Dorance Armstrong Jr, Kansas, 81.1
DI: Austin Roberts, Oklahoma, 78.5; Darrien Howard, West Virginia, 78.1
LB: Chad Whitener, Oklahoma State, 86.3; Emmanuel Beal, Oklahoma, 81.1; Kris Williams, Texas Tech, 78.0
CB: Rasul Douglas, West Virginia, 84.0; Justis Nelson, Texas Tech, 83.8; Ramon Richards, Oklahoma State, 83.3
S: Fish Smithson, Kansas, 83.8; Jah'Shawn Johnson, Texas Tech, 77.7
K: Austin Seibert, Oklahoma
P: Colin Downing, Iowa State
KR: Bryon Pringle, Kansas State
ACC — John Breitenbach 
QB: Ryan Finley, North Carolina State, 77.1
HB: Dalvin Cook, Florida State, 83.3
WR: Cole Hikutini, Louisville, 77.8; Tabari Hines, Wake Forest
OT: Roderick Johnson, Florida State, 82.9; Andrew Marshall, Georgia Tech, 77.1
OG: Zach Harmon, Duke, 81.0; Chris Lindstrom, Boston College, 74.2
C: Lucas Crowley, North Carolina, 82.1
ED: Antonio Simmons, Georgia Tech, 80.6; Trent Harris, Miami, 80.6; DeMarcus Walker, Florida State, 79.2
DI: Dexter Lawrence, Clemson, 81.7
LB: Micah Kiser, Virginia, 83.4; Joe Giles-Harris, Duke, 85.0; Michael Pinckney, Miami, 84.2
CB: Jack Tocho, North Carolina State, 89.1; Isaac Yiadom, Boston College, 89.5
TE: Ryan Izzo, Florida State, 75.7
S: Quin Blanding, Virginia, 84.5; Josh Jones, North Carolina State, 86.1
Big Ten — Josh Liskiewitz 
QB: J.T. Barrett, Ohio State, 66.1
RB: Ty Johnson, Maryland, 79.0
WR: Ricky Jones, Indiana, 79.8; Brian Smith, Minnesota, 79.7
TE: Josiah Price, Michigan State, 85.1
OT: Brendan Mahon, Penn State, 86.5; Christain DiLauro, Illinois, 80.3
OG: Kyle Kalis, Michigan, 79.5; Jordan Roos, Purdue, 79.1
OC: Pat Elflein, Ohio State, 84.1
DI: Ryan Glasgow, Michigan, 86.4; Jake Replogle, Purdue, 82.8
ED: Ifeadi Odenigbo, Northwestern, 86.3; Duwuane Smoot, Illinois, 85.4
LB: Jack Cichy, Wisconsin, 86.8; Marcus Oliver, Indiana, 84.0; Jermaine Carter, Maryland, 81.8
CB: Jourdan Lewis, Michigan, 87.0; Isaiah Wharton, Rutgers, 86.4
S: Antoine Winfield Jr., Minnesota, 85.8; Darnell Savage Jr., Maryland, 85.1
Pac-12 — Jordan Plocher 
QB: Davis Webb, Cal, 79.5
WR: Chad Hansen, Cal, 82.5; JuJu Smith-Schuster, USC, 81.8; Darren Andrews, UCLA, 79.1
OT: Trey Adams, Washington, 80.7; Cole Madison, Washington State, 80.1
OG: Cody O'Connell, Washington State, 83.4; Isaac Asiata, Utah, 81.5
C: Riley Sorenson, Washington State, 83.3
RB: Justin Davis, USC, 85.4; Royce Freeman, Oregon, 79.1
ED: Pita Taumoepenu, Utah, 86.6; Takkarist McKinley, UCLA, 83.4
DI: Eddie Vanderdoes, UCLA, 85.6; Hercules Mata'afa, Washington State, 84.4; James Looney, Cal, 83.4
LB: Cody Ippolito, Arizona, 83.3; Kenneth Olugbode, Colorado, 83.2
CB: Jonathan Lockett, USC, 87.8; Arrion Springs, Oregon, 81.7
S: Khari Vanderbilt, Cal, 81.1; Shalom Luani, Washington State, 78.8
Group of 5 — Zoltan Buday
QB: Greg Ward Jr., Houston 87.6
RB: Kareem Hunt, Toledo 83.8
WR: Kenny Golladay, Northern Illinois 86.8; Gregory Hogan, New Mexico State 84.0
Slot: Linell Bonner, Houston 84.2
TE: Nigel Kilby, Eastern Michigan 79.2
OT: John Molchon, Boise State 83.2; Ryan Hunter, Bowling Green 79.7
OG: Will Hernandez, UTEP 87.0; Kevin Dotson, Louisiana 80.6
C: Will Kreitler, UNLV 87.3
ED: Rashad Dillard, Troy 87.6; Randy Allen, South Alabama 87.6
DI: Tueni Lupeamanu, Idaho 85.4; Ed Oliver, Houston 85.4
LB: Sean Folliard, Northern Illinois 91.2; Blair Brown, Ohio 88.4; James Bailey, Fresno State 85.3
CB: Jordan Wyatt, SMU 90.7; Jonathan Moxey, Boise State 84.8
S: Jaden Wright, New Mexico State 84.9; Nate Holley, Kent State 81.9