Two teams. 854 yards of offense apiece. That makes for a lot of Team of the Week candidates on offense.
Offensive players from Oklahoma and Texas Tech dominate the discussion this week, as their record-setting game led to many of the week's top performances. Beyond that, we saw some pass-rushers dominate up front and the usual ball-hawking performances in the secondary that litter the Team of the Week.
Here's our version for Week 8 of the college football season:
Offense
Quarterback: Baker Mayfield, Oklahoma 99.9
While everyone was talking about Texas Tech quarterback Patrick Mahomes throwing for 734 yards on 88 attempts, Mayfield was the better QB on the field, as he went 27-for-36 for 545 yards and seven touchdowns, averaging an incredible 15.1 yards per attempt. Mayfield rarely missed a throw, and while many of his passing windows were open, he had his fair share of passes that showed off his accuracy. Mahomes was right there behind Mayfield in the race to be the best QB of the week, but Mayfield's efficiency and accuracy give him the nod.
Running back: Joe Mixon, Oklahoma 99.9 and Tre Watson, Cal 82.7
Of course, Mayfield couldn't do it all by himself, and Mixon casually ran for 263 yards and two scores on 31 carries while catching three of Mayfield's touchdowns on 114 receiving yards. It was one of the best all-around performances we've seen from a running back this season. Watson rushed for 154 yards on his 28 carries, while adding five receptions for 50 yards and two touchdowns through the air. He forced seven total missed tackles on the day.
Wide receiver: Dede Westbrook, Oklahoma 95.8 and Keke Coutee, Texas Tech 89.0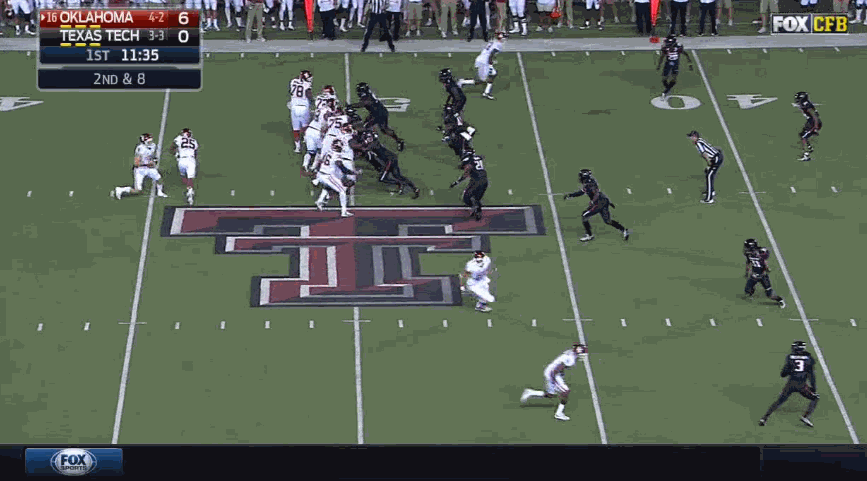 A theme is emerging here. Westbrook has been the nation's most dominant receiver the last four weeks, as he's shredded opposing defenses for 776 yards and 10 touchdowns. He led the nation with 202 yards this weekend, showing the deep speed that defenses have to account for. On the other side, Coutee was the top option for Mahomes, gaining 172  yards and a touchdown on his 10 catches.
Slot WR: Jonathan Giles, Texas Tech 80.2
Right behind Coutee was Giles with his 167 yards and two scores, continuing his incredible season that has him at 85.9 overall to go with 917 yards and 11 touchdowns.
Tight end: Nate Iese, UCLA 87.2
Back on the team for the second time this year, Iese caught eight passes for 146 yards and two touchdowns in UCLA's loss, stretching the seam of the Utah defense and creating big plays for the UCLA offense.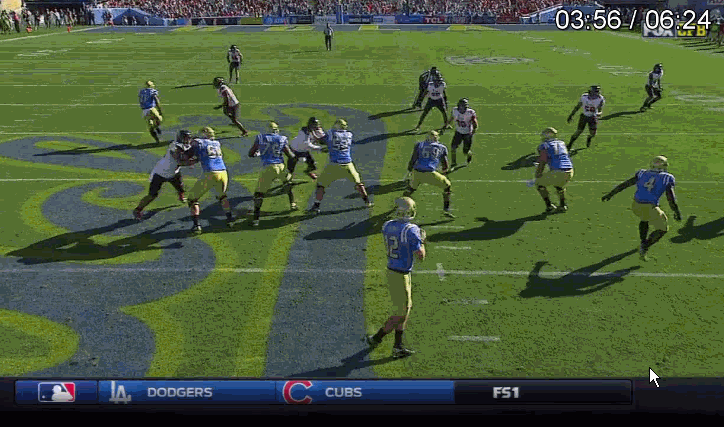 Offensive tackle: Brendon Mahon, Penn State 87.6 and Garrett Bolles, Utah 85.7
Mahon returns to the team after a strong performance in Penn State's upset over Ohio State. The right tackle did his best work creating movement in the run game with an 87.5 grade, and he didn't allow a pressure on 33 dropbacks. Bolles was a key man in the Utah running game that gained 353 yards on the ground (excluding QB scrambles), and he now boasts the top run-blocking grade in the country among tackles at 86.5.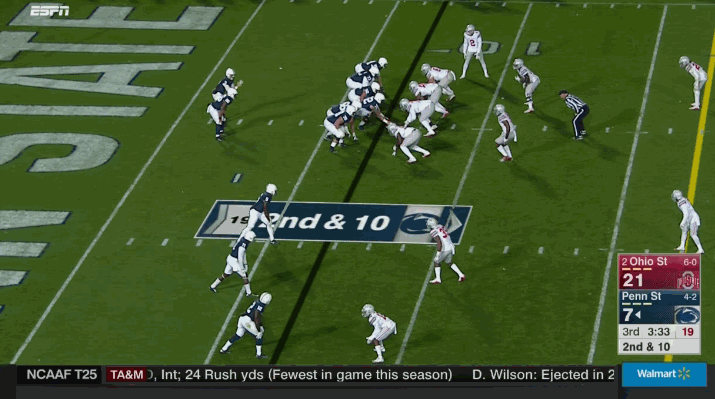 Guard: Ben Powers, Oklahoma 87.3 and Jake Eldrenkamp, Washington 86.3
It was a full team effort for Oklahoma, as Powers did his part with a clean day in pass protection while making a number of strong blocks in the run game, particularly as a puller. It was a similar story for Eldrenkamp, who created movement at the line of scrimmage while also getting to the second level in the run game, though he did surrender one pressure on his 34 attempts.
Center: Chandler Miller, Tulsa 86.6
Tulsa averaged 7.3 yards per carry through the "A" gaps, and Miller's 85.2 run-block grade was a huge part of that. He didn't allow a pressure on his 28 attempts.
Defense
Edge rusher: Jordan Willis, Kansas State 92.6 and Takkarist McKinley, UCLA 90.6
It was a dominant all-around effort for Willis  who finished with two sacks and five hurries on his 31 rushes while leading all 4-3 defensive ends with a run-stop percentage of 16.0 percent (four run stops on 26 snaps against the run) this week. McKinley was a game-changer, with three total sacks, including two strip-sacks, one of which he recovered. He tacked on three more pressures and two run stops while playing 68 snaps against Utah.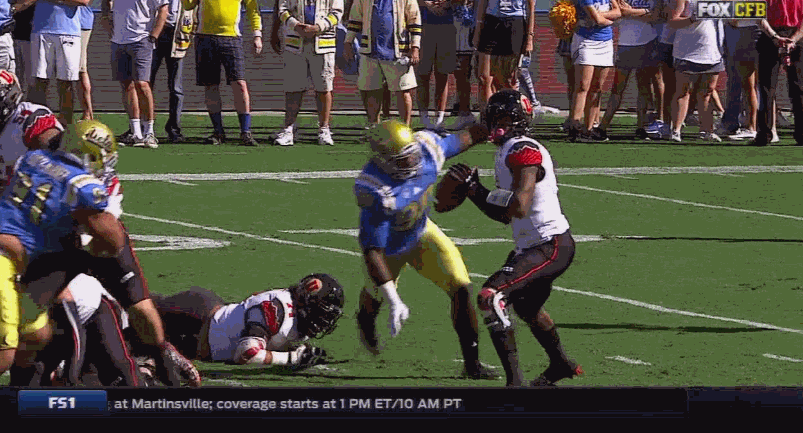 Defensive interior: Jonathan Allen, Alabama 94.7 and Vincent Taylor, Oklahoma State 85.6
A diving, superman sack was just a part of Allen's incredible effort against Texas A&M, as he also added one sack and seven hurries on only 33 rushes, while producing two stops in the run game. Taylor has been knocking at the Team of the Week door in previous weeks, and he broke through this week against Kansas with a QB hit, three hurries and two run stops on only 41 snaps.
Linebacker: Dedrick Young II, Nebraska 90.6; Anthony Walker, Northwestern 89.9; Ty Schwab, Boston College 89.1
Young put together his third straight strong week, as he broke up a pass and finished with a career-high seven stops. Walker was all over the field, with his eight stops and four hurries leading the way to his best game of the season. Schwab played a career-high 70 snaps and made the most of them, with a sack and two hurries to go with strong work in the run game and in coverage.
Cornerback: Eric Jenkins, North Texas 95.1 and Jamarcus King, South Carolina 93.1
A turnover machine for North Texas, Jenkins had two interceptions, including a pick-six, and a forced fumble while playing a season-high 90 snaps against Army. King got his hands on two passes while knocking a third one free, and didn't allow a catch on his five targets against UMass.
Safety: Tedric Thompson, Colorado 89.2 and Kieron Williams, Nebraska 87.2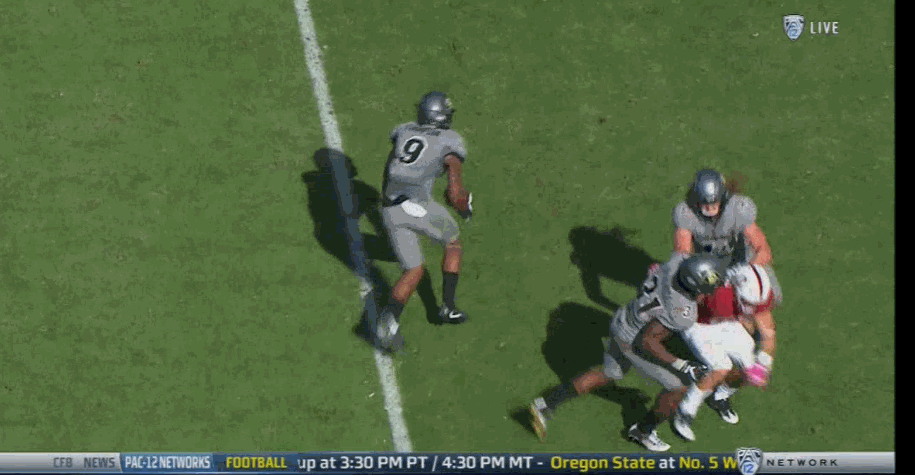 Thompson collected two interceptions against Stanford, including a diving catch at the end of the first half and a fourth-quarter pick that all but sealed the win. Williams had two interceptions of his own along with a pass defensed and two hurries as a rusher in his best game of an up-and-down season.
Special teams from Gordon McGuinness — 
Kicker: Adam Mcfain, Arkansas
It was a strange week for kickers, with nobody having a true stand out performance at the position, but Mcfain did convert on his only field goal attempt, and it came from over 50 yards out.
Punter: Mitchell Ludwig, Virginia Tech
Four of Ludwig's five punts landed inside the opposing 20 yard line, and just one punt was returned. His best punt had a 5.12 second hang-time, and he averaged 43.8 net yards per punt.
K/PR: Tim White, Arizona State
We saw several kicks run back for touchdowns this week, but White scored on a 70-yard punt return and added a 44-yard kick return too.
Big Ten — Josh Liskiewitz 
QB  Wilton Speight, Michigan  79.7
RB  Karan Higdon, Michigan  76.3
FB  Khalid Hill, Michigan  79.5
WR  Amara Darboh, Michigan  84.3; R.J. Shelton, Michigan State  81.6
TE  Jake Butt, Michigan  84.4
OT  Brandon Knight, Indiana  79.4; Brendan Mahon, Penn State  87.6
OG  Sean Welsh, Iowa  83.2; Chris Muller, Rutgers  79.0
C  Brendan Moore, Maryland  78.7
DI  Darius Hamilton, Rutgers  86.0; Lorenzo Neal, Purdue  85.0; Kevin Givens, Penn State  86.8
ED  Garrett Sickels, Penn State  81.7; T.J. Watt, Wisconsin  81.6
LB  Dedrick Young II, Nebraska  90.6; Anthony Walker, Northwestern  89.9
CB  Rashard Fant, Indiana  87.5;  Channing Stribling, Michigan  84.9
S  Kieron Williams, Nebraska  87.2; Nathan Gerry, Nebraska  85.4
SEC — Gordon McGuinness
QB: Chad Kelly, Ole Miss, 72.9
HB: Damarea Crockett, Missouri, 78.3
FB: Bry'Kiethon Mouton, LSU, 78.2
WR: Christian Kirk, Texas A&M, 76.1; Malachi Dupre, LSU, 75.9
TE: Sean Culkin, Missouri, 83.1
OT: Jonah Williams, Alabama, 78.5; K.J. Malone, 77.1
OG: Daronte Bouldin, Ole Miss, 81.2; Javon Patterson, Ole Miss, 77.8
C: Bradley Bozeman, Alabama, 82.6
ED: Carl Lawson, Auburn, 88.2; Tim Williams, Alabama, 84.7
DT: Jonathan Allen, Alabama, 94.7; Dalvin Tomlinson, Alabama, 85.8
LB: Reuben Foster, Alabama, 88.0; Tim Holloman, South Carolina, 87.8; Kendell Beckwith, LSU, 86.3
CB: Marlon Humphrey, Alabama, 90.9; Jamarcus King, South Carolina, 93.1
S: Jamal Adams, LSU, 86.1; Tray Matthews, Auburn, 81.9
K: Adam Mcfain, Arkansas
P: JK Scott, Alabama
K/PR: Tre'Davious White, LSU
Big 12 — Bryson Vesnaver 
QB: Baker Mayfield, Oklahoma, 99.9
HB: Joe Mixon, Oklahoma, 99.9; D'Onta Foreman, Texas, 82.3
WR: Dede Westbrook, Oklahoma, 95.8, Keke Coutee, Texas Tech, 89.0; Jonathan Giles, 80.2
OT: Dalton Risner, Kansas State, 79.9, Colton McKivitz, West Virginia, 79.5
OG: Ben Powers, Oklahoma, 87.3, Matt Pryor, TCU, 81.9
C: Tyler Orlosky, West Virginia, 80.8
ED: Jordan Willis, Kansas State, 92.6; Dorance Armstrong Jr., Kansas, 83.0
DI: Vincent Taylor, Oklahoma State, 86.6; Poona Ford, Texas, 82.6
LB: Chad Whitener, Oklahoma State, 82.8; Edwin Freeman, Texas; Denzel Johnson, TCU, 76.1
CB: Antonio Crawford, West Virginia, 91.9; Rasul Douglas, West Virginia, 81.7; Ranthony Texada, TCU, 78.5
S: Fish Smithson, Kansas, 82.9; Jason Hall, Texas, 82.3
K: Ben Grogan, Oklahoma State
P: Billy Kinney, West Virginia
KR: Shelton Gibson, West Virginia
Pac-12 — Jordan Plocher 
QB: Justin Herbert, Oregon, 75.0
OT: Garett Bolles, Utah, 85.7; Kaleb McGary, Washington, 83.3
OG: Jake Eldrenkamp, Washington, 86.3; Nick Nowakowski, Utah, 84.2
C: Jake Hanson, Oregon, 81.5
RB: Tre Watson, Cal, 82.7
TE: Nate Iese, UCLA, 87.2
WR: Dante Pettis, Washington, 83.4; Gabe Marks, Washington State, 79.9; John Ross, Washington, 79.8
ED: Takkarist McKinley, UCLA, 90.6; Hunter Dimick, Utah, 87.6
DI: Hercules Mata'afa, Washington State, 82.4; Solomon Thomas, Stanford, 80.8
LB: Jordan Kunaszyk, Cal, 85.7; Kenneth Olugbode, Colorado, 85.4; Peyton Pelluer, Washington State, 82.0
CB: Justin Thomas, Utah, 81.5: Kevin King, Washington, 80.0
S: Tedric Thompson, Colorado, 89.2; Devin Chappell, Oregon State, 84.7
ACC — John Breitenbach 
QB Lamar Jackson, Louisville, 85.6
WR Jaylen Smith, Louisville 76.9; Bug Howard, North Carolina, 77.4
TE Cole Hikutini, Louisville, 82.1
HB Taquan Mizzell, Virginia, 78.2
FB Sam Rogers, Virginia Tech, 74.4
OT Jonathan McLaughlin, Virginia Tech, 79.0; Jimmy Lowery, Boston College, 77.9
OG Wyatt Teller, Virginia Tech, 81.0; Tommy Hatton, North Carolina, 87.1
C Jackson Matteo, Virginia, 83.6
ED Bradley Chubb, North Carolina State, 83.3; Trevon Hill, Virginia Tech, 73.0
DI Ricky Walker, Virginia Tech, 83.6; DeAngelo Brown, Louisville, 81.6
LB Ty Schwab, Boston College, 89.1; Micah Kiser, Virginia, 86.1; Cole Holcomb, North Carolina, 83.8
CB Trumaine Washington, Louisville, 91.2; Jaire Alexander, Louisville, 85.8
S Chuck Clark, Virginia Tech 79.7;Donnie Miles, North Carolina, 80.9
Group of Five — Coming soon