Every year, we are graced with Bruce Feldman's top 50 "freaks" in college football. For those who aren't aware, this is how Feldman best describes the idea of the list:
"Spotlight the guys who generate buzz inside their programs by displaying the type of rare physical abilities that wow even those folks who are used to observing gifted athletes every day."
Today, we received his top 50 for the 2020 season. It was an absolute heater, per usual. Among that group of 50, there were eight players, in particular, who we here at PFF are huge favorites of and are excited to watch down the road, whether it's in 2020 or 2021.
(NOTE: The order below is NOT reflective of Feldman's rankings in the article or any rankings from our point of view. Rather, it's just a group of our favorites. For Feldman's top 50, click here.)
Subscribe to PFF's EDGE or ELITE subscriptions and get access to the following tools, charts, etc. 
– All Premium Article Content
– Fantasy Football Rankings & Projections
– Fantasy Football Draft Guide, Cheat Sheets & Advanced Stats
– Fantasy Football Mock Draft Tool (DraftMaster)
– Fantasy Football Strength of Schedule Matrix
– NFL Player Grades
– NFL Premium Stats
EDGE JAYSON OWEH, PENN STATE
We saw Oweh serve as a backup in 2019, but it was quite apparent that his athleticism was ridiculous enough to expose any middling tackle. He's cracked Feldman's list in each of the past two years, and his burst, in particular, is truly the best of any pass-rusher in college football. According to Feldman, Oweh has been clocked at a 40-time of 4.33 seconds.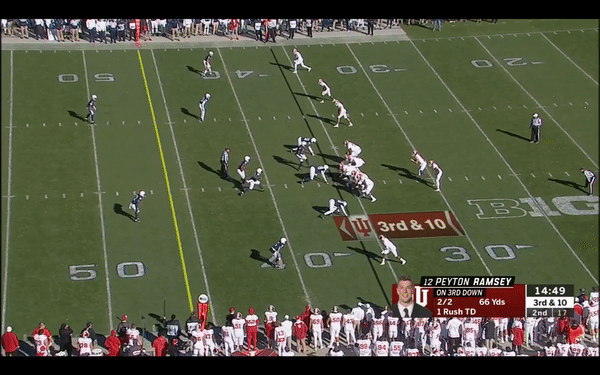 Humans his size (6-foot-5, 247 pounds) aren't supposed to move like that. Oweh rushed the passer 207 times in 2019, recorded 31 pressures, forced two fumbles and won on over 20% of his reps. He's a breakout waiting to happen and will have no issue taking over for Yetur Gross-Matos in 2020.
CB CALEB FARLEY, VIRGINIA TECH
Farley's speed is remarkable. He ran in the 4.3s in high school and is incredibly difficult to shake for an open target. Farley used his wheels and size to his advantage in 2019, proving to be the definition of a lockdown corner. He earned a 90.5 coverage grade on the year, allowing just 18 catches on 50 targets while combining for more interceptions (four) and forced incompletions (12) than first downs allowed (nine). You're just not going to find stingier production from a Power Five cornerback. As a result, Farley is in the driver's seat for our CB1 in the 2021 NFL Draft.
EDGE CARLOS BASHAM JR., WAKE FOREST
If you asked me to guess which freak attribute Feldman noted from Basham, I would have had a tough time picking only one — he's freaky across the board. And Feldman agrees, as his attribute was literally "Pick one." His physical tools and explosiveness are eye-popping. The 6-foot-5, 275-pound Basham earned a 90.6 pass-rush grade in 2019 and had multiple games with double-digit pressures in ACC play. He's a pocket-collapser in its purest form.
S KYLE HAMILTON, NOTRE DAME
Following his 2019 true freshman season in which he served mostly as a backup, Hamilton made it clear that he is, and will continue to be, a playmaker for the Irish. According to Feldman, Hamilton (who stands at 6-foot-4, 221 pounds) recorded a vertical that was just over 42 inches. He pairs that explosiveness and size with great eyes in coverage, which helped him pick off four passes and break up another five in 2019 en route to just a 1.3 passer rating allowed. Hamilton is a prime candidate to take his play to elite status in the upcoming college season.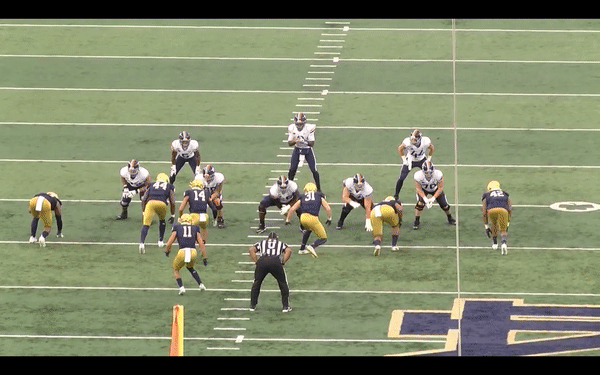 WR TUTU ATWELL, LOUISVILLE
It's apparent when watching Atwell that he possesses rare speed. His after-the-catch ability is some of the best in all of college football, allowing him to wreck defenses on screens. Atwell earned a 93.8 receiving grade on screens in 2019 (only receiver above 90.0) and averaged over 16 yards after the catch. However, he doesn't generate all of his value on screens. His 4.26 speed allows him to get behind defenses with ease. Atwell had 13 targets that came 20-plus yards downfield in which he was deemed open (more than a couple of steps of separation), which led the FBS.
S AR'DARIUS WASHINGTON & TREVON MOEHRIG, TCU
If you're an avid follower of PFF College, you know by now that we are high on the dynamic TCU safety duo of Washington and Moehrig. Among 357 FBS safeties to play at least 300 snaps in 2019, those two finished first and second in PFF grade. 
Washington is only 5-foot-8, but that has no negative impact on his game due to his change-of-direction ability, his instincts and, as Feldman states, his strength. In coverage this past year, Washington allowed just one first down while intercepting five passes and forcing four incompletions. I'm not sure you could be much better than that.
Moehrig has the size, length (6-foot-2, 208-pounds) and strength for the safety position. Like Washington, his freak trait was strength — and it's not a surprise to see that, considering how great he was at the catch point. He isn't going to get outmuscled often. In 2019, Moehrig forced 13 targets into tight coverage and allowed zero catches while making three interceptions and forcing eight incompletions. That right there is a historic duo on TCU's back end.
EDGE BOYE MAFE, MINNESOTA
Mafe's first step should give offensive linemen nightmares. His freakish trait was his vertical leap, according to Feldman, as his vertical was an astonishing 40.5 inches — which very much shows up on the field. He's rushed the passer just 207 times in his career and, similar to Oweh, looks very much like a breakout waiting to happen with an increased role (which he'll have in 2020). On those reps in his career, he's generated a 19.3% win rate and an 82.9 pass-rush grade. Mafe can really win from anywhere on the line and is a name to watch when the college football season gets underway.