The Seminoles' offensive line was a mess last year after losing three starters to the NFL. Tre Jackson, Cameron Irving and Bobby Hart all graduated, leaving FSU desperately thin up front. The new generation returned mixed results in 2015. The best of the bunch – left tackle Roderick Johnson – typified the unit's inconsistency. Johnson did not always play well in his first year as a full-time starter, but flashed rare and special traits.
Johnson immediately catches the eye on film because of his size. He looks like a typical tackle, with the height and length expected of the position. The pre-snap characteristics are impressive, but are worthless unless allied with proper technique. Johnson remains technically raw, which should not be a surprise considering his relative inexperience. Production-wise, Johnson was up and down in 2015. He ended the year ranked 52nd amongst tackles, recording a negative grade in pass protection. More promisingly, Johnson's +14.7 run blocking grade was 17th at the position. The season chart below highlights his inconsistency.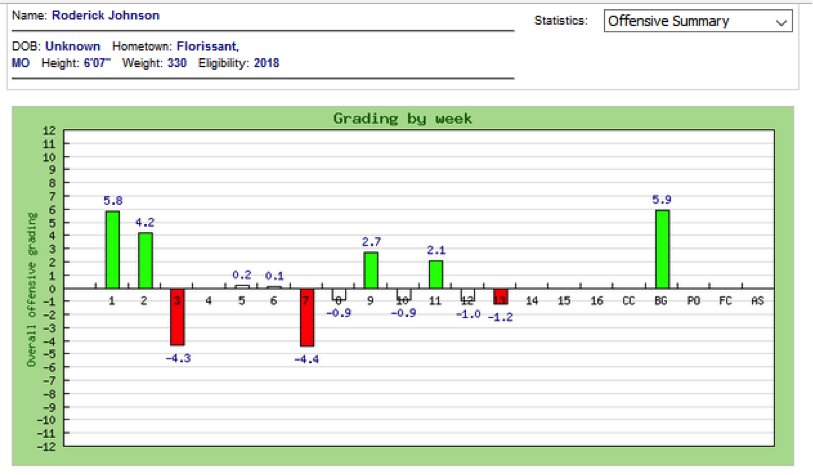 Room for improvement in pass protection
Pass protection is one of the more difficult skills to master. It is common for young tackles to take some time developing their kick slide. Johnson is no different. Although he was generally effective on dropbacks – he allowed only 17 combined pressures in 2015 – Johnson suffered some bad beats. There are a number of really ugly reps on tape from the Seminoles' left tackle. Johnson has a tendency to dip his head and overextend on contact, which leaves him vulnerable to being knocked off balance. Waist-bending is a legitimate concern. The play below, from his game against Boston College, explains Johnson's negative pass protection grade.
It's only a handful of plays over the course of the season, but suffering these kinds of beats make the difference between an elite tackle and a merely average one. It shouldn't take much for Johnson to eliminate such errors from his game, especially with added experience.
On the majority of snaps, Johnson was effective in pass protection. The aforementioned 17 overall pressures he allowed was fewer than all but 20 FBS tackles. He also ranked in the top 30 in pass blocking efficiency, allowing six knockdowns in 445 snaps. Only eight first or second year tackles from Power-5 teams graded positively in pass protection last season, putting Johnson's -2.7 mark in context. He still has plenty of room to improve, but can be satisfied with a solid sophomore season.
Dominant run blocker
Young tackles are able to use their physical traits more naturally moving forward. Johnson's work in the run game makes him a particularly exciting prospect. As well as size, his movement skills are particularly impressive. Johnson has no issue blocking on the move, especially at the second level. He also possesses the quickness and lateral agility to make cutoff blocks from the backside of zone. Although he fails to complete the block in the play below, the ability to get into position on the 3-technique's inside shoulder is rare from that shade. It also highlights his desire to finish on every play.
As much as Johnson's agility stands out, he is also able to win with power. His combination of athleticism, size and strength is tough to matchup with in the ground game. Below is an example of his power, in-line, from the contest against Wake. He drives the defensive tackle a good five yards on this play, widening the point of attack.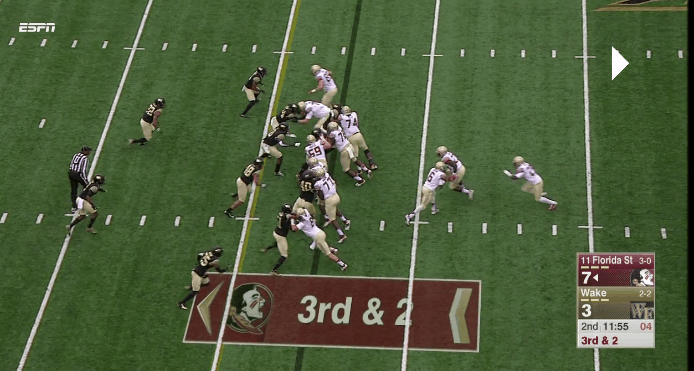 Bottom line
Johnson's overall grade in his first season was not particularly impressive, but the manner of his performances suggest there's much more to come. A generally high-level of play was interrupted with occasional lapses that should be rectifiable. Assuming Johnson is able to iron out those inconsistencies, look for him to join Florida State teammates Derwin James and Dalvin Cook in the "elite" category this upcoming season.