When Florida threw the game away against LSU — literally — it felt like all hope was lost for their upcoming SEC title game encounter with Alabama. However, the Gators' loss doesn't change much about their chances against the Crimson Tide this week. Florida's offense, which played its worst game of the season, still put up 609 yards of offense against the Tigers. The defense continued to be only a speedbump. What exactly is different from almost any other game Florida has played this year?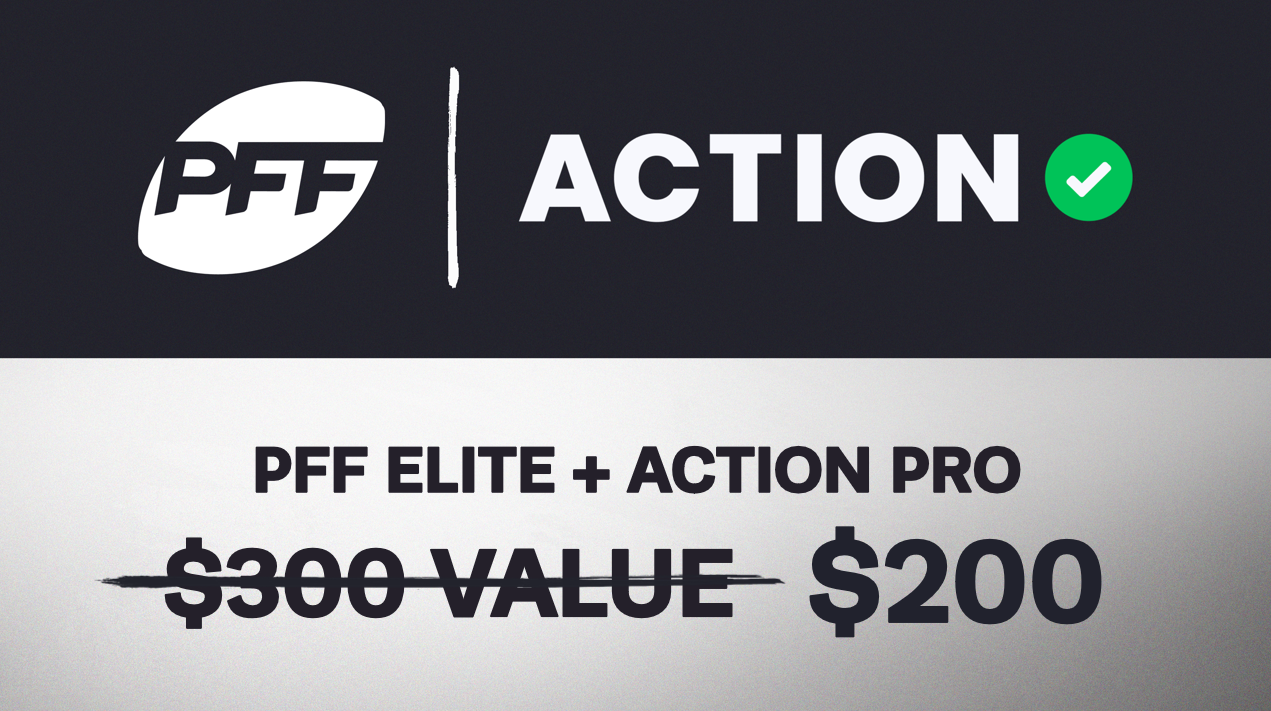 The Gators lost because of two incredibly fluky events: the double deflection interception and the infamous shoe toss. They were also playing without Kyle Pitts, who is arguably the best non-quarterback in the country along with Alabama receiver Devonta Smith.
The Gators' offense has been electric the whole season. The unit sits ninth in offensive expected points added per play (.20) and has played at least 330 snaps more than the three teams ahead of them. Considering where this offense was before Dan Mullen came to town — -.18 expected points added per play in 2017 — this has been one hell of a turnaround.
When we think of Mullen, we think of an offensive wizard — especially when he has a quarterback who is a capable runner. From Tim Tebow to Dak Prescott to Nick Fitzgerald, his offense hums when he can get the quarterback involved in the running game. When he was forced to insert slow-footed Kyle Trask into the lineup, all those quarterback designed run schemes went out of the window. Mullen had to adapt, and he did so beautifully.
With Trask, Mullen stopped trying to run the football, and his spread-to-run philosophy morphed into, well, a spread-to-pass philosophy. The Gators became an "empty formation" team. In 2018, with Feleipe Franks at the helm, these empty formations made up 7.3% of their offense. With Trask, that number has climbed to 17.1% in 2019 and 16.2% this season. While the offense was very good in empty in both 2018 and 2019, that formation has apparently become sentient in 2020. It is unstoppable.
In 3×2 empty formations over the past six seasons, the Gators sit alone at the peak among teams with at least 50 snaps in that formation. Their .60 expected points added per play tops the 2015 Lousiana Tech team (.58) that sits in second place.
When Florida spreads the field, not many teams can match up with the team's two best players: Pitts and Kadarius Toney. It is an unanswerable question for the defense. Sit in one-high, and Pitts beats anyone you put on him vertically down the field. Sit in two-high, and Toney works the underneath middle of the field better than anyone in college football right now. You're in a no-win situation as a defense.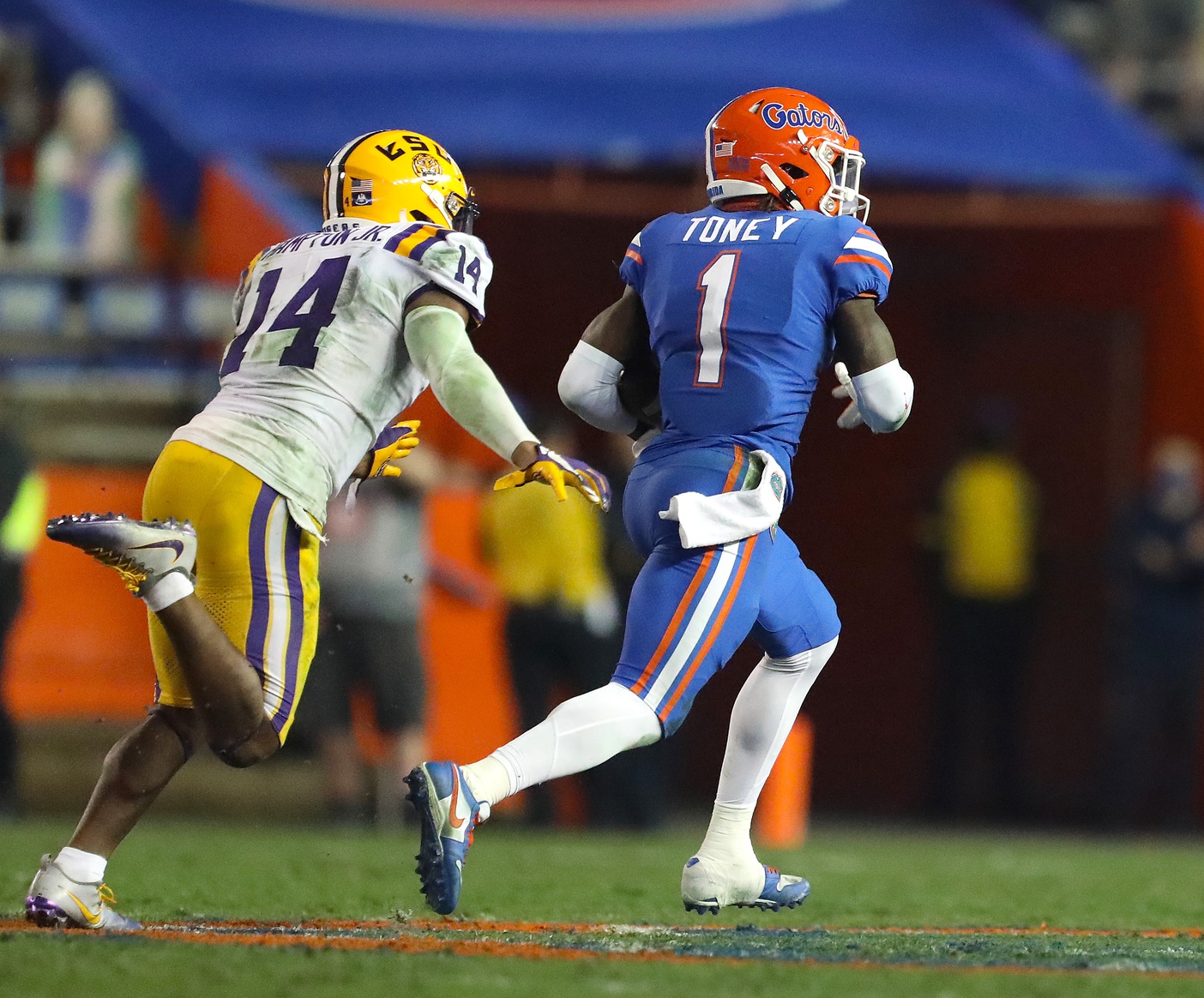 Florida desperately tries to get Toney the ball as often as it can with his underneath speed and quickness. He has 20 targets and 16 catches in empty for 292 yards, with 177 of them coming after the catch. He has forced 10 missed tackles on those catches.
Toney is going to align to the three-receiver side as the innermost slot. This puts him, against zone defenses, matched up with a linebacker. To this side, the Gators will run a concept that usually involves Toney getting on the toes of the linebacker and then dancing around him into space. They'll tag a separate concept to the two-receiver side as a complement.
If a defense plays two-high zone against the Gators, there aren't enough underneath defenders to bracket Toney. He gets the matchup against the linebacker because Florida plays empty from 11 personnel. That means Florida could still play in a regular one-back formation if it chooses. The defense has to play with linebackers on the field. If it's zone, the linebacker isn't going to move all the way to the sideline to cover the running back. Florida can get a favorable personnel response by the defense, as the team has seen nickel personnel 66% of the time when it plays in 11 personnel, which it does 86% of the time.
If a defense has a Mike linebacker who can hang with Toney, it'll probably fare OK. But most college and NFL teams, including Alabama, don't have that guy. In fact, even when teams have tried to play Cover 2 man to get a better matchup on Toney, he still wins.
— Seth Galina's Burner (@burner_seth) December 15, 2020
To bracket Toney, teams have to spin to a one-high defense to get more underneath defenders. There are about three different defenses a team can play from one-high: Cover 1, Cover 1 blitz and Cover 3.
Against Cover 3, the Gators have been destructive. Kyle Trask's ability to hit the seam against the defense has been very good.
— Seth Galina's Burner (@burner_seth) December 15, 2020
Against Cover 1 blitz, they have been great because the middle of the field is vacating for Toney in this coverage, as well.
— Seth Galina's Burner (@burner_seth) December 15, 2020
Where they've had some problems, in a limited sample size, is against Cover 1 with a four-man rush. This puts everyone in man to man but keeps a low hole defender inside of Toney who can double him if needed. In one snap against Tennessee, Trask was shaken by how the Vols deceptively got into this coverage.
— Seth Galina's Burner (@burner_seth) December 15, 2020
You can see the safety to the top side of the screen open up like he is going to play as a deep half-field safety before reversing paths and coming down as the hole player and locking onto Toney. Trask thinks he has Toney with space over the middle when that safety opens up deep but is fooled and can't get the pass off.
Wouldn't you know it, even as Alabama's defense has morphed back into another immovable object, the Crimson Tide's play against empty formations this year has been one of their few weaknesses. Against empty 3×2, Alabama allows positive expected points added per play — .18. Among the 62 teams that have seen empty 3×2 at least 25 times this season, Alabama ranks 40th. There aren't many weaknesses in the Crimson Tide's armor, but empty might just be one of them.
The Crimson Tide haven't played Florida yet in the Mullen era, and games against Mullen's squad with Nick Fitzgerald at quarterback probably won't do justice to crafting a gameplan for Kyle Trask. We'll have to look at what Alabama is playing this season to find clues about how its defense will line up against Florida.
The most common defense the Crimson Tide have played against empty is Cover 1 blitz. They've also been hurt a bit in this defense allowing .60 expected points added per play this season. With Florida taking advantage of this defense, .94 expected points added per play, it will be interesting to see if Alabama plays more of Cover 1 with a hole player to start the game and see if the pass rush can get to Trask.
This is going to be where Pitts comes into play. He is more than capable of running a slot fade away from the single safety and beating his man one on one. Florida also likes to run him on corner routes, another man-beating route.
How Alabama deals with all five eligible receivers out on routes is going to be the key to the game. The Crimson Tide had trouble with it last year against another great empty offense, LSU. Alabama will score plenty on Saturday night in Atlanta, but if Florida can click in empty for one more week, we'll get the shootout of a lifetime that could come down to the last few possessions.