The college football regular season has come to a close for most schools, and conference championship week is finally here. And after weeks of speculation, that means that we will soon find out which teams will earn a spot in the 2020-21 College Football Playoff.
With the help of PFF grades and advanced statistics — which are now available to PFF's CFB Premium Stats+ Subscribers — we can give you everything you need to know ahead of this week's conference championship games. Please note that any picks and predictions made here are not reflective of PFF Greenline or the work done by our expert betting analysts. For betting insights into all the conference title games, click here!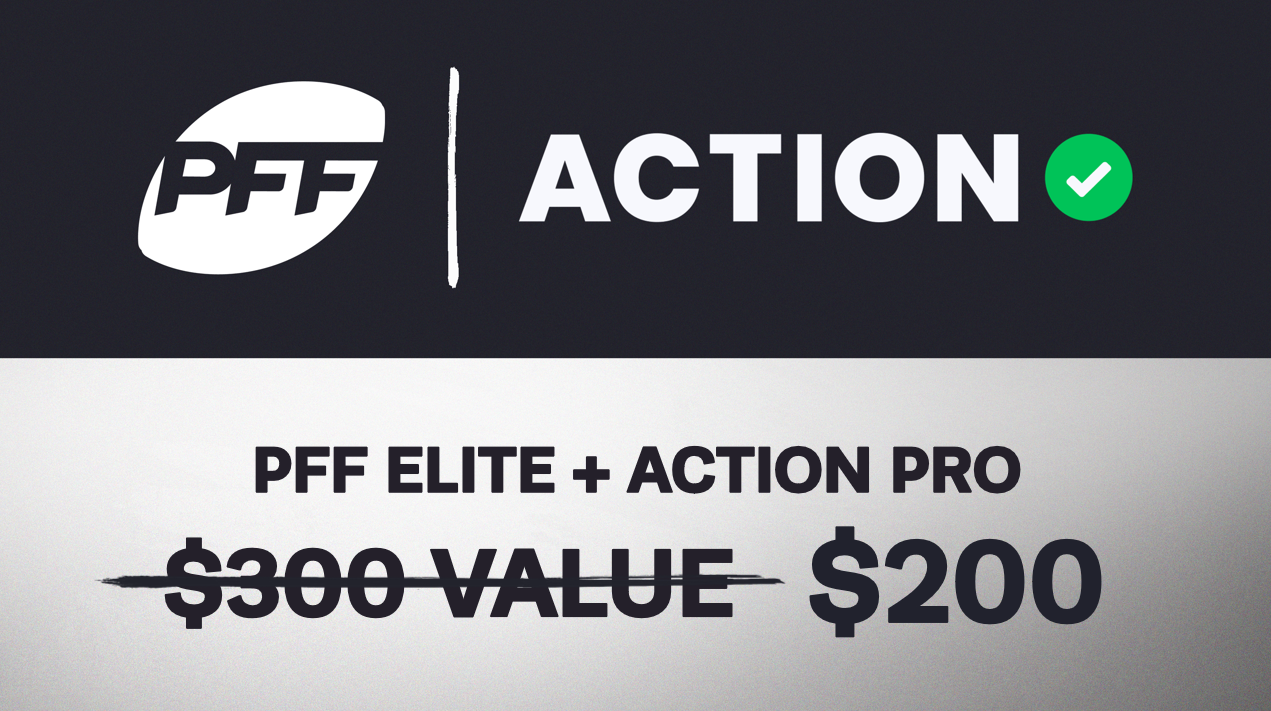 Friday, Dec. 18 — 7:00 p.m. ET, CBSSN
This one is going to be all about the matchup between UAB's stout defense and Marshall's efficient offense: The Thundering Herd's offense leads the conference in successful play rate, while the Blazers' defense ranks first in the C-USA in successful play rate allowed.
The battle in the trenches is going to be a must-watch. UAB is fifth in the FBS in pass-rush grade and has one of the top edge rushers in the country in Jordan Smith. The former four-star recruit currently ranks fourth in the FBS in pass-rush grade (91.0) and second in pressure rate generated (23.6%) in 2020, and he has 22 total QB pressures in his last two games alone.
Containing Smith will be no easy feat, but if any offensive line can do it, it's Marshall's. The Thundering Herd's line ranks first among all FBS teams in PFF pass-blocking grade this season, and they are second in pressure rate allowed.
Marshall's offensive line has allowed just 2.3 pressures per game this season, while Jordan Smith alone has averaged nearly three times that in 2020. This is going to be a can't-miss matchup.
Treash's prediction: I think Grant Wells will be great for Marshall in the coming years, but his most recent performance against Rice scares me. I think UAB's pass rush puts the pressure on him and the Blazers come away with the W.
Seth's prediction: Marshall. I'm excited to see them bounce back and finish strong.
For our PFF Greenline game preview that includes win and cover probability, click here.
---
Friday, Dec. 18 — 7:30 p.m. ET, ESPN
The Buffalo Bulls rank first in the MAC in both per-play efficiency on offense and successful pass play rate allowed on defense, so few can argue about Buffalo's standing as two-touchdown favorites ahead of this one.
If the Ball State Cardinals are to have any chance of keeping this one close, they need to shut down the Bulls' explosive rushing attack. Buffalo has run the ball on just over 72% of plays this season — Army, Air Force and Navy are the only FBS teams that have run the ball at a higher rate in 2020, and they are all triple-option offenses through and through.
The 5-0 Bulls have found immense success with that high run rate, as they lead the FBS in both yards per rush (7.5) and expected points added (EPA) per rush (0.3). Buffalo has been more efficient running the ball than 113 FBS schools have been throwing it. They can thank Jaret Patterson and the offensive line for that: Patterson has been the highest-graded running back in the country since Buffalo's season began in Week 10, and the O-line has earned the best team run-blocking grade in the FBS this season.
Treash's prediction: Buffalo. They are better than the Cardinals in every facet of the game.
Seth's prediction: Buffalo. Ball State has shown it can stop the run, but now the real test comes against Buffalo's rushing attack.
For our PFF Greenline game preview that includes win and cover probability, click here.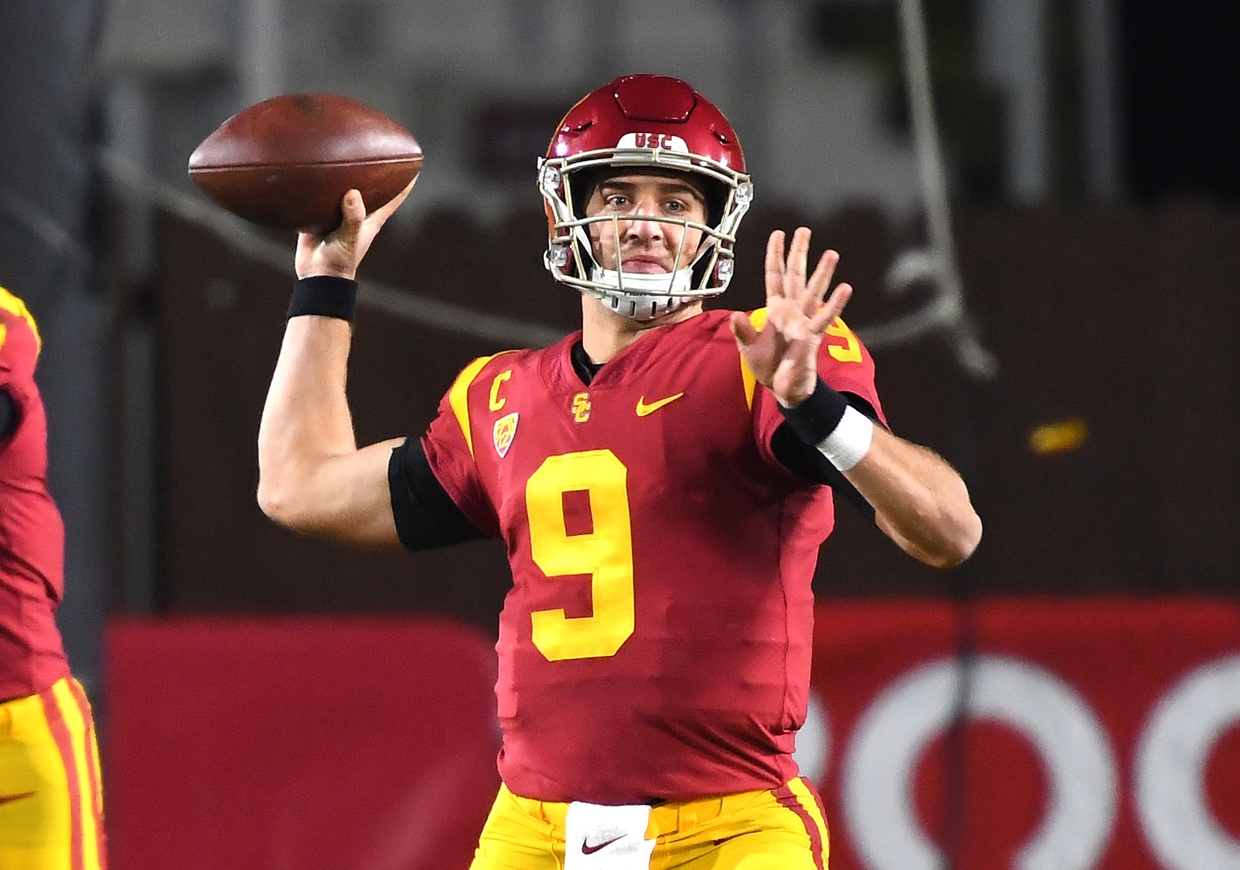 Friday, Dec. 18 — 8:00 p.m. ET, FOX
This was supposed to be a matchup between Washington and USC, but with the Huskies battling COVID issues within their program, Oregon has stepped in to replace them.
While the Ducks' coverage unit has been better in recent weeks, it isn't nearly as formidable as Washington's. The simple fact is that Oregon's pass defense won't be as tough a test for USC quarterback Kedon Slovis.
Slovis hasn't quite taken the expected next step to elite status, but he has still been one of the top quarterbacks in the conference, earning an 81.1 passing grade that sits 0.3 grading points better than his grade as a true freshman in 2019.
The USC signal-caller has still struggled to protect the ball in the pocket and has tried to force a few too many throws, evidenced by his conference-high 10 turnover-worthy plays. At the same time, his pinpoint accuracy has returned over recent games, and he leads the Pac 12 in big-time throws, with 11.
Oregon suffered two huge losses before the season, as both Jevon Holland and Thomas Graham Jr. opted out due to Covid-concerns. Their absence was felt hard early in the year, as the team stumbled to a PFF coverage grade of 58.1 through their first two games and allowed a whopping 0.19 EPA per pass in the process.
They have looked a little bit more like the group we were expecting over the last three games; their coverage grade has jumped to 73.6 (fourth in the Pac 12), and their EPA allowed per pass has dropped to -0.04.
Treash's prediction: USC. Slovis has shown signs of life over the last couple of weeks, and I think he's going to continue that here.
Seth's prediction: USC's passing offense vs. Oregon's pass defense is a mismatch. USC.
For our PFF Greenline game preview that includes win and cover probability, click here.
---
Saturday, Dec. 19 — 12:00 p.m. ET, FOX
Northwestern's defense has been one of the most surprising units in college football this year and has feasted on low-level quarterback play. But are they really good enough to shut down Justin Fields?
The Wildcats rank first in the FBS in EPA allowed per pass play this season at -0.31, well above the next best Power 5 team (Clemson at -0.24). And they have a bevy of talented defensive backs on hand, as Greg Newsome II, Brandon Joseph and A.J. Hampton have all earned coverage grades above 83.0.
This defensive production has come against the likes of Taulia Tagovailoa, Spencer Petras, Adrian Martinez, Aidan O'Connell, Graham Mertz, Rocky Lombardi and Brandon Peters. That's not exactly a premier group of quarterbacks. The offense they'll face on Saturday, however, is a different animal than any other than they have seen this year.
Fields has posted an incredible 93.1 PFF grade across five games this year, while the Buckeyes have recorded the highest successful pass play rate in the FBS (61%). And those two figures include the team's small hiccup against Indiana when Ohio State trudged out the least efficient offense of the Justin Fields era. If you remember, the Hoosiers' blitz knocked Fields off rhythm a handful of times in that game, resulting in three interceptions.
Northwestern has one of the lowest blitz rates in college football, and Fields has shredded defenses when they don't send those extra rushers. Over the last two years, Fields has even earned the highest passing grade in the country when the defense doesn't blitz (94.5).
Treash's prediction: Ohio State. Look, I'm a Northwestern-defense and Peyton Ramsey stan, but I think Justin Fields will light it up.
Seth's prediction: Ohio State. I love Northwestern's story, but they can't run with the OSU.
For our PFF Greenline game preview that includes win and cover probability, click here.
Saturday, Dec. 19 — 12:00 p.m. ET, ABC
After Oklahoma and Iowa State each suffered a second loss, it seemed as though the Big 12's hopes at a College Football Playoff berth were dead. Yet, here we are, and the CFP committee has even made it so there is actually a very good chance a Big 12 team gets in if they win and Notre Dame beats Clemson.
The Cyclones and quarterback Brock Purdy are fresh off throttling West Virginia back in Week 14. Purdy exploded, earning a 93.8 passing grade, a season-best single-game mark.
It's not all been good, however. Up until that fateful Week 14 clash, Purdy's 66.0 passing grade sat 16 grading points lower than his grade in 2019, and it placed him seventh among signal-callers in the Big 12.
The Iowa state quarterback was frequently trying to do too much under pressure, and we saw that firsthand in Iowa State's first matchup against Oklahoma back in Week 5 when Purdy coughed up five turnover-worthy plays under pressure (tied for the most in a single game this season). Iowa State still pulled out the W in that game, but they had a lot of help from Oklahoma's receivers, who dropped a number of crucial passes when the team really needed them to step up.
Late in the third quarter and early on in the fourth, Sooners QB Spencer Rattler delivered two big-time third-down throws, each of which should have resulted in a touchdown. Instead, both were dropped and resulted in field goals. And while Rattler may have ended up throwing a game-sealing interception, his supporting cast did precious little to help him out throughout the game.
The Oklahoma quarterback has earned a 92.0 passing grade this season, fourth in the entire FBS. The third-highest-graded game of his season came against the Cyclones in Week 5.
Treash's prediction: Oklahoma. Fluky plays cost the Sooners back in Week 5, and that's not going to happen again this time.
Seth's prediction: Oklahoma. I've been saying that OU is still the best team in the Big 12 since, like, Week 4, so why stop now?
For our PFF Greenline game preview that includes win and cover probability, click here.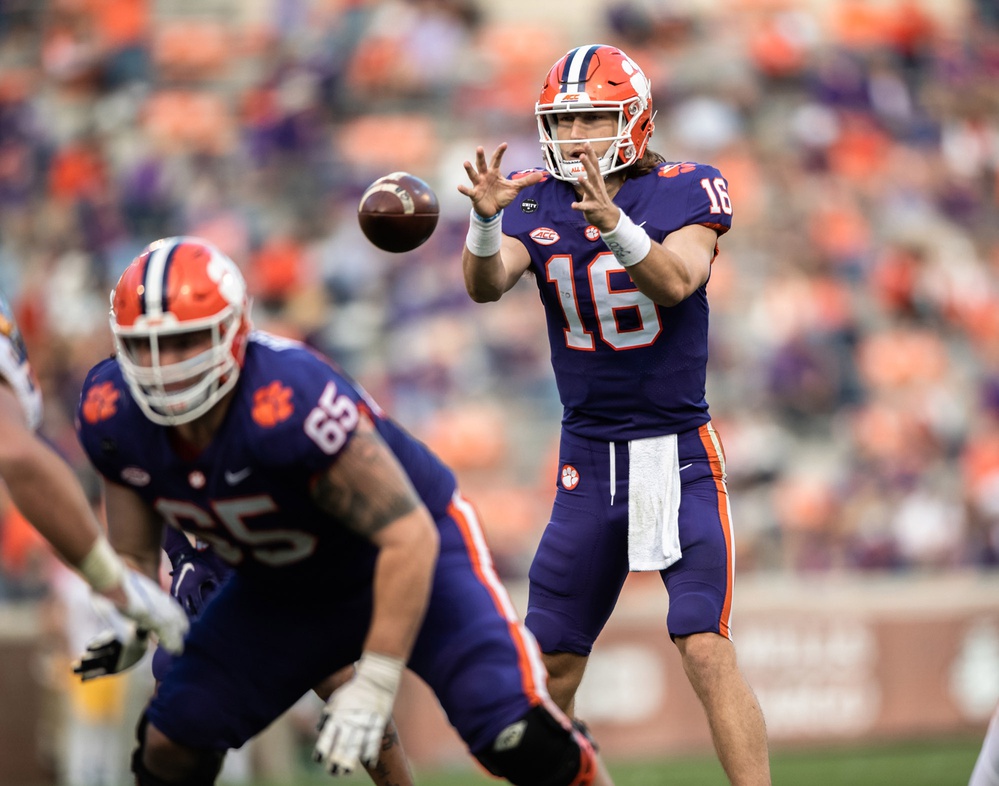 Saturday, Dec. 19 — 4:00 p.m. ET, ABC
These two teams gave us one of the best games of the season earlier in the year, and that game ended in a Notre Dame double-overtime win. This time around, Clemson will take the field with the future No. 1 overall pick, the best player on their team and one of the best players in the history of college football, quarterback Trevor Lawrence.
Lawrence made history in 2018 and 2019 as the only underclassmen quarterback since PFF College's inception to record grades above 90.0 in his first two seasons, and he has continued that into the 2020 season. He ranks fifth in the FBS in PFF grade this year, with a 91.8 mark, and he has shown off pinpoint accuracy.
The small bouts of inaccuracy we saw prior to this season have been the only reasonable knock on the Clemson quarterback, but that has been far from the case this year. Lawrence has thrown an accurate pass on 63.5% of his passes beyond the line of scrimmage, the fourth-best rate in the FBS.
Still, Lawrence's receivers haven't helped him out much. It's even fair to say that the group is this team's Achilles' heel, as they rank 100th in the FBS in catch rate on passes thrown over 10 yards downfield (77.6%).
Talking of Achilles' heels, it was looking like quarterback Ian Book was the weak spot of this Notre Dame team earlier in the year. Book managed to produce a 60.3 passing grade over his first six starts, and he paired that with a 4:6 big-time throw to turnover-worthy play ratio.
The Fighting Irish quarterback has been defying all odds after that average start and has looked like a completely different player since that first Clemson game (90.7 passing grade). Book has a 91.0 passing grade over his last four games, with a big-time throw to turnover-worthy play ratio of 8:2.
Treash's prediction: Clemson. I wouldn't be shocked to see a Notre Dame win here, but I have to side with the team that has the better quarterback.
Seth's prediction: Clemson. I think Venables makes the needed adjustments to suppress Notre Dame's offense enough.
For our PFF Greenline game preview that includes win and cover probability, click here.
---
Saturday, Dec. 19 — 4:15 p.m. ET, FOX
Boise State and San Jose State have fielded the two most efficient passing offenses in the Mountain West Conference this season.
Armed with his team's quick game, a quick time to throw in general and a respectable offensive line in front of him, Nick Starkel has been blessed with one of the lowest pressure rates in college football this year.
He has been under pressure at the third-lowest rate in college football (18%) and has executed the offense exceptionally well when he's been kept clean, earning an 85.6 passing grade on plays from a clean pocket. While it has gone quite badly on the few snaps he has had to spend under duress, the good news is that the subpar Boise State pass rush (101st in the FBS in team pass-rush grade) isn't all that likely to make a dent on Saturday.
Boise State may not have much of a pass rush, but it has defended quick throws quite well. In fact, the Broncos rank ninth in the FBS in successful pass play rate allowed on passes thrown in 2.5 seconds or less.
A big reason for their success has been their strength at quarterback with Hank Bachmeier (and Jack Sears when he stepped in). In his three games before last week's snow game against Wyoming, Bachmeier had been an aggressive passer, throwing the ball 11.3 yards downfield on average, and it was working for him and the Broncos. The Boise State QB ranked eighth among Group of 5 quarterbacks in PFF passing grade on throws of 10-plus yards prior to Week 15.
Treash's prediction: Boise State.
Seth's prediction: SJSU. I just love this story more than anything else.
For our PFF Greenline game preview that includes win and cover probability, click here.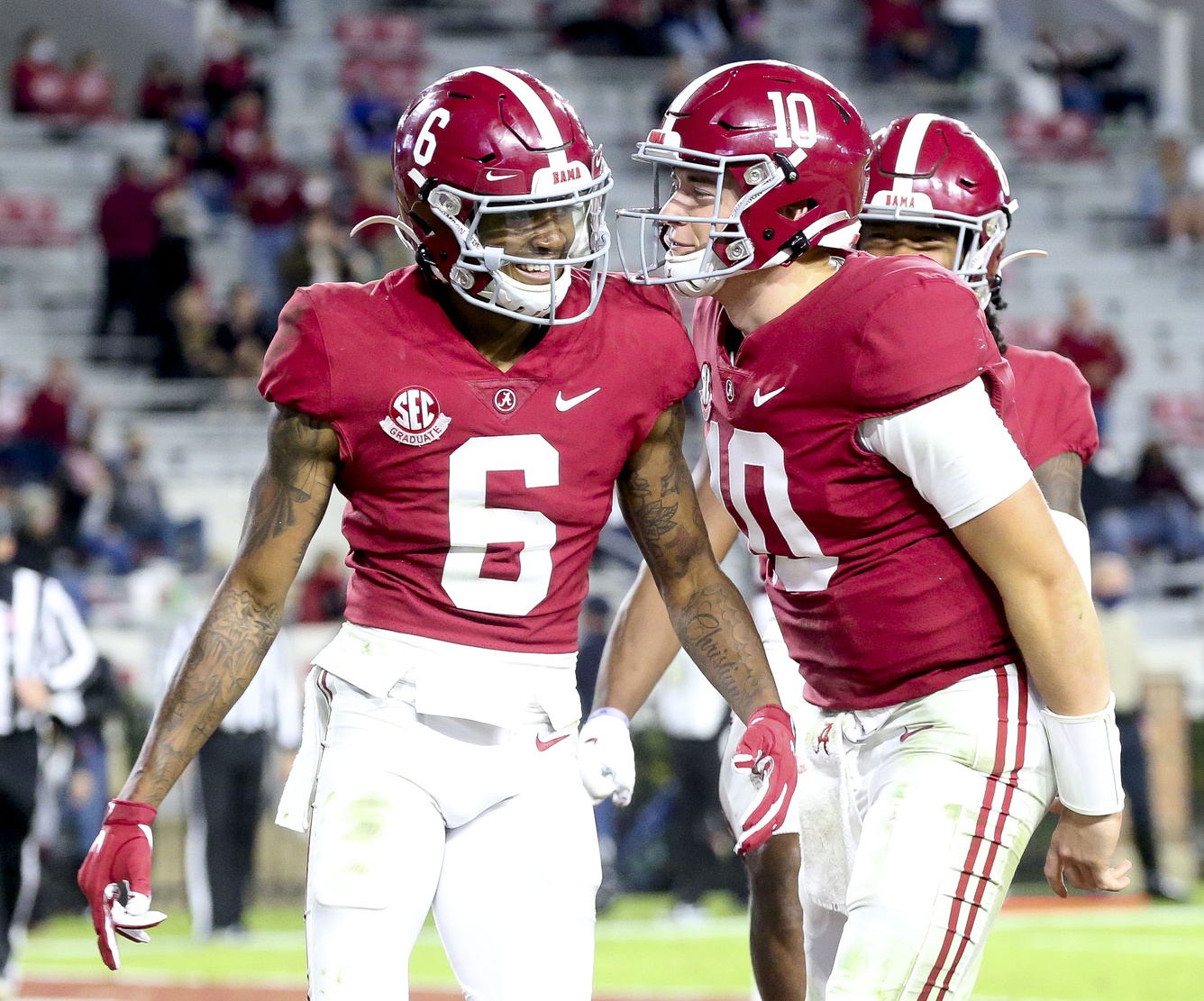 Saturday, Dec. 19 — 8:00 p.m. ET, CBS
Shockingly, the Florida Gators' CFP hopes are not entirely dead after losing to a depleted LSU team last Saturday. Now that the committee has placed Florida at No. 7 in the latest rankings, there is actually a good chance that they get into the final four if they beat No. 1-ranked Alabama.
That, however, is a rather big if.
Heisman candidate Kyle Trask got off to a bit of a rough start last week against LSU, with several misreads and a couple of costly turnovers that essentially handed the Tigers 10 points (one was a pick-six, and the other was a fumble before the half that set up a field goal).
There were also a few bad performers on the defensive side of the ball who didn't help matters, as the defense as a whole surrendered 0.22 EPA per pass to a middling LSU offense.
And that is exactly what has been the big concern with this Florida team this year. Their coverage unit has not been good, even against the low-level SEC teams. All told, the Florida pass defense has recorded the fourth-worst team coverage grade in the conference.
Don't let recency bias get in the way — Florida still has one of the top passing offenses in the country. After all, they still have the fourth-most-efficient passing offense in the Power 5 this season, even after the bad outing against LSU. But can they get the job done against the best coverage unit in the country?
Alabama cornerbacks Patrick Surtain II and Josh Jobe easily comprise the best outside cornerback tandem in the FBS. Both players are in the conversation for being the best individual player at the position. Surtain and Jobe rank fifth and first, respectively, in yards per coverage snap allowed among FBS outside corners who have played at least 200 coverage snaps.
Meanwhile, in the slot, Malachi Moore has arguably been the best true freshman in all of college football, regardless of position. After a so-so start, he has turned a hard corner and leads all FBS defensive backs in slot coverage grade since Week 6. It's going to be hard for Florida's offense to consistently score and match the points that Alabama will put on the board against this bad Gators defense.
The Crimson Tide has the most efficient passing attack in college football, with quarterback Mac Jones and wide receiver DeVonta Smith leading the way. Those two rank second and first at their respective positions in PFF grade. There's an argument to be made that those two are worthy of being No. 1 and No. 2 in the Heisman Trophy rankings.
Treash's prediction: Alabama, A.K.A. the most complete team in college football.
Seth's prediction: Alabama. I think Florida covers, but you can't pick against Bama right now.
For our PFF Greenline game preview that includes win and cover probability, click here.
---
Saturday, Dec. 19 — 8:00 p.m. ET, ABC
The most recent CFP rankings verified one thing: they are never going to allow a Group of 5 team to make it into the College Football Playoff.
This undefeated Cincinnati team more than deserves to be in the running for a spot in the playoff, but the committee has made it nearly impossible. On top of smashing Tulsa this weekend, they'll need Alabama, Notre Dame and Oklahoma (in a very close and ugly fashion) to win, and even then, it wouldn't be a surprise to see the committee put Texas A&M or the Sooners in over Cincy. That's a problem, but I digress.
The Bearcats' defense is the best in the Group of 5. Cincy has the third- and seventh-highest-graded edge defenders in the FBS, and the coverage unit as a whole is the fourth-highest-graded in the FBS.
On targets of 10 or more yards downfield, Cincinnati's coverage unit jumps to first in coverage grade by over six grading points. The Bearcats have allowed an FBS-best 33.6 passer rating on those targets, a number nearly three times smaller than the FBS average of 96.2.
Cornerback Ahmad Gardner anchors this group and has yet to allow a single touchdown over his collegiate career. He has intercepted six passes in total, and he has broken up another 14.
Given that Tulsa has the second-worst successful pass rate in the AAC, I wouldn't expect many points on the Hurricane's end. The real question is whether their defense — which is second in the AAC and 11th in the FBS in EPA allowed per play this year — can stop Cincy's offense.
Cincinnati's offense turned a hard corner this season following a two-week absence in Weeks 6 and 7; they went from -0.04 EPA per play generated in those first three games to 0.27 in their last five. The latter mark is the sixth-best in the entire FBS over that span.
Treash's prediction: Cincinnati by 30. This is a CFP-worthy team, and it's sad that they aren't viewed like that just because they aren't a Power 5 program.
Seth's prediction: Cincy. I don't think Tulsa can score enough.
For our PFF Greenline game preview that includes win and cover probability, click here.