The Conference Championship games have come and gone and analysts have dissected and graded every player on every snap of every game to bring you the most detailed and valid set of picks you can find anywhere.

The Conference Championship Eckrich Team of the Week powered by PFF saw some impressive performances and, of course, the strength of opponent also factored into the overall selections as did the PFF player grades.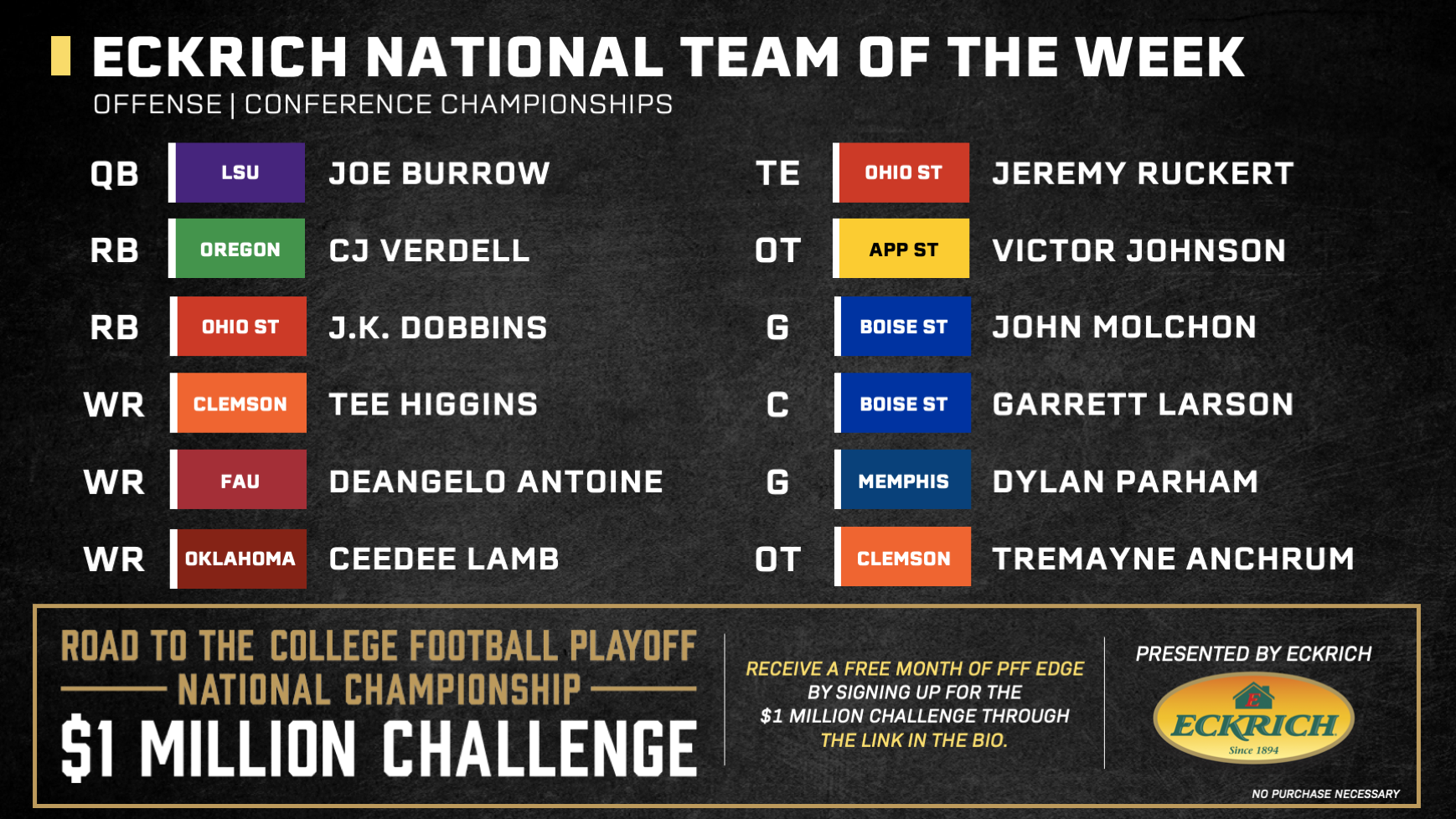 Quarterback
Joe Burrow, LSU
Averaging 9.2 yards per attempt and completing 73.7% of his passes is just another Joe-Burrow stat line that we've become accustomed to this season, except in the SEC Championship Game, he did it against a defense that had previously not allowed any sort of success in the passing game. Burrow himself outscored any previous 12 opponents' total output against Georgia as he dominated the action and threw for four touchdowns. His highlight-reel plays were as numerous as his completions as he simply extended his Heisman Trophy resume.
Second-Team QB: Trevor Lawrence, Clemson
Running Back
CJ Verdell, Oregon
Verdell took complete advantage of the best offensive line in the country but still racked up a national-best 140 yards after contact against Utah. No running back had done that kind of damage to the Utes this season and Verdell finished with 208 yards on just 18 carries as he had the Conference Championship weekend's highest rushing grade in the process.
Second-Team RB: Malcolm Davidson, FAU
Running Back
J.K. Dobbins, Ohio State
Dobbins was tasked with having to do a ton of work on his own against a talented Wisconsin defense, forcing 12 missed tackles on his 33 attempts. He gained 117 yards after contact and led the country with nine runs for a first down. He may have had a long carry of just 24 yards but he was an effective chain-mover and even got to the end zone as well.
Second-Team RB: Jonathan Taylor, Wisconsin
Wide Receiver
Tee Higgins, Clemson
A perfect 9-for-9 on targets his way, Higgins totaled 182 yards and three scores as five other receptions went for a first down. He broke four tackles as well and gained 57 of his yards after the catch as his highlight-reel sideline-top-tapping reception was truly a jaw-dropper. Obviously, Trevor Lawrence saw a perfect 158.3 passer rating when targeting Higgins.
Second-Team WR: Justyn Ross, Clemson
Wide Receiver
Deangelo Antoine, FAU
Antoine ripped off a huge catch and run early in the game against UAB as he took a slant route the distance and totaled 92 yards after the catch in the game. He needed just five catches to go for 112 yards and had the country's second-highest receiving grade in the process.
Second-Team WR: K.J. Hill, Ohio State
Wide Receiver
Ceedee Lamb, Oklahoma
Lamb may not have secured a touchdown against Baylor but he made his presence felt early and often. He made eight catches and totaled 173 yards as 89 of those came after the catch, seeing him break six tackles in the process. He's perhaps the nation's best after the catch and is truly in a class above the rest.
Second-Team WR: Jack Sorenson, Miami Oh.
Tight End
Jeremy Ruckert, Ohio State
Ruckert needed one play, and one hand, to change the fortune of the Buckeyes season. It was his one-handed touchdown reception that single-handedly changed the game as it vaulted the Buckeyes offense in the second half. He also had plus-grades in the run and pass protection games as well.
Second-Team TE: Harrison Bryant, FAU
Offensive Tackle
Victor Johnson, App State
Needed just 19 snaps in pass protection to keep a clean sheet and finish with an elite pass-blocking grade, App State running backs averaged over 4.0 yards before contact when running to either side of Johnson's in the Mountaineers victory.
Second-Team OT: Max Mitchell, Louisiana
Offensive Guard
John Molchon, Boise State
Molchon was a stud in both pass protection and in the run game for the Broncos. He allowed all of one hurry on his 36 pass-blocking snaps and had the country's second-highest run-blocking grade among guards against Hawaii.
Second-Team OG: Kevin Dotson, Louisiana
Center
Garrett Larson, Boise State
The second Bronco on the offensive line here, Larson was perhaps the most well-rounded lineman in the country in Week 15. He finished with the country's top figures in both pass-blocking and run-blocking grades among centers.
Second-Team C: Junior Diaz, FAU
Offensive Guard
Dylan Parham, Memphis
Parham was a mauler up front for the Tigers, leading the nation's guards in pass-blocking grade and finishing with plus-grades in the run game. On his 44 snaps in pass protection, he didn't yield a single pressure.
Second-Team OG: Deon Humphrey, FAU
Offensive Tackle
Tremayne Anchrum, Clemson
Anchrum did not allow a single QB pressure on his 29 snaps in pass protection while he was dominant as well against the run. Rounding out his game, he finished his 12th game of the season without a penalty called on him as he's just been penalized once this year.
Second-Team OT: Isaiah Wilson, Georgia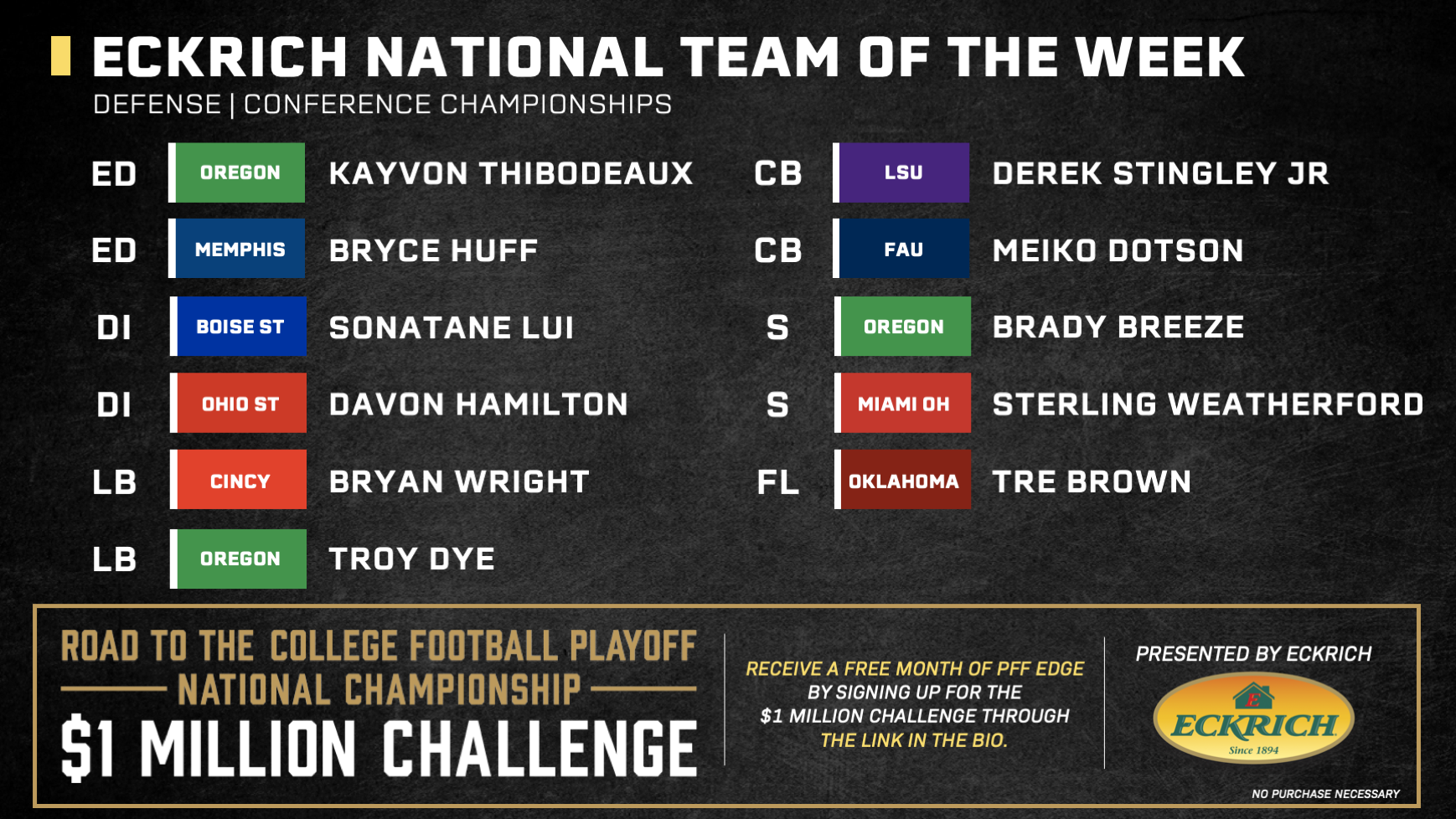 Edge Defender
Kayvon Thibodeaux, Oregon
If you hadn't heard his name before Friday night, you had missed out on perhaps the nation's best young edge defender. Thibodeaux entered the weekend as a name known in the Pac-12 but finished it as a name known across the country after making three sacks, three hurries, two stops in the run game and blocking a punt in the best game of his young career.
Second-Team Edge: Ivan Pace Jr., Miami Oh.
Edge Defender
Bryce Huff, Memphis
Causing a ton of havoc off the edge, Huff recorded seven total pressures and made five total tackles against Cincinnati. He was a true run-stuffer off the edge as well as four defensive stops came against the run, leading all edge defenders in the process.
Second-Team Edge: Troy Hairston, Central Michigan
Defensive Interior
Sonatane Lui, Boise State
Lui was a force up the middle for the Broncos, racking up two sacks and four more hurries on his 37 pass-rush attempts. He made two more stops against the run and forced a fumble in a dominant outing in the Mountain West Championship Game.
Second-Team DI: Andrew Sharp, Miami Oh.
Defensive Interior
Davon Hamilton, Ohio State
While Chase Young got all the attention of the Wisconsin offensive line, it was Hamilton who feasted in the Big Ten title game. He brought in seven total QB pressures including a hit and six hurries while he batted a pass at the line of scrimmage and made two defensive stops in the run game.
Second-Team DI: Doug Costin, Miami Oh.
Linebacker
Bryan Wright, Cincinnati
Wright led all linebackers with 10 solo tackles against Memphis as he was a big reason why the Bearcats hung around for as long as they did. He made six defensive stops to go with his forced fumble and allowed just one reception into his primary coverage.
Second-Team LB: Akileis Leroy, FAU
Linebacker
Troy Dye, Oregon
Dye flew around the field for the Ducks on Friday night, coming up clutch when Oregon needed him. He made six total tackles and brought in the same amount of QB pressures (1 sack, 1 hit, 4 hurries) on just 16 pass-rushes. In coverage, he was just as dominant, allowing four catches for just 44 yards and making an interception.
Second-Team LB: Tuf Borland, Ohio State
Cornerback
Derek Stingley Jr., LSU
Stingley has made his name known all season long, earning our Freshman of the Year award. He continued that incredible stretch of play by intercepting two passes against Jake Fromm and the Georgia Bulldogs as he was integral in the Tigers victory. He was targeted a whopping 16 times, allowed just five receptions and saw a 24.2 passer rating when targeted as he's become one of the nation's best cover cornerbacks, not just among freshman.
Second-Team CB: Parnell Motley, Oklahoma
Cornerback
Meiko Dotson, FAU
Dotson peeled off his man coverage assignment to make a beautiful interception on a pass not even targeted his way on the afternoon as he was a step ahead of the UAB passing attack all game long. He was targeted just once and allowed just 19 yards while his interception changed the game early.
Second-Team CB: Terik Miller, Louisiana
Safety
Brady Breeze, Oregon
Breeze had the Utah offense's number all game long as he was dominant across the board. He made multiple tackles for loss and brought down five total defensive stops and a beautiful middle-of-the-field interception on a deep shot early in the game from Tyler Huntley. In total, he allowed a 46.5 passer rating when targeted and didn't miss a tackle in the game.
Second-Team S: Julian Blackmon, Utah
Safety
Sterling Weatherford, Miami Oh.
Weatherford was so effective in coverage that he broke up three passes that weren't even targeted his way against Central Miching, allowing just one catch for one yard into his primary coverage. He brought down six total tackles and did this without missing a single attempt.
Second-Team S: K'Von Wallace, Clemson
Flex D
Tre Brown, Oklahoma
One of the more underappreciated games this weekend, Brown was targeted four times in coverage against Baylor and didn't allow a single reception. He finished with three pass breakups and didn't miss a tackle all game.
Second-Team Flex: Tavion Banks, Miami Oh.