"DJ is the starter, for sure."
Those were the words of Clemson head coach Dabo Swinney about his incumbent quarterback, DJ Uiagalelei, in the early portions of summer practices as the Tigers prepared for the 2022 college football season. So far, that commitment has paid off.
Five games into the year, Uiagalelei looks as effective and confident as he's ever been. He's thrown for 1,242 yards with 11 touchdowns and just one interception. His 10.5-yard average depth of throw is the highest of his career, and his 76.2% adjusted completion percentage is up almost 10% from last season.
| | | | |
| --- | --- | --- | --- |
| Season | Dropbacks | PFF Grade | PFF Grade Rank |
| 2022 | 176 | 85.7 | 17 of 116 |
| 2021 | 410 | 66.3 | 117 of 172 |
| 2020 | 124 | 71.1 | 79 of 140 |
After a year in which the disappointment and pressure seemed to pile on, he has come out the other side as a new quarterback — a new man. 
"The biggest thing, for me, was preparation," Uiagalelei said in an exclusive interview with PFF. "I wanted to make sure I put my best foot forward and be the best player I could be for my teammates and coaches. I went back to the drawing board after that season. I had a lot of conversations with coaches, asking what things I could be better at. I worked on losing weight, getting more efficient with my base and footwork, timing. Things like that."
There is a big difference between his numbers last year and this year. In 2021, he struggled as a first-time starter, a year that not only came with the pressures of taking over from Trevor Lawrence but the pressures of living up to the hype that surrounded him after two exceptional performances as a stand-in in 2020.
He threw for just 2,245 yards in 13 games and threw more interceptions (10) than touchdown passes (9). He averaged just 6.0 yards per pass attempt, and his adjusted completion percentage barely breached 65%.
| | | |
| --- | --- | --- |
| Metric | 2021 | 2022 |
| YPA | 6.0 | 7.8 |
| Adj. Comp % | 67.4% | 76.2% |
| Big-time throw % | 4.5% | 8.8% |
| Turnover-worthy play % | 2.5% | 1.1% |
| Average depth of throw | 9.1 | 10.5 |
| Passer rating from a clean pocket | 78.7 | 120.6 |
| Passer rating under pressure | 44.0 | 62.1 |
| PFF passing grade | 64.4 | 88.6 |

Simply put, he wasn't the player many, himself included, expected him to be.
"Last year … looking back, I'd think, 'did I prepare for that as well as I could?'" Uiagalelei said. "I feel like I've taken my preparation to another level this year. I've been more prepared going into each game. Coming into each and every game, I wanted to prepare as hard as I could and be able to understand exactly what the defense was doing. Knowing what they would do on third-and-long or third-and-medium, different tendencies they have. Any tips and clues I can see while watching the film."
For as much criticism as there's been around the third-year signal caller, it's hard to quit him. Athletic recruitment site 24/7 Sports labeled his arm as "generational" during the recruiting process, and for as much as fans throw that adjective around these days, it's warranted in this situation. Clemson even starts the bio about their third-year signal caller with the words "cannon-armed passer."
The 6-foot-4 California native mentioned the first time he knew he had a big arm was when he threw the ball 70 yards as an eighth grader. The evidence for that is his 15 big-time throws this season, the seventh most in the FBS.
Clemson is coming off its biggest win of the season so far after defeating N.C. State 30-20. Uiagalelei scored three touchdowns in that game: one passing and two rushing. His passing performance included two big-time throws, and he added 69 yards, 15 yards after contact and one forced missed tackle as a runner.
DJ Uiagalelei finds Jake Briningstool and Clemson now leads by two scores ????pic.twitter.com/8mzqmNY24x

— 247Sports (@247Sports) October 2, 2022
The dual-threat Uiagalelei looks and feels a lot more dual-threat this season. He already has 272 yards on the ground, which is on pace for a career-high. But what's more impressive is his ability to make tacklers miss —  through five games, he has already forced more missed tackles (19) than he did last year (12). And as you would expect, the rate at which he forces those missed tackles is significantly higher than in 2021.
The Clemson signal-caller said that he worked on his preparation this offseason, and that included some work in the kitchen. He lost almost 30 pounds from the end of last season to the start of this one, and it's already paying off. Not only does he feel lighter and faster to be a more mobile quarterback, but he feels healthier, too.
It wasn't easy, though, given that Uiagalelei had to give up his favorite food to achieve it.
"I love to eat," Uiagalelei said. "I'm Samoan, I'm Poly — you feel me. Gaining weight isn't hard for me. It was an easy decision because I knew it would take my game to the next level. But the toughest part for me was giving up sweets. I'm a big ice cream guy — cookies, ice cream. I gave up sweets for like six months. I didn't eat any of it."
The third-year passer wasn't draft-eligible before last season, but if he were, many of the early mock drafts you read would have featured the former five-star recruit as one of the top quarterbacks off the board. This year, you would have been hard-pressed to find his name anywhere in a first-round mock.
He knows that. He gets it. He understands that being the quarterback of a major program isn't just about the praise you get when things go well but also being able to ride the wave when they don't.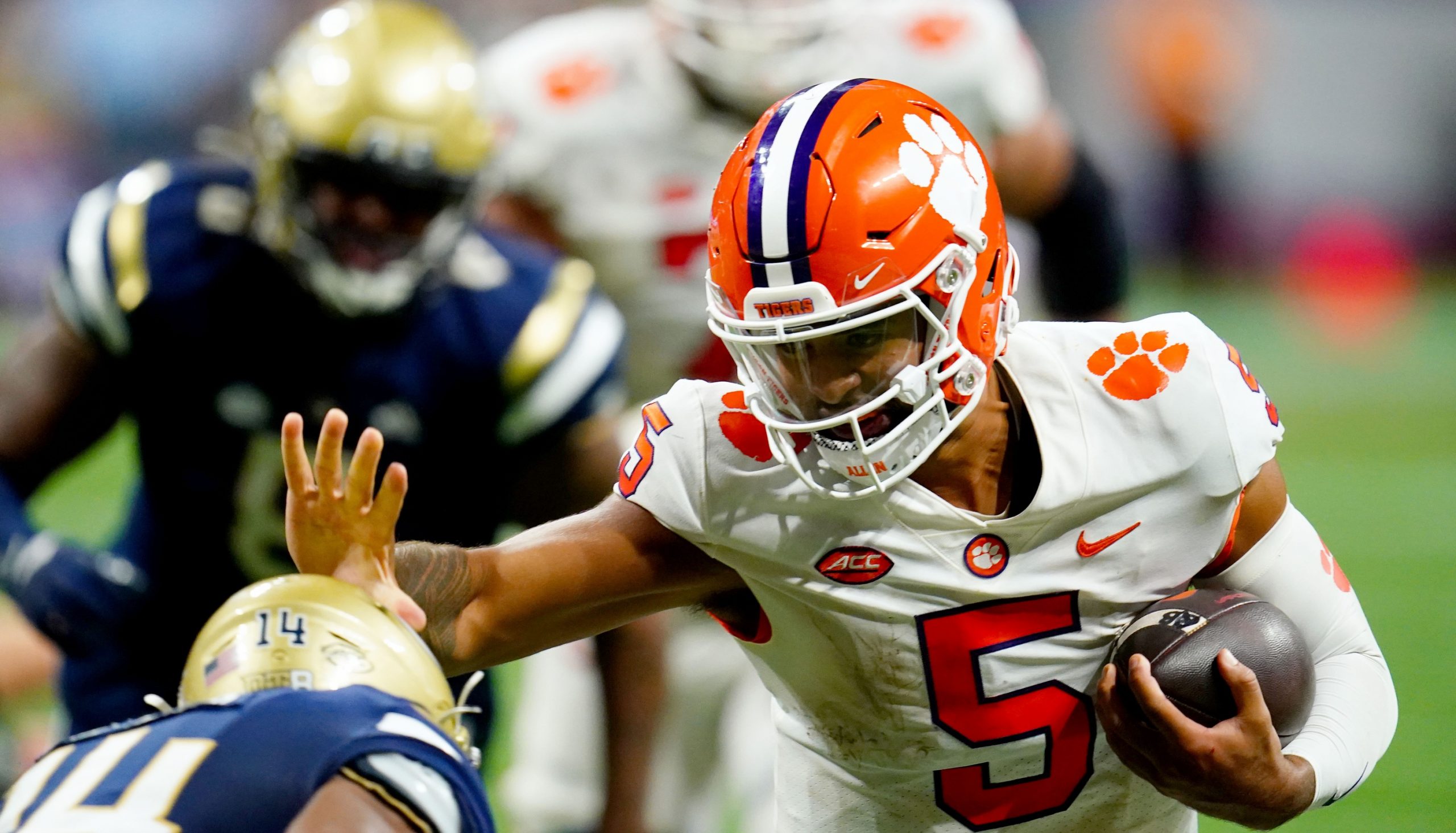 "I look at last year as a blessing," Uiagalelei said. "Even though it wasn't the year I wanted to have. I feel like God put me through that year for a reason — to make me a better man, to learn the lessons I did last year. There's always time to learn from the lessons you go through."
Even now, plenty of people have already closed the book on what they think of Uiagalelei. But he knows that the legacy he's leaving is still a work in progress, and he's the one with the pen.
"Biggest thing for me is I want my teammates to remember me as someone who was willing to do everything he could for the team," Uiagalelei said. "Someone who is willing to give everything he has. That goes for on the field, off the field, in life, everything."