College football recruiting boils down to forming relationships. Winning championships and developing players to eventually be drafted into the NFL certainly helps, but simply put: If a player doesn't like a coach, then they won't play for that coach.
From this, we might imagine that some coaches are better at forming these relationships, and there may be some way to measure it. Luckily, the excellent people over at 247sports give us a means to try and identify college football's best coaches at recruiting.

---
Click here for more PFF tools:
PFF Fantasy Draft Kit | PFF Betting Dashboard | PFF Fantasy Rankings
PFF Fantasy Projections | NFL Premium Stats | Win Totals Tracker
---
While diligently keeping track of a recruit's scholarship offers and dates of their official visits, 247's writers will also sometimes get information about the coach responsible for recruiting that prospect. This coach is then listed as the recruit's "primary recruiter" for that program.
The writer sometimes knows a coach is assigned to that recruit's region or that they specialize in that recruit's position, connects the dots and denotes them the primary recruiter. Not every writer has access to recruits or people within the program to verify individual recruiters, so this is as good as it gets. There are, however, still some issues. 
For one, since 247Sports relies on its writers to input information, the accuracy and amount of inputted data depend on how many writers they have for a specific school. Group of Five schools suffer in this specific measure since they have smaller fan bases and thus fewer potential writers. To circumvent this inevitable outcome of fan base sizes and the resulting inaccuracy, we'll focus on only Power Five coaches. This doesn't quite solve all our problems, though.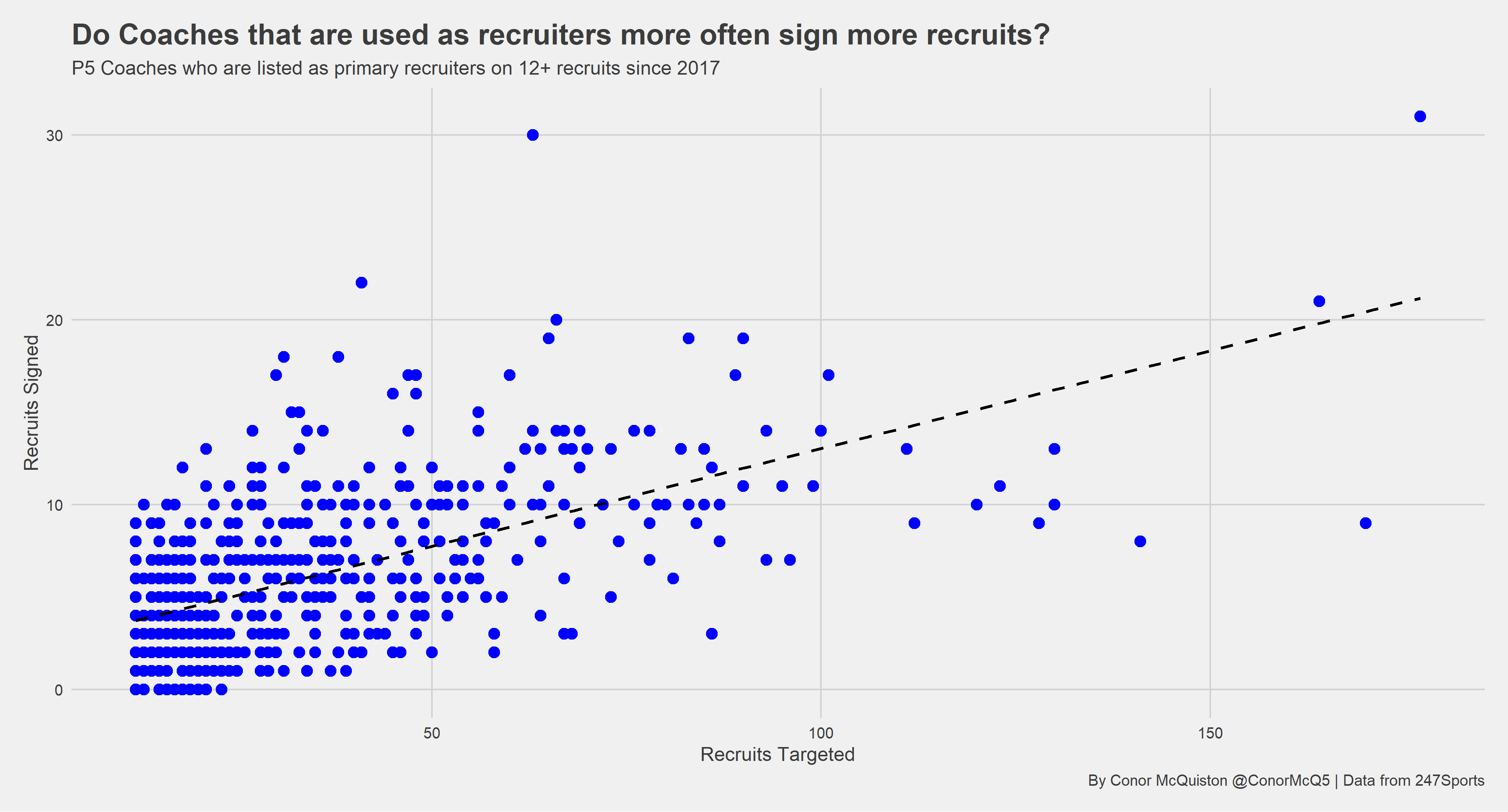 We can see that, very loosely, coaches who are designated as primary recruiters tend to sign more recruits. It's nice to see obvious results. The more important result of this plot is that there is a significant number of coaches, 12 to be exact, who were denoted as being the primary recruiters for 100-plus recruits between the 2017-2021 classes. This implies they had, on average, at least 20 recruits per class, which becomes close to 40 recruits per calendar year since programs recruit multiple classes at once.
Logistically, this is near-impossible. Even if the recruiting attributions were 100% correct, which is unlikely, actively trying to convince 40 teenagers to come play for them on top of their weekly coaching duties is too much for a single person. 
In reality, this is where recruiting support staffers — such as assistant directors of player personnel, recruiting analysts and student recruiting volunteers — come into play as the first contact for many recruits. It would be unrealistic to expect 247's writers to keep up with this level of minutia, and the varied structures of recruiting departments make it impossible to generalize.
So, we are left in a bit of a pickle.
The public data available contains several inaccuracies and simplifications that prevent us from having a solid basis to estimate the quality of Power Five coaches' recruiting prowess.
This doesn't mean it is impossible to get some idea to answer the question. Given the process by which writers usually assign coaches as primary recruiters, typically matching up recruiting regions or position coaches, we can assume that primary recruiters have something to do with that player's recruitment. It may be a logistical role, such as getting the recruit into contact with another coach or recruiting staffer, but they probably played some role. We can then take another small step and say that if a lot of those recruits they're associated with committed to their program, then they probably are good recruiters.
We don't have the data to say what they're good at or give an estimate of how good they are, but we can reasonably speculate they are somewhere in the upper half of Power Five recruiters.
With that in mind, here are the top 25 recruiters by win rate, according to 247Sports: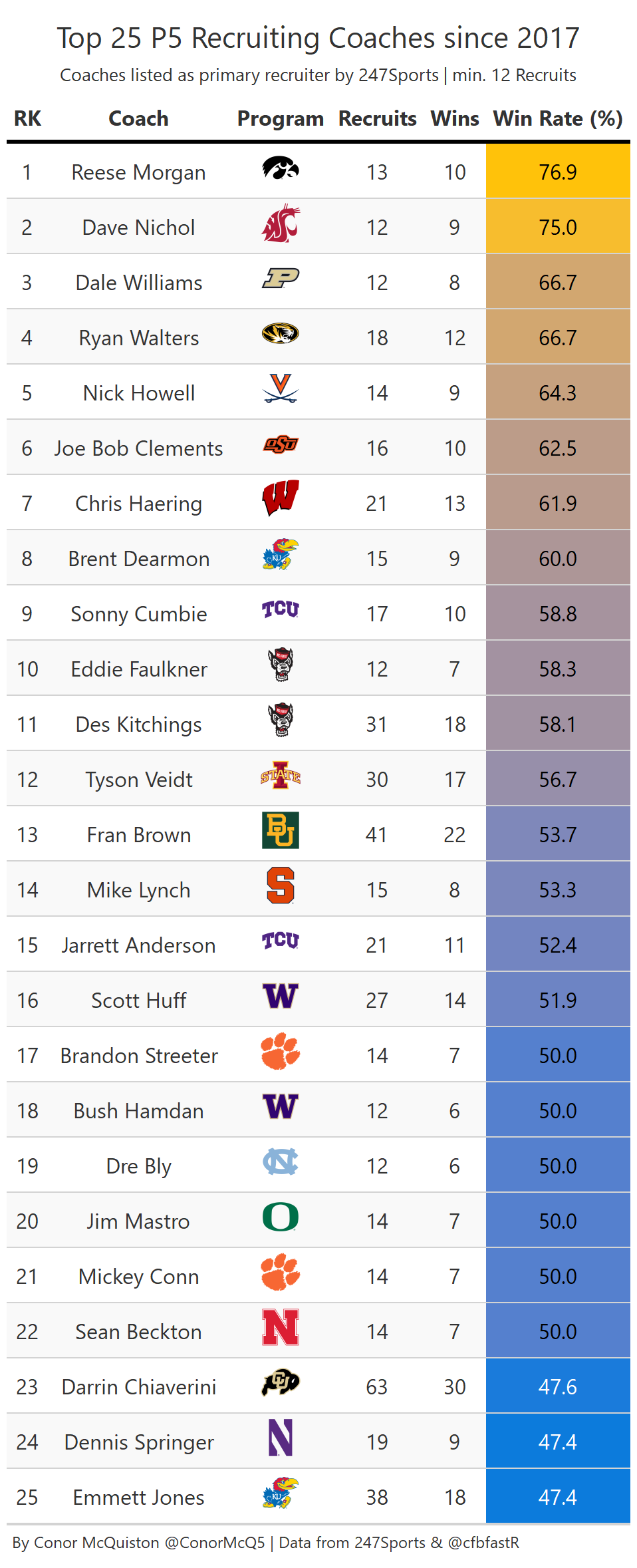 We cannot say with certainty that any of the coaches on this list are better than their counterparts. We can just speculate that they're all probably good at their jobs. So, instead of discussing the particularities of the rankings, let's just pick out a couple of interesting coaches and celebrate their efforts.
At only 34 years old, Walters is one of the more exciting young Power Five coaches. For the duration of this study, he was a defensive backs coach and co-defensive coordinator at Missouri, and he unsurprisingly appears to have played a large role in recruiting their defensive backs.
St. Louis product Jalani Williams is Walters' best recruit, but it appears the coach was most active in the Southeast. Particularly, it appears he has strong connections with West Orange High School in Orlando, Florida, as he is credited for bringing in former 4x100m partners Tyler Jones and Jaylon Carlies in 2020. Missouri also extended an offer in 2019 to West Orange's Darrell Harding, who is currently a wide receiver at Duke.
Brandon Streeter, Clemson Quarterbacks Coach and Passing Game Coordinator
The son of longtime Division III coach Barry Streeter started at quarterback for Clemson from 1998-99 before becoming the quarterbacks coach at his alma mater in 2014. Since then, he has won two national championships, personally coached two (likely to become three) first-round quarterbacks and contributed in signing five blue-chip signal-callers.
While it would be incorrect to attribute all of that success directly to him, he played an integral role in securing program cornerstones Trevor Lawrence and D.J. Uiagalelei while ensuring they receive the proper development. In March, the Tigers secured a commitment from 2022 five-star Cade Klubnik, unsurprisingly shouting to the world that this dominance isn't stopping any time soon.
The former two-time Pro Bowler seems to have been a great boon on the recruiting trail for the Tar Heels. Bly has parlayed his connections from coaching at Myers Park High School in Charlotte, North Carolina, to become an active recruiter in the area. He is credited for the commitments of Charlotte recruits Sam Howell, Obi Egbuna and Cameron Roseman-Sinclair. Roseman-Sinclair was a high school freshman defensive back coached by Bly during his last season at Myers Park.
Bly's greatest impact, however, has been felt in his native Virginia Beach region. He was integral in recruiting former five-star cornerback Tony Grimes and has caused North Carolina to become much more active in the area. The program extended just six offers in the area for the two classes before Bly joined the staff. It has since offered 19 such players in the two classes following his addition.