On the evening of Saturday, Sept. 19, 2021, Fresno State senior quarterback Jake Haener jogged onto the Rose Bowl Stadium field late in the fourth quarter of a tight contest. The hosting UCLA Bruins had just capped a nine-play, 75-yard drive with a touchdown to put them up by four with less than a minute left.
Haener made his way to his 25-yard line with a lot on his mind. He glanced at the clock that showed just 54 seconds remaining and a scoreboard that told him a field goal would do his team no good. He thought about the lone timeout his team had and the two-high looks the Bruins were showing him all game.
With every step, he was reminded of the immense pain in his ribs and hip from a shot he took in the first half that was only getting worse. He may have even thought about the bigger picture — his time at Washington, how he ended up at Fresno, the ups and the downs and the importance of the moment in front of him. But, above all of that, Haener tried to focus on one thing: Jason Bourne.
Click here for more PFF tools:
Rankings & Projections | WR/CB Matchup Chart | NFL & NCAA Betting Dashboards | NFL Player Props tool | NFL & NCAA Power Rankings
---
"That's a [offensive coordinator] Coach Grubb thing," Haener said with a laugh in an exclusive interview with PFF. "He always says you've got to have access to all your tools… He said, 'I know it's cheesy and everything, but look at Jason Bourne.' You look at Jason Bourne when he's in those moments: He is so calm, and he has access to all those tools. I had access to all the tools the other night, and we used it and it worked out."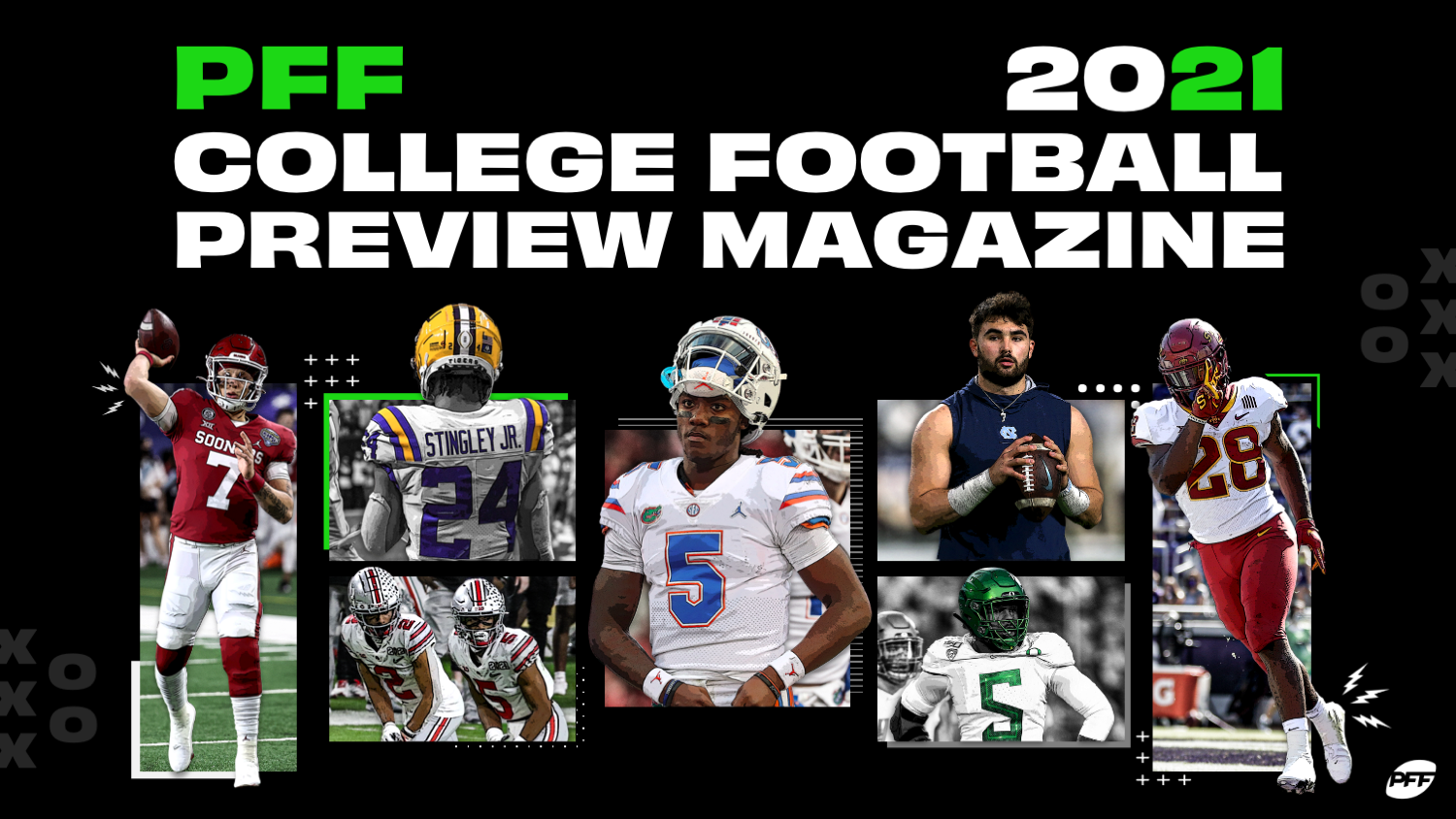 Six plays later, Haener tossed a 13-yard touchdown to Jalen Cropper to take a 40-37 lead that would hold for a big-time Fresno State win. After missing his first throw, the Bulldogs quarterback went 5-for-5, marching those 75 yards with equal parts guts and brilliance.
With every throw, you could see how much pain Haener was experiencing. Contrary to his typically compact throwing motion, each throw was a full-body experience. Still, he managed to put the ball in the right spot — every time.
"I have never been in that situation before, with that pain while trying to throw," Haener said. "I literally felt like I could barely throw the ball at that point, so that kind of sucked. That was really the first time that I've had to do that in that situation.
"I couldn't really rotate. I was just trying to keep my balance so I could use whatever I had to get the ball out there and try to make something happen with whatever time we had left. You've just got to find a way at those points, and we made it happen."

Haener threw for 455 passing yards against UCLA that day, second only to last season's 485-yard Nevada game in terms of a career-high. It was fitting, too, since this season feels like a career-high for the journeyman quarterback. His 10-1 touchdown-to-interception ratio is the best of his career, and he is on pace to shatter his previous single-season best in passing yards. His 73.6 completion percentage is nearly 10 points higher than it was in 2020, and his yards per attempt average is up above 10 for the first time.
Many people may think Haener is an overnight sensation, but his journey toward tossing that final touchdown was anything but overnight.
The three-star prospect originally committed to the Washington Huskies out of high school. After redshirting his first season, he saw a little action in 2018 as Jake Browning's backup, which was supposed to lead to a full-time starting role in 2019. But before that summer, the Huskies made a big splash in the transfer portal by bringing in former five-star quarterback — and Washington native — Jacob Eason from Georgia.
Jake Haener: pff overall grade and rank since 2018 [among FBS Qbs with 100 or more dropbacks]
| | | | |
| --- | --- | --- | --- |
| Season | Snaps Played | PFF Grade | |
| 2021 | 255 | 82.5 | 11th of 47 |
| 2020 | 438 | 75.4 | 56th of 140 |
| 2018 | 34 | 70.8 | N/A |
* Didn't play any snaps in 2019
Entering his redshirt sophomore season, Haener was no longer the expected starter for the Huskies and was instead staring down a quarterback competition with a highly-touted recruit and local legend. But even from the moment he learned Eason was coming west, the mindset was clear.
"No fear," Haener said. "You got a big-time guy coming in, and that's what you want. When you're playing big-time college football, you can't be scared of guys coming in. That's the way it is. You're playing on a top-10 program at the time, and there's talent coming in and out. So, still to this day, I believe in my game. I believe in who I am, what I do, the competitor I am and the leader I am.
"So, it is what it is. Jacob's a great guy. I still actually talk to him every once in a while here and there. But there were no thoughts to leave. There were no thoughts to do any of that. It was, 'I'm gonna slug this out. It'll go one of two ways: you can win and become the starter, or you could… lose the battle and go somewhere else and make a name for yourself.'"
As we all know from Eason's time as the starter at Washington, Haener didn't win that quarterback competition despite his former head coach Chris Peterson saying the back-and-forth was tight. Just days after Peterson made his decision to start Eason, Haener was in the transfer portal. Not because he didn't believe in Washington or believe in Eason but because he believed in himself.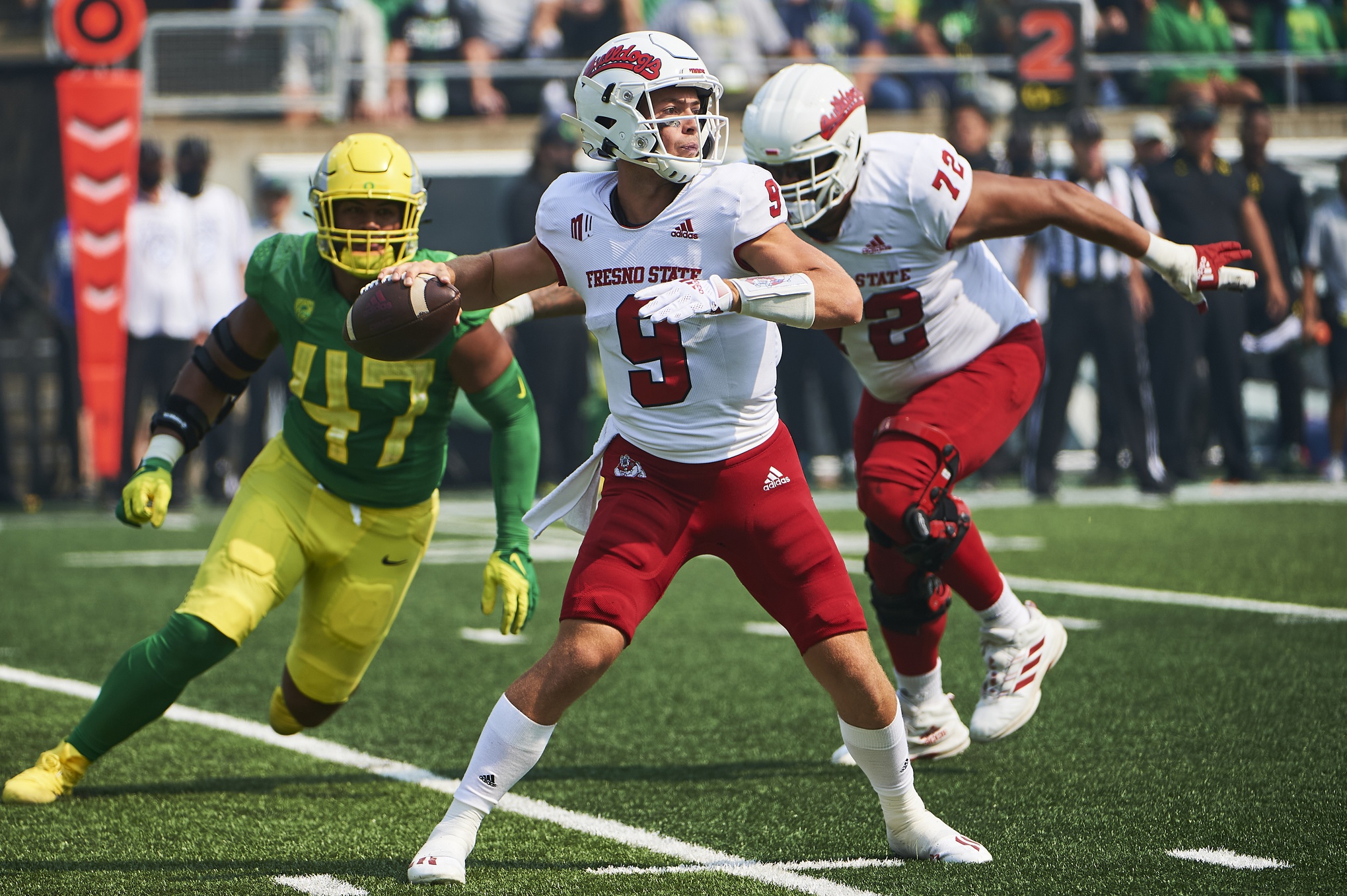 "I was 19 or 20 at the time. And you put all your eggs in one basket or one place and dream to play there, and it doesn't happen and you're crushed," Haener said. "So, you have to grow up fast and stop feeling sorry for yourself and know that the world does not care how you feel. You just gotta pick your feet up and keep going. And the funny thing is a lot of people thought I transferred to Fresno just to get on the field and knew that I wasn't gonna have a chance to play at the next level or really succeed. Just funny to see how things work."
Haener now finds himself in a place he loves with a coaching staff he loves working with. Kalen DeBoer is the head coach, but Haener works more with offensive coordinator and quarterbacks coach Ryan Grubb.
And under Grubb, Haener's 83.3 PFF passing grade is one of the best in the country among full-time starters. In fact, he has yet to record a PFF passing grade below 70.0 this season, having earned an 83.3 grade against UConn, a 73.6 grade against Oregon, a 92.9 grade against Cal Poly and a 72.4 against UCLA. 
"That guy believes in me," Haener said. "I love him, and I think we're very similar in the way we're wired. We're both ultra-competitive, and we bring it to the QB room into the offense every morning. He's just someone I totally trust, and he's up there grinding harder than anyone in the country."
Other content you will like:


When talking about what makes a good coach, you expect a player to talk about scheme and creativity and more strategic elements. While that is certainly involved, most players reference the attitude and mentality of the coaches first and foremost. What Haener enjoys most about playing for Grubb is how much he pushes him to be his best, even in the small details.
"I'll give you an example," Haener recalled. "Before the UConn game on Saturday, I was watching film on a Thursday night until 8:30 or 9 [p.m.], and we had this red-zone package that we were supposed to draw out quick. And I did all the drawings, but I was watching some other cutups and got really just lost in the film, watching it, watching it and watching it, that I forgot to do a couple of questions on this little red-zone thing.
"I come there the next morning. I'm like, 'hey, I got lost in cutup X, Y and Z, and I forgot to do questions 1, 2 and 3 of the red zone.' He lost his mind. He got on my ass and just told me he's not gonna let anything slide. He's like, 'Are you trying to be the best quarterback in the country? I'm gonna expect you to prepare like the best quarterback in the country. And that ain't gonna slide, but you're better than that.' And we made it happen, and I've been on it."
Haener has grown a lot in his journey as a quarterback. With more years and more reps under his belt, there's even more information in his head. But true maturity in your craft isn't just about having more information; it's having more information and being able to call upon it faster than when you had even less to think about.
That comes from training the mind. The game of football can still be simplified to the phrase "big people beat up little people." It's a physical game built around superior athletes yielding a superior result. And even after gaining about 10 pounds to 195 this offseason, the 6-foot signal-caller doesn't pass the eye test as a quarterback who wins on athleticism alone. So, while he's worked on his body, he put even more time into evolving his mind to take his game to new heights.
"I've really gotten into meditating, "Haener said. "There's so much going on in your brain each day — you're thinking all these different thoughts, there's just things constantly going on up here. Sometimes, I just use it to not think at all. I turn my brain off. I'll listen to some meditation music and honestly just try to relax. Just be simple.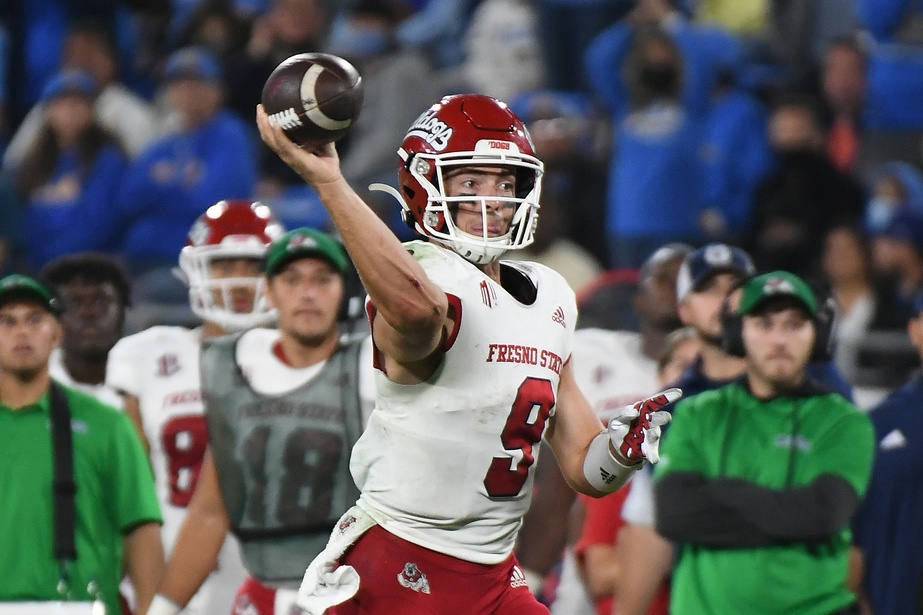 "I think that's a really big thing that people don't look at these days. They want to make everything so complicated and so complex they get out of the way of being simple. A lot of simple people are pretty successful, so I just try to make it as easy as possible for myself.
"Before games, I'm really into my breathing [exercises]. I think that's a big thing for people — just breathing and telling yourself you belong in these moments. I grew up wanting to be in this moment, and I'm in it right now, so why not enjoy it? It's a great opportunity to have, and I'm just so happy and thankful to be in this position I'm in right now. Just being here with my team and doing it with a great group of guys that I'm really close with. It's awesome."
The Fresno State quarterback has experienced some of the highest peaks and the lowest valleys college football can offer. He said after his team's win over UCLA, he did more interviews than he ever has in a 48-hour period. He's been all over social media in the best way. But, on the complete opposite end of the spectrum, he remembers the feeling of losing that QB battle in Washington: transferring out of the program and the feelings that came with watching fans react to that.
He has learned to take both the best and the worst in a way that you don't get too engulfed in, either. You know they're there, but, good or bad, you've got a job to do. You've got that next throw to make. 
"With being a quarterback in college football and going into those situations, you've just got to have a neutral mindset," Haener said. "I think that's the biggest thing of playing my position is trying to stay neutral and trying to live in the moment. When you start thinking about the other stuff, that's when you get caught up in the stuff you don't want to get caught up in… So, whenever we're in big-time games and big-time moments, you've got to be like Jason Bourne, man. Live in that moment. Be where your feet are. Stay neutral. Have access to all the tools when you need them: protections, changing the play, routes, whatever you need. I've got access to it, I know what I see, and we go with it."