The 2020 college football regular season has officially come to a close, so now it's time to recognize the nation's top players at every position by naming PFF's All-Conference teams.
With the help of PFF grades and advanced statistics — which are now available to PFF's CFB Premium Stats+ Subscribers — we present to you the PFF 2020 All-AAC team.
QUARTERBACK
Gabriel took his play to elite status in 2020 after a stellar true freshman campaign in 2019. His 91.1 PFF grade ranks ninth among all FBS quarterbacks, and to no one's surprise, his deep ball was a big reason why he cracked the top 10.
UCF's offense loves the go ball, and it has one of the country's top quarterbacks in hitting those. With his excellent touch, Gabriel led all FBS quarterbacks in both deep 20-plus yard completions (35) and passing yards (1,338).
Second-Team: Shane Buechele, SMU
Third-Team: Clayton Tune, Houston
Honorable Mention: Michael Pratt, Tulane
RUNNING BACKS
Tulane has a talented running back room, and Carroll led the pack with an 86.9 rushing grade. That mark ranked first among all AAC backs and came in at No. 16 in the entire FBS. Inside zone was Carroll's bread-and-butter and where he found most of his success. On those carries, Carroll's rushing grade jumped to an FBS-best 91.9.
Second-Team: Bentavious Thompson, UCF
Third-Team: Stephon Huderson, Tulane
Honorable Mention: Otis Anderson, UCF
Bentley was pretty boom-or-bust all year long, but the boom aspect wasn't something anyone expected from the redshirt freshman. The SMU Mustang cracked the top 10 in the FBS and ranked second among non-Power Five backs in total explosive runs of 10-plus yards (28).
Second-Team: Greg McCrae, UCF
Third-Team: Kyle Porter, Houston
Honorable Mention: Gerrid Doaks, Cincinnati
WIDE RECEIVERS
Williams was having a monstrous season for the Knights before leaving the team to focus on the 2021 NFL Draft following the team's Week 12 loss to Cincinnati.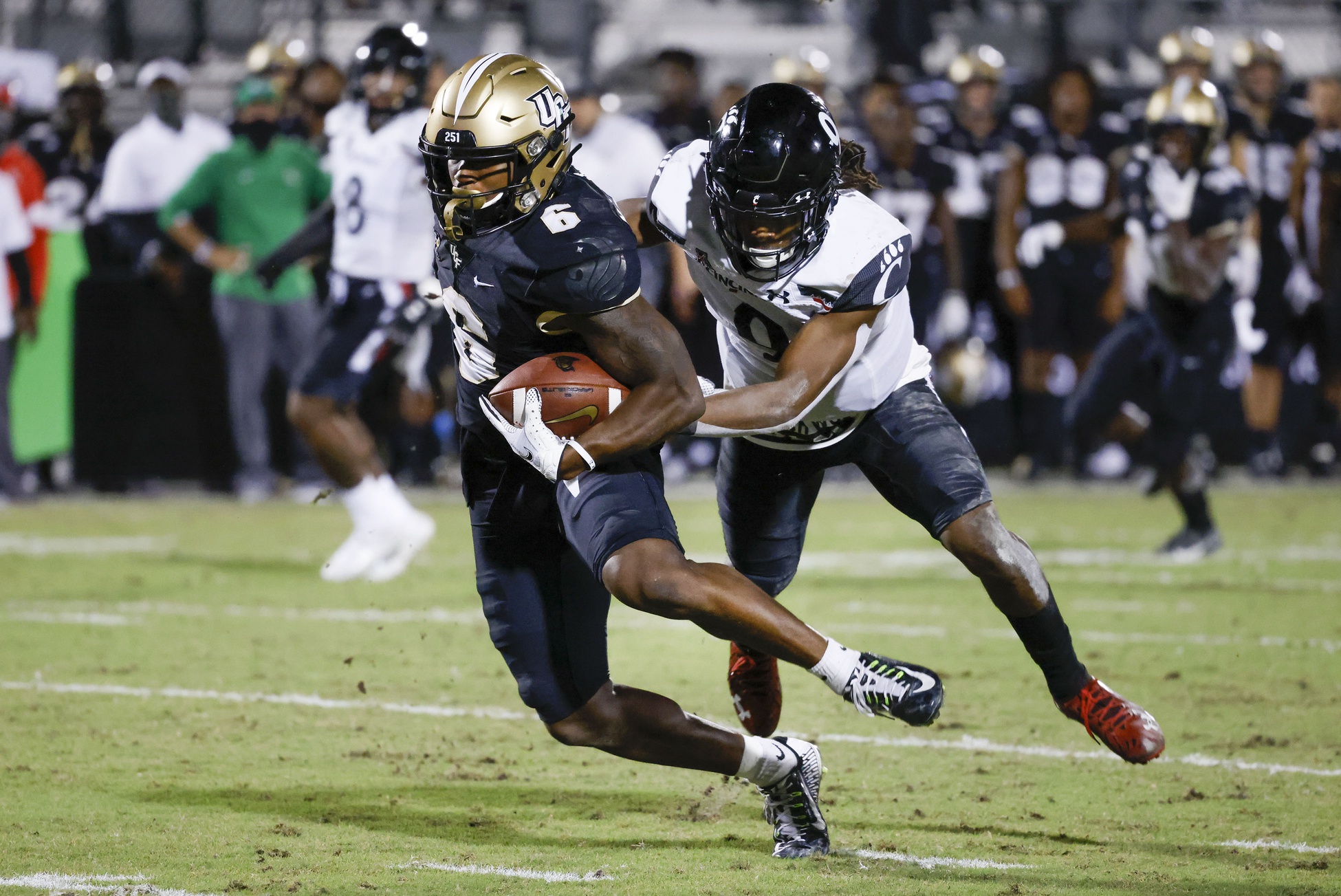 He was one of a few receivers to pick up an explosive reception of 15-plus yards in every single game played this year, and he still leads all slot receivers this year in that category (22). Williams was also one of the most difficult slot receivers to bring down, racking up an FBS-high 22 broken tackles in the slot.
Second-Team: Tyler Snead, East Carolina
Third-Team: Danny Gray, SMU
Honorable Mention: Bryce Miller, USF
Stokes cleaned up his drop issue from a year ago, and that — among many other reasons — helped him earn a first-team spot. He cut his drop rate from 17% down to 5% and saw his receiving grade jump from 69.9 to 78.1.
Second-Team: Blake Proehl, East Carolina
Third-Team: Jadan Blue, Temple
Honorable Mention: Rashee Rice, SMU
After flashing on a limited sample in 2019, Austin was given a much larger role in 2020. And he made the most of it with a big breakout year.
The 5-foot-9, 162-pound receiver was a big-play threat every time he stepped foot on the field. Austin trails only Alabama's DeVonta Smith for the most explosive receptions of 15-plus yards (28) in college football in 2020.
Second-Team: Jhaquan Jackson, Tulane
Third-Team: Josh Johnson, Tulsa
Honorable Mention: Jaylon Robinson, UCF
TIGHT END
Whyle was the most productive tight end in the AAC this season, and it wasn't particularly close. He generated nearly a full yard more per route run than any tight end in the conference (2.97) and trails only Florida's Kyle Pitts in that metric this season.
Second-Team: Sean Dykes, Memphis
Third-Team: Kylen Granson, SMU
Honorable Mention: Christian Trahan, Houston
LEFT TACKLE
The big thing we wanted to see from Thomas this season was improved run blocking, and the tackle definitely delivered. He boosted his 2019 run-blocking grade by over 20 grading points to 84.8. That helped him earn an 87.3 PFF grade on the year, leading all AAC tackles and ranking 14th among those in the FBS.
Second-Team: Tyler Smith, Tulsa
Third-Team: James Hudson, Cincinnati
Honorable Mention: Obinna Eze, Memphis
LEFT GUARD
First-Team: Hayden Howerton, SMU
Howerton had to fill in at center for 125 snaps this year out of necessity, but looking solely at his 617 snaps at left guard, his pass protection is among the best in the country. He comes in at No. 6 among all FBS left guards in pass-blocking grade, having allowed just four total pressures at the position.
Second-Team: Corey Dublin, Tulane
Third-Team: Joseph Hooper, Temple
Honorable Mention: Demetris Harris, USF
CENTER
Haynesworth was by far the top-performing center in a conference that has had some pretty subpar play at the position. His 70.6 PFF grade was over five grading points better than anyone in the conference. Only five pressures baked into that grade, the fewest among AAC centers this year.
Second-Team: C.J. Perez Jr., Temple
Third-Team: Brad Cecil, USF
Honorable Mention: Alan Ali, SMU
RIGHT GUARD
Jones logged over 80 snaps at center, right guard and right tackle this season, but he played more at right guard out of those three, which is where his best play came.
He has the second-best pass-blocking grade in the FBS when lined up at right guard this year, with just two pressures allowed on 139 pass-blocking snaps.
Second-Team: Peter Nestrowitz, Navy
Third-Team: Vincent Picozzi, Temple
Honorable Mention: Max Banes, Houston
RIGHT TACKLE
Parham spent his first two years on the field for Memphis at left guard. This year, he kicked over to right tackle and had his best season yet.
He improved as both a pass-protector and a run-blocker, posting grades above 82.0 in both facets. That led him to an overall PFF grade that ranks fifth among all FBS right tackles.
Second-Team: Chris Paul, Tulsa
Third-Team: Michael Niese, Temple
Honorable Mention: Darius Harper, Cincinnati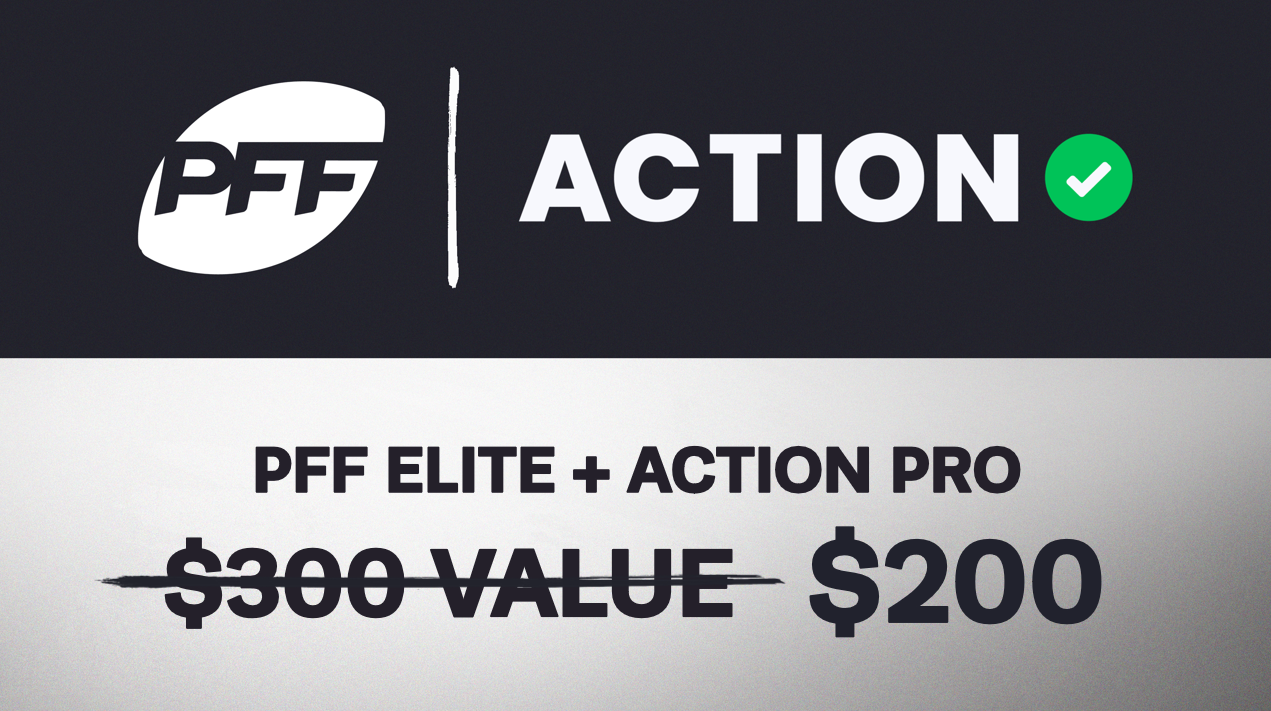 INTERIOR DEFENSIVE LINE
Goodson is the only interior defensive lineman in the AAC to record an 80.0-plus grade as a run defender and a pass rusher. He has played the fifth-most snaps in the FBS at heads-up nose tackle and is very much in the conversation for best at that position. Goodson's grade at that position this year was 90.5, tying for the best in the country with NC State's Alim McNeil.
Second-Team: Daniel Archibong, Temple
Third-Team: Noah Seiden, Tulane
Honorable Mention: Tyarise Stevenson, Tulsa
Hall had an unexpected breakout in 2020. After recording PFF grades of 54.4 and 63.5 in his first two seasons, the defensive tackle posted an 87.9 mark in 2020. And that featured one of the best performances we saw at the position this year back in Week 8 against Navy. Hall recorded a 95.6 pass-rush grade and a 59% pass-rush win rate in that outing.
Second-Team: Curtis Brooks, Cincinnati
Third-Team: Cam Goode, UCF
Honorable Mention: Chidozie Nwankwo, Houston
EDGE DEFENDER
The AAC may have had the best play at the edge defender position of the 10 conferences, and the leader of the pack is Cincinnati's Elijah Ponder. He has played substantial snaps from 3- to 7-technique and has been a dominant force wherever he is at.
In fact, Ponder has recorded a 79.0-plus grade when lined up at defensive tackle, 4/5-tech and 6/7-tech this season. He is the only player in college football to have reached that grade at all three of those positions.
Second-Team: Myjai Sanders, Cincinnati
Third-Team: Arnold Ebiketie, Temple
Honorable Mention: Derek Parish, Houston
Sample took his pass-rushing from good to elite in 2020 with his transition from standard defensive end to stand-up outside linebacker. He improved his pass-rushing grade from 69.1 to 90.4, tying for the eighth-best in the FBS.
Second-Team: Payton Turner, Houston
Third-Team: Patrick Johnson, Tulane
Honorable Mention: Morris Joseph, Memphis
LINEBACKER
Collins is not just the top off-ball linebacker in the AAC of the 2020 season, but he also has been the best in the entire FBS.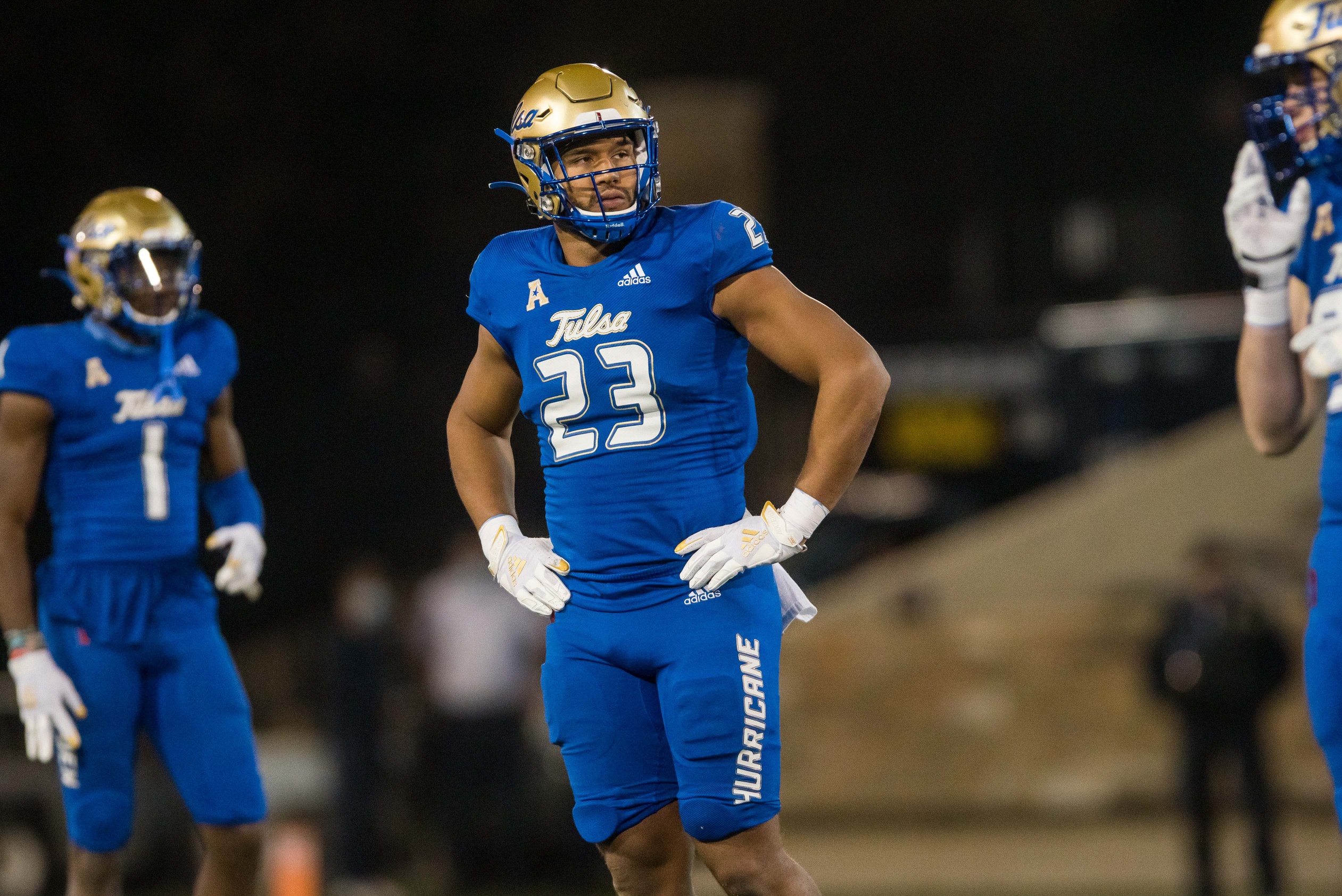 He leads the country in PFF grade at his position, and his standout coverage ability is a big reason why. Collins shattered the PFF College record for best single-season coverage grade by an off-ball linebacker this season — originally set by Eric Kendricks in 2014.
Second-Team: Dorian Williams, Tulane
Third-Team: Jarell White, Cincinnati
Honorable Mention: Delano Robinson, SMU
Anderson may not have been the best off-ball linebacker in the conference this season, but he wasn't too far off. His 87.9 PFF grade slotted in at No. 3 among all FBS off-ball linebackers — behind only Collins and Army's Jon Rhattigan. The backbone of his success this year was by far his run defense, where his grade ranked second in the FBS.
Second-Team: Dwayne Boyles, USF
Third-Team: Treyvon Reeves, Tulsa
Honorable Mention: Justin Wright, Tulsa
CORNERBACK
Jones had two successful seasons under his belt with Troy in 2017 and 2018 as a true freshman and a sophomore, respectively, before transferring to Houston.
In those two seasons, the 5-foot-8, 185-pound corner recorded coverage grades of 72.9 and 82.0. Jones didn't skip a beat with Houston this year after having to sit out the 2018 campaign due to transfer rules. He was battle-tested over six starts this season, averaging more than five targets per game. He overcame that with an 86.8 coverage grade, though.
Second-Team: Coby Bryant, Cincinnati
Third-Team: Jacobi Francis, Memphis
Honorable Mention: Macon Clark, Tulane
Gardner has put together quite the college resume these past two years as an underclassman. He ranked seventh among FBS cornerbacks as a true freshman in PFF grade last year and came back in 2020 as the same playmaker.
Gardner has allowed the third-lowest passer rating in the FBS in coverage this year, making more plays on the ball than first downs allowed. He has now made over 30 plays on the ball without giving up a touchdown in his college career.
Second-Team: Michael McMorris, Navy
Third-Team: Malik Fleming, East Carolina
Honorable Mention: Damarion Williams, Houston
SAFETY
Grant has been a tried and true playmaker for UCF this season both against the run and in coverage. He leads all AAC safeties in interceptions plus pass breakups (eight), run-defense grade (90.0) and run stops (18). He has also forced a couple of fumbles against the run.
Second-Team: Cristian Williams, Tulsa
Third-Team: Darrick Forrest, Cincinnati
Honorable Mention: James Wiggins, Cincinnati
The highest-graded safety in the conference is none other than Memphis' Quindell Johnson. He played free safety more than anything, but he was at his peak when in the box. Johnson is the fourth-highest-graded safety in the FBS when at that alignment (83.0).
Second-Team: Derek Gainous, UCF
Third-Team: Kendarin Ray, Tulsa
Honorable Mention: Larry Brooks, Tulane
FLEX D
With four interceptions, five forced incompletions and an AAC-high eight passing stops at outside corner, East Carolina's Ja'Quan McMillian has earned the second-best coverage grade at the position in the conference.
He's not going to win all the one-on-one contested battles he faces with his 5-foot-9 frame, but his zone skills have been nothing short of exceptional this season.
Second-Team: Arquon Bush, Cincinnati
Third-Team: Warren Saba, East Carolina
Honorable Mention: Ar'mani Johnson, SMU
KICKER
First-Team: Chris Naggar, SMU
Second-Team: Riley Patterson, Memphis
Third-Team: Mereck Glover, Tulane
Honorable Mention: Jake Verity, East Carolina
PUNTER
First-Team: James Smith, Cincinnati
Second-Team: Jonn Young, East Carolina
Third-Team: Andrew Osteen, UCF
Honorable Mention: Lachlan Wilson, Tulsa
KR/PR
First-Team: Johnny Ford, USF
Second-Team: Tahj Washington, Memphis
Third-Team: Jhaquan Jackson, Tulane
Honorable Mention: Tyler Snead, East Carolina