The 2020 college football regular season has officially come to a close, so now it's time to recognize the nation's top players at every position by naming PFF's All-American teams.
With the help of PFF grades and advanced statistics — which are now available to PFF's CFB Premium Stats+ Subscribers — we present to you the PFF 2020 All-American team.
QUARTERBACK
Jones enters the College Football Playoff as not just the highest-graded quarterback in college football this season but the highest-graded quarterback of the PFF College era.
The Bama signal-caller has posted a 95.3 PFF grade this season, which is just ahead of the three best single-season marks we have ever seen: Joe Burrow's 94.9 in 2019, Kyler Murray's 94.6 in 2018 and Baker Mayfield's 94.6 in 2017.
All three of those quarterbacks won the Heisman Trophy in those record-setting years.
Second-Team: Zach Wilson, BYU
Third-Team: Kyle Trask, Florida
Honorable Mention: Spencer Rattler, Oklahoma
RUNNING BACKS
Williams has put up video game-like numbers for the Tar Heels this season. Before 2020, the highest single-season rushing grade ever recorded in the PFF College era was Ronald Jones' 93.8 for USC back in 2017. This year, Williams has shattered that mark with a 95.9 rushing grade, and he has also broken more tackles per attempt than any FBS running back since 2014 (0.48).
Second-Team: Chris Rodriguez Jr., Kentucky
Third-Team: Khalil Herbert, Virginia Tech
Honorable Mention: Jaret Patterson, Buffalo
North Carolina legitimately had one of the best backfields in the history of college football this season with Williams and Michael Carter.
The two rank first and second in the FBS in the percentage of runs that resulted in a 10-plus-yard gain — at 26.8% and 26.1%, respectively — with both figures nearly doubling the FBS average.
While Williams had the best season we have seen from a pure rushing standpoint, Carter had one of the best years for a dual-threat back. Carter is the only running back in the FBS who ranks in the top five in both rushing and receiving grade this year.
Second-Team: Najee Harris, Alabama
Third-Team: Jerion Ealy, Ole Miss
Honorable Mention: Deuce Vaughn, Kansas State
WIDE RECEIVERS
Even in a year where we have seen a quarterback — Mac Jones — post the highest single-season PFF grade we have ever recorded, wide receiver DeVonta Smith still has a shot at winning the Heisman Trophy. He's been that good this year.
Smith has earned a 94.3 receiving grade this season, topping the previous best season at the Power 5 level by more than a full grading point (Amari Cooper's 92.9 in 2014).
The Alabama receiver's 35 explosive receptions of 15-plus yards are seven more than anyone else in college football. There truly is not a defensive back in college football who can effectively shut him down over the course of an entire game. That, right there, is dominance in its purest form.
Second-Team: Jaquarii Roberson, Wake Forest
Third-Team: Tylan Wallace, Oklahoma State
Honorable Mention: Treylon Burks, Arkansas
Moore was Matt Corral's go-to weapon this year, and understandably so. Outside of DeVonta Smith, he was the most reliable receiver in the country.
The 5-foot-9 slot receiver caught 97.7% of his catchable targets this season, the second-highest rate in the nation, and he also recorded the fourth-highest contested-catch rate in the FBS.
Moore has a penchant for finding holes in zone coverages, but he also showed that he could win by separating against single coverage. The Ole Miss wideout ultimately earned the third-best receiving grade we have seen by an SEC wide receiver, behind only Smith and Amari Cooper.
Second-Team: Dax Milne, BYU
Third-Team: Marvin Mims, Oklahoma
Honorable Mention: Khalil Shakir, Boise State
Darden was a big-time explosive and shifty slot weapon for the Mean Green in 2020. He ranked in the top five in the entire FBS in slot receiving grade (87.6), broken tackles after the catch (19), explosive plays of 15-plus yards (18) and yards per route run (3.91).
He didn't see a huge amount of single coverage, as he predominantly resided in the slot, but we saw a lot of open targets and explosive plays when he did. Over 34% of his targets against single coverage resulted in a 15-plus-yard gain, the ninth-best rate in the entire FBS.
Second-Team: Kadarius Toney, Florida
Third-Team: Marlon Williams, UCF
Honorable Mention: Jonathan Adams Jr., Ark State
TIGHT END
DeVonta Smith hasn't been the only record-setting receiver in college football this season, as Florida tight end Kyle Pitts has also earned the highest PFF grade ever given to a player at his position.
Pitts has earned a 96.0 receiving grade on the year while racking up a position-best 3.26 yards per route run. Pitts' ability to go toe-to-toe against press-man out wide is truly special. He has picked up seven explosive receptions of 15-plus yards against press coverage when lined up out wide — the rest of the FBS tight ends have just six combined.
Second-Team: Isaiah Likely, Coastal Carolina
Third-Team: Josh Whyle, Cincinnati
Honorable Mention: Trey McBride, Colorado State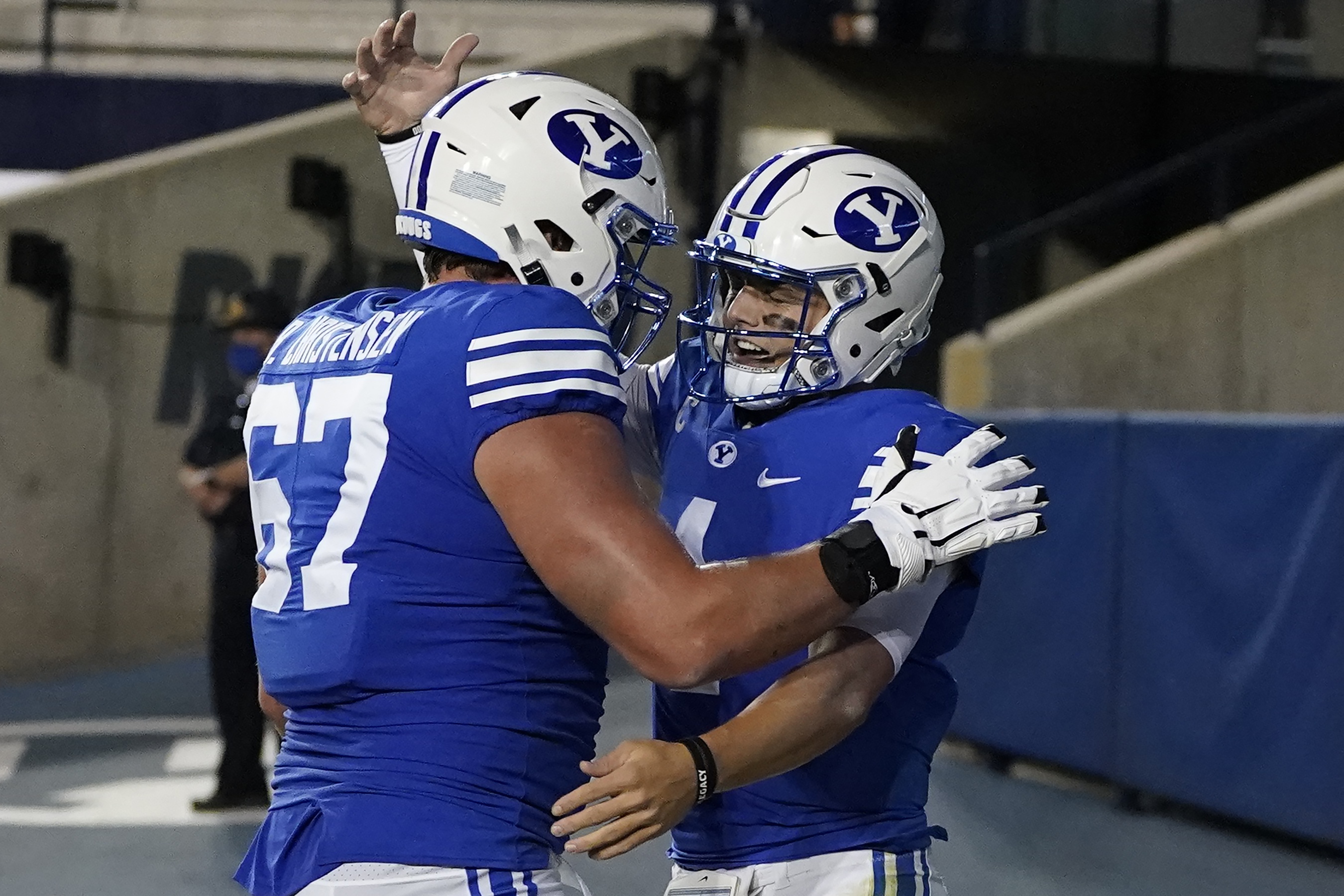 LEFT TACKLE
Just as we have with Jones, Williams, Smith and Pitts, we have another PFF record to keep an eye on as we approach bowl season with BYU tackle Brady Christensen.
Last year, Oregon tackle Penei Sewell produced the highest single-season PFF grade by a tackle, at 95.8, and Christensen has topped that in 2020.
After earning grades above 95.0 as both a pass-blocker and run-blocker, Christensen has posted a 96.4 overall grade for the year. He has allowed just three pressures across 372 pass-blocking snaps in 11 games. Say what you will about the schedule, that's still incredibly impressive.
Second-Team: Christian Darrisaw, Virginia Tech
Third-Team: Samuel Cosmi, Texas
Honorable Mention: Liam Eichenberg, Notre Dame
LEFT GUARD
Notre Dame has the clear-cut best offensive line in the country, and Banks is a key cog in that unit. He was the only Power 5 left guard who earned a pass- and run-block grade above 80.0 this year.
Banks came in at No. 6 among all FBS left guards in PFF pass-blocking grade. That sounds great as is, but it's even more impressive when you consider the fact that he played the fourth-most true pass sets among players at the position.
Second-Team: Ryan Neuzil, App State
Third-Team: Jacob Gall, Buffalo
Honorable Mention: Mike Johnson, Army
CENTER
Just two years ago, Linderbaum was finishing up his first year on campus as a defensive tackle for the Hawkeyes. Now, he's the best center in college football.
Linderbaum flipped to the offensive side of the ball before last season, and he impressed immediately, earning an 81.7 PFF grade. He improved that grade to 91.5 this season, the best at the position since Frank Ragnow's 92.3 with Arkansas in 2016.
Second-Team: Drake Jackson, Kentucky
Third-Team: Landon Dickerson, Alabama
Honorable Mention: Mike Novitsky, Buffalo
RIGHT GUARD
Madden's pass blocking has been great, with zero sacks and hits allowed this season, but his run-blocking has been on another level. Madden's 93.4 run-blocking grade is nearly five grading points higher than that of any other FBS guard.
Second-Team: Jordan Meredith, Western Kentucky
Third-Team: Cole Banwart, Iowa
Honorable Mention: Tommy Kraemer, Notre Dame
RIGHT TACKLE
Kinnard maintained his status as one of the top tackles in the run game this year, raising his run-block grade from 89.1 in 2019 to 92.3 this season. That was anchored by the third-highest positively graded run-block rate among FBS tackles.
Second-Team: Teven Jenkins, Oklahoma State
Third-Team: Robert Hainsey, Notre Dame
Honorable Mention: Jake Fuzak, Buffalo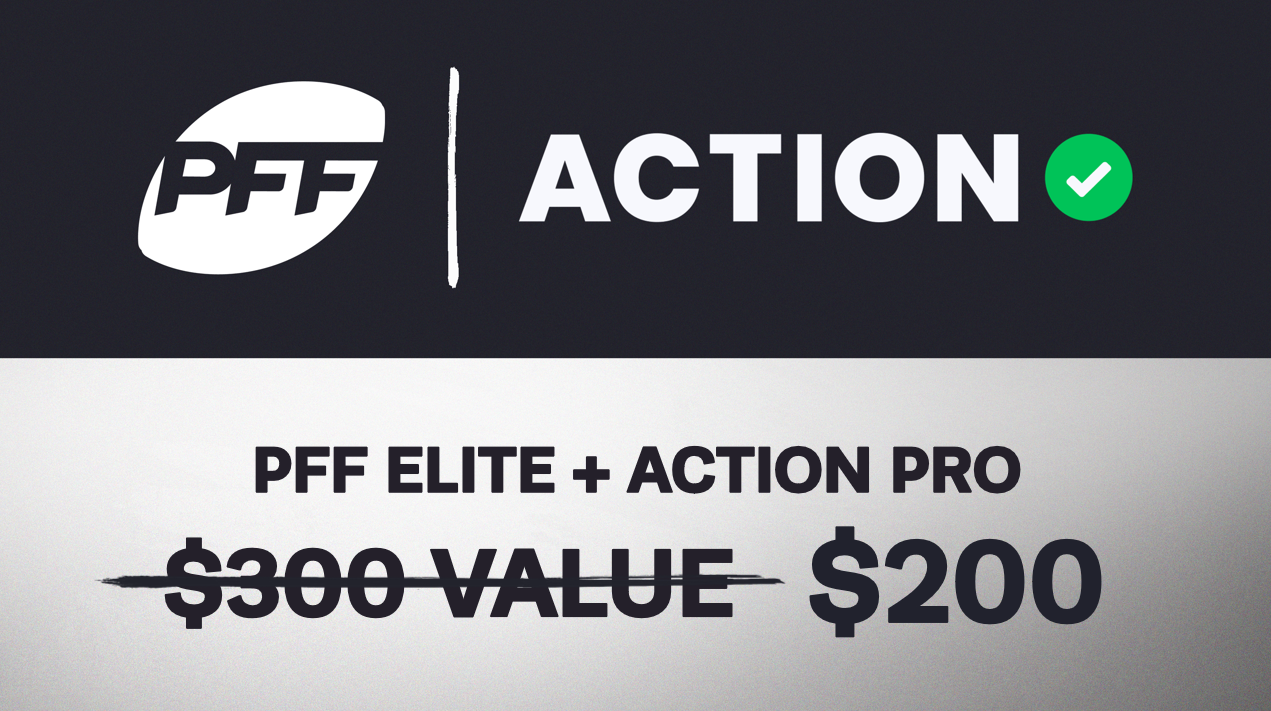 INTERIOR DEFENSIVE LINE
McNeil played 87% of his total snaps at heads-up nose tackle this year, making his production nothing short of incredible. Only one player since 2014 has produced a higher PFF grade at 0-technique than McNeil's 90.5 this season (former Mississippi State Bulldog and current Tennessee Titan Jeffery Simmons in 2017).
McNeil won 10% of his pass-rush snaps at nose tackle, an impressive figure in its own right, but the reason for his success is all due to his run defense. He was a constant disruptor and fully deserved the 92.1 run-defense grade on the year.
Second-Team: Christian Barmore, Alabama
Third-Team: Keenan Stewart, UTEP
Honorable Mention: Dante Stills, West Virginia
Garrett, a 2017 four-star recruit, has finally taken on a starting job this year, and the results have been everything Ohio State coaches and fans would have dreamed of.
The defensive tackle has emerged as the highest-graded interior defender in the FBS at 91.4, and his work as a pass-rusher is the key reason why. Garrett has won 22% of his pass-rush reps this season, a rate that leads all Power 5 interior defensive linemen by nearly four percentage points.
Second-Team: O'Bryan Goodson, Memphis
Third-Team: Milton Williams, Louisiana Tech
Honorable Mention: Zi'Yon Hill, Louisiana
EDGE DEFENDER
Bonitto was a true hybrid backer in 2019, playing almost as many coverage snaps (171) as pass-rush snaps (131). However, Bonitto saw more pass-rush opportunities in 2020, and the transition paid dividends. The Oklahoma edge rusher was a force in every single game this season, finishing first among qualifying FBS edge defenders in pass-rush grade, pass-rush win rate and pressure rate generated.
Second-Team: Raymond Johnson III, Georgia Southern
Third-Team: Jaelan Phillips, Miami (FL)
Honorable Mention: Cameron Sample, Tulane
Weaver finished his season with a 90.0 pass-rush grade and produced multiple pressures in every single game played. And he did this despite facing some extremely stiff competition in the ACC.
The Pitt edge defender racked up 20 total pressures in his games against Notre Dame, Clemson, Virginia Tech and Boston College, the four best sets of tackles in the ACC this year.
Second-Team: Isaiah Thomas, Oklahoma
Third-Team: Jordan Smith, UAB
Honorable Mention: Ronnie Perkins, Oklahoma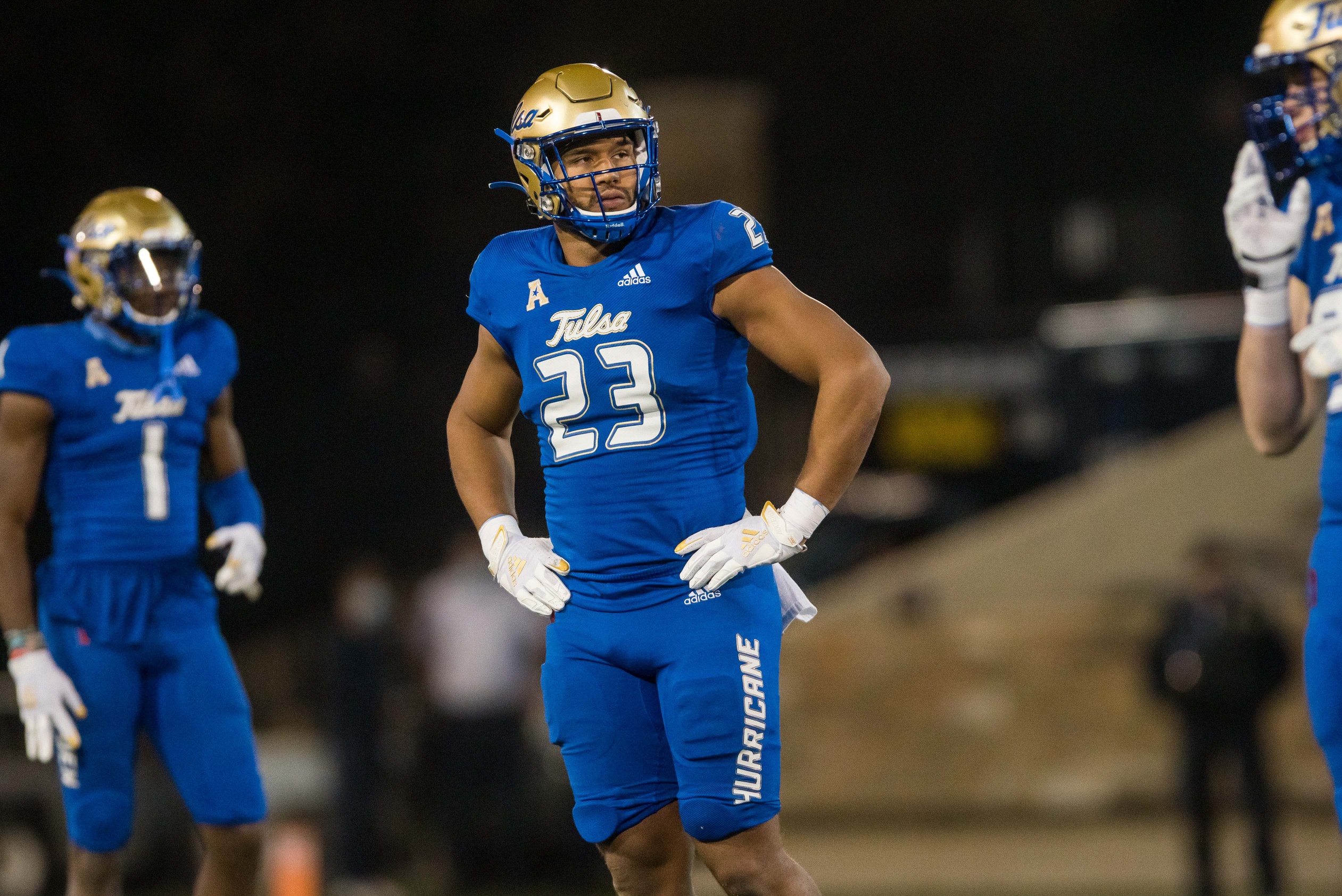 LINEBACKER
Collins is not just the top off-ball linebacker in the AAC this year; he has also been the best linebacker in the entire FBS. Collins leads the country in PFF grade at his position, and his standout coverage ability is a big reason why. As a matter of fact, Collins shattered the PFF College record for best single-season coverage grade by an off-ball linebacker this season, at 93.7, which was initially set by Eric Kendricks (92.1) back in 2014.
Second-Team: Jack Sanborn, Wisconsin
Third-Team: Jon Rhattigan, Army
Honorable Mention: Edefuan Ulofoshio, Washington
To say that Wright was a playmaker in coverage this year would be a huge understatement. He may have only played in six games, but Wright managed to make seven total plays on the ball, nearly double what he had from 2017 to 2019 combined.
Second-Team: Jeremiah Owusu-Koramoah, Notre Dame
Third-Team: Nick Anderson, Tulane
Honorable Mention: Micah McFadden, Indiana
CORNERBACK
The 5-foot-9, 177-pound corner posted an 89.0 coverage grade in his first full year as a starter. Not only did that lead the Big 12, but it leads everyone in the FBS.
Hodges-Tomlinson struggled in his season debut, allowing four catches for 69 yards and a touchdown, but he has been nearly flawless since then. He broke up 14 passes and allowed only 12 catches on 45 targets in coverage over that span.
Second-Team: Eli Ricks, LSU
Third-Team: Zech McPhearson, Texas Tech
Honorable Mention: Greg Newsome II, Northwestern
Surtain may have given up a 50-yard touchdown in the 2020 SEC Championship Game, but that was truly one of the few bad plays he had all season long. He is a physical corner who trails only Hodges-Tomlinson for most forced incompletions among Power 5 outside corners (12). As you may have seen in the 2021 PFF NFL Draft Guide, Surtain's greatest attribute is his press skills, and this year has verified that. He comes in at No. 1 among all FBS cornerbacks in press-coverage grade.
Second-Team: Shemar Jean-Charles, App State
Third-Team: Marcus Jones, Houston
Honorable Mention: Josh Jobe, Alabama
SAFETY
Whether he was down in the box trying to stop the run or roaming over the middle of the field at deep safety, Gallmon made play after play for the Jaguars this season. The 5-foot-9, 205-pound safety was the only player at his position in the entire FBS with a grade above 80.0 in both coverage and run defense.
Second-Team: Talanoa Hufanga, USC
Third-Team: Bralen Trahan, Louisiana
Honorable Mention: Nolan Turner, Clemson
Brisker went from Lackawanna Community College to first-team PFF All-American in just two years.
No FBS safety recorded a better PFF grade while in the box, and Brisker quite easily displayed the best tackling of any player at the position, as he missed just one of his 60 tackle attempts on the year.
That strong tackling and play against the run down in the box, as well as his playmaking in coverage (seven play on the ball, five passing stops), led Brisker to a Power 5-best 85.6 PFF grade.
Second-Team: Brandon Joseph, Northwestern
Third-Team: Damon Miller, UAB
Honorable Mention: Ben DeLuca, Charlotte
FLEX D
Smith has been one of the best slot defenders in college football this year while serving as the "spear" in the West Virginia defense. The West Virginia defensive back ranks first in PFF coverage grade among all FBS defensive backs with at least 100 snaps in the slot.
Smith saw at least three targets in all nine of his starts, yet he managed to allow under 30 yards in every one of his games this year.
Second-Team: Elijah Molden, Washington
Third-Team: Shakur Brown, Michigan State
Honorable Mention: Martin Emerson, Mississippi State
KICKER
First-Team: Jose Borregales, Miami (FL)
Second-Team: Cade York, LSU
Third-Team: Brayden Narveson, Western Kentucky
Honorable Mention: Brian Johnson, Virginia Tech
PUNTER
First-Team: Jake Camarda, Georgia
Second-Team: Kirk Christodoulou, Pitt
Third-Team: Max Duffy, Kentucky
Honorable Mention: Nolan Cooney, Syracuse
KR/PR
First-Team: Chris Smith, Louisiana
Second-Team: D'Wayne Eskridge, Western Michigan
Third-Team: Trestan Ebner, Baylor
Honorable Mention: Jeremiah Haydel, Texas State