We are back with the highest-graded offensive lines in college football from Week 2. Each week during the regular season we'll be breaking down the top performers who fueled the top-performing offensive lines. Let's get to the rankings.
[Editor's note: see Week 1's highest-graded offensive lines by clicking here.]

Georgia
The Bulldogs' offensive line is a behemoth; Murray State's poor defensive line didn't stand a chance. They allowed a grand total of two pressures on 29 passing snaps while right guard Ben Cleveland and right tackle Jamaree Salyer earned run-blocking grades over 90.0. It was about as dominant a performance as you'll see. 
Kentucky
Kentucky's offense was driven by a few outstanding performances along the left side of their offensive line. Left tackle Landon Young and left guard Logan Stenberg both had perfect stat sheets in pass protection while both earned run-blocking grades over 80.0. This line looks built to hold up to the rigors of SEC play.
Alabama
New Mexico State didn't stand a chance with all the talent 'Bama has along the line of scrimmage. So far, the much-hyped offensive lineman Alex Leatherwood looks like he's making the transition to left tackle swimmingly. He earned a 90.5 overall grade in this one and has an 84.9 overall grade through the first two weeks of the season.
Texas Tech
Through two weeks, senior left tackle Travis Bruffy is off to one of the best starts of any offensive lineman in the country. He's earned a 90.3 overall grade so far and his 92.7 overall grade this past week against UTEP was the fifth-highest of any lineman in the country.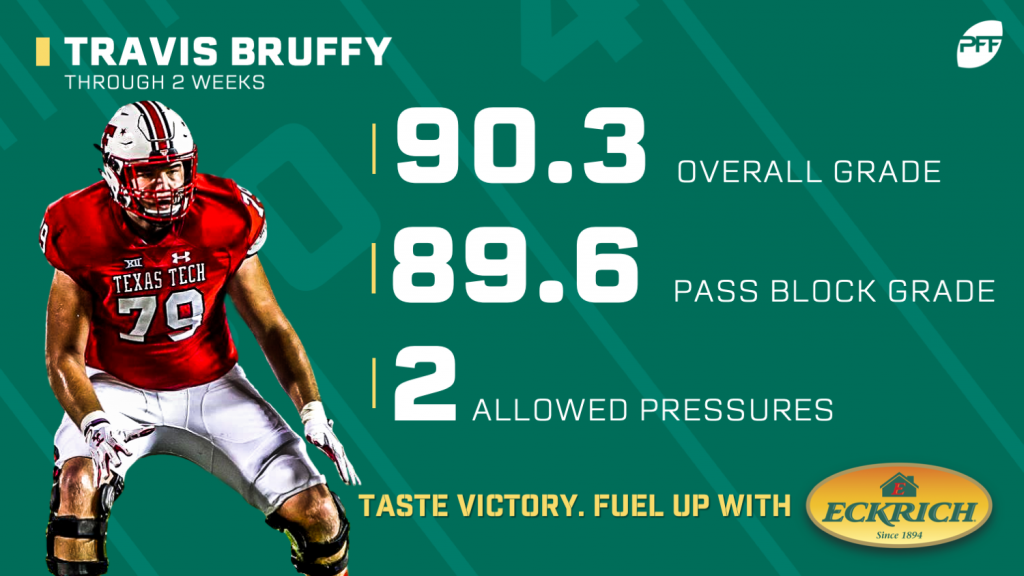 Michigan
Right guard Michael Onwenu has picked up right where he left off in pass protection from last season. On 404 pass-blocking snaps in 2018, Onwenu allowed all of four pressures. Through 83 pass-blocking snaps this year he's yet to allow one. Against Army, his 91.1 overall grade was the second-highest of any guard in the country this week.
Florida
The Gators had the unenviable task of replacing both of their offensive tackles this offseason, but early returns show that they're still in good hands. Left tackle Stone Forsythe was the fourth-highest-graded offensive lineman in the country this week at 93.0 overall. He's had a bit of a penalty problem with four already through two weeks, but his play outside of that has been stellar with only one pressure allowed on 67 pass-blocking snaps. 
Houston
This was an outstanding group effort for Houston on the day, as the offensive line allowed only four pressures on 32 pass-blocking snaps. The right side of the line — guard Dennis Bardwell and tackle Justin Murphy — didn't allow a single pressure on the day.
N.C. State
N.C. State has consistently been one of the best-coached lines in the country in their outside zone-heavy scheme. New center Grant Gibson looks like he's picking up right where first-rounder Garrett Bradbury left off. Against Western Carolina, the sophomore center earned an 86.8 overall grade and was N.C. State's highest-graded lineman.
Colorado
The Colorado tackle duo of Arlington Hambright and William Sherman were the stars in this one. Hambright, a senior, didn't allow a single pressure on 47 pass-blocking snaps while the sophomore Sherman only allowed one. 
Louisville
What a difference coaching makes. The Louisville offensive line was consistently a nightmare under Bobby Petrino, but Scott Satterfield looks to have righted the ship to some degree. Massive left tackle Mekhi Becton was the standout in this one. He didn't allow a single pressure and earned a 91.5 run-blocking grade against Eastern Kentucky.