With Weeks 0/1 in the books, it's time to debut our new weekly feature on the top offensive lines each week in college football. This is purely evaluating which line dominated the most, regardless of the level of competition. With the cupcake schedules in Week 1, we saw some pretty flawless performances.
[Editor's Note: This article exlcudes Notre Dame and Louisville because the two teams play Monday night.]

Kansas State (Nicholls)
There is no more Dalton Risner, but the Kansas State offensive line factory rolls on. Tackles Scott Frantz and Nick Kaltmayer anchored the unit; neither allowed a single pressure on the day, and both earned run-blocking grades over 80.0. As a whole, the Kansas State offensive line allowed only one pressure on 25 pass-blocking snaps.
Western Kentucky (Central Arkansas)
Heading into his second season as a starter, right guard Jordan Meredith put up the finest performance of his career over the weekend. He allowed one pressure on 43 pass-blocking snaps and earned a superb 87.3 run-blocking grade as well. Four of WKU's starting five linemen earned grades over 75.0.
Mississippi State (Louisiana)
The Mississippi State offensive line allowed a grand total of 0 sacks, 0 hits and four hurries on 36 pass-blocking snaps in this one. They lost a good deal of talent to the NFL, most notably center Elgton Jenkins, but replacement Darryl Williams picked up where Jenkins left off. After a quality 2018 season at guard, Williams switched to center this year and didn't allow a single pressure against Louisiana.
Oregon State (Oklahoma State)
This group was fueled by a couple of outstanding performances from the left side of the line. Left guard Gus Lavaka and left tackle Blake Brandel both earned run-blocking grades over 90.0, while Brandel only allowed one hurry on 57 pass-blocking snaps. Both Lavaka and Brandel are both heading into their fourth year as starters as Oregon State has the makings of something special.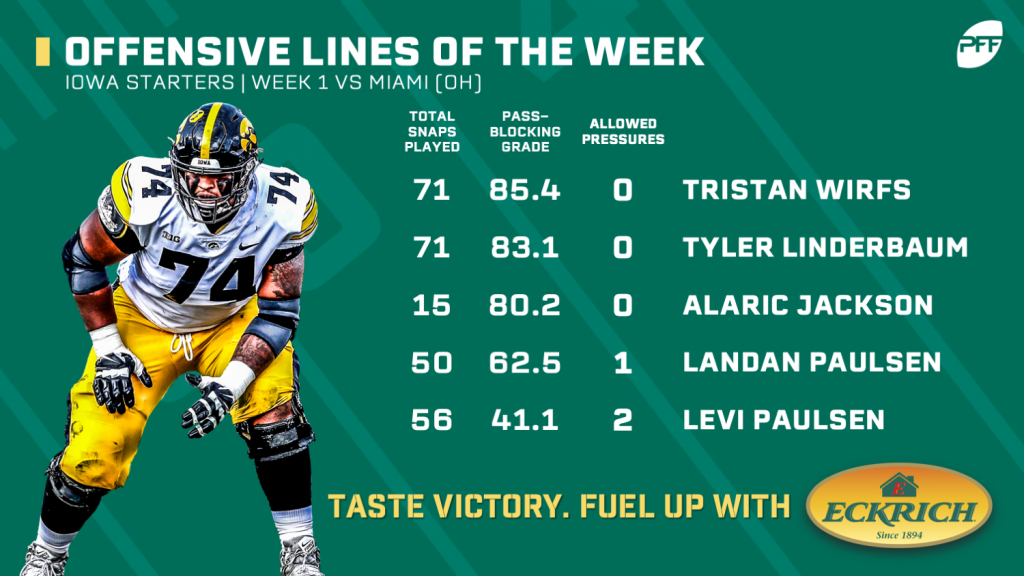 Iowa (Miami OH)
The first of what will likely be many appearances for the Hawkeyes on this list. Unsurprisingly, junior right tackle Tristan Wirfs was the highest graded of the Iowa starters. He didn't allow a single pressure and earned an 87.3 overall grade.
Clemson (Georgia Tech)
Clemson has been known more for their defensive line than their offensive line in the Dabo Swinney era, but they have a line that looks like they can hold their own this season. Their starters allowed only two pressures on 33 pass plays. The name to watch here is sophomore left tackle Jackson Carman. He looked solid with a 73.2 overall grade as a true freshman and earned himself an 80.8 grade on Thursday night.
Utah (BYU)
Utah looks set to dominate the line of scrimmage in the Pac 12 this season. BYU's defensive line is no slouch, but they got handled in this one. Four of Utah's five starters earned run-blocking grades over 70.0.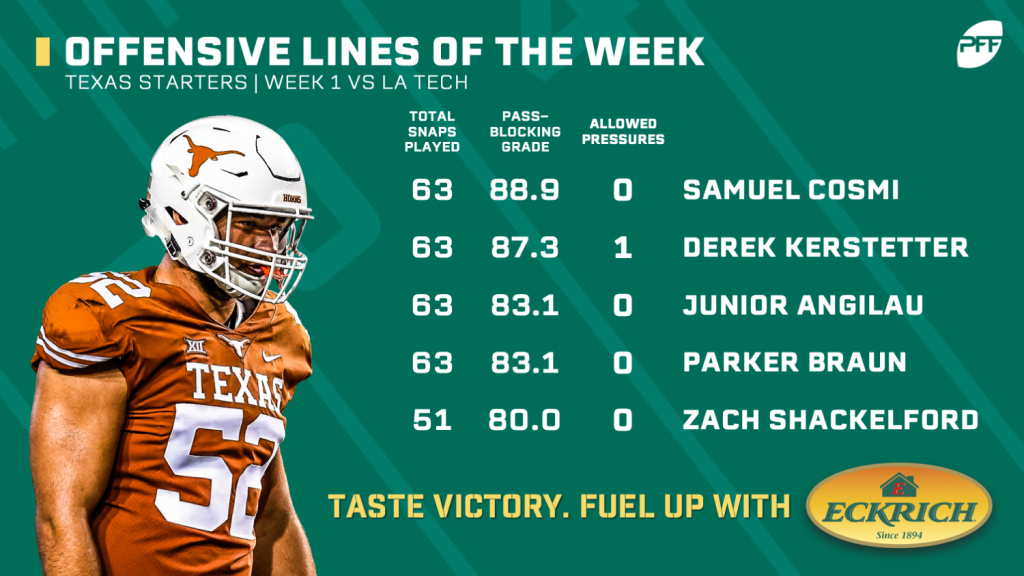 Texas (LA Tech)
Samuel Cosmi was a player we were excited to see after what we saw from him at right tackle for the Longhorns as a sophomore in 2018. He switched to left tackle over the offseason and didn't miss a beat. His 91.3 overall grade in this one was the third-highest of any offensive tackle in the country over the weekend.
Penn State (Idaho)
The Nittany Lions' offensive line nearly pitched a shutout in pass protection in this one. On 41 pass plays, they allowed only three pressures with no player allowing more than one.
Ohio State (FAU)
The Buckeyes lost a good deal of talent to the NFL, but they've got more coming down the pipeline. Sophomore right guard Wyatt Davis might be the most intriguing. On 239 snaps as a freshman last year, he earned only a 60.8 overall grade. Against FAU though he looked much more physically imposing. He allowed only one hurry on 36 pass-blocking snaps and earned an 82.9 overall grade.