Before the 2019 college football season began, PFF's Cam Mellor listed some college quarterbacks who looked set up for success at their new schools after transferring. Now, with a game under their belts, we can look back at the previous week of data and see which quarterbacks delivered in their first starts for their new teams.

Jalen Hurts, Oklahoma
We can't start with anyone else, with the former Alabama signal-caller putting himself in the way-too-early Heisman Trophy discussion with a big performance for the Sooners in their win over Houston on Sunday night. He benefited from some impressive work after the catch by his receivers, with 195 of his 332 yards coming after the catch, but Hurts' efficient work in the passing game helped them keep the chains moving. He was fantastic on throws within 10 yards of the line of scrimmage, going 18-for-18 for 254 yards and two touchdowns, and he still managed to complete two of his five throws targeted 20-plus yards downfield for 78 yards and a score.
If we were only looking at his work as a passer, it was one of the best showings by a quarterback this week, and when you add in his devastating ability as a runner, it takes the performance to another level. Hurts picked up 175 yards and three touchdowns on 16 carries, but only 28 of those yards came on scrambles. The rest all came on designed runs, with the Sooners offense looking like a perfect fit for Hurts' skillset in 2019.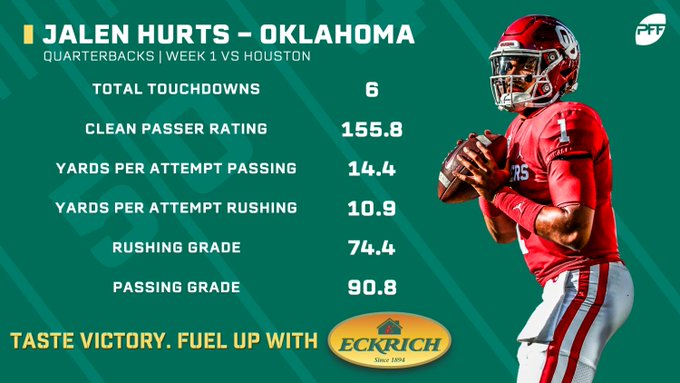 Justin Fields, Ohio State
One of two transfers from Georgia who stood out this week, Justin Fields had an impressive first performance for the Ohio State Buckeyes, going 18-for-25 for 234 yards and four touchdowns. Of those seven incompletions, two were dropped passes, two were throwaways and another came when Fields was hit as he threw. That saw him rank tied for third among quarterbacks with 20 or more dropbacks with a 90.9 adjusted completion percentage this week.
Fields looked great throwing the ball deep, going three-for-five for 86 yards and three touchdowns against Florida Atlantic, while he looked efficient on short and intermediate throws, with just two incompletions from 17 passing attempts ranging anywhere from behind the line of scrimmage to 19 yards downfield. He also showcased his ability to make plays with his legs, with 46 yards on designed runs, and another 31 on scrambles. 
Jacob Eason, Washington
Another transfer from Georgia, Eason had the best game of his career against Eastern Washington on Saturday. While everyone will point to the fact that it came against FCS opposition, it was still an impressive performance in what was something of a homecoming for him, having played high school football in Washington.
He was set up well for success in the game, finding himself under pressure on just four passing plays, and he duly delivered when the offensive line kept him free from pressure. On 32 dropbacks without pressure, the former five-star recruit went 26-for-32 for 322 yards and four touchdowns. He had a lot of success throwing the ball downfield too, going four-for-eight for 125 yards and two scores on throws 20-plus yards downfield. There will be tougher opposition in the coming weeks, but it was a nice start to his season with the Huskies.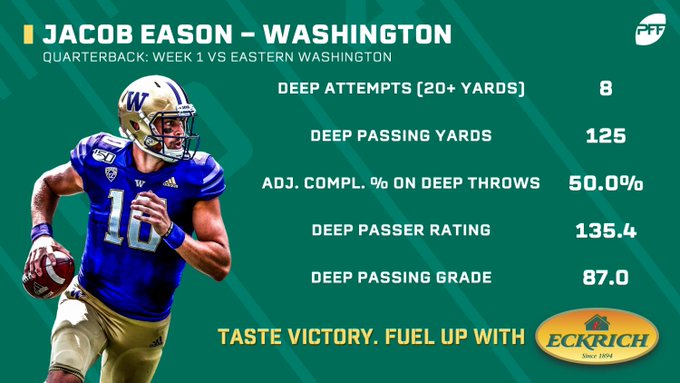 Alex Delton, TCU
Delton's stat line — 10-for-22 for 119 yards and no touchdowns — would lead you to think he had a fairly disappointing performance, but it would have looked much better if not for four drops from his wide receivers. Taking them and one throwaway into consideration, his 66.7 adjusted completion percentage didn't exactly set the world on fire, but it was far better than the 45.5 completion percentage on his stat line. 
Delton was also efficient in the running game, forcing three missed tackles on five carries. Of his 84 rushing yards on the day, 10 came on a scramble, with the other 74 coming on four designed runs. That included a long of 54 yards, which should give TCU plenty of confidence to keep using the former Kansas State Wildcat in the running game as well as the passing game.
Josh Jackson, Maryland
Jackson made his debut for Maryland in the Terrapins' blowout win over Howard this past weekend, and he made plenty of things happen for the Maryland offense. His 15-for-24 for 245 yards and four touchdowns stat line could have been even better though, with five of his nine incompletions coming from two dropped passes, a throwaway and two plays where he was hit as he threw. All of that gave him an 81.0 adjusted completion percentage which ranked 33rd in the nation among quarterbacks with at least 20 dropbacks this week.
Jackson didn't need to add anything on the ground — his lone carry of the day came on a kneel-down — as his arm did all of the work. Two of his touchdowns did come on throws behind the line of scrimmage, but he was still able to make things happen downfield, going two-for-five for 63 yards and a score on throws 20-plus yards downfield. He'll face a much tougher test this weekend against Syracuse, but the early signs look good for Jackson at College Park.