The Big Ten conference is no stranger to strong quarterback play and even with two of the conference's most storied programs in Ohio State and Michigan having to break in a new starter this season, we've seen more strong quarterbacking from Big Ten teams this fall.
At Pro Football Focus, we grade every single player on every single play of every single game and with our grading process, have a true depiction based on our 0-100 grades of just how well a quarterback (and every other position) performs in a given game or season. Our various advanced, signature statistics help portray the subtle nuances of our grades, but our grades themselves are unrivaled. Taking into account many factors including passing grades and rushing grades, the PFF grade assigned to a quarterback at the college level is very much the same as at the NFL level, where all 32 NFL teams have seen the inherent value in PFF's play-by-play grading.
This Big Ten QB Breakdown is brought to you by Eckrich, the Official Smoked Sausage of the College Football Playoff.
With that in mind and the process in which we grade players in hand, the culmination of Week 6 of the 2018 college football season seemed like the best time to educate the masses on just how the Big Ten quarterbacks have fared this year. It's also important to know that the overall season grades are not just an average of each quarterback's game grades, rather an aggregate score based upon every play played to date.
There is still a lot of football to be played but as we reach the halfway mark for most teams, here is how the Big Ten quarterbacks stack up against one another.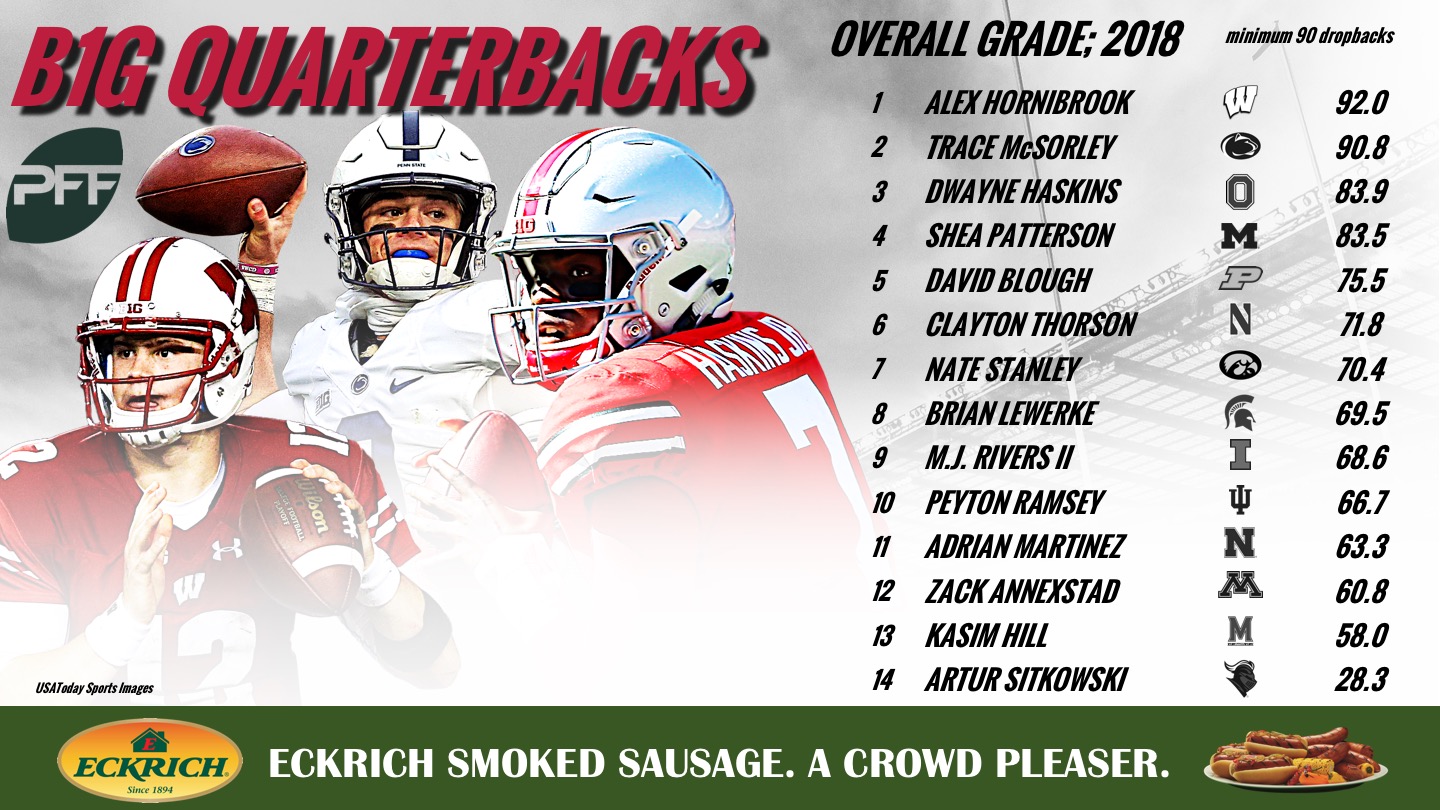 Alex Hornibrook
Alex Hornibrook leads all Big Ten quarterbacks in overall season grade as he has been the example of quarterback play seemingly game in and game out. Despite the lone blemish on his record against BYU, Hornibrook has put together three game grades over 90.0 and even in the loss to the Cougars, was subjected to four dropped passes by his receivers, nearly half of his season total (9) to date.
He takes what the defense gives him and throws to the spot where only his receivers can bring in the ball repeatedly. In fact, 54.6% of his passes are targeted past the line to gain, the second-highest figure in the Big Ten and only 35.3% of his passing yards have come after the catch, which is the second-lowest percentage.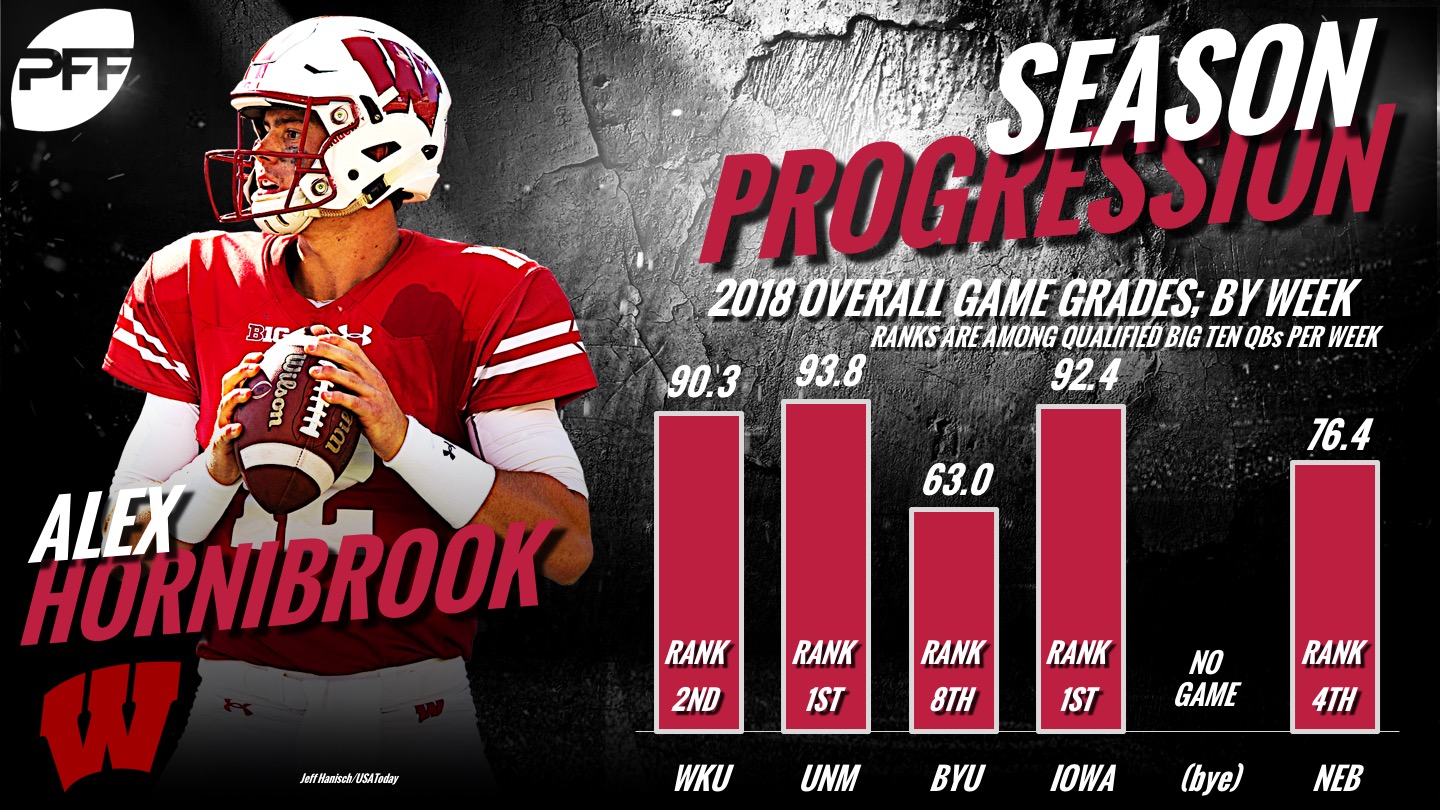 Hornibrook may not 'wow' you at quarterback, but he also won't put the ball in harm's way very often either. He has just three turnover-worthy plays all season long and still averages a depth of target of 10.9 yards past the line of scrimmage, good enough for third-highest in the conference.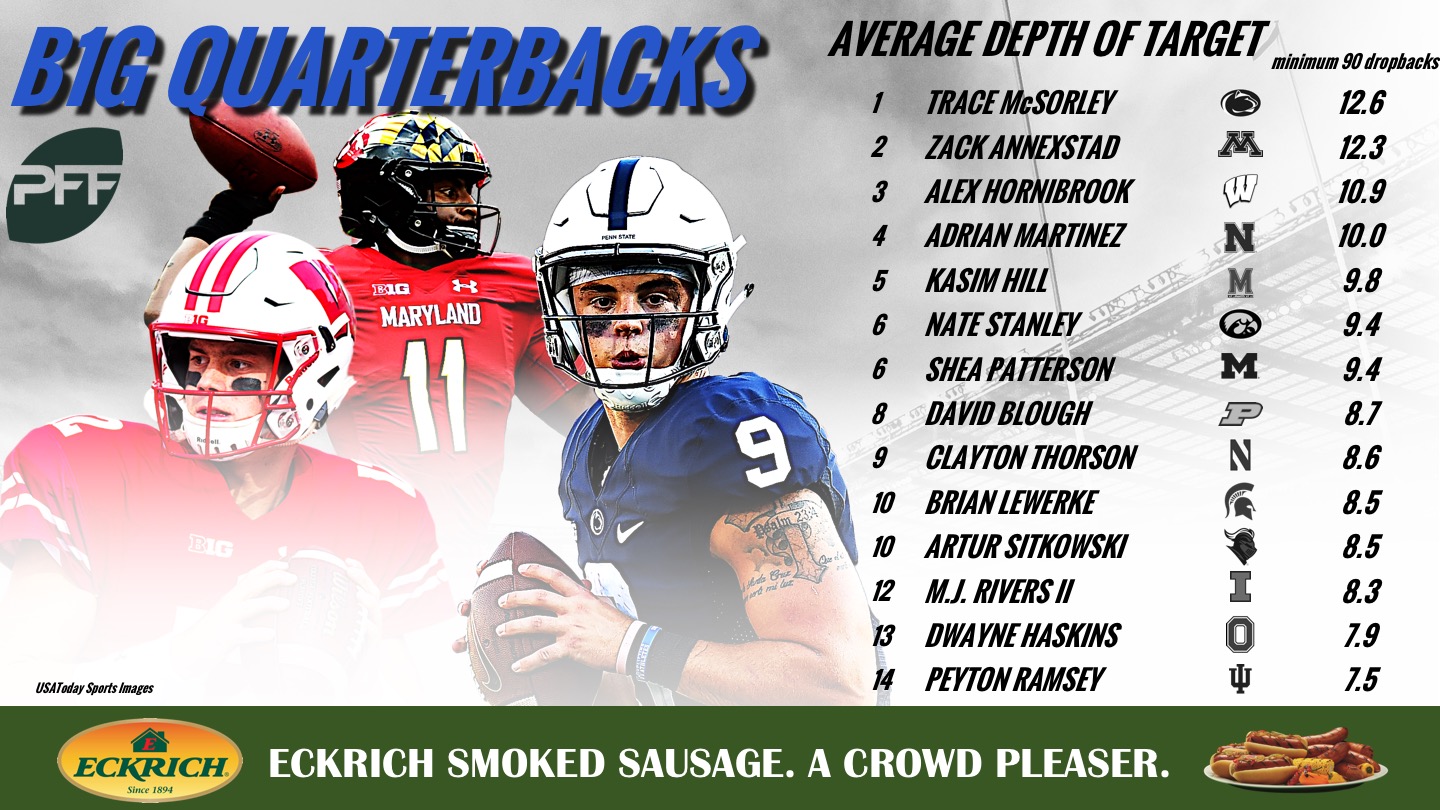 Dwayne Haskins
Noticeably on this list above, Ohio State QB Dwayne Haskins averages a depth of target of just 7.9 yards past the line of scrimmage, the second-lowest in the conference. This, of course, has led to the fact that 54.8% of his passing yards have come after the catch this season. Of all 14 Big Ten quarterbacks with at least 90 dropbacks in 2018, Haskins has targeted passes short of the first-down markers the most, throwing a pass short of the line to gain on 61.6% of his passes.
Obviously, Haskins' 25 touchdowns lead the conference as the next closest, Peyton Ramsey, only has 11, but Haskins' supporting cast has been doing a large amount of the work for him, a larger amount than most in the conference. He has only nine big-time throws despite his large number of touchdowns (big-time throws are the highest-graded throws in the PFF grading system). Not every touchdown throw is the same and not every touchdown throw is going to move the needle, that's where PFF grades differ from the standard efficiency ratings or the QBR so commonly attached to college quarterbacks. In the same fashion, not all interceptions are the same and not all interceptions are the quarterback's fault. PFF grades take into consideration only what an individual player can control and doesn't give extra credit for another player putting forth an outstanding effort and coincidentally, doesn't fault a player for someone else's mistake.
A pass targeted three yards past the line of scrimmage that a receiver takes 70 yards for a touchdown is not going to spike the quarterback's grade, rather you will see an increase in the receiver's grade. A pass that bounces off a receiver's hands into the arms of a defender, doesn't get negatively attributed to the quarterback, rather it hurts the receiver's grade. Those passes that every college quarterback should be able to make will also not move the proverbial needle and that seems to be the case with the Ohio State offensive scheme.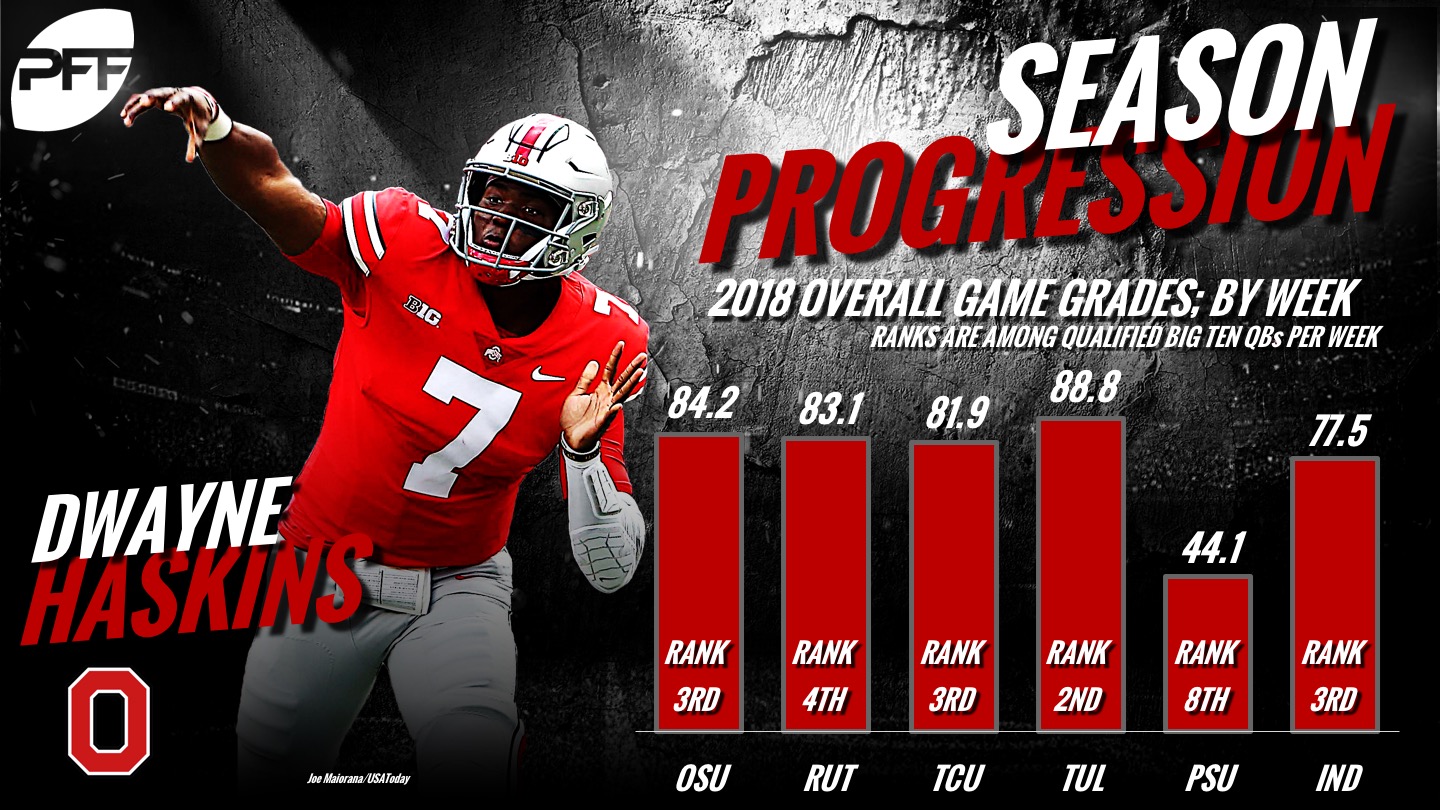 This all said, we didn't take the last three paragraphs just to bash the Ohio State quarterback, rather the opposite, as the aforementioned reasons were meant to explain how his 25 touchdowns don't all necessarily boost his grade and before we go too far, however, it's worth mentioning that Haskins has done a remarkable job limiting turnover-worthy plays this season. He has just one 'TWP' on the year despite his four interceptions as he's had three passes intercepted that were not deemed turnover-worthy and rather in our PFF system, blame is not placed on Haskins. His adjusted completion percentage of 78.6% is the highest in the conference and his passer rating from a clean pocket of 147.2 is also the conference's best.
Speaking of clean-pocket passing, Haskins has much to thank his offensive line for as well this season as he's been kept clean from pressure on 79.7% of his dropback attempts – the most in the Big Ten. He sees a significant drop in passer rating from that 147.2 mark all the way down to 46.9 when pressured, seeing the biggest dropoff in passer rating from a clean pocket to under pressure.
Yes, the old adage is true, 'obviously, a quarterback will fare much better when kept clean than when pressured' but a dropoff of over 100.0 points is massive and is the biggest jump of any Big Ten quarterback. That area of weakness showed up on the big stage against Penn State during his lowest-graded output of the season. He finished with a 38.6 grade when under pressure against the Nittany Lions.
Trace McSorley
Getting back to the grades for the season, Penn State QB Trace McSorley finds himself at No. 2 in the conference after six weeks. He has not had a single game grade under 71.4 and arguably his best game came in the loss to Ohio State when he finished with the highest grade among conference quarterbacks in Week 5.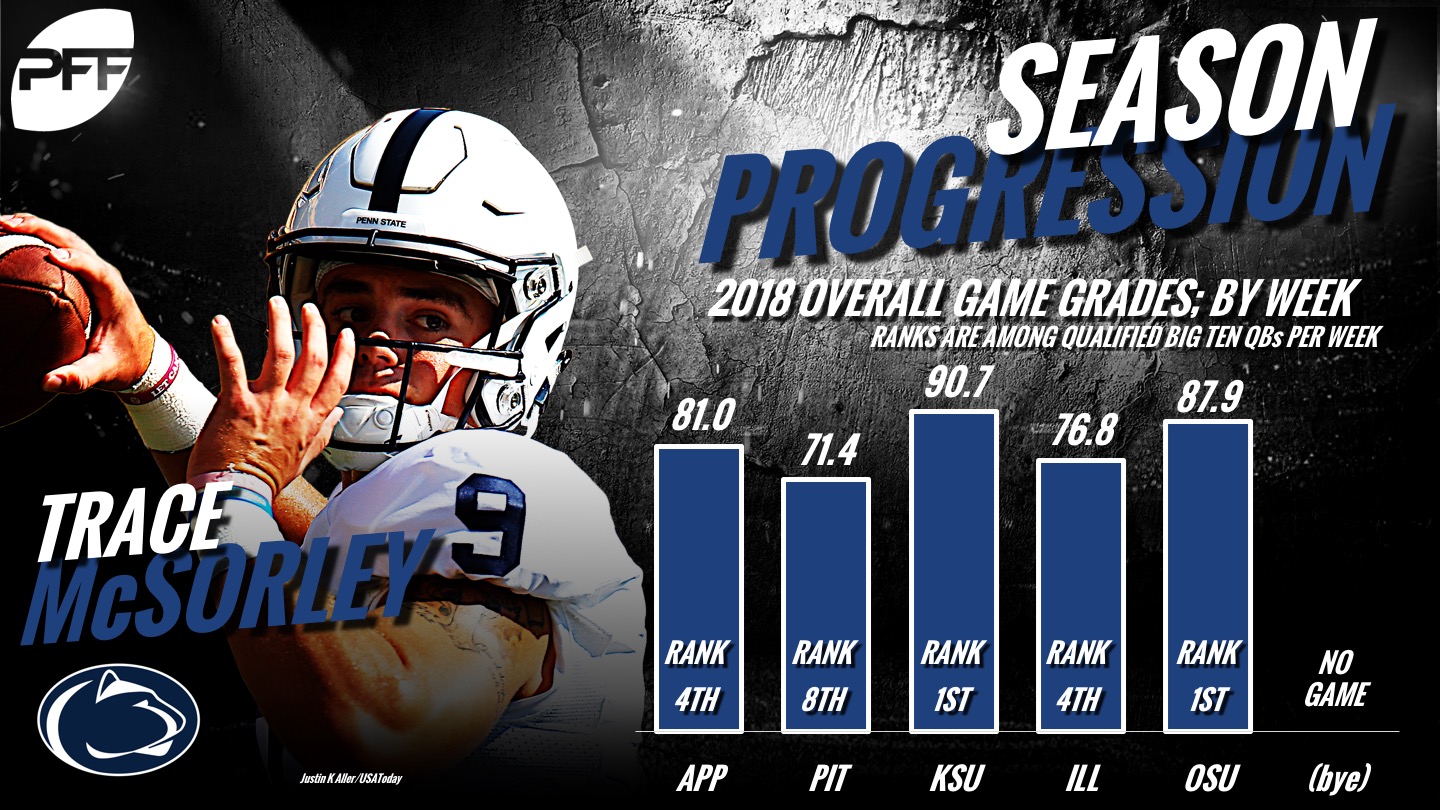 McSorley leads the conference's quarterbacks in big-time throws with 13 and has been subjected to the most dropped balls (17), showcasing why his general box-score completion percentage is clearly not a good indicator of just how accurate he has actually been this season. He's targeted passes further down the field than any other quarterback (12.6 average depth of target) and has hit big shots to boost his grade as he is also tied for the conference lead with 10 completions on throws targeted 20 or more yards downfield.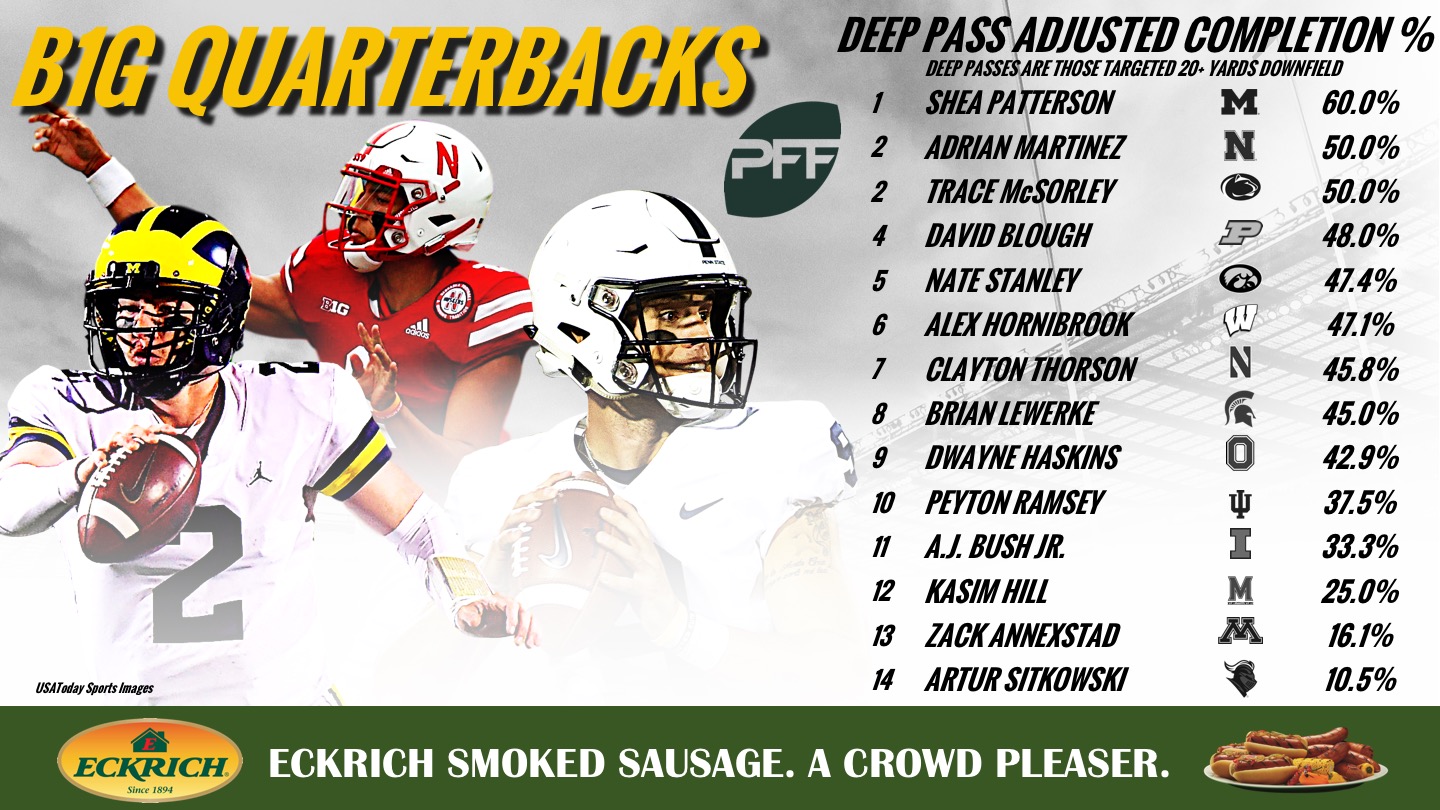 Shea Patterson
Adjusted completion percentage tracks the number of passes that were only deemed catchable upon release from the quarterback. It takes away passes that are dropped, passes batted at the line of scrimmage, those in which the QB was hit as he threw, spiked balls and throwaways to showcase just how many passes were put in a catchable place for their respective receivers. Michigan QB Shea Patterson has found his stride as of late and leads the conference with his 60.0% adjusted completion percentage on deep passes.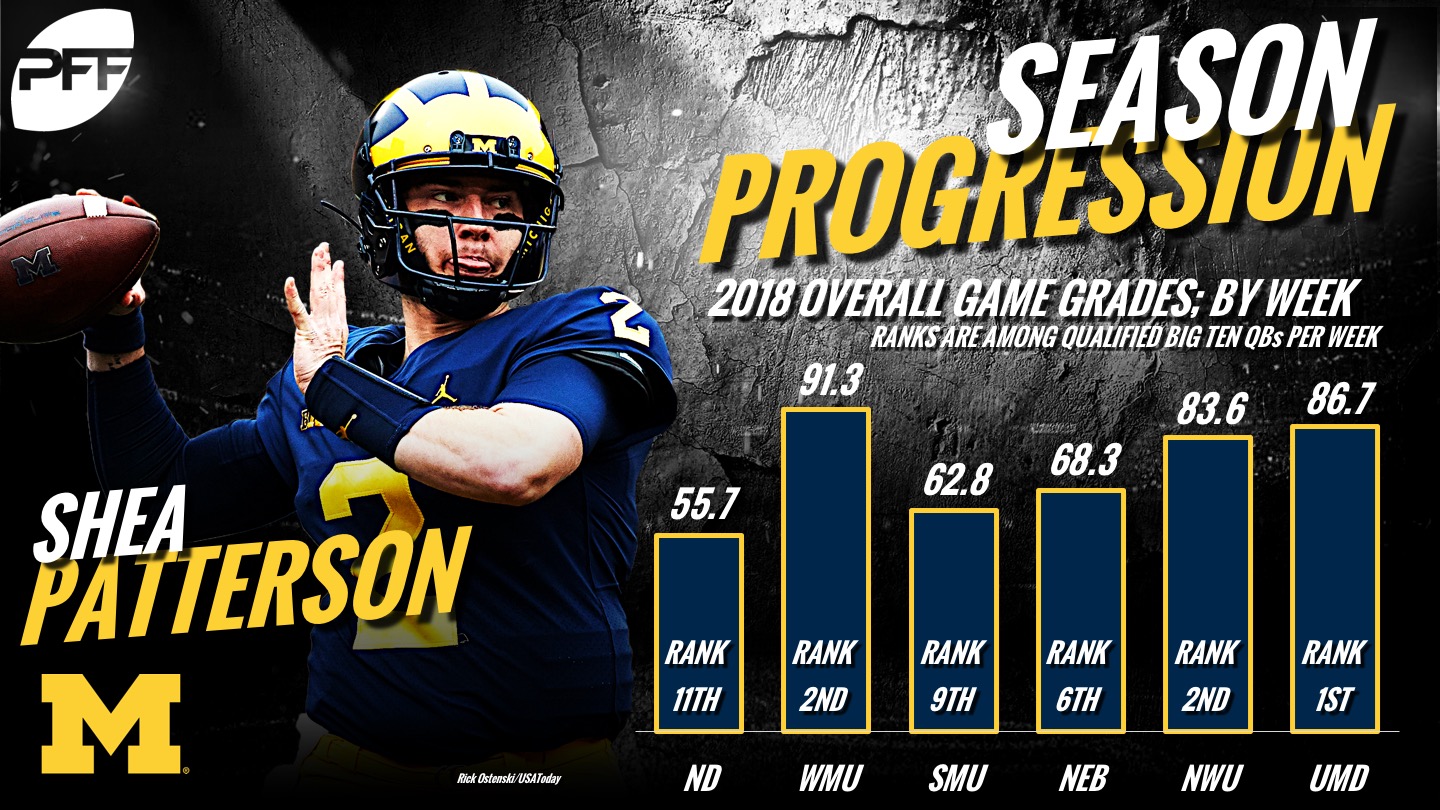 As we've hit Big Ten conference play, Patterson has actually improved his game grade each of the past four weeks (three against conference foes) and is currently the fourth-highest graded Big Ten quarterback. He's utilized a play-action pass on 40.1% of his throws this season, the highest in the conference, yet despite the volume of play-action passes, still has a 134.4 passer rating, good enough for second.
Patterson hitting his stride is setting the nation up for easily one of the most anticipated contests of the season when Michigan and Ohio State collide at the end of the year. He'll have to continue his upward trend and limit the negatively-graded plays as he has started to do.
Grade Talk
It's safe to assume the quarterback grades and rankings could be drastically different come the end of the Big Ten Championship Game but as it stands now, Hornibrook tops the charts. He has put forth positive grades at will and avoided the negatively-graded plays better than any quarterback in the conference.
On average, 33.8% of Hornibrook's dropbacks are positively-graded, compared to just 10.0% of his dropbacks that receive a negative grade – both of which are the best in the conference. McSorley finds himself just behind Hornibrook in terms of positively-graded dropbacks at 32.3% and Haskins' dropbacks receive a positive grade on 21.7% of the time, noticeably lower than that of some of his counterparts.
Season Outlook
Gone are the days of just looking at the general box scores to see who played the best football on a game-by-game basis. Quarterbacking has always been about so much more than touchdowns or interceptions and PFF grades, in essence, quantify that. The PFF team of over 500 analysts spend countless hours watching several hundred data points for every player on every play of every game at the FBS level in order to bring a level of clarity to the sport's most important position.
Alex Hornibrook may not get the credit he deserves because he hasn't thrown for a copious amount of touchdowns but he has more than earned his top grade this season, snap-by-snap, throw-by-throw. When you average a positive grade on 33.8% of your dropbacks and see a negative grade on just 10.0%, you're definitely going to see positive results and that's just what Hornibrook and Wisconsin do on a weekly basis.