We're two full weeks into the college football season, and we've been treated to some solid quarterbacking in the ACC. Quarterback controversies aside, the ACC returned several veterans from several teams yet only two of those find themselves in the top five on the list of highest adjusted completion percentage.
Our adjusted completion percentage metric gives a clearer look at quarterback performance than completion percentage alone, taking into consideration drops, throwaways, batted passes and plays where the quarterback was hit as he threw.
So just who are those other characters atop the leaderboard in the ACC? Here are the top 10 in adjusted completion percentage in the ACC through two weeks.
This list is brought to you by Eckrich, the Official Smoked Sausage of the College Football Playoff.
1. Anthony Brown, Boston College – 86.4%
After a strong 10-game sample last season, the redshirt sophomore quarterback is off to a hot start in 2018. He's completed 17-of-23 passes this season (playing limited time due to the nature of their victories), yet of his six incompletions, two of them were dropped passes while the other was batted down at the line of scrimmage.
2. Kenny Pickett, Pittsburgh – 81.1%
Thrust into the lineup as a freshman a year ago, Pickett has displayed great poise as the leader of the Panthers offense in Year 2 with the program. He's completed just 25-of-41 passes so far this season yet five of those were dropped balls, three were throwaways and another batted at the line. His 12.2 percent drop rate is the highest in the conference.
3. Ryan Finley, NC State – 81.0%
The first of those aforementioned veterans on this list, Finley has completed 60-of-81 passes this season while we give him credit for six of his incompletions here. Four of those have been dropped while another two were batted down.
4. Daniel Jones, Duke – 78.9%
Jones suffered a broken collarbone and is out indefinitely, yielding way to Quentin Harris, however, before his injury, Jones was completing passes at a high rate. Prior to injury, he completed 29-of-39 with one drop and one batted pass to his credit.
5. Trevor Lawrence, Clemson – 76.2%
Freshman phenom Lawrence may push his way past Kelly Bryant sooner than anticipated, especially if he keeps up the accurate display of passing he's shown so far. While his standard box-score numbers state 14-of-23, he's had two of his passes dropped and thrown away another two.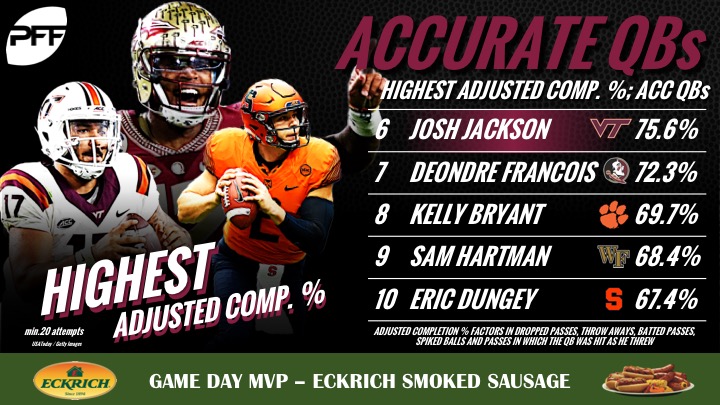 6. Josh Jackson, Virginia Tech – 75.6%
Virginia Tech's signal-caller has seen three of his 42 passes hit the dirt by means of a drop, completing an overall haul of 28-of-42 passes, four of which, total, were not his fault.
7. Deondre Francois, Florida State – 72.3%
Francois leads the ACC quarterbacks with 85 pass attempts on the season so it's no surprise to see him closer to average for adjusted completion percentage on the season. With the higher attempts, he has also been subjected to the most drops (6) while he's thrown away another and had one batted at the line.
8. Kelly Bryant, Clemson – 69.7%
Bryant is the only player on this list to have one of his incompletions unaccounted for as he had just one pass of his 33 attempts dropped by a receiver.
9. Sam Hartman, Wake Forest – 68.4%
The true freshman signal-caller has taken over for John Wolford and done so admirably for the Demon Deacons. He has completed 48-of-78 passes this season despite seeing four passes dropped and two more thrown away.
10. Eric Dungey, Syracuse – 67.4%
Dungey hasn't quite completed passes at the rate he did a season ago (or for his career), but he's still completed 30-of-49 throws to crack the top 10 here. He's had one pass dropped, two throwaways and another batted at the line.