We're just days away from the Peach Bowl between Washington and Alabama, which serves as one half of the College Football Playoff semifinals. Just 60 minutes of football separates one of these teams from playing for the national championship. Alabama went unbeaten through the regular season, while Washington dropped just one game, but what stats stand out as the most important to know heading into the game?
Here are the PFF stats you need to know ahead of Washington-Alabama:
[Check out the five PFF stats to know for Ohio State-Clemson, along with our Big-Game Breakdown video on the QBs for the Crimson Tide and the Huskies.]
1. Jalen Hurts completes just 33.3 percent of his passes under pressure.
Alabama's true freshman quarterback Hurts has had a fantastic season, often looking nothing like a first-year player, creating big plays with his legs and finding big passes for the Alabama offense. When the Alabama offensive line has kept him clean, which they have done on 288 of his 402 dropbacks, he has completed 74.0 percent of his passes, averaging 8.7 yards per attempt, and throwing for 18 touchdowns and five interceptions.
He has been under pressure on just 114 dropbacks, but when that has happened, he has looked much more vulnerable and prone to mistakes. Under pressure he has averaged just 3.7 yards per attempt, completing 33.3 percent of his passes and throwing for four touchdowns and four interceptions. His QB rating of 40.7 when under pressure is eighth-lowest in the nation. If Washington can get pressure on Hurts, their chances of being the first team to beat Alabama this season increase significantly.
2. Only six quarterbacks have thrown more touchdowns on deep passes than Washington's Jake Browning.
Finding big plays is key in college football, and Browning has been one of the best in the nation at that in 2016. Browning has thrown 70 passes traveling 20 yards or further downfield this year, for 1,176 yards, 16 touchdowns and five interceptions. With an Alabama defense that has been outstanding, but has given up some big plays, his ability to find those deep passes will be key to their chances in the Peach Bowl.
.@PFF_Steve previews the #PeachBowl matchup between 1️⃣Alabama and 4️⃣Washington.#CFBPlayoff pic.twitter.com/oSNXdpTyST

— PFF College Football (@PFF_College) December 28, 2016
When he looks to go deep, he has two wide receivers who can make big plays in John Ross and Dante Pettis. Each has caught seven touchdowns on throws of 20 yards or further downfield, with Pettis picking up 377 yards and Ross 535. On the season, Pettis has averaged 15.9 yards per catch, and Ross 14.7, and coupled with Browning, they give Washington a difficult passing offense for Alabama to plan for.
3. Alabama's Jonathan Allen, Tim Williams and Ryan Anderson each rank in the top eight of their position groups in pass-rush productivity.
This isn't a theoretical question about how important it is for Alabama to get pressure. With the talent the Crimson Tide has on defense, they will get to Browning. They have generated pressure all year, from the left, from the right, and up the middle. Neither starting offensive tackle for Washington ranks in the top 180 players at the position in terms of their pass-blocking efficiency rating, combining to allow four sacks, three hits and 44 hurries — a terrifying prospect when you consider what they are about to go up against.
Tim Williams remains one of the most devastating edge rushers in college football, with a pass-rushing productivity of 19.0 that ranks second among all 3-4 outside linebackers. Ironically, the only 3-4 outside linebacker with a better PRP rating this year is Washington's Joe Mathis at 20.8, who will miss this game due to injury. It's not just about Williams, however, and Ryan Anderson ranks eighth at the position with a PRP of 15.4, racking up 51 total pressures over the course of the year.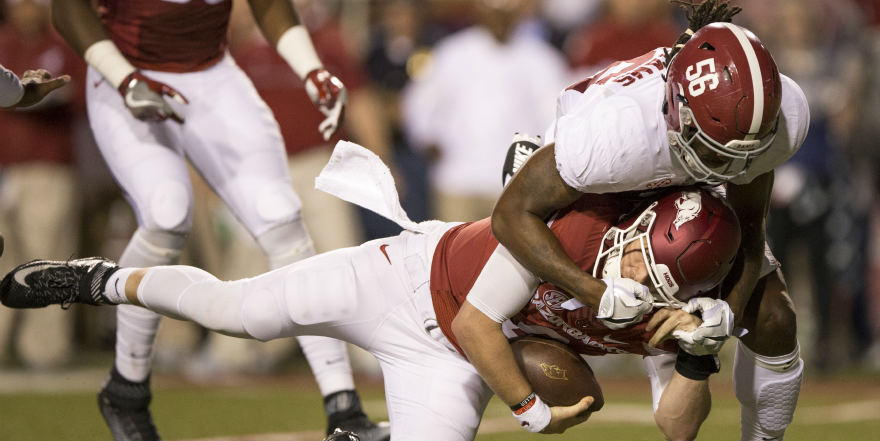 On the interior, Alabama boasts arguably the best player in all of college football in Jonathan Allen, whose 12.9 PRP ranks second among 3-4 defensive ends, with Alabama's top defender producing 10 sacks, 12 hits and 38 hurries so far this year.
4. Marlon Humphrey has allowed 16.8 yards per catch this season.
Alabama's top cornerback Humphrey has shown the ability to make plays over the past two seasons, with five interceptions and 11 pass breakups between the 2015 and 2016 campaigns. He has allowed just 50.0 percent of the passes thrown into his coverage to be caught in that span, so with that in mind, why would anyone go after Alabama's top cornerback?
Well, as good as Humphrey has been at making plays, he has allowed big plays in his coverage a little more often than one would like. In 2015 he allowed an average of 17.4 yards per catch, and this year he hasn't been much better at 16.8. In five games this year, Humphrey has allowed a catch of 33 yards or further, something that could be a huge problem against the Washington offense if Browning, Pettis and Ross get hot.
5. Alabama's running backs have combined to average 4.2 yards after contact per carry — and Washington's ball-carriers are plenty good, too.
Both teams in this game have running backs who can create big plays and make defenders miss in space. Alabama have a three-headed backfield in Damien Harris, Bo Scarborough and Joshua Jacobs, with the trio combining to force 79 missed tackles on 305 carries, while they average 4.2 yards after contact per carry. Defensively, Washington have missed 105 tackles so far this year, ranking 47th in the nation while missing 12.9 percent of the tackles they have attempted, so there are big plays to be had on the ground by Alabama.
Washington has talented players in the backfield, with Myles Gaskin and Lavon Coleman combining to force 74 missed tackles on 333 carries. They too have been very good at picking up yards after contact, averaging 3.3 yards after contact per carry. The difference here is that while Washington has been prone to missing tackles on defense, Alabama's defense has missed just 67 tackles over the course of the year, ranking first in the nation, missing just 7.6 percent of the tackles they have attempted. Washington has found big plays in the running game in 2016, but the Huskies will have to be at their best to make the Alabama defense miss.