Here are the five PFF stats you need to know for Ohio State's College Football Playoff semifinal matchup with Clemson in the Fiesta Bowl:
[Check out PFF's five stats to know on Washington-Alabama, and our Big-Game Breakdown video on how Ohio State's passing defense can try to contain Deshaun Watson and Clemson.]
1. 35 percent of Deshaun Watson's touchdown passes this season have been on deep attempts.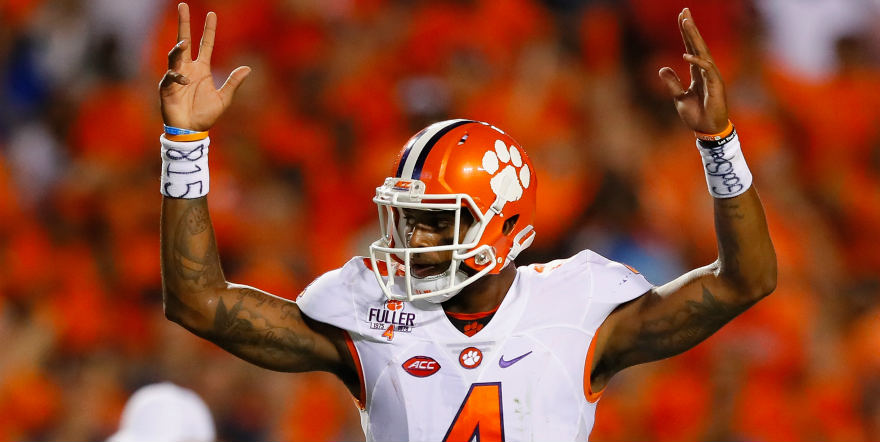 Watson's greatest asset is his ability to generate big plays in Clemson's versatile offense. He throws with outstanding touch and location on deep targets, finding tight windows with pinpoint accuracy. Watson ranks among the best 20 quarterbacks in yards, touchdowns, accuracy percentage and QB rating on 20-plus-yard passes.
In top wideouts Deon Cain and Mike Williams, the Tigers are in possession of a pair of huge strike zones capable of catering for the infrequent occasions of inaccuracy. The pair share space in the top 20 of our deep-threat rankings. Williams' physical traits are overwhelming. His height is accompanied by a giant wingspan, aiding his elevation over helpless defensive backs. Partnering him, Cain delivers blows of serious damage on an almost weekly basis. His speed has had a transformative effect on the Tigers' offense. Cain's downfield stat line of 14 catches (32 total this season), 423 yards and eight touchdowns is ridiculously good.
Big-game breakdown: Ohio State vs. Clemson#CFBPlayoff pic.twitter.com/QJW1mj2nXI

— Pro Football Focus (@PFF) December 28, 2016
2. The Buckeyes' two starting linebackers have generated 78 combined stops.
Clemson's offense relies on stretching teams horizontally as well as vertically. The former will be easier said than done against the Buckeyes' barnstorming linebackers. Raekwon McMillan and Jerome Baker wreck efficient drives with their activity around the line of scrimmage. Together, they have 78 combined stops this season, and run defense grades of 84.5 and 84.7, respectively. The Tigers better dig deep into the playbook in this matchup, as misdirection rarely fools Ohio State's stars at the second level, and more direct approaches are repelled with ease through the pair's block-shedding strength.
The read-option offers an opportunity to rough Watson up — a chance unlikely to be missed — but both backers will also have plenty of coverage responsibilities. Pursuit is essential against the Tigers' array of screens. Baker and McMillan have also performed well in the passing game, giving up just three touchdowns between them with two interceptions. At a minimum, the Buckeyes have a pair linebackers capable of matching Clemson's playmakers athletically.
3. The average run-blocking grade of Ohio State's starting offensive linemen is 74.1.
That might not sound all that impressive on the surface, but for a college line, that isn't a bad number at all — and the Buckeyes are particularly productive as a run-blocking unit. J.T. Barrett has thrived as an excellent dual-threat quarterback at Ohio State. Barrett and running backs Curtis Samuel and Mike Weber (97 combined broken tackles) supply the killer blows, but they depend heavily on the contributions of their advanced force to do so much damage.
From left to right, Ohio State's linemen are capable of moving mountains in the ground game. Any tribute to the Buckeyes' offensive line has to start with center Pat Elflein. Equally comfortable in-line or at the second level, Elflein totally eliminates defenders pursuing from the backside. Combining with right guard Billy Price to give defensive tackles a torrid time, the Buckeyes are averaging 6.4 yards per carry on either side of their star center. Rounding out the group, tackles Jamarco Jones and Isaiah Prince and guard Michael Jordan offer excellent support. If the Buckeyes are to win, they must find a rhythm running the ball.
4. Clemson's starting defensive linemen have combined to produce 162 total QB pressures.
Few suspected Clemson's line would recover from losing three starters to the NFL, but the Tigers have emerged as one of the nation's best units. The group is likely to create havoc in the ACC for seasons to come. Dexter Lawrence's opening gambit in the world of college football suggests Clemson may have stumbled on a unique talent. The freshman phenom has 15 knockdowns and 30 hurries this season, bettering each of his more experienced teammates.
The strength of the unit lies in its depth, however. None of Clemson's starting defensive linemen have recorded fewer than 33 combined pressures this season. Yet none have more than Lawrence's team-leading 45. End Clellin Ferrell and tackle Carlos Watkins are quality contributors who are frequently overlooked. Christian Wilkins is most likely to make a telling impact, particularly in his matchup with right tackle Isaiah Prince.
5. The average QB rating allowed by Clemson's top four cornerbacks is 40.3.
If facing that vaunted Tigers pass-rush was not debilitating enough, Clemson's defense also places a plethora of difference-makers in position to make plays in the secondary. The Tigers are dependent on their defensive backs to match up in press-man coverage, often with little help. Cordrea Tankersley is the standout of the group. So frequently does he lock down his targets that opposing QBs are thinking twice of even looking his way. Ultimately, he ended the regular season with a QB rating allowed of 41.9 (one touchdown, three picks, eight pass deflections), highlighting the quality of Tankersley's performances.
Tankersley is not alone as the only productive member of the Tigers' secondary, and in fact, he is the only Clemson corner to allow a touchdown this season. Ryan Carter has stepped into the starting role opposite him and made an instant impact. He is allowing a catch on only 44 percent of targets and an average of only 9.8 yards per catch. In the nickel, Marcus Edmond has made a statement of his own. The third corner with a QB rating allowed of less than 55, he is an incredibly talented player.