Six weeks of action have come and gone, and with that, we have a very clear picture at which teams across the country have excelled and where. Solid blocking from the offensive line is imperative to keep offense's on schedule and keep skill-position players clean from pressure in the passing game and with enough space to make moves in the running game.
PFF's play-by-play grading of every game puts us in a unique position to depict which units across the country have truly shined along the offensive line.
This list of top offensive lines is brought to you by Eckrich, the Official Smoked Sausage of the College Football Playoff.
With our team grades in hand, here are the nation's 10 best offensive lines through the first six weeks of the 2018 NCAA football season: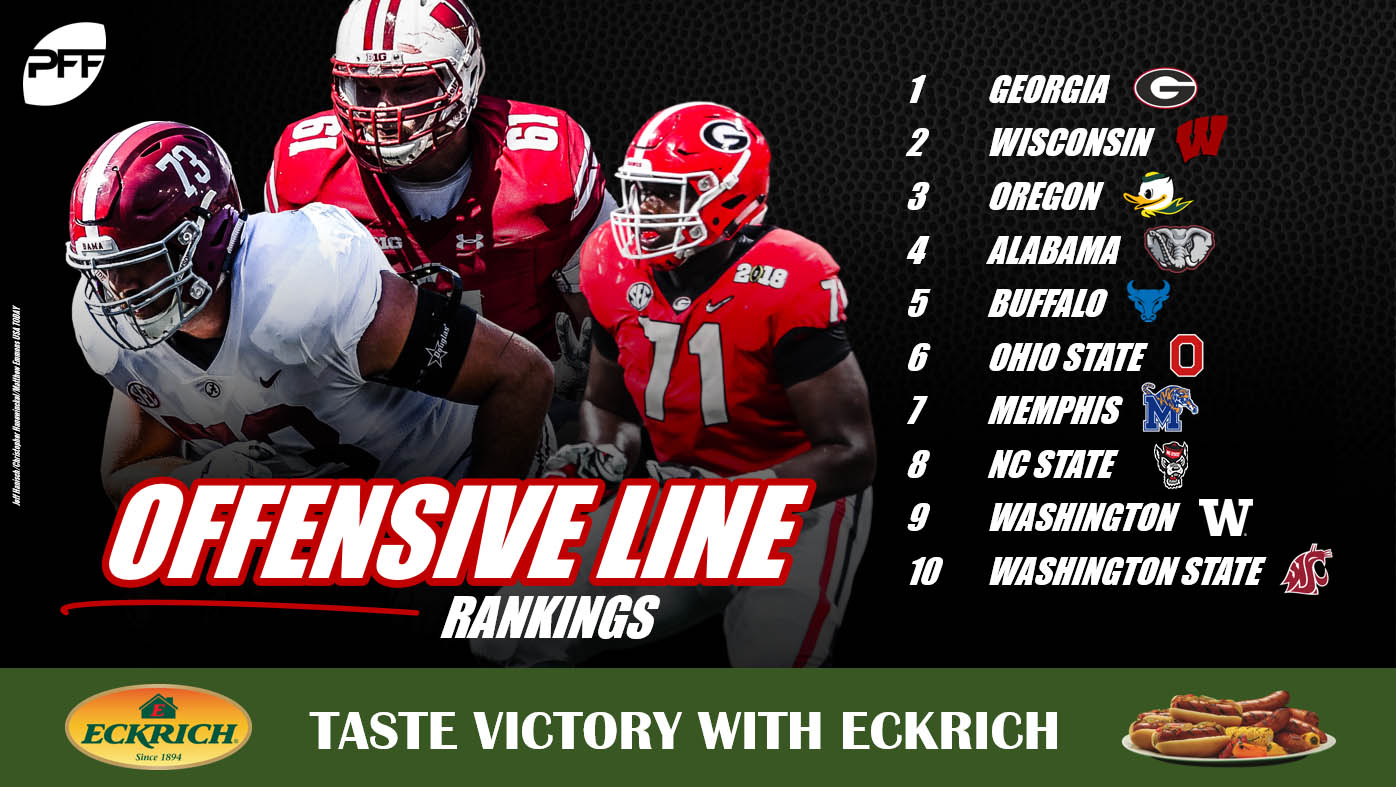 Georgia Bulldogs
Every starter on the Georgia offensive line has produced a PFF overall grade of 75.0 or higher so far this season, with left tackle Andrew Thomas the star of the show. With a PFF overall grade of 90.8, Thomas is the highest-graded offensive lineman in the nation, dominating both in pass protection and as a run-blocker. From 105 pass-blocking snaps, he has allowed just two hits and three hurries, with no sacks through five games. His PFF run-blocking grade of 90.5 is the second-highest mark of among all offensive linemen as well. As good as Thomas is though, it is the consistency across the line that drives their high ranking, with the Bulldogs ranking 15th in the nation with a 93.3 pass-blocking efficiency rating and owning the highest PFF run-blocking grade as a unit at 86.7 through six games.
Wisconsin Badgers
With alumni that includes perennial All-Pros in left tackle Joe Thomas and center Travis Frederick, to name just two, it's safe to say that a dominant offensive line is something of a tradition at Wisconsin. That's true once again this year, with multiple players on this line likely to play on Sundays. They rank second in the nation behind only Georgia with an 86.0 run-blocking grade and like the Bulldogs, left tackle is their biggest strength. Cole Van Lanen has only started one game this year but rotates in enough to have played 246 snaps through five games. In that span, he has allowed just one hit and one hurry on 93 pass-blocking snaps, and continues to improve, with this past week against Nebraska (96.8) his highest-graded game of the year. With center Tyler Biadasz (83.6) and right guard Beau Benzschawel (84.3) also delivering strong PFF grades, this is a unit well positioned to dominate throughout the rest of the year.
Oregon Ducks
Oregon has been efficient both in pass protection and as run-blockers, ranking 6th and 11th in the nation in both categories, respectively, in terms of PFF grades. With just two sacks, two hits and 14 hurries allowed as a unit so far in 2018, they are tied for ninth in the nation with a 93.8 pass-blocking efficiency. The key to their success has been the overall strength of the unit, with left tackle Penei Sewell (82.5), left guard Shane Lemieux (84.0) and right tackle Caleb Throckmorton (83.5) all delivering PFF grades above 80.0. Sewell and Throckmorton have a strong case for being the top offensive tackle duo in all of college football, combining to allow just six total pressures on quarterback Justin Herbert so far this season. Throckmorton is rising up draft boards as this unit is as solid as they come.
Alabama Crimson Tide
Left tackle Jonah Williams (86.2) has been playing hurt but has still been the third-highest graded left tackle in the nation behind Georgia's Thomas and Wisconsin's Van Lanen, and he headlines the Alabama offensive line once again. An impressive run-blocker, he's been even better in pass protection, allowing just one hit and three hurries from 157 snaps in pass protection. Opposite Williams, right tackle Jedrick Willis Jr. has also delivered in pass protection, allowing just seven hurries from 157 snaps in pass protection.
Buffalo Bulls
One of two Group of 5 teams to make our top 10, Buffalo is another team who can boast having every starter with a PFF grade of 75.0 or above so far this season, ranking third in the nation behind only Georgia and Wisconsin with a PFF run-blocking grade of 83.5, and 13th with a PFF pass-blocking grade of 88.2. Center James O'Hagan (85.2) is the only player on the line with a PFF grade of 80.0 or higher, having allowed just three hurries from 189 pass blocking snaps through six games, but it is the lack of a weak spot that helps Buffalo stand out, ranking third in the nation with a 95.4 pass-blocking efficiency, having just 15 pressures charged to their offensive line.
Ohio State Buckeyes
The Buckeyes offensive line is once again one of the very best in the nation, thanks to their efficiency in pass protection and strength in the running game. Center Michael Jordan has been their best player so far, with just two hurries allowed from 231 pass-blocking snaps, and just one penalty committed on 431 snaps since the season began. They are tied with Washington as the 22nd-ranked team in the nation with a pass-blocking efficiency rating of 92.7, and Ohio State running backs see an average of 2.42 yards before contact per carry.
Memphis Tigers
Memphis has one of the top running backs in the nation in Darrell Henderson, but it's not just the back that makes their running game tick. Henderson is averaging a ridiculous 7.8 yards after contact per carry this season, but his offensive line is also giving him an average of 4.0 yards per carry before contact, helping him to average 11.8 yards per carry through six games. They have been strong in pass protection too, ranking 11th in the nation with a pass-blocking efficiency of 93.7, with just five sacks and 14 hurries charged to their offensive line through six games.
NC State Wolfpack
NC State has seen two big performances on their offensive line so far this season, with left guard Terronne Prescod (89.6) and center Garrett Bradbury (83.2) standing out in four and five games, respectively. Prescod is our highest-graded guard in the nation, and the only offensive lineman to produce run-blocking and pass-blocking grades of 90.0 or higher, allowing a mere two hurries from 142 pass-blocking snaps. Bradbury is our third-highest graded center so far this season, trailing only Buffalo's O'Hagan and Wisconsin's Biadasz, and has allowed just a hit and two hurries from 205 pass-blocking snaps.
Washington Huskies
Washington ranks 22nd in the nation, tied with Ohio State, with a 92.7 pass-blocking efficiency rating as their offensive line has been charged with 28 total pressures, including just one sack. While no starter has produced a PFF grade above 77.0, four of their five starters up front have produced grades above 70.0. They rank 13th in the nation in terms of PFF run-blocking grade and have given their running backs an average of 2.5 yards per carry before contact.
Washington State Cougars
Scheme certainly helps them in pass protection, but Washington State consistently fields good offensive lines it seems. Left tackle Andre Dillard is enjoying an impressive start to the season, allowing just nine total pressures from a whopping 360 pass-blocking snaps. They won a game this past week with barely any attention to the running game, but when they have run the ball, they have benefitted from solid blocking up front, with their PFF run-blocking grade of 70.8 ranking 30th in the nation.