• Bet Colts-Broncos Over 42 (-110): PFF Greenline once again leans toward the over. It's been a rocky start to the season for primetime overs, but with everything from a modeling perspective pointing this way, we once again ride.
• Bet Michael Pittman o5.5 receptions (+122): Lots of low-leverage targets incoming once again for Pittman, who has a 7.3 aDOT.
• New users who bet $10 or more at BetMGM will receive a free year's subscription to PFF+ — a $79.99 value.
Last updated: Thurs. Oct. 6, 1:00 p.m.
Estimated reading time: 4 mins
---
• Our prime-time previews pull all the key modeling numbers and simulated outcomes from PFF's betting tools, including PFF NFL Greenline and the player props tool, which use top-down machine learning models backed by PFF's exclusive data to derive value when compared to the betting market.
• Let's dive into the Week 5 AFC matchup between the Indianapolis Colts and Denver Broncos.
---
GAME LINES
• Despite disappointing starts from both teams, this spread's barely moved off of the preseason number: The lowest spread in this matchup was Denver -2.5 on the lookahead line, but after another poor performance from Indianapolis, we have sat between -3 and -3.5 for this entire week. 
• There are a few rogue 3s still being offered at -115 and -120 prices, but for the most part the market has added the hook to the Broncos' side of the spread. PFF Greenline did show a little value on Denver before the line movement, so a -3 at -110 pricing would offer enough value to bet, but we most likely won't see that offering again before kickoff. 
• PFF's play-by-play simulation is right on the market at -3, seeing the Broncos victory at that margin as the most likely outcome for this matchup. A case could be made for Indianapolis +3.5, but since neither model has a strong preference on either side of that number, this looks like the perfect spot to lay off on Thursday night.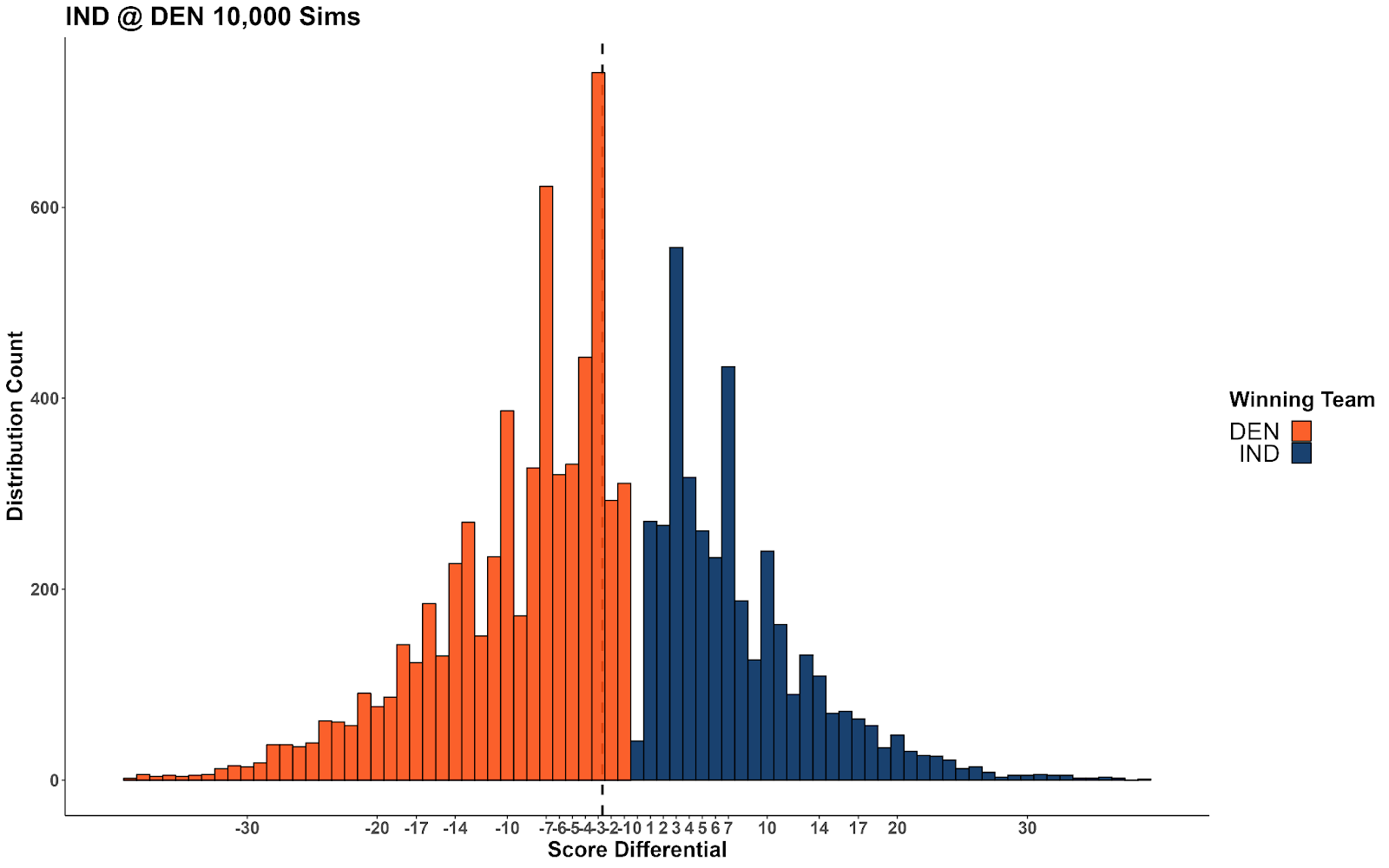 • Another primetime Over: As much as it pains me to write, PFF Greenline is once again leaning toward the over in a primetime matchup. It's been a rocky start to the season for primetime overs, and the worst spot for my write ups from a units won perspective. 
• Trusting the process doesn't mean picking and choosing where to apply it: So with everything from a modeling perspective pointing toward the over, we once again ride with the over in what could easily turn into another low-scoring, sloppy offensive game.
Bet: Over 42 -110
BetMGM
---
PLAYER PROPS
Player props continue to grab a bigger share of bettors' attention and are one of the easiest transitions into sports betting, as fantasy applications are helpful for evaluating betting opportunities. 
Props are priced for a player's median stat projection in a simple, over-or-under, two-sided market. For historical context, unders are by far the most profitable angle to bet and could have been blindly bet toward the under on passing, rushing and receiving yardage props and been profitable. 
The 2022 season started off somewhat as expected, with rushing yards and receptions finishing heavily toward the under. Somewhat surprisingly, pass attempts continue to see a positive ROI for overs. Team's seem to be shifting their run/pass splits, resulting in higher attempts but also more negative outcomes because of the higher volume. There is also a macro trend related to average depth of target, with quarterback's not pushing the ball downfield like we have seen in years past. This has led to fewer big-time throws and also fewer touchdowns, which has caused Unders to be the correct spot to target in the game market.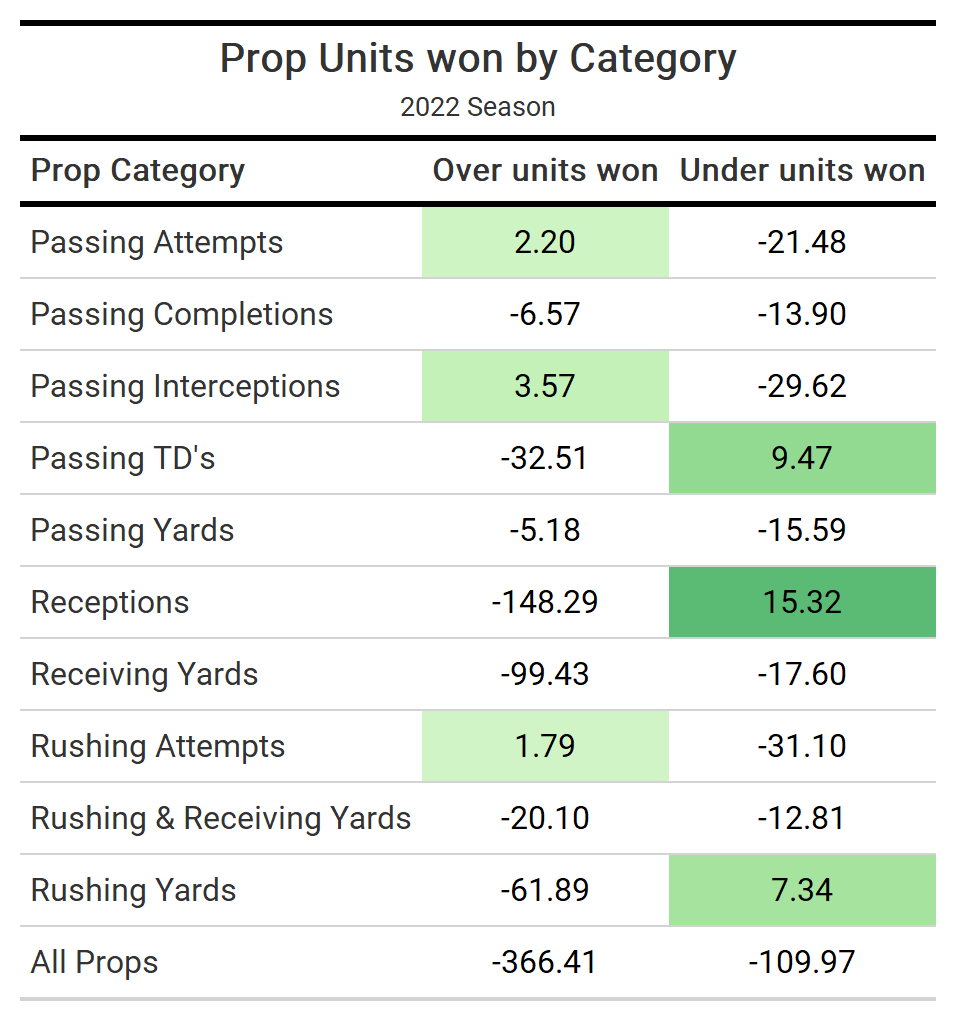 One way to consistently find defined edges without blindly betting unders is by utilizing PFF's player props tool. The ability to adjust both number and price means you are always certain of the expected value for each prop bet. Let's dive into the best player props to bet for the NFL Thursday night kickoff game. 
Bet: Colts WR Alec Pierce u2.5 Receptions (+120 BetMGM)
• 14.4 aDot and 25.8% of air yards when Pierce is active: The Colts' WR corps looks like the perfect spot to target for player props Thursday night. Pierce was drafted as the downfield threat in this offense — and through two games, he very much seems to fit in that role.
• But only 10.9% target share among 52.4% of dropbacks: The problem is stretching the field really is Pierce's only current role. He's simply not being looked at consistently enough to justify this high of a reception price at a plus offering. 
• Pierce's routes actually trending down from a high in Week 1 to only 40.5% routes run last week: This is a real concern currently for Pierce, but it looks like a spot where he might turn into a higher focal point later in the season. For now, his usage is trending strong enough in the wrong direction to fade him in this difficult matchup against one of the best secondaries in the NFL based on PFF grade. 
Bet: Colts WR Michael Pittman Jr. o5.5 Receptions (+122 Caesars)
• 94.4% snap percentage and running 96.5% of routes run when active:  Pittman has been the clear cut No. 1 in this passing offense, and while his target percentage of 23.3% jumps off the page, the real reason to place this bet is his low aDot of 7.3. He's been operating underneath for this offense with Pierce working over the top, meaning we should see lots of low-leverage targets for Pittman once again. 76.7% of his targets have been first read throws, so despite him working underneath it does very much appear to be scheme specific for why he is receiving so much of the work underneath. 
With Jonathan Taylor inactive: Nyheim Hines should see a much higher percentage of snaps in the backfield as opposed to split out as the slot receiver, meaning Pittman could have even less competition for some of the underneath targets. Everything is pointing toward Pittman being in a perfect position to explode from a target's perspective in this matchup, which makes this one of if not the best bet to make for Thursday night football.  
---
DERIVATIVE BETS & SAME-GAME PARLAY 
• Taking advantage of same-game parlays often requires including legs that at first glance offer negative correlation to each other: Michael Pittman going over his reception prop and Alec Pierce going under do not offer this negative correlation, but we can also fold in some of Matt Ryan's usage since the two receiver legs are working in opposite directions. 
• Colts expected to play from behind Thursday night: The Taylor news should theoretically point this offense toward a higher percentage of dropbacks, and if this is the case Matt Ryan's pass attempts will increase. The past two weeks, Ryan's closing pass attempt number has been at 33.5 and 31.5, respectively, meaning there's been little adjustment to the impact Taylor's absence will have on Indianapolis' expected play script. This leg also offers some negative correlation to Pierce, bumping up the payouts to an enticing number.
• PFF's play-by-play simulation results in this outcome just shy of 15% of the time: At +700, it looks like an opportunity to bet.
SGP build (+700 Caesars)
• Michael Pittman Over 5.5 Receptions
• Alec Pierce Under 2.5 Receptions
• Matt Ryan Over 32.5 Pass Attempts
· Ben went 2-3 in his Week 4 MNF preview, bringing his overall season record to 24-31 (.27 units).
· PFF's newest tool is a play-by-play simulation that uses a bottoms-up prediction approach backed once again on PFF data and state-of-the-art machine learning models.