We split week 7, winning in Chicago with New Orleans (+3.5)—even though the game closed away from us around +4.5—while losing our pick of the week in Philadelphia (+3). We now sit at 106-88-10 (54.7%) since we started writing this column, and 13-7 on the season. On picks against the spread, we've been 76-60-6 (55.9%) since 2017 and still have some win totals that are pending for the 2019 season.
This week was a difficult one in the sense that not very many games were compelling from a playoff-leverage perspective (there are zero games between divisional opponents, and only five games are interconference). However, we are gritty if nothing else, and persevere we did. For college spread picks, our colleague Ben Brown is 27-20-1 this season, and his picks for Week 9 of the college football season will be live on Friday morning at PFF.com.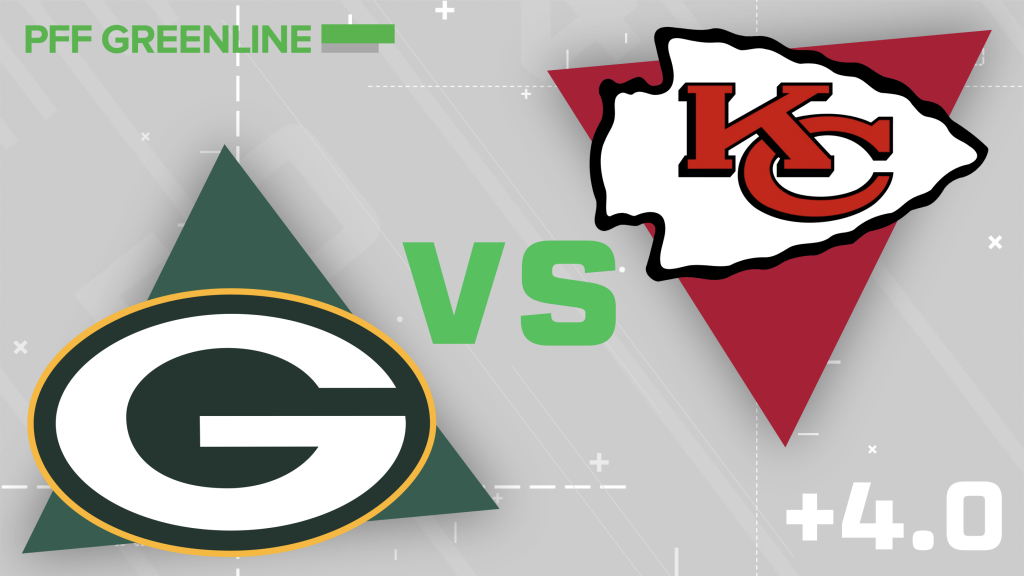 Point (GC): The Aaron Rodgers media lovefest has begun in earnest after he churned out his highest-graded game since 2016 as the Packers rolled over the Oakland Raiders convincingly at home last week. The final score of that game was deceiving thanks to a gift from Derek Carr. Down 14-10, Carr had the Raiders at the goal line looking to take the lead right before the half, and that is when Carr scrambled right and fumbled the ball out of the back of the end zone in what is becoming his signature move. The Packers went right down for a touchdown before the half and took the opening drive of the second half to the house, as well. While this put the score completely out of reach, Carr and the Oakland offense were successful throughout the game, taking no sacks while averaging 11.5 yards per attempt from a clean pocket and 12.1 yards per attempt versus the blitz. 
This was a breakout game for the Packers' offense, but we shouldn't forget that they were worse on a per-play basis compared to 2018 over the first six weeks of the season, and the Raiders' defense was happy to do all they could. Rodgers was pressured on 24% of dropbacks, and those pressures occurred in an average of 3.0s after the snap, which was the longest time to pressure Rodgers has enjoyed this season. The Chiefs are not the best defense, but they are no longer the worst, especially in coverage, where they are allowing a 79.7 passer rating when the opposing quarterback is kept clean (second-lowest this season).
Last but definitely not least, is that the Chiefs have Andy Reid, who is our highest-rated offensive play-caller and managed to create an offense that ranked third in yards per play and second in yards per attempt in 2017 before Mahomes took the league by storm. He is the only coach running play-action more often than he calls running plays in first halves this season, and he called play-action more often in Week 7 than in any game prior. Moore responded with a 152.1 rating off play-action. Still not there? Pat Mahomes practiced yesterday…
Counterpoint (EE): I've seen this number all the way out to +5, so while relative to open (+3), you're getting value here with Kansas City, though it would have been a better deal had we written this article earlier in the week, given the news on Mahomes on Wednesday. Assuming Matt Moore does play, how much do we value Andy Reid with double-digit days off to get him ready when players like Eric Fisher and Sammy Watkins are hampered by injury?  Even if he is the league's best play-caller (as our numbers suggest), this is a tall task. 
In Moore's last turn at the plate (2017), the veteran quarterback earned only a 54.9 passing grade, throwing more interceptions than touchdowns, taking 12 sacks and having three of his 127 passing attempts batted down at the line of scrimmage. Prior to his injury, Mahomes was having a down year relative to 2018, generating a negatively graded throw on over 14% of his passes, a year after doing so less than 10% of the time, showing some of the effects of the league catching up to their high-powered offense and injuries to skill position players like Tyreek Hill and Sammy Watkins. Thus, the ceiling for this offense is a bit more limited than some people believe. 
On the other side of the ball, Aaron Rodgers is the highest-graded quarterback in the league (despite not having Davante Adams for three games). If last Thursday's game against Joe Flacco was more fluke than signal for the Chiefs' defense, look for points from Green Bay at Arrowhead, points that might be too hard to overcome for the home team. 
Subscribe to PFF Edge to continue reading
Already have a subscription? Sign In