It's almost here. Super Bowl LIV is just over a week away, which feels like a long time for all of us who are used to getting our weekly football fix (no, the Pro Bowl doesn't come close to qualifying). The great thing about the Super Bowl is that the two-week buildup gives plenty of time to make smart bets early on so that we can sit back at and relax while the numbers become more and more efficient as kickoff approaches.
On Thursday night, the props at the Westgate SuperBook opened up. We took a look at a few of these numbers, and after using our fantasy projections as well as how we think the game will work out, we've pointed out a few of the ones we like (with numbers subject to change). We'll have another piece next week, and we'll discuss props and the Super Bowl in general on the PFF Forecast.
49ers will have to pass the ball to beat the Chiefs. pic.twitter.com/H3rtvi1wtm

— PFF (@PFF) January 20, 2020
Demarcus Robinson UNDER 22.5 receiving yards (WestGate -110)
Eric Eager: This is a tricky one because Robinson could eclipse this number with just one catch, as he did in the AFC Championship Game last week. However, rookie Mecole Hardman out-snapped Robinson against the Tennessee Titans, and Robinson's 25 total snaps represented his third-lowest total of the year to this point. He's earned more than one catch and over 22.5 yards just twice since Week 10.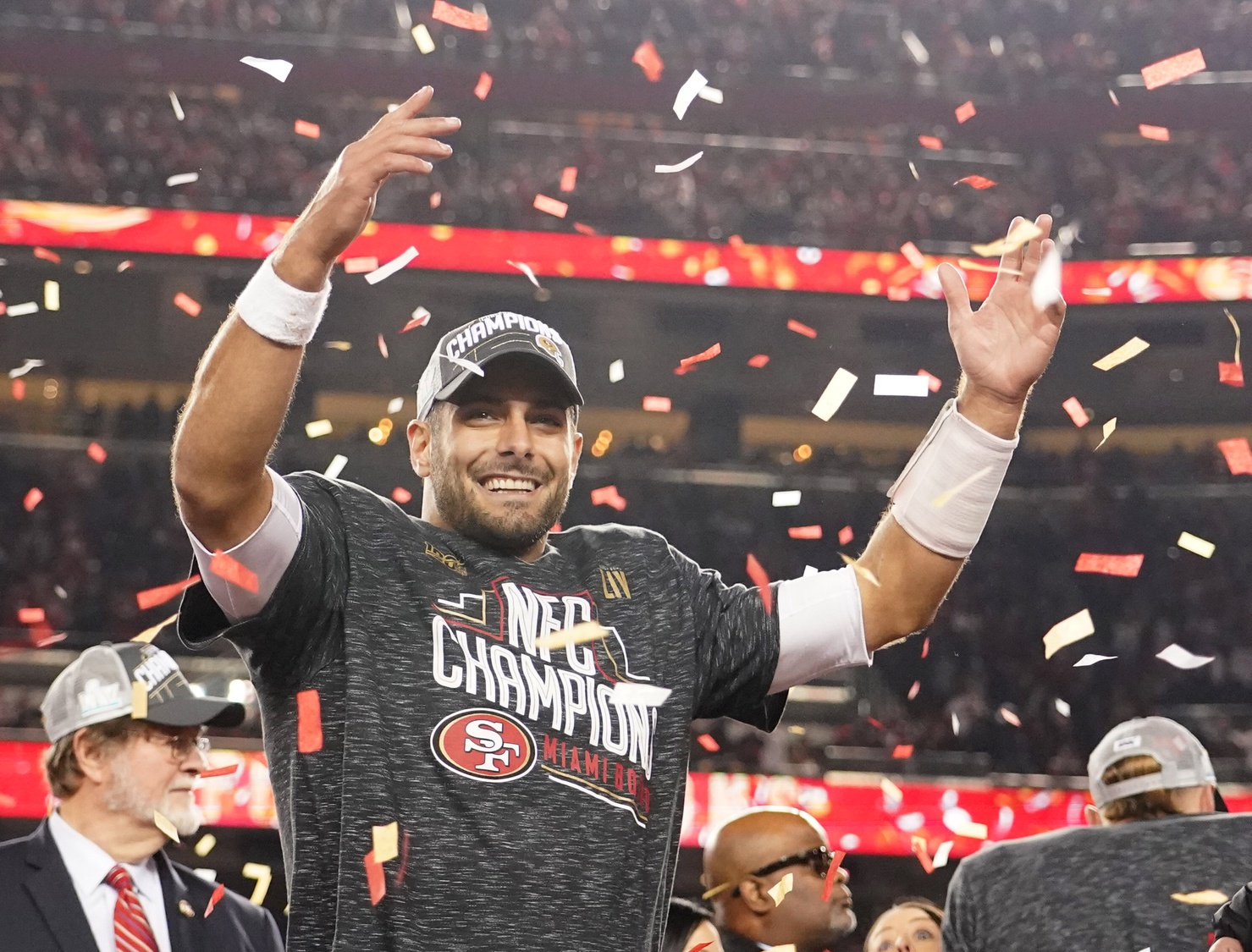 Jimmy Garoppolo OVER 240.5 passing yards (DraftKings, -112)
George Chahrouri: Jimmy G completing pass after pass for four hours in South Beach is a stone-cold lock. Everyone is so focused on the 49ers' run- game domination that they have forgotten that it's 2020 and that game-scripts and inferior opponents have allowed Garoppolo to rest his throwing motion for most of the playoff run. The 49ers rank fourth in expected points added per pass play and are facing the No. 1 passing offense in a game that has seen its total steadily climb higher and higher.
Garoppolo might not be in the same universe as Patrick Mahomes, but his PFF grade ranks eighth since the 49ers traded for Emmanuel Sanders. Even if the Niners are able to copy the Houston Texans and Titans and get out to an early lead, they won't be so naive as to think they can just start running the ball and keep Mahomes at bay. Our model projects Jimmy G to hit 265 passing yards — take this one to either the bank or any Jimmy G-approved South Beach establishment.
Sammy Watkins UNDER 4.5 receptions (WestGate -120)
EE: I am one of the biggest Sammy Watkins supporters there is, and watching him haul in a long touchdown catch to send my favorite team to the Super Bowl was a sight to see. That said, this number is outrageous, as the sixth-year pro from Clemson has gone over this number exactly one time (last week) since Week 10, and he has gone over 4.5 targets just twice since Week 15. There's a decent chance the Chiefs move Tyreek Hill around, so Watkins could well be matched up against Richard Sherman for more than his fair share of snaps —  give me Sherman in such a matchup.
Sammy Watkins UNDER 67.5 receiving yards (WestGate -110)
EE: I like this bet a little less than the one above, given Watkins' ability to turn a few catches into a lot of yards, but the price is better, and the points above still stand.
Damien Williams UNDER 64.5 rushing yards (WestGate -110)
EE: Damien Williams is the best running back on the Chiefs, but that's like crowning this frying pan as George Chahrouri's best tool for making vegetarian dishes. The Chiefs average -0.14 expected points added per run play (19th in the NFL, including playoffs) and have been successful on fewer than 39% of their running plays (23rd). Williams is a threat to break a long one, but if he doesn't, the league's fifth-best run defense per EPA allowed should hold Williams under this total.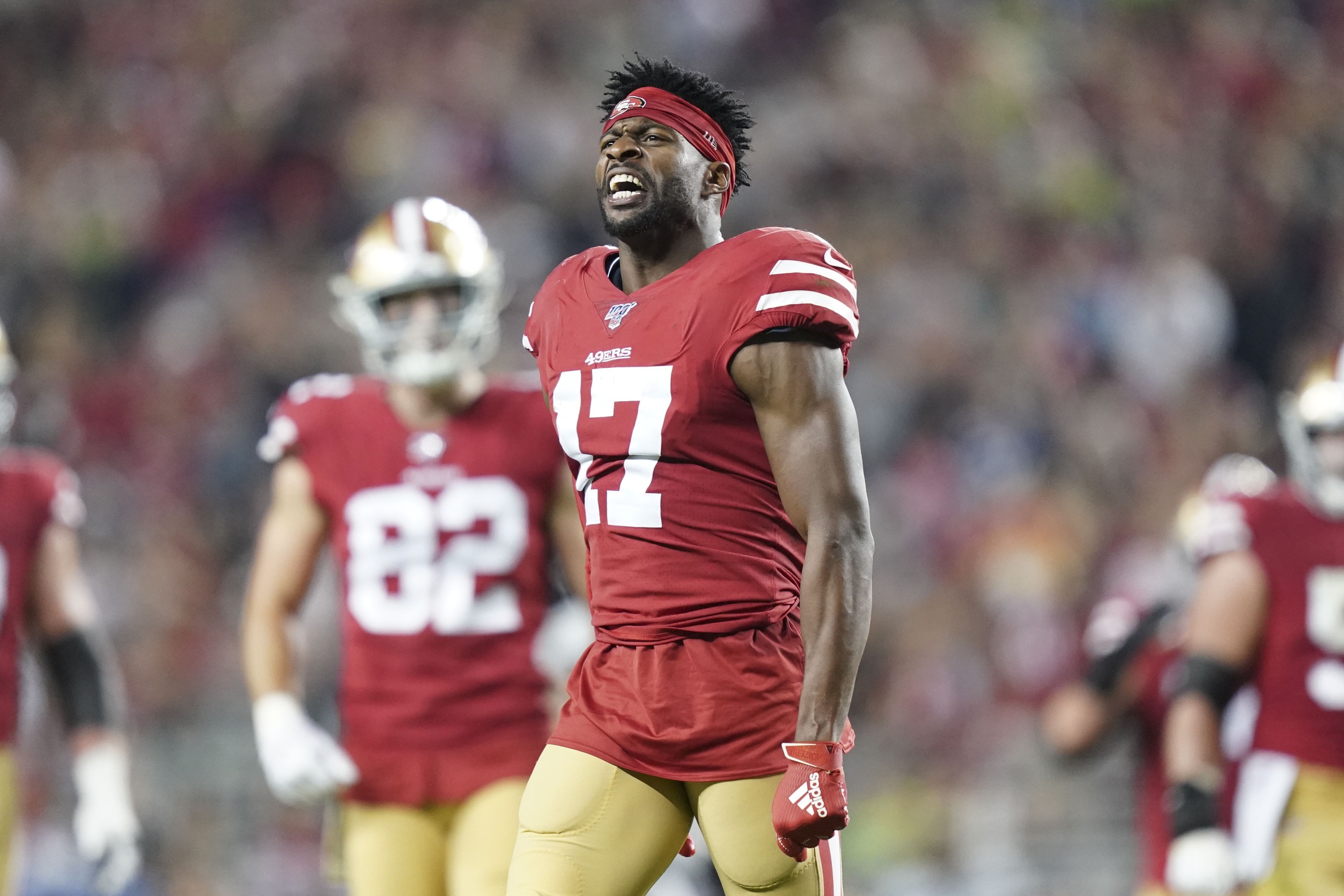 Emmanuel Sanders OVER 40.5 receiving yards (DraftKings, -112)
GC: We have already established that the 49ers will need to throw the ball to win this game. George Kittle will get all the hype pregame, and that means he will also get all the attention from the Chiefs' defense. Emmanuel Sanders has been silent in the passing game so far this postseason, with two catches on just three total targets, but those have been in games where the 49ers were so much better than the opposition that throwing was unnecessary.
The last time the 49ers faced a high-powered offense was when they played the New Orleans Saints in Week 13. In that game, Sanders was a massive part of the gameplan and hauled in seven of his nine targets for 157 yards. Sanders is one of the most sure-handed receivers in the NFL; he has 34 dropped passes in his regular-season and playoff career, which is the second-fewest for any receiver with more than 1,000 targets. Garoppolo will lean on his best and most experienced receiver in a game where the 49ers will need to throw to stay competitive.
Kyle Juszczyk OVER 10.5 receiving yards (WestGate -110)
GC: If there is one player you can guarantee Kyle Shanahan is going to utilize, it will be Kyle Juszczyk. The 49ers use two or more backs at the highest rate in the NFL, and they average 6.3 yards per play when they do, which is the league's top mark. On the other hand, the Chiefs' defense has allowed 7.5 yards per play when facing two-back personnel groupings (only 11% of their defensive plays), which ranks 31st in the NFL. Juszczyk's 239 receiving yards this season are 90 more than any other fullback, and his two catches 20-plus yards downfield are more than all other fullbacks combined. When the 49ers' first offensive play goes to Kyle for 15 yards, you want to make sure you cash in.
Deebo Samuel OVER 51.5 receiving yards (WestGate -110)
GC: Samuel is an absolute menace for would-be tacklers — he's averaged 8.5 yards after the catch per reception in 2019, which is the second-best mark for a rookie this decade (A.J. Brown was at 8.9). Samuel has accounted for nine of Garoppolo's 26 targeted throws so far this postseason, and if he maintains anything near that insane 35% target rate, he will clear this number with ease. We have Deebo projected for 62.7 yards — you know what to do.