Week 12 was nearly picture-perfect as we needed just three more points in the Baylor/Oklahoma fiasco, but in the end, we'll settle for a 4-1 Week 12 record. We picked up closing-line value from Georgia, Alabama and the aforementioned over play.
Overall, we sit at 38-30-1 (55.9%) on the season and are positive 6.6 units counting a Week 1 parlay win with all other bets at -110 odds. Among the 70 (one push, one parlay) picks against the spread or total, 10 have closed with the exact same line as the printed pick while 33 have provided closing-line value. Altogether, 61.4% of bets have held steady or improved to pick up closing-line value.
Week 13 is highlighted by two teams atop the Big Ten along with a game that could decide who faces off with Clemson for the ACC Conference title. On top of the quality matchups highlighted in our Games of the Week, Greenline favors a few teams we find undervalued in the betting market. Let's dive into our favorite plays in Week 13 as we look to continue the momentum into the final weeks of the season.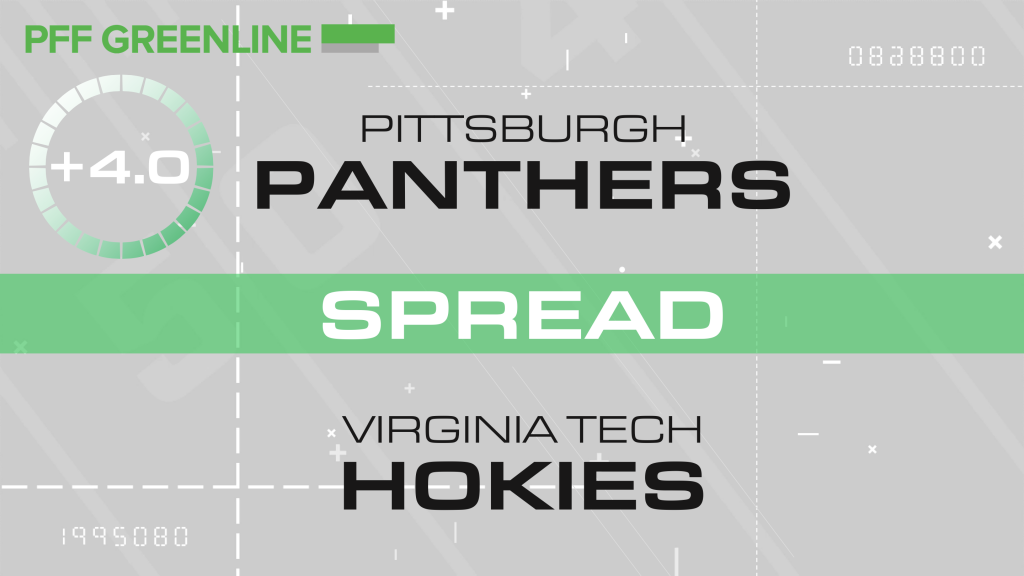 Game of the Week
Why Pittsburgh covers: Pittsburgh is the clear No. 2 in the ACC according to our PFFELO rankings. They sit almost 35 ELO points ahead of Virginia Tech, who currently rank 33rd. The Hokies' matchup against Pittsburgh this weekend is the key to determining who will face off against Clemson, as is their following road contest against Virginia, who currently hold the tiebreaker over Pittsburgh. It is a complicated three-team race playing for the right to lose to Clemson by three touchdowns in the conference title game. Our ranking of Pittsburgh is slightly higher than the market but paints an interesting picture when comparing PFF grade to EPA generation. Pittsburgh ranks in the top-50 of all FBS schools in PFF passing grade but sits at 92nd in EPA generated per pass attempt at -.095. The discrepancy seems to result from their matchup against Virginia to start the season along with their brutal performance against Miami in Week 9.
Kenny Pickett is coming off his second-best passing grade of the season after throwing four big-time throws and zero turnover-worthy plays in their statement win over UNC. Hendon Hooker has yet to put a quality game together since returning from the injury that sidelined him against Notre Dame. Pittsburgh will be putting forth the better quarterback on a team with a higher ranking and asked to get over a field goal in points — this makes this an ideal spot to back the Panthers. Greenline leans heavily in their direction, giving a four-point road cover a 52.6% probability.
What could go wrong: Hendon Hooker flashed big-play ability in his two-game stretch against Rhode Island and North Carolina, posting near elite-level game grades. His rushing ability makes him dangerous in all facets of the game, as he has forced a missed tackle on almost 30% of his rush attempts. The Hokies have everything to play for over these final weeks as they simply need to win out to get into the ACC title game. Hooker may not be grading better than Pickett right now, but he does offer significantly more upside than what Pickett can provide for the Panthers' offense.
The Hokies also bring forth the better receiving unit, with Pittsburgh's top wideout Maurice Ffrench questionable for Saturday. Defensively, the Hokies have an elite grade where it matters most, in coverage, posting a 91.2 team coverage grade that ranks 15th in the FBS. Not to be outdone, Pittsburgh has been even better in coverage, posting a 92.7 team coverage grade while allowing -.255 EPA per pass attempt. This game will come down to the play of Hendon Hooker — if he plays up to the level of his ability and finds success against the Panthers' secondary, then this game could tilt heavily in favor of the Hokies.
[Editor's Note: All ELITE subscribers can access PFF Greenline, a betting dashboard with projections for the spread, over/under and moneyline for every NFL and FBS game every week. Subscribe today to gain access!]
Game of the Week
Why Penn State covers: The two teams we have atop the Big Ten face off in what most would consider the real Big Ten Title Game. Despite some down weeks recently against Big Ten competition, the Nittany Lions still have the fourth-best pass-rush grade in the nation at 90.1. They force pressure on 55.1% of pass-rush snaps, which is the eighth-highest mark in the FBS. Their coverage unit isn't far behind, posting an elite 90.0 coverage grade that ranks 22nd nationally. By the time this game kicks off, Columbus could be doused with a rain/sleet mix that makes offensive production hard to come by. Even without weather implications, the current 19-point spread feels like too wide of a gap, with Greenline giving Penn State a 54.9% cover probability.  
What could go wrong: In a word, everything. Ohio State has looked like the best team in the country throughout 2019 and currently sits as the odds-on favorite to win the National Championship. The Buckeyes are 8-2 against the spread despite not being less than two-touchdown favorites in a matchup yet in 2019. Going against the Buckeyes in the biggest game they have so far in 2019 feels like a deathwish. Penn State has been impressive defensively, but the Buckeyes rank higher in all statistical categories and return the best defensive player in all of college football on Saturday. There is little question who has the more prolific offense in this matchup, and that doesn't begin to take into account the fact that Penn State's most dynamic playmaker is still questionable and could sit this game out or be extremely limited. Greenline still leans heavily in Penn State's favor despite how uncomfortable that may feel. Sometimes in betting, however, the best bets to make are the ones that make you feel the most uncomfortable, and this one definitely has us feeling uncomfortable.
Why Georgia covers: Another week, another Georgia writeup, as they are clearly the team we disagree about most with respect to the consensus ranking systems. Georgia opened as 14.5-point favorites but have been bet down throughout the week and currently sit at -13. Anything under a two-touchdown spread appears to be value for the team that we have ranked second overall in the SEC. Despite lacking in explosive plays, the Georgia offense still ranks fifth overall in the FBS, with their defense ninth in the same opponent-adjusted ranking system. Jake Fromm quietly sits eighth overall in passing grade despite Georgia ranking just 39th in EPA per pass attempt. Fromm just hasn't been asked to do much, as Georgia continues to rely on their defense to close out games. Sitting as a one-loss team that still needs some help from the committee to get in, the Bulldogs could focus on style points while wrapping up their regular-season schedule. Texas A&M is a quality football team, but with a -13 spread for the home favorites, Greenline gives Georgia a 54.7% cover probability. This is a spot to smash in Week 13 for a team that has been good to us throughout 2019.  
What could go wrong: Texas A&M has one of the most difficult two-game stretches in history to close out their regular-season schedule. This is on top of already playing the clear top two teams among preseason ranking systems earlier in the season. If there is one thing the Aggies have shown, it's the ability to hang close to more talented teams. Kellen Mond hasn't exactly performed as well as expected, posting just a 73.8 passing grade in 2019. He has been under pressure on 40% of dropbacks and has posted only a 52.0 passing grade under pressure while taking 22 sacks. Against Georgia, the expectation is that he will be under pressure throughout this matchup. Texas A&M is getting the love from the betting market, but buying low on Georgia at their current price seems like the optimal way to play this matchup from a Greenline perspective.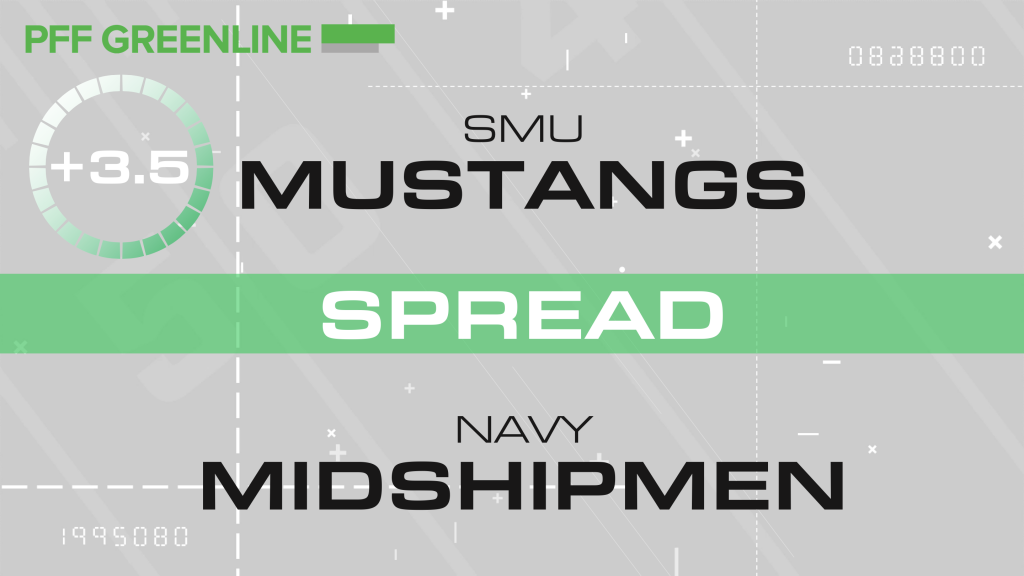 Why SMU covers: After starting the year as the 86th-ranked team in our PFFELO rankings, SMU has climbed considerably to a high of 39th before settling at 44th. Offensively, they have shown the ability to hang with anyone in the country, posting the 22nd best EPA per pass attempt in the FBS. Shane Buechele is second in the nation in total big-time throws, with 26. Buechele can make any throw on the football field and should be able to do as he pleases against the second-worst defense in the American. Despite our love of SMU, this is the second week in a row we are targeting a spot against Navy. We were right last week, with Notre Dame providing a comfortable cover after the market bought heavily into Navy. We see a similar situation occurring this week, with Navy incapable of stopping either the run or the pass despite popular belief. At +3.5, Greenline gives SMU a 60.2% cover probability, making this our best bet of the weekend. Grab it quickly before the market catches up to how bad this Navy squad actually is. 
What could go wrong: Navy could dominate the time of possession, keep this SMU offense off the field and win a low scoring game. The problem is Navy's offensive gameplan plays right into the strength of the SMU defense. SMU has an 85.8 team run-defense grade while allowing a successful rush on just 38.2% of attempts. SMU also is coming off of their bye and has had two weeks to prepare for the triple option. Some may say this is a good spot to buy low on Navy, but it doesn't seem like the market has bottomed out on them yet. We love SMU covering and potentially winning against a reeling Navy squad that isn't as good as their current record indicates.
Why San Diego State covers: The nightcap that features the two most beautiful locations in the USA facing off in a battle for coastal supremacy. SDSU sits third in our Mountain West ELO ranking while the Warriors check-in at sixth. SDSU has both the better offensive and defensive ranking while it also provides the better quarterback. Greenline would make this game closer to a pick 'em, meaning SDSU would be close to a three-point favorite on a neutral site. This is a great price for SDSU, with Greenline giving the Aztecs a 55.4% cover probability at the current +2.5 spread. 
What could go wrong: This game most likely won't turn into the wild, shootout-style game we are accustomed to seeing from Hawaii. In fact, this is the first game in 2019 that Hawaii has not seen a total of at least 60. The concerning piece for SDSU is that despite solid PFF offensive grades, they do not generate a positive EPA per attempt either passing or rushing. Hawaii has generated a positive in EPA per attempt both passing and rushing. If Hawaii can turn this game into a shootout, SDSU will struggle to keep up. Our model anticipates a few more points scored than the betting markets do, but we think it stays close throughout in a game that finishes closer to a 50-point total. In this scenario, take the better team with the points.