With just three weeks of the 2020 NFL season remaining, the stakes couldn't be higher for a select few teams around the league.
At this point, teams are often well understood by the betting market, and it's increasingly hard to find value. Nonetheless, I've still found a few lines I like. So first let's take a look at the playoff leverage at stake in Week 15 before we walk through my favorite NFL betting opportunities of the weekend!
PLAYOFF LEVERAGE CHARTS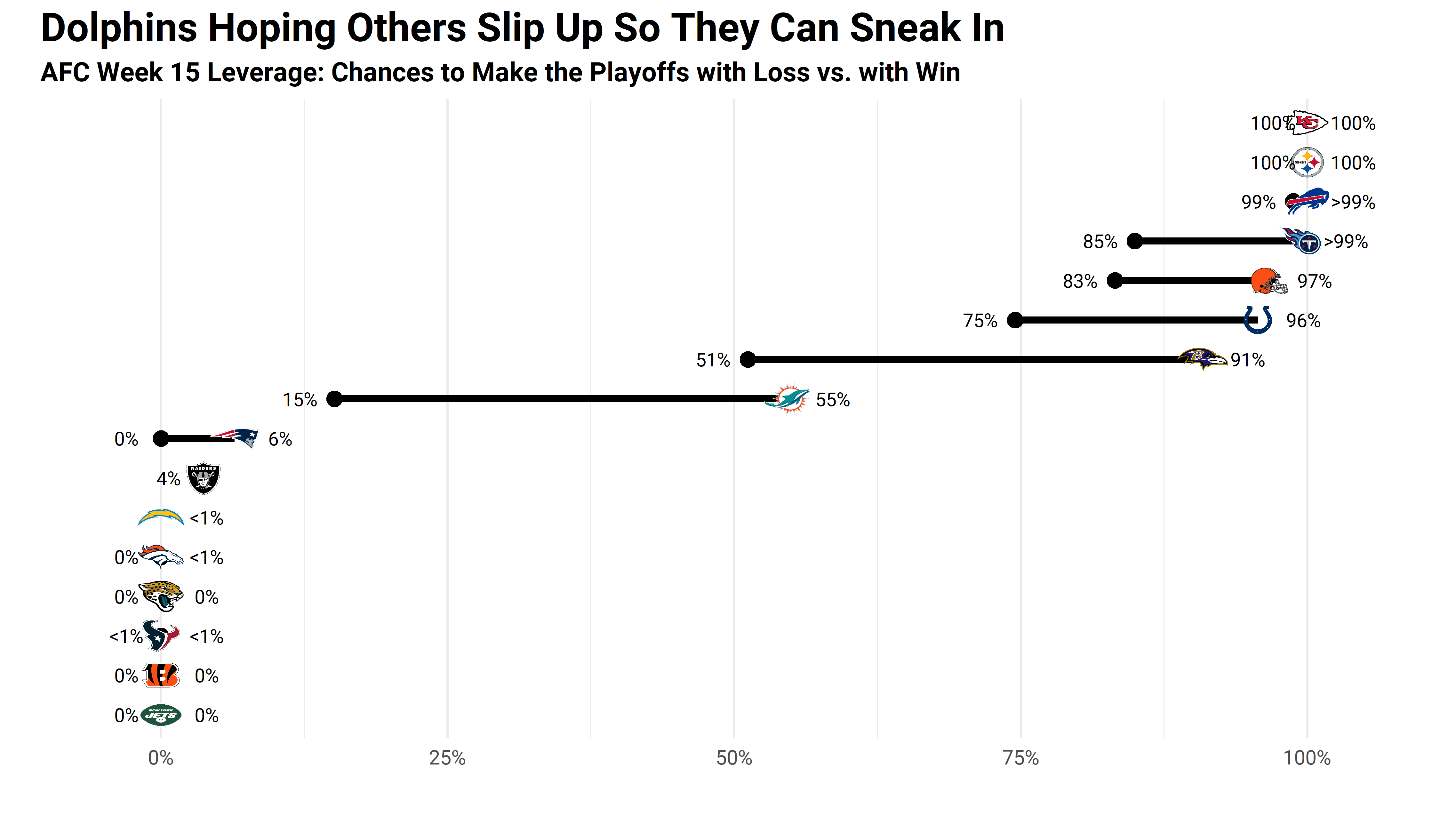 The Baltimore Ravens have a lot of leverage at stake this week, but it's unlikely to hurt them much as they are hosting the 1-12 Jacksonville Jaguars. The Miami Dolphins — while currently holding the tiebreaker over the Ravens — are less likely to make the playoffs than Lamar Jackson & Co.
Dolphins fans will not only be rooting for the Jaguars upset and their own team to defeat the New England Patriots this week, but they will also be rooting for the Tennessee Titans, Indianapolis Colts and/or Cleveland Browns to lose. However, these teams are all favored against the Detroit Lions, Houston Texans and New York Giants, respectively.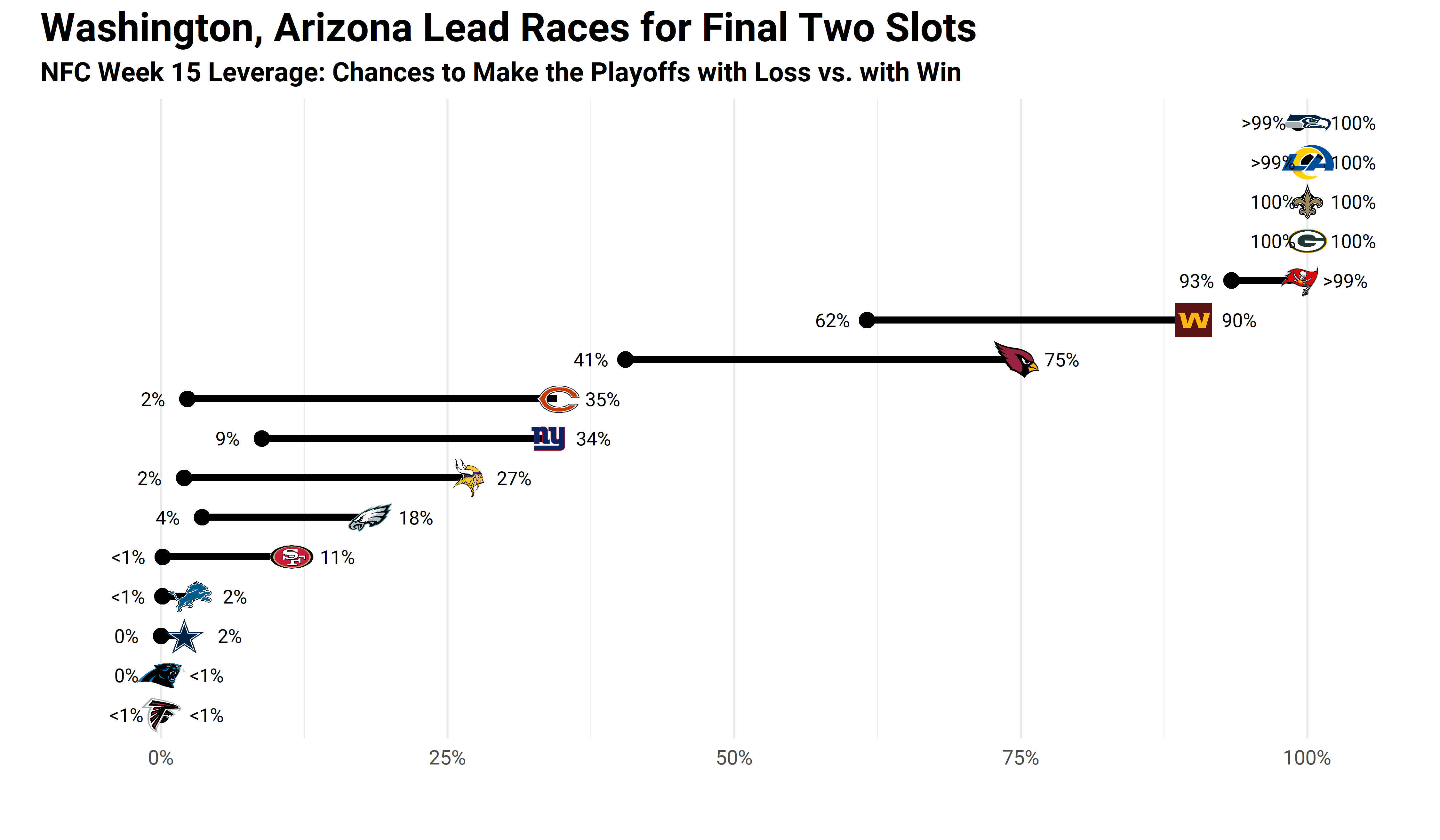 Five of the seven NFC teams are basically locked. The Washington Football Team has emerged as the clear favorite in the NFC East, but they host the Seattle Seahawks this week. A Football Team loss would create an opening for the New York Giants, who are only a game behind them and hold the tiebreaker. The Giants take on the Browns on Sunday Night Football.
The Arizona Cardinals are the favorite to take the seventh position, and they'll be looking for a win against the Philadelphia Eagles to help secure their spot. The Chicago Bears and Minnesota Vikings play one another this week and are both only a game behind the Cardinals. The winner of that game will be the Cardinals' best challenger when it comes to that playoff spot.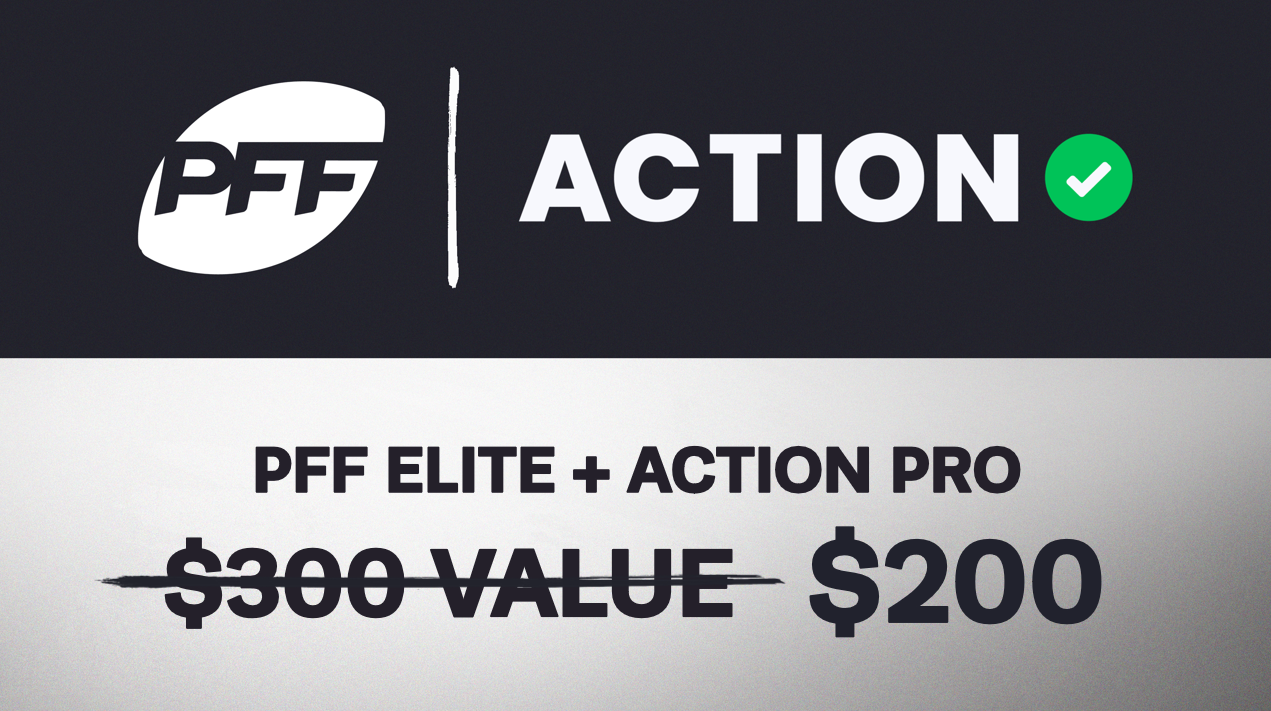 SHARPE'S BEST PICKS
| | | | | |
| --- | --- | --- | --- | --- |
| Team | EPA/Play | EPA/Play Allowed | QB PFF Grade | PFF Power Rating |
| BUF | +0.13 (4th) | +0.06 (21st) | 86.6 (7th) | +5.1 (7th) |
| DEN | -0.05 (29th) | +0.02 (11th) | 59.5 (37th) | -2.3 (22nd) |
Note: The Denver Broncos' expected points added (EPA) data excludes their Week 12 game with Kendall Hinton at quarterback.
The Broncos are coming off a surprising Week 14 upset win over the Carolina Panthers. However, that was by far the offense's best showing this year in terms of EPA generated per play, and we don't want to overreact to it.