The Salt Lake Stallions did what they could to warrant their spot in the top four of our first ever AAF Power Rankings, ousting the visiting Arizona Hotshots, 23-15, to gain their first win as a franchise in their home opener.

PFF's ReFocused series this season features immediate takeaways and a key to the victory from PFF's lead AAF analysts and grabbing quick first-run statistics from our team of analysts who watched every player on every play of the game. For more data and analysis from the game, utilize our Premium Stats 2.0 dashboard to expand your knowledge on the key players, signature stats and much more.
Wide receiver De'Mornay Pierson-El led Salt Lake in the franchise's first victory, reeling in all eight of his targeted passes for 90 yards and a touchdown. This included a 25-yard touchdown reception that saw him break a tackle and burst past the Arizona defense for the game's first touchdown.
While the final box score may not show it, Salt Lake put the game away in the waning moments with a 15-play, 75-yard touchdown drive on the back of both Branden Oliver and Joel Bouagnon. The running back duo ran for 40 of their combined rushing yards on the drive, a drive that ended with Oliver punching it into the endzone on a 4th & 1 from the one-yard line.
Woodrum played an overall effective game, completing 22-of-31 passes for 178 yards and the touchdown to Pierson-El. He kept the ball out of harm's way for the most part and kept Salt Lake in charge for the majority of the contest.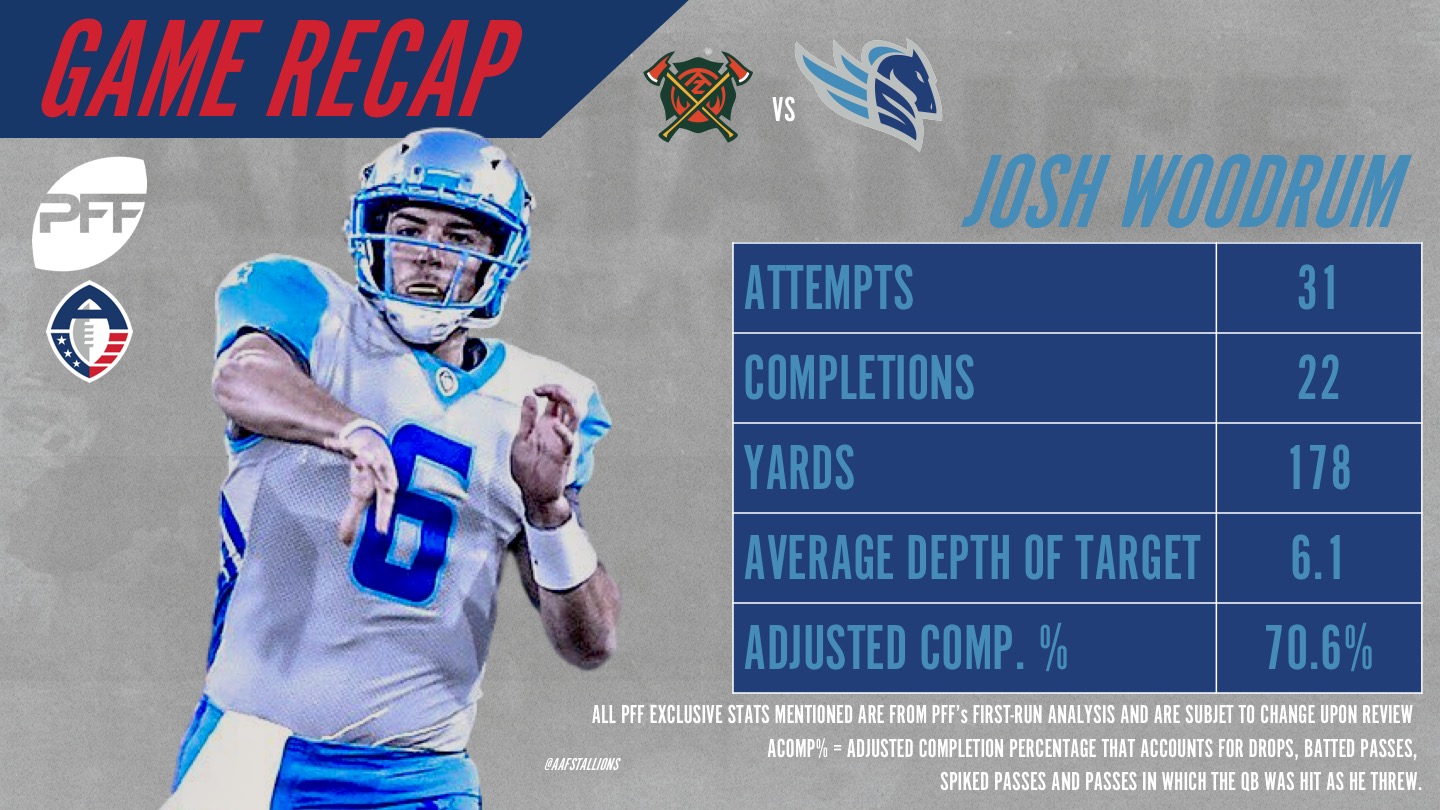 The Hotshots had a tough time getting to Stallions QB Josh Woodrum, as he routinely released the ball too quickly for pressure to be registered, passes that included some very well-timed screens.
The Stallions move to 1-2 with their victory while handing Arizona their first ever defeat.
[Editor's note: All exclusive data mentioned in PFF's ReFocused series for the AAF is from our first run and before final review. Statistics will be checked against the official game books for any inaccuracies while our team of analysts undergoes the final review process for several hours after the game's ending. All first-run data should be considered as subject to change upon review.]
For more access to AAF data – sign up for PFF Elite to check out grades and stats from every player on every play of every game from the 2019 season!