The Salt Lake Stallions started Week 6 in the AAF with a bang, jumping out to a 19-0 lead against the Memphis Express before ultimately cruising to a 22-9 victory to improve to 2-4 while the Express fell to 1-5. The Stallions were led by quarterback Josh Woodrum's 243 yards and two touchdowns through the air as tight end Nick Truesdell also impressed.

PFF's ReFocused series this season features immediate takeaways and a key to the victory from PFF's lead AAF analysts and grabbing quick first-run statistics from our team of analysts who watched every player on every play of the game. For more data and analysis from the game, utilize our Premium Stats 2.0 dashboard to expand your knowledge on the key players, signature stats and much more.
Truesdell hauled in the first points of the afternoon on an 11-yard pass from Woodrum but his highlight-reel 39-yarder later in the game really showcased what the big fella could do. Woodrum finished the afternoon completing 24-of-37 passes for two scores against one interception.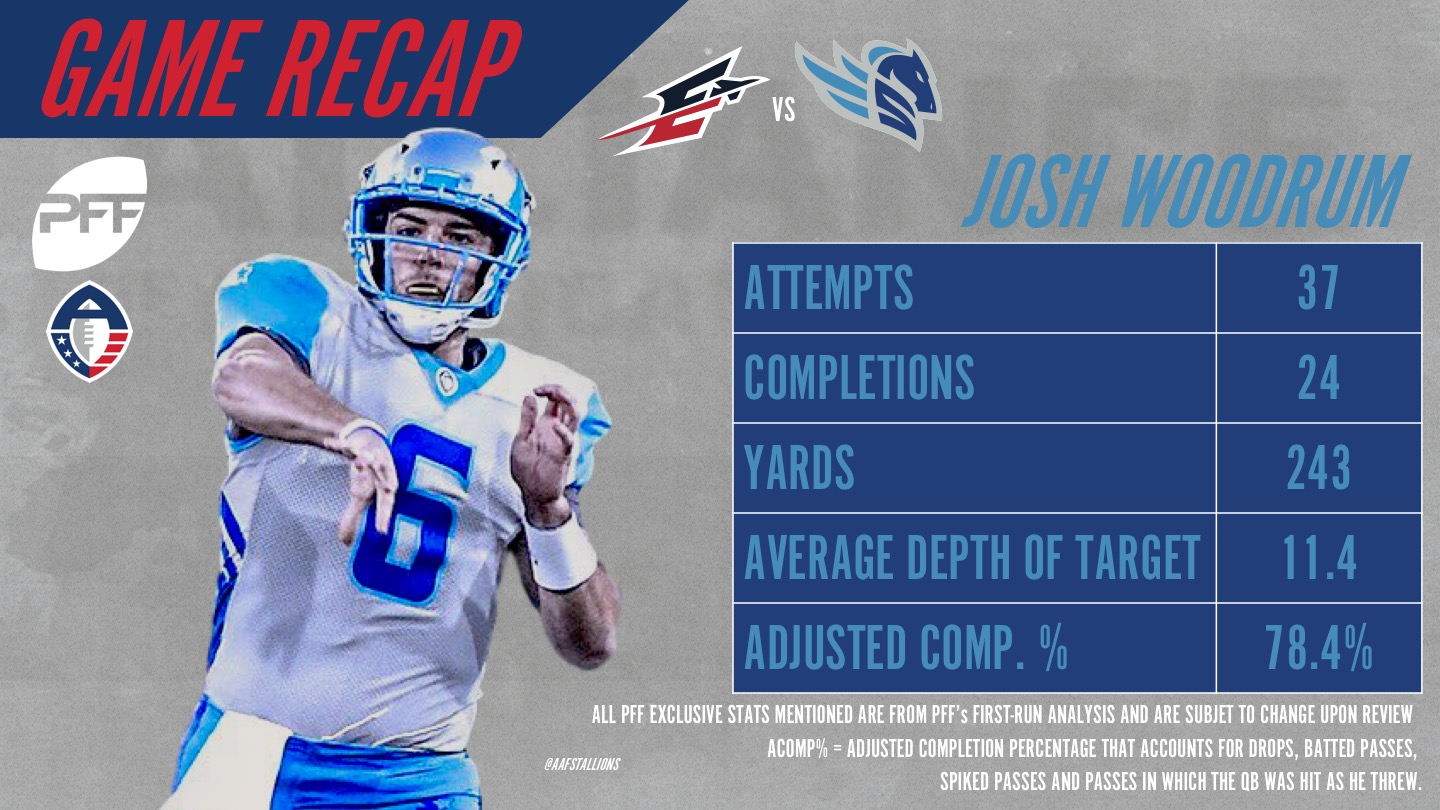 For the Express, they were forced to play their third quarterback of the season as Brandon Silvers played valiantly in relief of Zach Mettenberger. Silvers completed 23-of-37 passes for 242 yards and a score but was ineffective when the game mattered the most. The Express were only 2-of-15 on third downs and despite four takeaways from their defense, only gained 239 yards of total offense.
Perhaps the biggest news of the day came later in the afternoon, however, as with their loss, the Express held the current worst record in the AAF and thus were granted first right of refusal for Johnny Manziel's services after the former Heisman Trophy winner signed a deal with the league. Manziel will join the Express who are in need of a QB.
The Stallions head to San Antonio next weekend while the Express host Birminghman next Sunday.
[Editor's note: All exclusive data mentioned in PFF's ReFocused series for the AAF is from our first run and before final review. Statistics will be checked against the official game books for any inaccuracies while our team of analysts undergoes the final review process for several hours after the game's ending. All first-run data should be considered as subject to change upon review.]
For more access to AAF data – sign up for PFF Elite to check out grades and stats from every player on every play of every game from the 2019 season!