Despite an offense rejuvenated by the second half insertion of Zach Mettenberger, the Memphis Express lost their third straight contest to open the year 0-3 while the Orlando Apollos became the first team to 3-0 on the heels of an impressive performance from their quarterback, Garrett Gilbert, en route to a 21-17 victory.

PFF's ReFocused series this season features immediate takeaways and a key to the victory from PFF's lead AAF analysts and grabbing quick first-run statistics from our team of analysts who watched every player on every play of the game. For more data and analysis from the game, utilize our Premium Stats 2.0 dashboard to expand your knowledge on the key players, signature stats and much more.
Gilbert did his part on the ground and through the air, completing 14 passes for 207 yards and a touchdown while his decision to keep the ball on a third-quarter RPO proved to be the right call as he rumbled through tacklers to a 21-yard touchdown midway through the fourth quarter. Gilbert's rushing touchdown increased the Orlando lead to 21-9 with just under nine minutes to play and proved insurmountable for the Express.
D'Ernest Johnson got the scoring started for the Apollos in the first quarter and finished the game with 79 yards on just 13 carries. De'Veon Smith also ran well for Orlando as he gained 52 yards on eight carries and broke tackles seemingly at will.
The Apollos seemed well on their way to another cruising victory in the first half as Memphis QB Christian Hackenberg threw two interceptions and completed just 50% of his passes. He was a bit lost in this contest and 46 of his 88 passing yards came on one play, backed up against his goalline when he heaved a ball into contested coverage and Dontez Byrd came down with it. Hackenberg went into halftime down 9-0 and didn't return to the starting lineup in the second half.
Mettenberger impressed in limited second-half duty, completing 9-of-12 passes for 120 yards and two scores but the hole he entered in was too much to overcome. Perhaps Memphis' decision to play Mettenberger will ultimately lead them to their first victory in AAF play, but it should be stated for the record, Mettenberger was indeed 0-10 in his career when starting a game at the NFL level.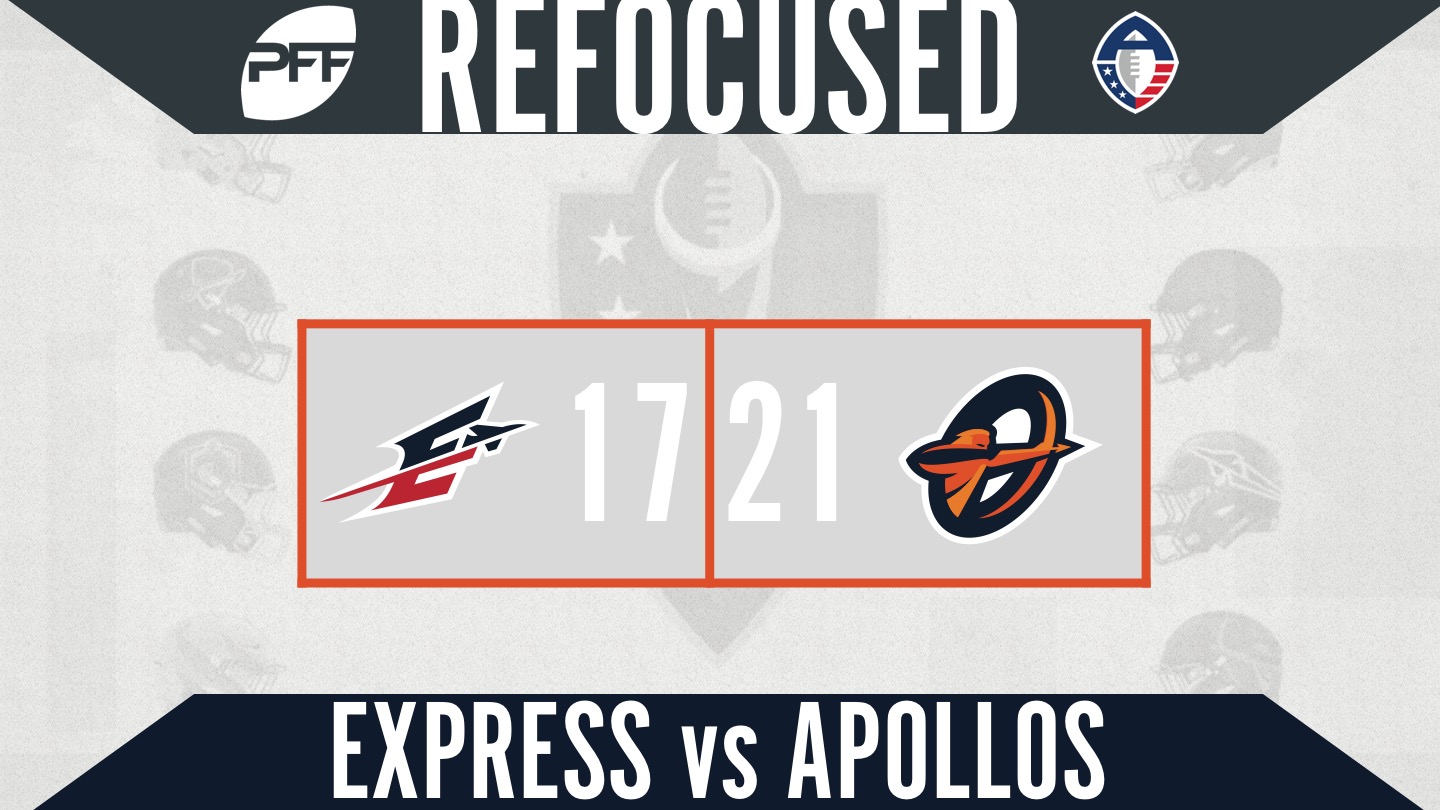 The Apollos became the first team to improve to 3-0 as the Arizona Hotshots lost their first game earlier on Saturday while the Express conversely became the first team to fall to 0-3.
[Editor's note: All exclusive data mentioned in PFF's ReFocused series for the AAF is from our first run and before final review. Statistics will be checked against the official game books for any inaccuracies while our team of analysts undergoes the final review process for several hours after the game's ending. All first-run data should be considered as subject to change upon review.]
For more access to AAF data – sign up for PFF Elite to check out grades and stats from every player on every play of every game from the 2019 season!