Each week at PFF, we've given you an overview of all the top draft-eligible quarterbacks across the college football world, with eyes towards the 2018 NFL draft. Now with the majority of college team's having completed their regular seasons, reputations have been built and some performances have shined bright, we continue our rankings of these top 13 draft-eligible quarterbacks.
Below you will find the top draft-eligible quarterbacks from across the country, and how they stack up against one another in both traditional and advanced statistics, ranked by their overall PFF grade so far this season. While these rankings are obviously not how they'll finish the season with the last weekend left, nor how they are projected to be drafted, these rankings serve as a guideline to rank how each quarterback has fared for their respective teams, while our advanced stats further depict how they may fare at the next level.
With that, here are our takes on the top 13 draft-eligible quarterbacks, that you won't get anywhere else.

1. Baker Mayfield, Oklahoma – 96.6 overall grade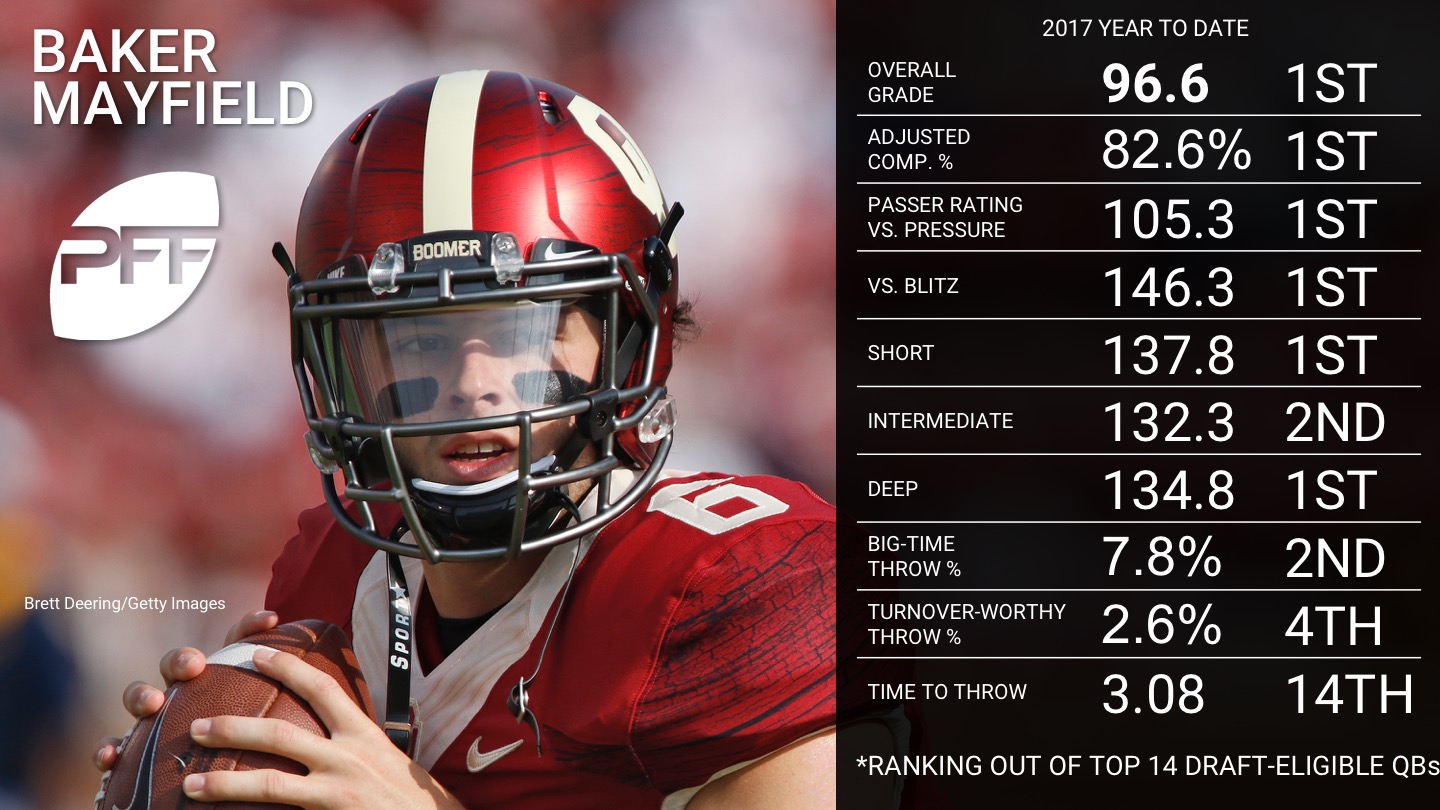 Game Grade vs WVU: 83.4
Mayfield missed the first two snaps of the game due to punishment for his antics the previous week, but he picked right up where he left off once we got into the game. He finished 14-for-17 for 281 yards and three touchdowns, and he showed excellent zip and accuracy at the intermediate (10-19-yard) level. Mayfield's domination continues as he heads into the Big 12 Championship game.
2. Lamar Jackson, Louisville – 91.6 overall grade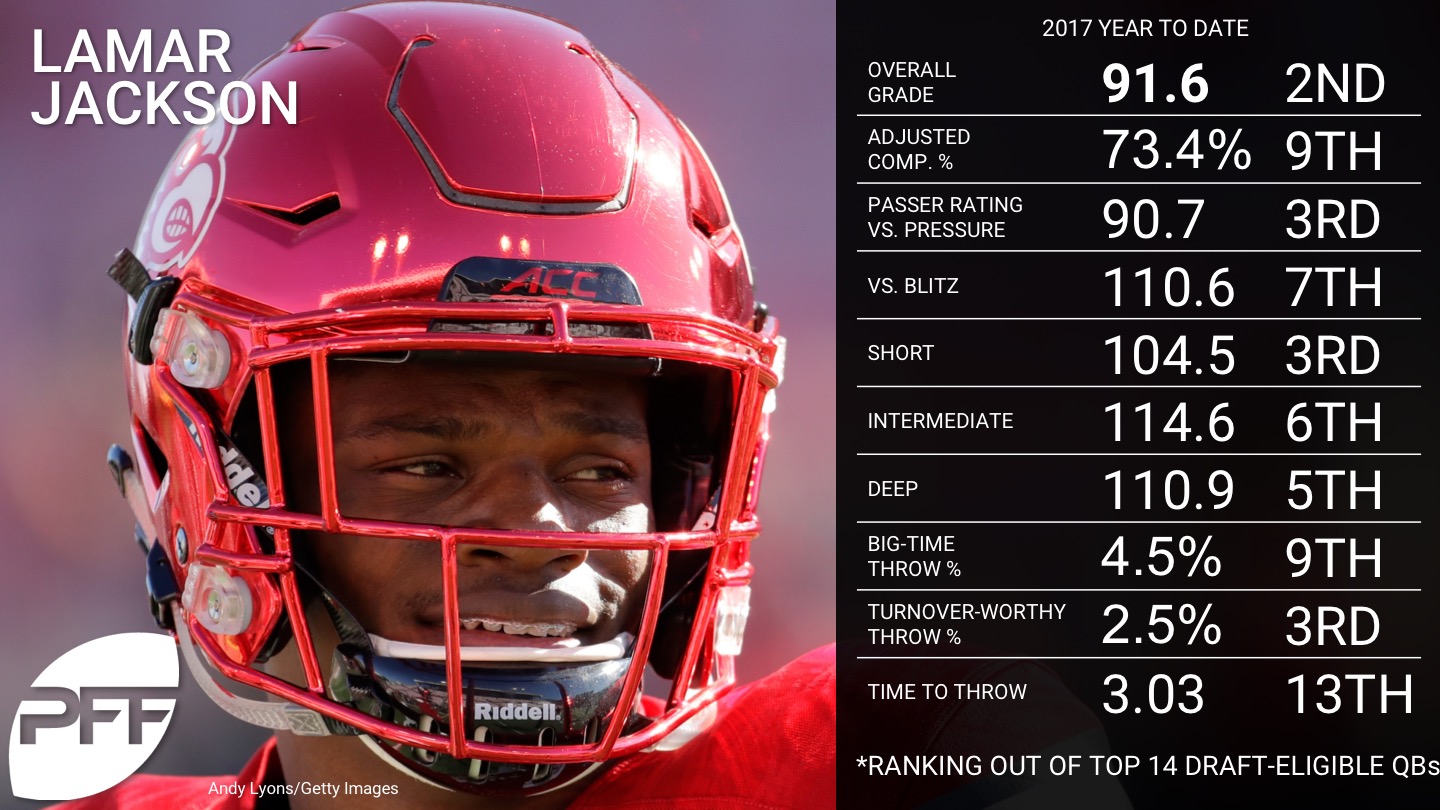 Game Grade vs Kentucky: 87.2
Jackson was efficient throughout the game, displaying good recognition of finding the open man and delivering with accuracy. Jackson played with good discipline and took what the defense gave him, but was also effective on the three attempts he fired down the field connecting on 2-of-3 deep ball attempts for 56 yards and a touchdown, with his lone incompletion on a perfectly placed 'post' route that was dropped by his receiver in the end zone. Jackson played well under pressure with defenders barreling down on him, going 6-of-10 for 96 yards and a TD under duress. His progression as a passer this season has been evident, and this was another display of how far he has come.
3. Will Grier, West Virginia – 91.5 overall grade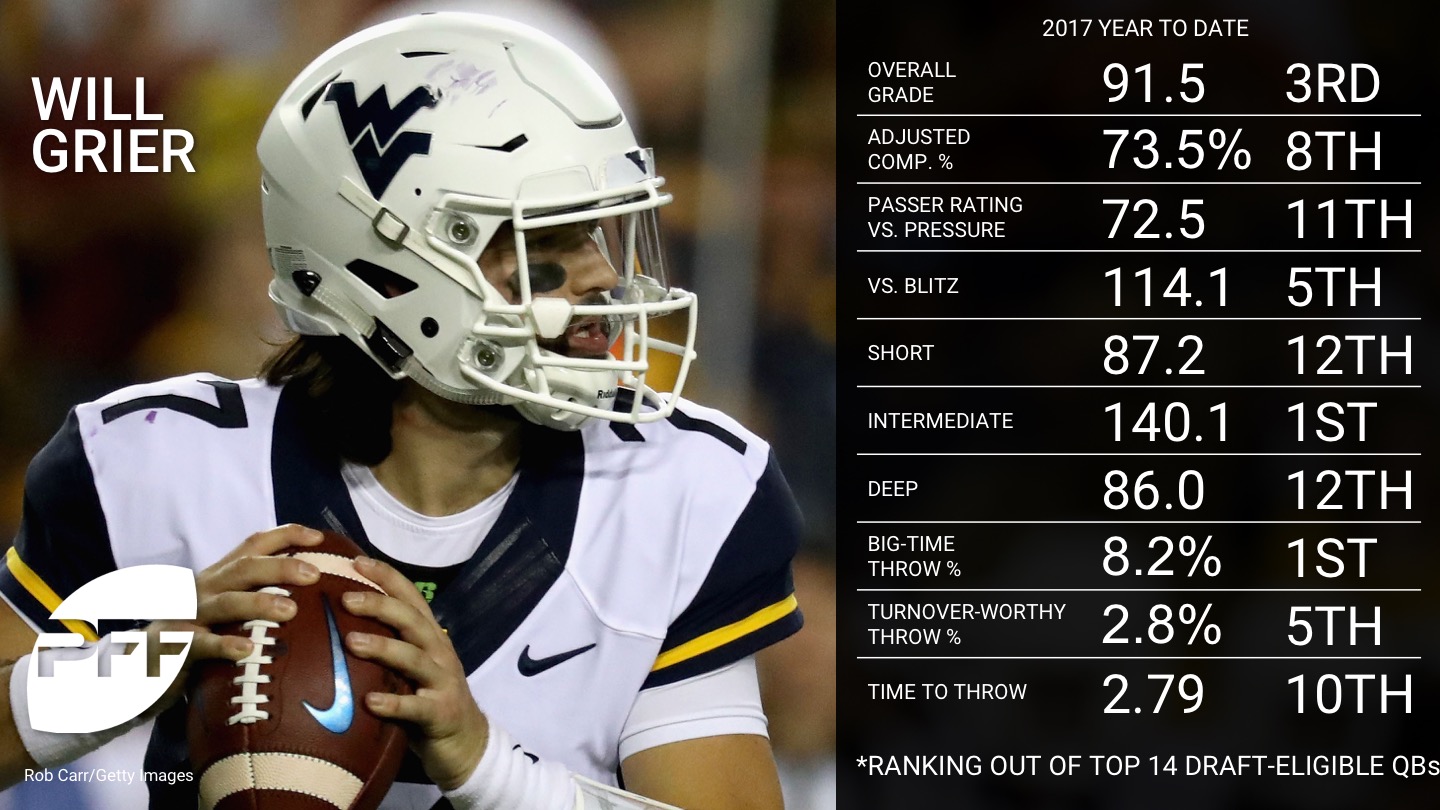 Grier did not play in the regular season finale, here's what we last said:
Grier threw only seven passes before injuring his finger on a goal line dive that resulted in a fumble. Grier finished 5-for-7 for 46 yards with his two incompletions being dropped, including his best throw of the day on a deep crossing route.
Join PFF Edge for the rest of the rankings, including Mason Rudolph, Josh Rosen, Drew Lock and many more.
Subscribe to PFF Edge to continue reading
Already have a subscription? Sign In