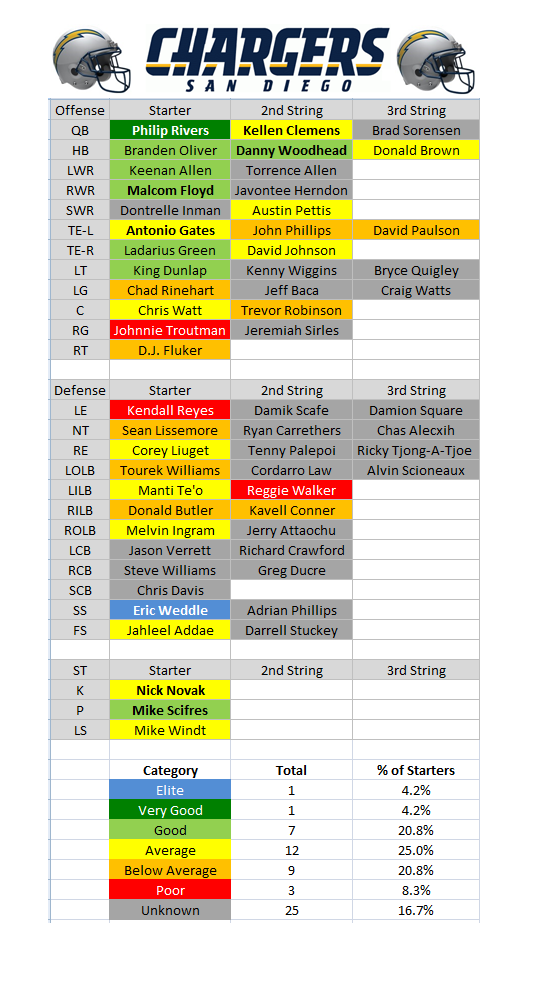 •  Two years ago I wondered if Philip Rivers was done, but he's rebounded from 2012 with two impressive seasons to keep himself amongst the best quarterbacks in the league.

•   The decline on Antonio Gates continues, with the tight end slipping again in 2014. We're at the point now where Lardarius Green is making a strong push to steal most of his snaps as he becomes the best tight end on the roster.
•  Eric Weddle maintains his place amongst the best in the league after another impressive season where he ended up as our highest-graded safety. Excellent against the run and in coverage, he's been consistently good throughout his career.
•  After a disappointing rookie campaign in 2013, linebacker Manti Te'o had a much better year in 2014. Not outstanding, but good enough that he's now a solid starter, he's definitely trending upward.
Team Needs

Right Guard: Johnnie Troutman continues to struggle, finishing the year as our lowest-graded right guard. Upgrading here won't force them to break the bank either, but after two years as a starter it makes sense.
Defensive Line: The Chargers can get by with Corey Liuget at one defensive end spot, but they need to upgrade at the other and in the middle. Kendall Reyes gets bullied far too easily by opposing offensive linemen, while Sean Lissemore has never re-gained the form that impressed us so much in Dallas in 2011.
Cornerback: It says a lot that the entire Chargers cornerback position is unknown, with us just not having seen enough of any of them to judge. Jason Verrett looked good before his injury, so they'll be hoping he can man one spot for years to come but do they trust any of the other four to fill the starting jobs opposite him and in the slot?