As a part of our partnership with ESPN, this is a part of a story that was originally published on ESPN+ and can be viewed in its entirety here with your ESPN+ subscription – The best college football player on every Power 5 team
With the return of the Pac-12 this weekend, the college football Power 5 landscape officially welcomes back all programs to the party. With certain conferences already halfway done, others in their infant stages and one — the Pac 12 — just starting, it's time to check on who is playing the best football on each Power 5 team with help from the Pro Football Focus (PFF).
Jump to a conference:
SEC | ACC | BIG 12 | BIG 10 | PAC-12
SEC
Alabama: Devonta Smith, WR
The best receiver currently playing college football has caught 58 of his 59 catchable targets for a cool 781 yards. Among receivers with 25 targets this season, Smith is in the top 15 in passer rating when targeted (134.6), rate of catchable passes that were caught (98.3%), yards per route run (3.58) and 15-plus-yard gains (16). He leads the country in receiving grade at 92.3.
Arkansas: Grant Morgan, LB
After a breakout 2017 campaign, Morgan struggled to find solid footing. He has been a revelation under new defensive coordinator Barry Odom. He already has more tackles in the run game this season than during any other year of his career and has created 20 run stops, leading the Hogs by far. He also has created two pressures on the quarterback from blitzes. However, his main attribute has been his coverage where offenses keep targeting him, but he keeps shutting them down. He has a lowly 64.3 passer rating when targeted and forced four incompletions.
Auburn: Tank Bigsby, HB
All Tank has done in his first year playing college football is break tackles at an alarming rate. He has forced 34 missed tackles, good for seventh most in the FBS. He has forced a missed tackle on 35% of his carries, 13th most in the FBS among running backs with over 25 carries. He is 16th in the FBS in the percentage of carries that go for a first down or touchdown among running backs with 25 carries.
LSU: Terrace Marshall, WR
Now playing almost exclusively in the slot, Marshall has been a revelation for LSU this year. The former five-star recruit leads LSU in receiving by 281 yards. Among receivers in the SEC with at least 20 targets, he is fourth with 17.4 yards per catch. He also is averaging 7.4 yards after the catch per reception. His six catches on contested targets is tied for first in the SEC, and his nine touchdown catches rank second in the entire FBS.
Ole Miss: Elijah Moore, WR
Moore has been simply unstoppable this season, as he leads the Power 5 with 829 receiving yards. He has forced 11 missed tackles so far this year, good enough for sixth best in the country, and he leads the nation in 15-plus-yard gains with 19. Quarterback Matt Corral has found him at every opportunity. Moore leads the country with 61 catches.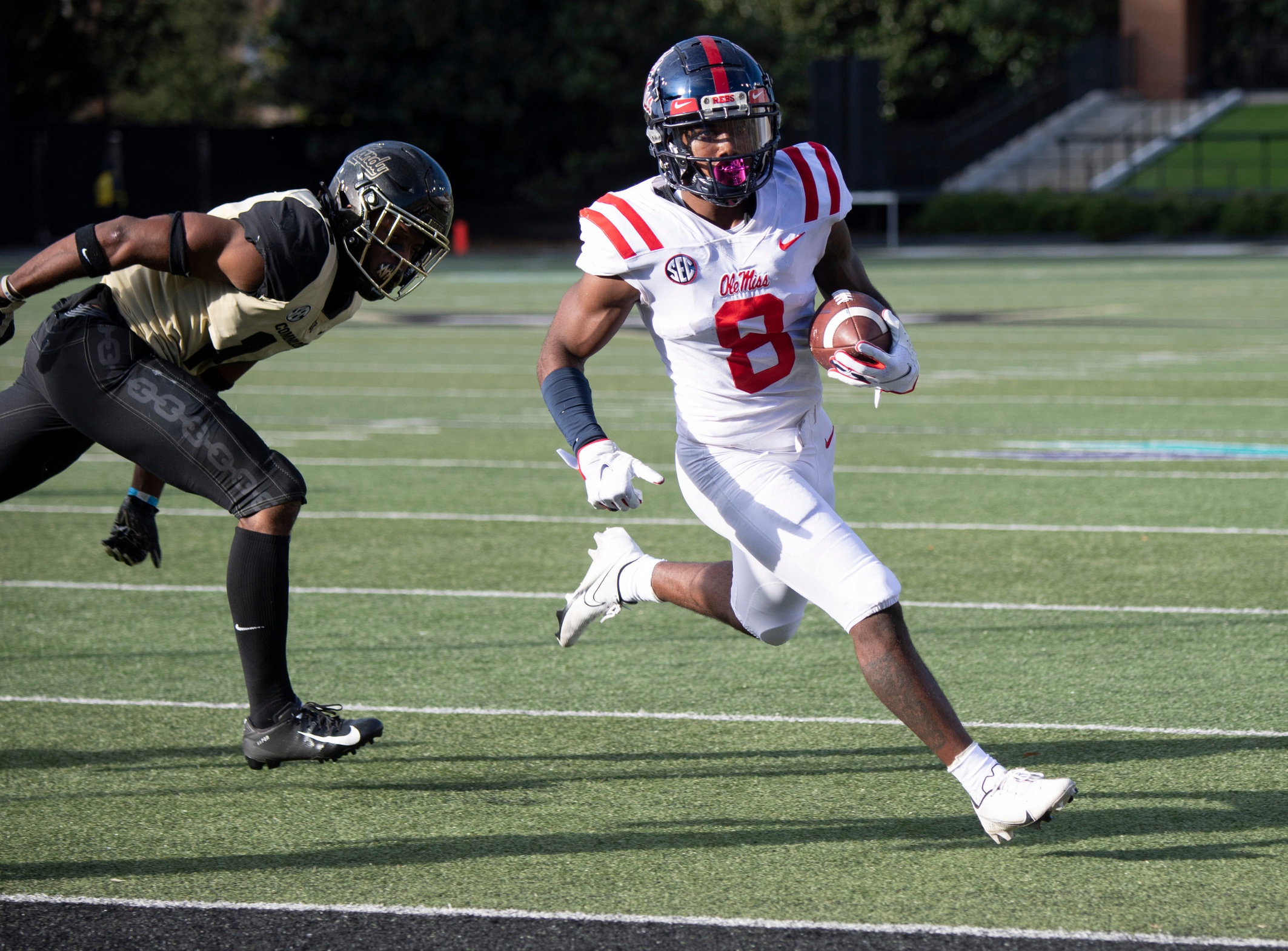 Mississippi State: Martin Emerson, CB
It has been a rough season in Starkville, with the Bulldogs' attack at the bottom of most offensive categories. There is a bright spot on defense with Emerson's play: He has been their leading cover man. Of his 10 catches allowed, only four have gone for first downs, and he has forced an incompletion twice on 16 targets that have come his way. He often has been able to eliminate receivers in press coverage, as well.
Texas A&M: Carson Green, OT
Green has been a mauler on the ground for the Aggies. His 87.2 run block grade is second best in the SEC. When Texas A&M runs to his right side, they average 6.1 yards per carry as compared to the 5.2 they average going left. Green has been good in pass protection and has yet to give up a sack on the season.
Florida: Kyle Pitts, TE
Pitts is making a case that he is the best all-around receiver in football, never mind just tight end. His receiving grade of 95.4 dwarfs any other tight end. He has 22 catches, 19 of which have gone for a first down or a touchdown. He has not dropped a pass yet. Of tight ends who have lined up for at least 25 receiving snaps this year, his yards per route run of 3.26 is second in the country, and he has caught five of his nine contested targets.
Georgia: Azeez Ojulari, Edge
A one-man wrecking crew who is both good against the run and exceptional as a pass-rusher, Ojulari built on a very good 2019 season to become one of the top defenders in all of college football. His 86.0 pass-rush grade is seventh best in the Power 5, bested by .8 by his brother BJ Ojulari at LSU. Azeez's pressure rate of 20.4% is sixth best in the Power 5.
Kentucky: Darian Kinnard, OT
Kentucky has one of the best offensive lines in the country, and Kinnard is the unit's lead man. He has been a top-5 tackle in all of college football and arguably the best in the SEC. Kinnard is a slightly better run-blocker than pass-blocker so far this year, but he has only four pressures the whole season for a measly 2.4% pressure rate allowed.
Missouri: Larry Borom, OT
Borom has blown up this season for Missouri to become a top-5 SEC offensive tackle for the Tigers. Among tackles with at least 75 pass-blocking snaps in the FBS, Borom is one of three who have not given up a pressure. In fact, he has only been beaten by the defender in front of him three times the whole season.
South Carolina: Jaycee Horn, CB
Son of former New Orleans Saints receiver Joe Horn, Jaycee is carving out a name for himself on the other side of the ball. He has been one of the top cornerbacks in the SEC. Quarterbacks have targeted him 21 times, but the Horn has only allowed five catches. That's a completion rate of 23.8%, which ranks first in the Power 5 among cornerbacks with more than 10 targets against. He also has forced seven incompletions and has hauled in two interceptions.
Tennessee: Josh Palmer, WR
Part of the Brampton, Ontario, wideout connection along with Alabama's John Metchie III, Palmer has been one of the better receivers in the SEC this year. He is in the top 10 in receiving grade in the SEC and even without many catchable targets. Only 18 of his 32 targets have been deemed catchable, and he's caught all 18 of them.
Vanderbilt: Daevion Davis, DI
Davis has exceeded all expectations, even for a struggling Vanderbilt side. He already has created almost as many defensive run stops this season (four), as he did all of last season (five). From the interior of the Dores' defense he has found seven pressures, third most on the team and first in pressure rate among Vanderbilt defenders with at least 25 pass-rush snaps.
ACC
Boston College: Hunter Long, TE
Long has been the most targeted tight end in the country by far. His 68 targets are 25 more than the next highest tight end, and his 42 catches are 14 more than the next highest tight end. Quarterback Phil Jurkovec has put Long in a whopping 20 contested-catch situations, but the big man has come down with nine catches on those targets.
Clemson: Trevor Lawrence, QB
This is an easy one. Lawrence has continued his outstanding college career with another stellar junior campaign. Even though he won't suit up against Notre Dame due to COVID-19 protocol, he is still Clemson's best player. He has been lethal in the intermediate range of the field (10-19 yards), putting up a passer rating of 141.8, second best in the country.
Florida State: Asante Samuel Jr., CB
It has been another rough season in Tallahassee, but Samuel has proved he is as good as any cornerback in the country. He is the second-highest-graded cornerback in the ACC at 82.6 among corners with at least 25 coverage snaps played. He is tied for the lead in interceptions for the entire country with three. For some reason, he has been targeted high 26 times, a lot for someone his caliber, but he rarely gives up any yards, as the 15 catches he has allowed have only gone for 153 yards.
Louisville: Jared Goldwire, DI
The Cardinals have not been great on defense as a unit, but that hasn't stopped Goldwire from providing a run-stopping presence from the interior of the Louisville defensive line. He has a run defense grade of 84.0, which puts him fourth in the ACC among defensive interior players with at least 25 overall snaps. He can rush the passer just fine, as well, with his 12 pressures ranking as the fifth most in the ACC among defensive interior players.
NC State: Alim McNeill, DI
McNeill has proved to be worth the preseason hype and has turned into a dominant, run-stuffing force inside for the Wolfpack. His 88.3 run defense grade is the second best in all of the Power 5. He clogs up the middle every snap, allowing for his linebackers to make plays cleanly. He has made his presence felt against the pass, as well, with seven total pressures.
Notre Dame: Liam Eichenberg, OT
Eichenberg has cemented his status as one of the best offensive line prospects in recent years. Another impressive lineman to come out of Notre Dame, Eichenberg grades out to 91.0 this season, sixth best in the country. He is a fantastic run-blocker, grading out to 91.1 there. The left tackle is the best of the bunch, but it would be a disservice to not talk about the other four starting linemen for the Fighting Irish. Between Eichenberg, Robert Hainsey, Jarrett Patterson, Aaron Banks and Tommy Kraemer, none grades below 73, and together they form one of the best units in the country.
Syracuse: Ifeatu Melifonwu, CB
Another lost season in western New York hasn't stopped Melifonwu from being a lockdown player for the Orange. His 81.3 coverage grade is fourth in the ACC, just above his teammate Trill Williams as far as cornerbacks are concerned. Melifonwu has played the most snaps in coverage in the conference at 274 but has only allowed 22 catches against, while coming away with six forced incompletions.
Wake Forest: Jaquarii Roberson, WR
Roberson has been a revelation for the Demon Deacons this year. He is one of three receivers in the country with a 90+ receiving grade (90.7). That grade is 10 points higher than the next best receiver in the ACC, Dyami Brown. His 4.54 yards per route run is otherworldly, easily topping the ACC and fourth in the country among receivers with at least 25 receiving snaps.
Duke: Chris Rumph, Edge
Things have gone south yet again at Duke, as it sits 1-5 in the conference. The lone bright spot has been its defensive line between Derrick Tangelo, Victor Dimukeje and Rumph. Rumph is the best of the bunch and a legit first-round NFL talent. He has 32 pressures on only 164 pass-rushing snaps this season. That amounts to a pressure rate of 19.5%, which is first in the ACC among players with over 100 pass-rushing snaps.
Georgia Tech: Jahmyr Gibbs, RB
Gibbs took over for star running back Jordan Mason through Mason's absence and has continued to push the Ramblin' Wreck forward. Gibbs has the fourth-most missed tackles forced in the ACC despite not being the starter early in the year. Among ACC running backs with over 25 carries, his missed tackle forced rate of 39% is third best in the conference, surprisingly just behind teammate Dontae Smith but with 55 more carries.
Miami: D'Eriq King, QB
King has come in and been fantastic for a Canes team in desperate need of solid quarterback play. They certainly have gotten that. He is a top-10 quarterback in the country with a 90.5 grade. He has been elite as a runner, gaining 380 yards and forcing 18 missed tackles. His missed tackle forced rate is sixth in the country among quarterbacks with at least 10 runs. He projects to be the highest-graded Miami quarterback in some time as the Canes fight for a berth in the ACC title game.
North Carolina: Javonte Williams, RB
The argument could be made that Williams is the best running back in the country, with his 93.2 grade leading the Power 5. He has forced a missed tackle an incredible 45 times on only 95 carries. That missed tackle rate is by far the best in the country among running backs with over 15 carries. He has run for a first down or touchdown 47.4% of the time, which, again, is by far the best in the Power 5 among runners with at least 15 carries.
Pittsburgh: Rashad Weaver, Edge
Weaver leads a deep and talented defensive line unit even with the opt-out of star Jaylen Twyman. Weaver's 87.3 overall grade is top 10 in the country among edge rushers with at least 100 snaps. He has tied for the most pressures created in the country for edges with 34 and has turned those into six sacks. He also has two batted passes for good measure.
Virginia: Brennan Armstrong, QB
The Cavs might be in the midst of one of their weirder seasons, but that hasn't stopped Armstrong from becoming a solid quarterback. His 82.8 grade leads the team and is the sixth best in the ACC for quarterbacks. He has been elite throwing in the intermediate range (10-19 yards), posting a 91.9 grade.
Virginia Tech: Christian Darrisaw, OT
Darrisaw has been a wall this season in both the run and pass. His 95.9 grade ranks best in the country among tackles who have played at least 150 snaps. His run block grade is second best in the country, and his pass block grade is fifth. An all-around talent, Darrisaw should be a consensus All-American this season.
BIG 12
Baylor: Jalen Pitre, LB
Pitre has been one of the few bright spots for the Bears this season, particularly as a dominant run-stuffer. His 91.2 run defense grade ranks first among Big 12 linebackers and fourth in the country. He has 23 tackles against the run, 18 of which are run stops. He also has added seven stops against the pass on 10 catches into his coverage and three pressures on only 17 pass-rushing snaps.
Iowa State: Breece Hall, RB
Hall is one of the best running backs in the Big 12. His 82.8 rushing grade ranks second in the conference. And with more carries than anyone else in the country, he still averages 6.6 yards per carry and 3.9 yards after contact. He also has forced 32 missed tackles, the most in the conference, while racking up the second-most rushing yards (891) in the nation.
Kansas: Earl Bostick Jr., OT
It's been tough sledding once again this season for the downtrodden Kansas football team, but Bostick's efforts at tackle have proved valuable. He is the team's highest-graded lineman by 7.4 grading points and its best run-blocker by 10.8 points. Plus, defenders have beaten him for only two sacks this season.
Kansas State: Deuce Vaughn, RB
Skylar Thompson would be the pick here barring injury, but alas, the rest of the Wildcats' season might fall on the shoulders of all-around elite running back Vaughn. One of the better receiving threats out of the backfield in the country, Vaughn has produced a 91.6 receiving grade that barely tops Clemson's Travis Etienne for best in the country. Vaughn has gained 360 yards on only 15 catches, while also adding 334 yards on 69 carries on the ground.
Oklahoma: Spencer Rattler, QB
It looks like Lincoln Riley has found another talented quarterback to run his elite offense. In his first year starting, Rattler is the third-highest-graded quarterback among players with at least 70 snaps taken. He is still learning how to read through his progressions, but he is absolutely tremendous when he leaves the pocket. He is the highest-graded signal-caller when moving off his spot and the only QB with a 90.0-plus grade in that category.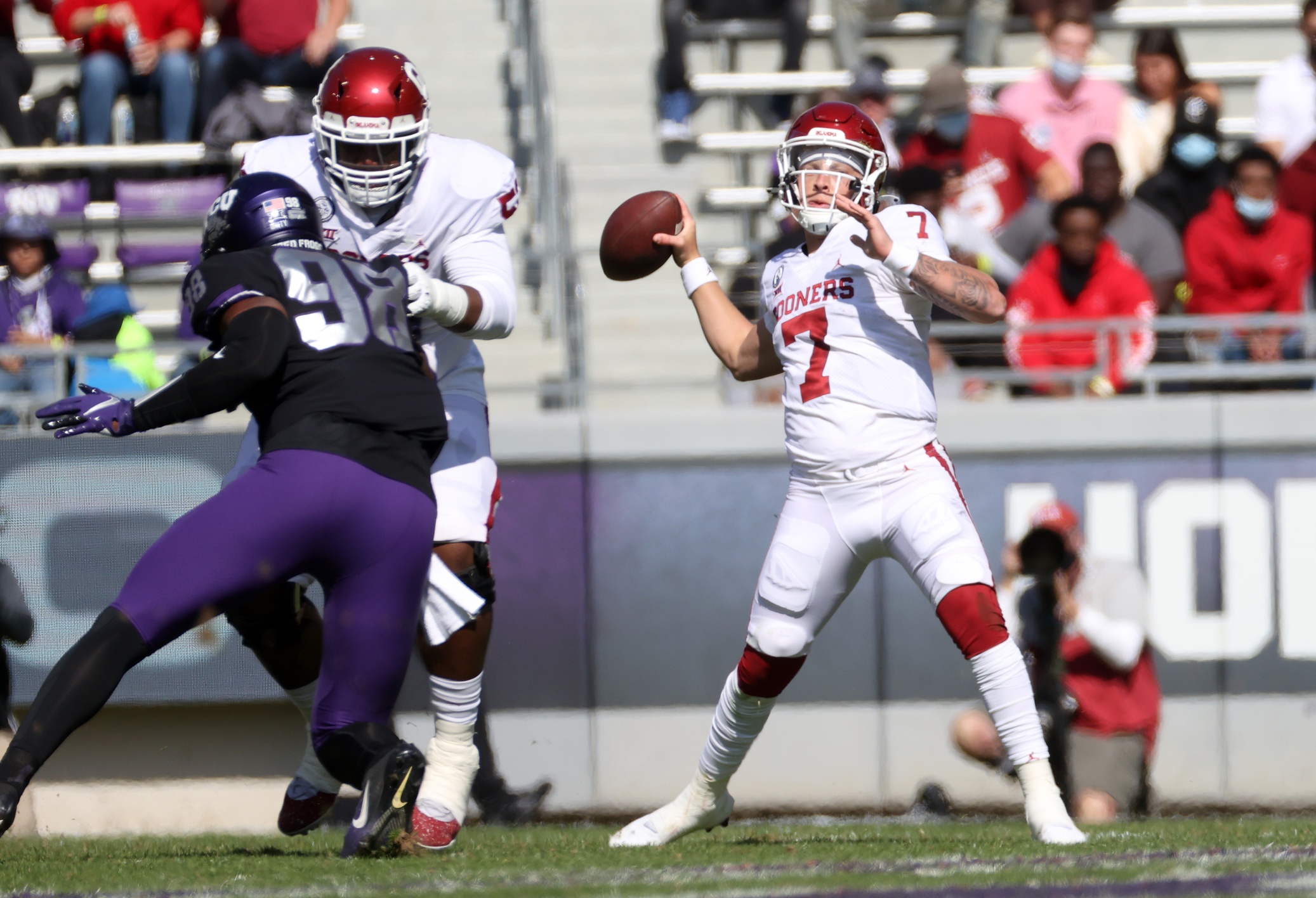 Oklahoma State: Teven Jenkins, OT
Jenkins has been arguably one of the only elite offensive linemen so far in the Big Ten this year. His 90.7 grade makes him the only offensive lineman in the conference above an 84.0 mark with at least 20 snaps. He has been a better run-blocker than pass-blocker, posting a 91.1 grade in the former category. And he has helped pave the way for another big season from running back Chuba Hubbard.
TCU: Noah Daniels, CB
We knew the Horned Frogs' secondary was going to be lethal this season, but few realized how good cornerback Daniels would become. Daniels has upped his coverage grade from 74.6 last season to 84.9 this year, the second-best mark in the conference at the position. He has allowed only six completions on 18 throws targeted at him, while coming down with an interception and forcing seven incompletions.
Texas: Joseph Ossai, Edge
Ossai is a complete player for the Longhorns with his 88.7 run defense grade and 80.2 pass rush grade. His 21 run defense stops are tied for the most in the Big 12, and his average depth of tackle is an incredibly low 1.88 yards. As a pass-rusher, his 27 total pressures ranks second best in the conference. He also has four sacks.
Texas Tech: KeSean Carter, WR
Despite just 92 receiving snaps to his name, Carter has easily been the Red Raiders' most efficient receiver. He has caught 22 of 26 targets thrown his way, and half of them have gone for first downs. He leads the team in touchdowns, snagging all three of his contested catch opportunities along the way.
WVU: Dreshun Miller, CB
Miller has been as lockdown as a cornerback can be in college football this year. He sports the highest coverage grade in the country at 89.7 and has forced seven incompletions on 21 targets, while allowing nine catches for just 94 yards. His passer rating when targeted is a lowly 52.2.
BIG 10
Indiana: Michael Penix Jr., QB
After a disastrous first three quarters against Penn State, Penix has rebounded into the quarterback we saw last season. He 90.3 PFF grade falls just behind Justin Fields and Graham Mertz among Big Ten quarterbacks. Penix leads the conference in big-time throws with seven already and has only one turnover-worthy play. He has been great even behind a porous offensive line.
Ohio State: Justin Fields, QB
Hard to pick against the man who has been stunningly great to start the season for the Buckeyes. After two games, his completion rate is 87.3%; his passing grade is 92.1; his passer rating is 147.9; he has yet to throw an interception; and he has forced six missed tackles as a runner. Fields is making a serious push to be the first quarterback taken in next year's draft.
Wisconsin: Graham Mertz, QB
It was only one game, but Mertz's adjusted completion rate was an easy 100%. His one incompletion was a drop, as he went 20-for-21 for 248 yards with five touchdowns and no interceptions. He still leads the conference in passing grade at 93.9. Pretty good start.
Northwestern: Peter Skoronski, OT
The Wildcats are one of the surprise teams in the Big Ten so far, as they have yet to lose in two tries. Skoronski has been the best lineman in the conference. He has the second-best run block grade at 85.0 to go along with the second-best pass block grade. He has allowed a single pressure this year on 63 pass-blocking snaps.
Illinois: Tarique Barnes, S
Even though Graham Mertz tore up Illinois through the air, Barnes has been one of the few standout players on that defense. Barnes leads the team with an 89.8 grade and has made 11 tackles, with eight of them counting as defensive stops, and he hasn't missed a tackle yet.
Penn State: Jayson Oweh, Edge
Oweh already has 10 pressures this season on only 57 pass-rushing snaps. His pass rush grade is 84.1. Between Oweh and Shaka Toney, the Nittany Lions have arguably the best pass-rush duo in the conference. Oweh has been solid against the run, as well; his 73.7 grade is fourth best in the conference.
Maryland: Spencer Anderson, OT
A solid pass-blocker as well as a run-blocker, Anderson is the third-highest-graded offensive lineman in the Big Ten among all players with at least 20 snaps taken. It's still early in the season, but he has improved over last year's grade by 17.5 points, going from 60.9 to 78.4 this season.
Michigan: Aidan Hutchinson, Edge
Hutchinson lives in the opposing team's backfield. He already has 13 tackles and eight defensive stops this year. An 88.9 run defense grade leads all edge players in the conference by more than 9 points. It's been a dominant start to the year for Hutchinson, who pairs nicely with opposite edge Kwity Paye.
Michigan State: Drew Beesley, Edge
Beesley has been a threat every time he has come off the edge this season for Sparty. No player with over 25 pass-rushing snaps has a better pass rush grade among edges, as he sits at 85.3. He has nine pressures on 71 pass-rushing snaps and a sack.
Rutgers: Avery Young, CB
Rutgers might already be better than it has been in the past few seasons, and its defense has a lot to do with its success. Both "Avery" corners, Tre Avery and Avery Young, have been solid, with Young's 81.8 coverage grade leading the team. Young has only allowed three first downs on the five catches he has allowed in coverage.
Iowa: Tyler Linderbaum, OC
Another in a long line of impressive Iowa offensive linemen, Linderbaum has been the best center in the conference so far. His 90.3 pass block grade is by far the best in the conference, regardless of any snap minimum for centers: no sacks, no hits, no pressures, no hurries.
Minnesota: Mohamed Ibrahim, RB
With six rushing touchdowns already, Ibrahim has been the best running back in the Big Ten. In two games, he has forced 14 missed tackles and run for 350 yards, both of which lead the conference. He also has added three catches and made a tackler miss on one of those catches.
Nebraska: Wan'Dale Robinson, WR
Robinson was tasked with replacing JD Spielman as the No. 1 receiver for the Cornhuskers. At least for one game, he looks to be on that path. He caught all six of his targets for 49 yards, with 24 yards coming after the catch, and he forced one missed tackle against an elite Ohio State defense.
Purdue: David Bell, WR
Purdue is going to end up with one of the top wideout duos in the country once Rondale Moore, who decided to opt back into the season, returns. For now, Bell has been the team's best player. He leads the conference in targets, catches, first downs and yards, with a receiving grade of 82.2 — also tops in the Big Ten.
PAC-12
Arizona: Grant Gunnell, QB
Gunnell was highly accurate last year, even if it was in limited action replacing Khalil Tate. Over 67% of Gunnell's throws were charted as accurate, per PFF's ball location data, while his negatively graded throw rate was in the top 10 in the country in his short time on the field. He has a chance to be one of the nation's surprise quarterbacks in 2020.
Arizona State: Aashari Crosswell, S
Crosswell is an explosive and rangy safety who is comfortable in man coverage in the slot; he helps solidify what could be a really stout Sun Devils defense from the inside out. He has forced 14 incompletions in man coverage over the past two seasons, and he earned a 77.7 overall grade in 2019.
Cal: Chase Garbers, QB
Garbers was an entirely different quarterback when he came back from a shoulder injury late in the season for Cal. Prior to getting hurt, his passing grade was a middling 73.6, though that number jumped up to 91.0 when he came back. He is accurate, can throw downfield and limits turnover-worthy plays.
Colorado: Mustafa Johnson, DI
We're hoping Johnson can regain his 2018 form after an injury-riddled 2019 saw him grade in the low 70s, almost 15 grading points lower than his 84.3-graded 2018 campaign. Johnson racked up 49 total pressures across 370 pass-rush snaps in 2018, tied with Notre Dame's Jerry Tillery for the third most at the position. Johnson has the potential to be one of the best interior defensive linemen in the country.
Oregon: Mykael Wright, CB
After a rash of opt-outs for the Ducks in the secondary, they will need Wright to be excellent for them at the corner position — and he certainly can be. Last season, he graded as the nation's seventh-best true freshman cornerback since 2014. He just doesn't allow catches to come his way.