Midway through the 2017 season, the Deshaun Watson hype train was reaching max speed. The rookie had almost knocked off the Patriots in Foxborough, blown out the division rival Titans and hung 38 points on a Seahawks defense that no one hung 38 on. Then, the hype train crashed. Watson tore his ACL in practice leading up to Week 9 and was robbed of the second half of his rookie season.
The hype train started chugging along once again this offseason when he was fully cleared to go this preseason, and the Texans were a media darling to make the playoffs. After a lackluster performance in their Week 1 loss to the Pats to kick off an 0-3 start, Watson's name has all but disappeared from the national conversation.
If you haven't watched, you'd never guess that he's playing well. You'd certainly never guess that he's actually playing better than last season. Yet, everything in our grades and data suggests that Watson is doing just that. The luck that he so often experienced as a rookie has simply flipped in the opposite direction of him this season.
My colleague, Steve Palazzolo, did a fantastic job breaking down exactly why our grade on Watson a season ago didn't mesh with his stats, but it's worth re-examining the highlights. The first thing that jumps out was how boom or bust Watson was as a passer.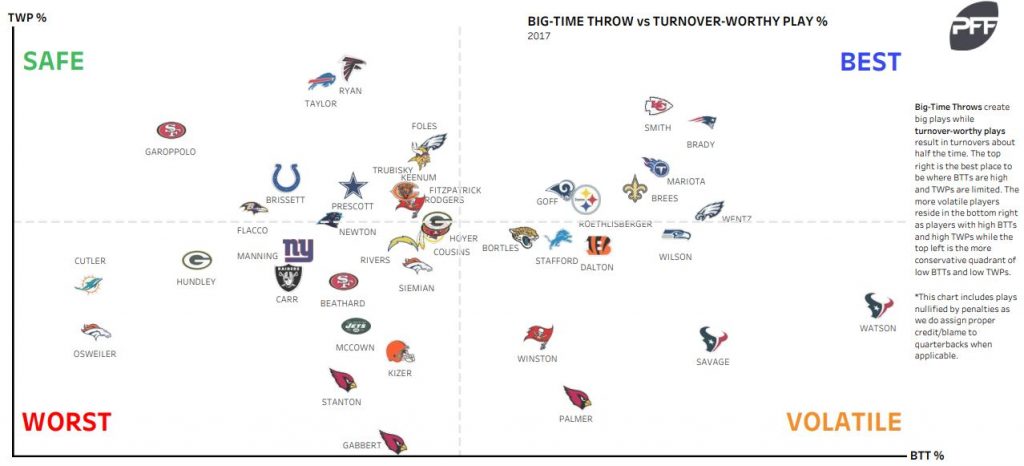 The chart above (which can be found in the PFF QB Annual, available with an Edge subscription here) shows how Watson was in a league of his own when it came to big-time throws, though it came with far more turnover-worthy plays than any franchise-type quarterback in the league. Those rates simply aren't sustainable.
The second-biggest thing was accuracy or lack thereof. We charted ball placement on every single throw from every single quarterback last season, and as you can see below, the company Watson kept was ugly at best (chart again from the PFF QB Annual).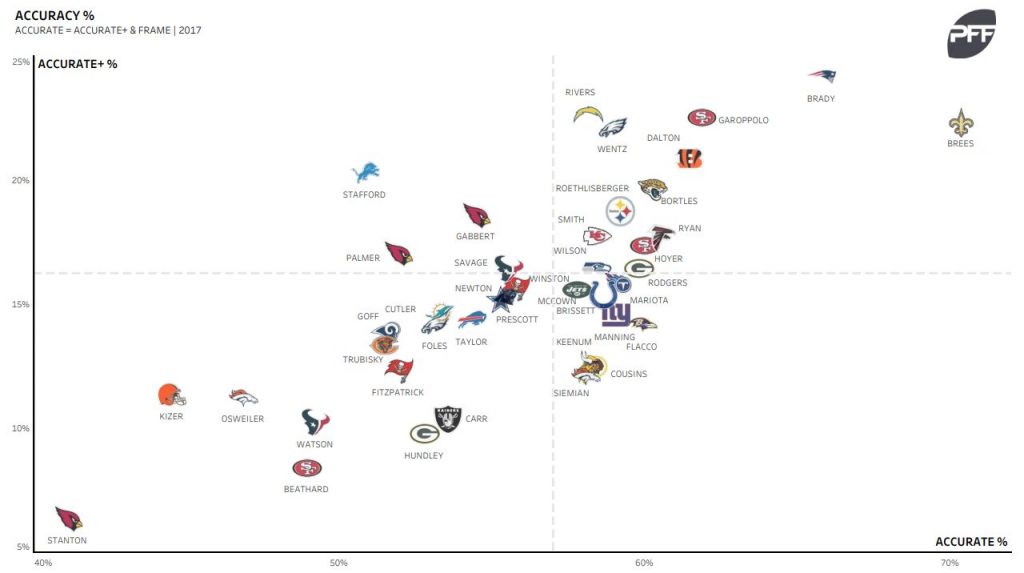 'Accurate+' in the above chart are throws that can't be placed any better while 'Accurate' are throws that don't make the receiver reach outside their body frame to haul it in. Basically, Watson was an extremely volatile, inaccurate quarterback as a rookie whose traditional numbers were bound to come back down to earth.
And now they have. Those big play touchdowns haven't been there and his passer rating has fallen from 103.0 as a rookie to 93.5, as his touchdown rate has been chopped in half. After suffering one drop all last season from his receivers, he's already had five. The traditional numbers have fallen, but our advanced stats tell a very different story.
The most encouraging and largest improvement has come on intermediate throws. Being able to consistently hit the area behind the underneath zone defenders and in front of the deep zone defenders is what separates the elite from the rest of the pack. Don't believe me? Here are the five highest-graded quarterbacks since the start of 2016 through now on throws 10-19 yards downfield:
And the five lowest:
Every quarterback in the league can hit sticks and screens all day long. Few have the timing, awareness and accuracy to hit the digs, posts and comebacks routinely. Compare Watson's stats on throws targeted from 10-19 yards downfield this year to last year, and it's night and day:
| | | |
| --- | --- | --- |
| Stat | 2017 | 2018 |
| Attempts | 48 | 38 |
| Completions | 21 | 24 |
| Comp % | 43.8% | 63.2% |
| YPA | 6.56 | 9.84 |
| TDs | 5 | 1 |
| INTs | 4 | 1 |
| Passer Rating | 65.9 | 93.5 |
| PFF Grade | 57.5 | 81.6 |
Watson's 57.5 PFF grade on intermediate throws in 2017 was once again in bad company, as it slots him somewhere between Siemian and Gabbert. Besides the obvious improvement in accuracy, the tape shows a quarterback with a much firmer grasp of NFL defenses. Most of the five turnover-worthy throws he had in this zone as a rookie were egregious misreads. In both plays below, he was completely oblivious to zone defenders on crossers.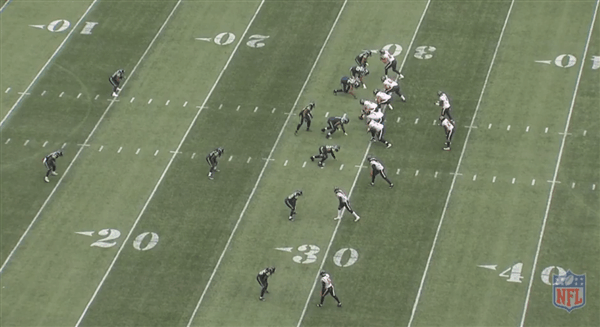 The others both came off boot-action with one being an ugly force and the other a wild overthrow.
On his lone turnover-worthy play in the intermediate area this year, he was simply a little late and behind on a slant as you can see.
Watson may not be getting a huge boost to his stats from a ton of downfield passes this season, but he's still among the best in the NFL with a 45.8 adjusted completion percentage (12th among quarterbacks) and 328 deep yards (fifth). It just goes back to the fact that the rate he was attempting deep passes a season ago was unsustainable. 19.6 percent of his passes last year traveled 20-plus yards downfield, and that's dropped to a more reasonable 16.2 percent this year. His counting stats have regressed, but Watson's quarterbacking ability has quite obviously progressed.
The Texans aren't off to the start many thought they would be, but the finger-wagging should not be directed anywhere near the quarterback position. The Texans' offensive line has the second-worst pass-blocking efficiency in the league, and their cornerbacks are allowing a cool 121.0 passer rating when targeted this season. This is a heavily flawed roster, but the silver lining so far is that their franchise quarterback is back and better than ever.