• BET: Steelers +4.5 (-107 at PointsBet): PFF Greenline shows no value, but the play-by-play simulation is buying Pittsburgh.
• BET: Steelers-Browns O 37.5 (-118 FanDuel): Greenline and PFF's play-by-play simulation like the over.
• BET: RB Nick Chubb O 6.5 rec. yards (-115 BetMGM): Ran route on 45.5% of drop backs, now sits at 35.5%; Chubb's targets per route run are at a reasonable 16%.
• New users who bet $10 or more at BetMGM will receive a free year's subscription to PFF+ — a $79.99 value.
Estimated reading time: 4 mins
---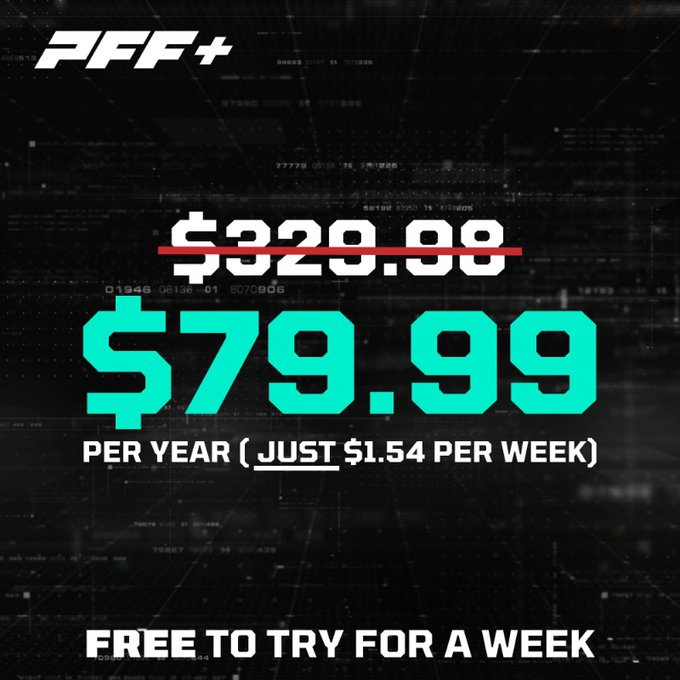 • Our prime-time previews pull all the key modeling numbers and simulated outcomes from PFF's betting tools, including PFF NFL Greenline and the player props tool, which use top-down machine learning models backed by PFF's exclusive data to derive value when compared to the betting market.
• Up 1.28 units through six ultimate primetime betting previews, let's dive into the Week 3 defensive struggle between the Pittsburgh Steelers and Cleveland Browns.
GAME LINES
• Mike Tomlin litmus test: All offseason the question about Pittsburgh's potential outcomes hinged heavily on Mike Tomlin continuing to outperform betting market expectation both against the spread and for their win total. This Thursday-night matchup on a short week for both teams only magnifies the impact a quality coach can have from a preparation standpoint. 
• No public consensus: This spread initially opened at -3.5 before bouncing between -3 and -5 as the market digested the Deshaun Watson news and the expectations for what both teams would have at quarterback. Consensus numbers are right in the middle of this range as we head toward kickoff, despite a heavy percentage of cash and tickets siding with Pittsburgh.
• Play-by-play simulation likes Pittsburgh: PFF's Greenline model shows no value on the spread or moneyline, but the play-by-play simulation points toward a buying opportunity on Pittsburgh.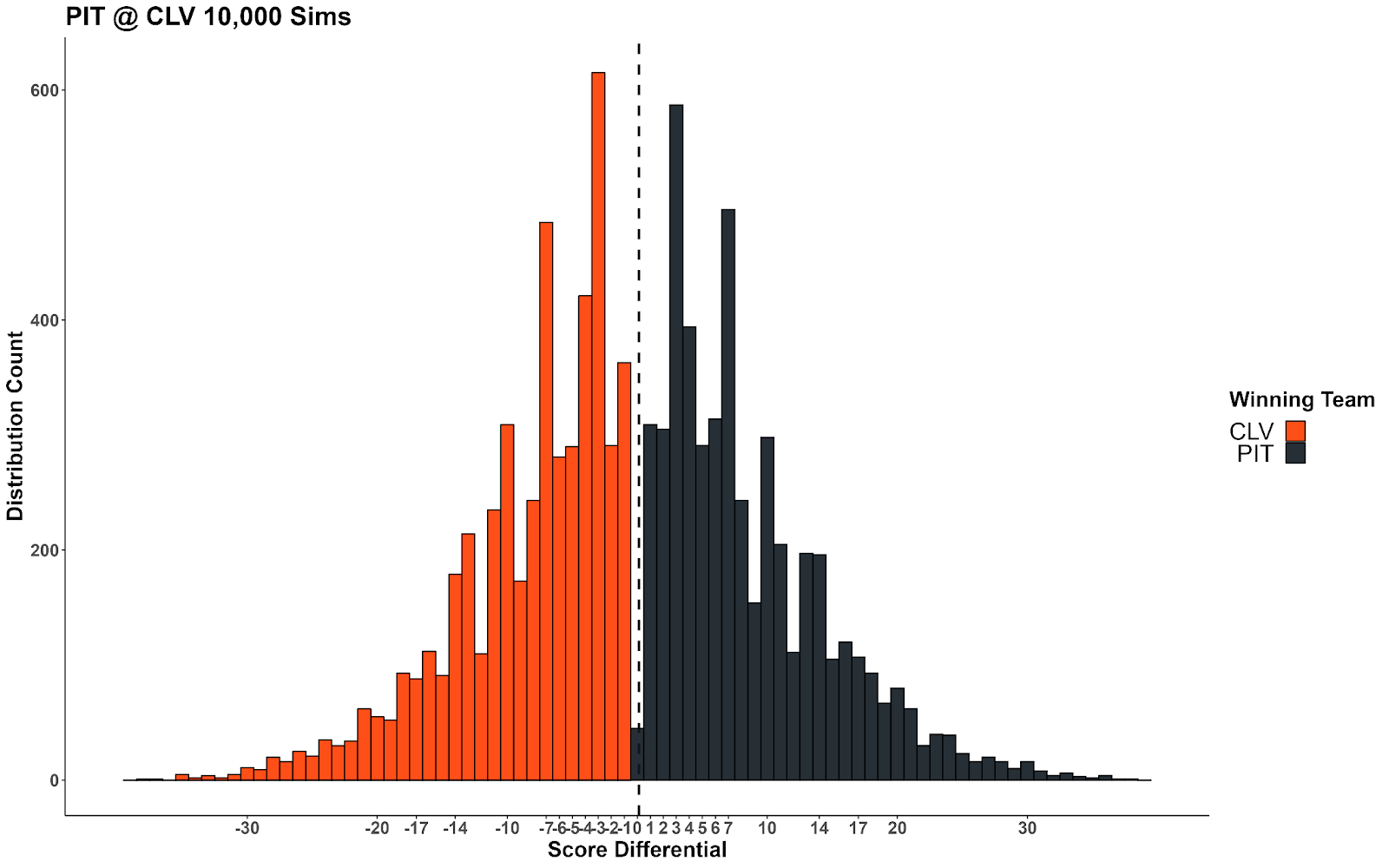 • Defensive struggle: An expected low-scoring affair sees a high number of simulations land on one of the threes, and if Pittsburgh leads at all, it should offer an opportunity to open up a middle surrounding those key numbers. Thus, taking Pittsburgh pregame and waiting until the Steelers are up in-game before opening up a middle and hoping to land on either three sets up as a worthwhile approach. 
Both models like over: PFFs Greenline and the p-b-p simulation expect enough points to be scored to go over the total. Wind in particular can always be impactful when the ball is in the air, but sometimes the most catastrophic outcomes happen on special teams, resulting in quick points from unique situations. The Buffalo vs. New England matchup is seared into every bettors mind, but the weather often is less impactful than what the market's adjustment.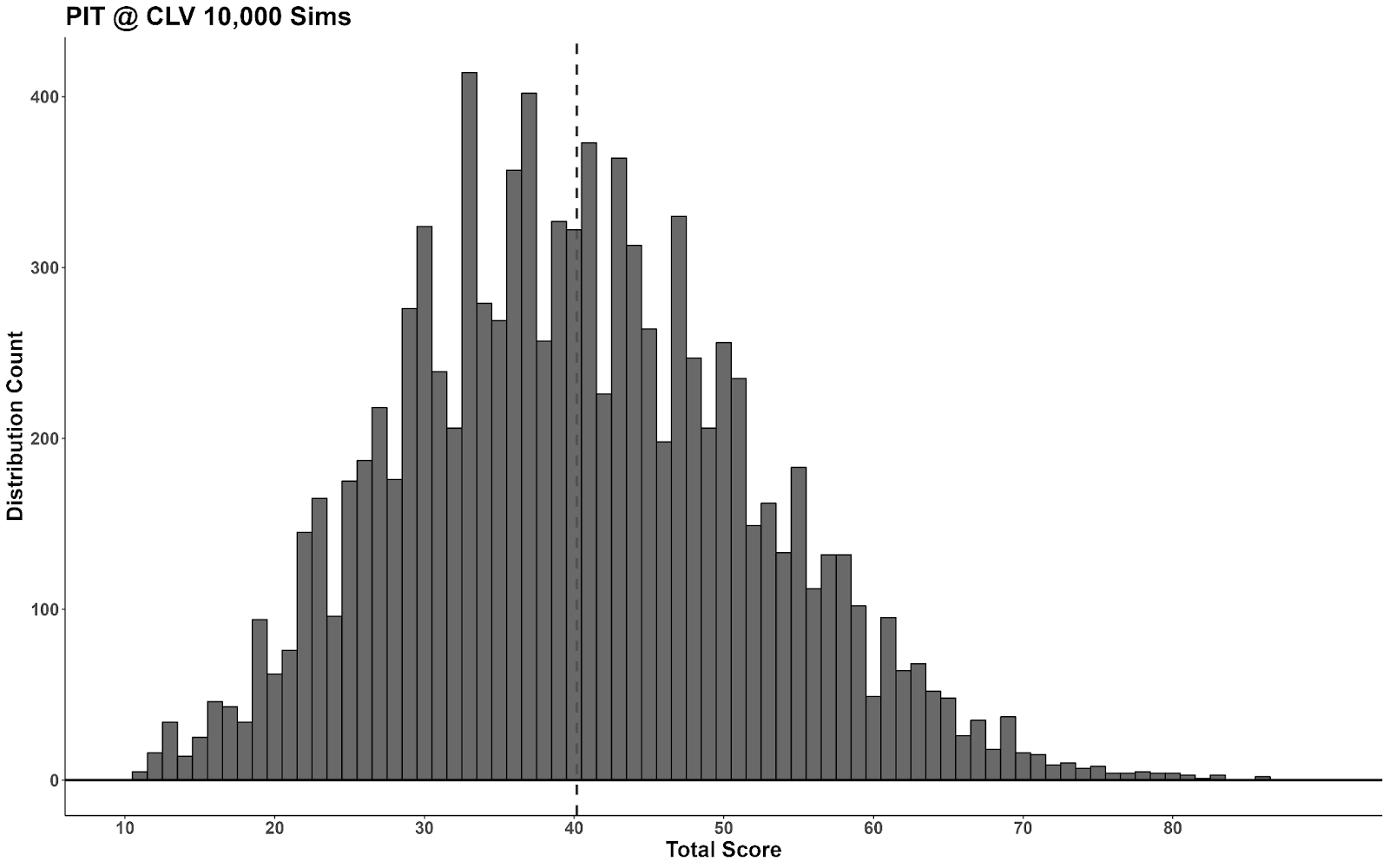 PICKS: Steelers +4.5 (-115 PointsBet), Over 37.5 -118 FanDuel
---
PLAYER PROPS
• Player props continue to grab a bigger share of bettors attention: And props are one of the easier transitions into sports betting, as fantasy applications are helpful for evaluating betting opportunities. 
• Props are priced for a player's median stat projection in a simple, over-or-under, two-sided market: For historical context, unders are by far the most profitable angle to bet and could have been blindly bet toward the under on passing, rushing and receiving yardage props and been profitable. 
• Rush yards and receptions finishing heavily toward under so far in 2022: Somewhat surprisingly, pass attempts and pass interceptions both finished with a positive ROI for overs. Team's seem to be shifting their run/pass splits, resulting in higher attempts but also more negative outcomes because of the higher volume.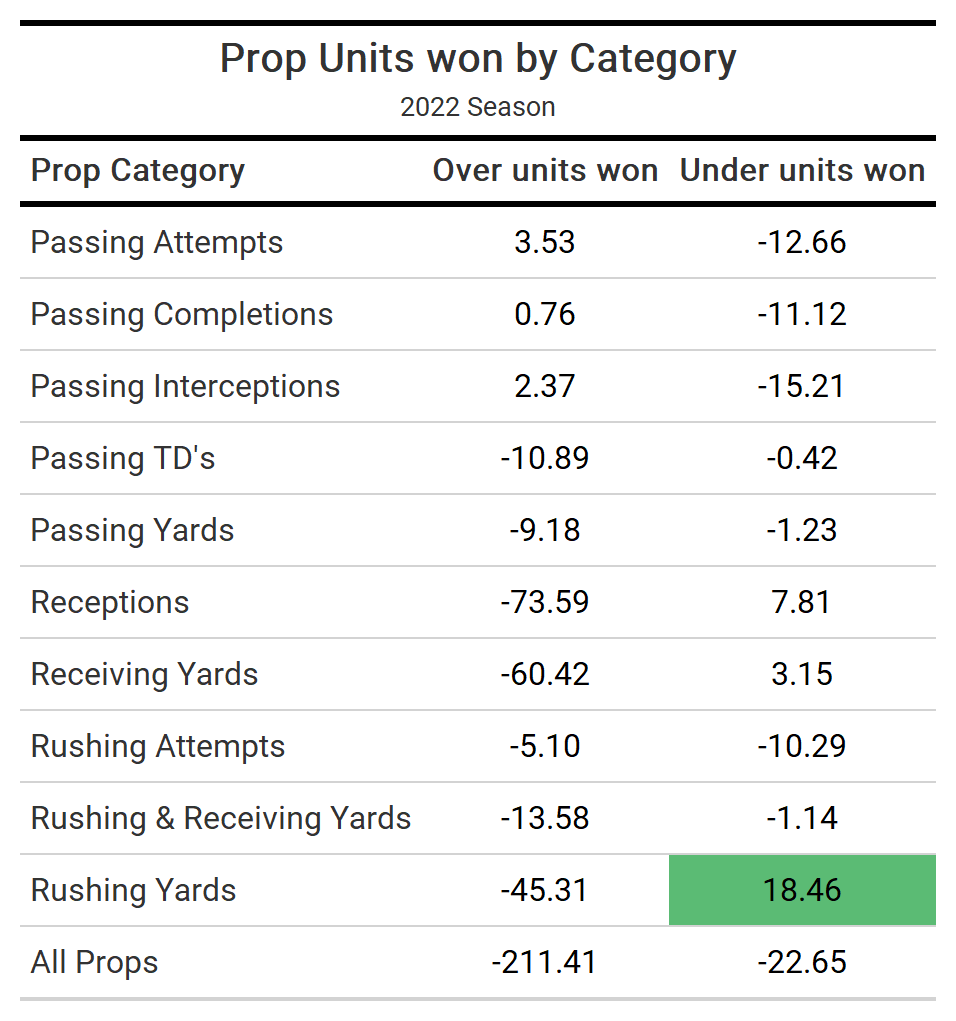 • One way to consistently find defined edges without blindly betting unders is by utilizing PFF's player props tool: The ability to adjust both number and price means you are always certain of the expected value for each prop bet. Let's dive into the best player props to bet for the NFL Thursday night kickoff game. 
Browns RB Nick Chubb Over 6.5 Receiving Yards -115 BetMGM
• Weather worries: If the wind impacts the passing game, it's safe to say we could see an uptick underneath throws and screens. Kareem Hunt's passing game usage has overshadowed Chubb's once again, but Chubb's still seen enough opportunities to get over such a low total.

• Chubb has run a route on 35.5% of drop-backs: He has four targets for a small 6% team target share, but his targets per route run are at a reasonable 16%. With this only taking one well-executed screen to go over, and Chubb possibly getting a few more opportunities than expected makes this one of the best player props for Thursday night. 
Browns WR Donovan Peoples-Jones Over 28.5 Receiving Yards (-110 Barstool)
• Only a few books currently offering Browns receiver props: So this is definitely a bet to shop around on. Peoples-Jones has been close to a full-time player so far this season, running a route on 88.2% of drop backs and playing almost as many snaps as Amari Cooper. His 17.9% team target share means he should have multiple opportunities for receptions even against a difficult defensive matchup. He's operated more at intermediate depths with an aDot of 8.75, meaning a lot of his opportunities may not be as impacted if weather plays a critical role in this matchup. There seems to be little downside on this bet as long as the weather doesn't force the Browns into three total pass attempts. If that happens, I'm willing to take my losses on this bet. 
DERIVATIVE BETS & SAME-GAME PARLAY 
• It's often best to zig when everyone else expects a game to go in a certain direction. Thursday night football offers one of those opportunities with seemingly everyone expecting a boring 10-7 type football game. And all of the betting markets price in an expectation of this game being slow, dull and low scoring. 
• If it's not though, we have some easy ways to make quite a bit of money with little investment. Rarely do we see a total this low and although there is risk to the downside, so much has been priced in that it's almost unplayable to the downside. If one or two big plays happen in any facet of play, we will be well on our way to the over. Additionally there is reason to buy into some Browns skill position players exceeding expectations based solely on their usage. It may not be the most likely option, but thankfully the odds price a reasonable enough expectation to make it the perfect parlay for Thursday night. 
OGP BUILD (+1900 BetMGM)
• Total Points Over 38.5
• Donovan Peoples-Jones Anytime TD Scorer
• Donovan Peoples-Jones 45+ Receiving Yards
• Nick Chubb 13+ Receiving Yards