QB Carson Wentz threw early touchdown passes to new receivers Torrey Smith and Alshon Jeffery, but a pair of Jay Ajayi scores had the game even at the end of the first quarter.
The difference in the game would be a Matt McGloin touchdown throw to WR Marcus Johnson, and the Eagles would go on to win 38-31. With that, we give you our PFF exclusive takeaways from the contest for each team.

Top 5 grades:
TE Zach Ertz, 85.0 overall grade
C Stefen Wisniewski, 83.3 overall grade
DI Elijah Qualls, 82.8 overall grade
ED Vinny Curry, 82.8 overall grade
ED Chris Long, 81.5 overall grade
Performances of Note:
Carson Wentz had 4 incompletions in the game, however none of them was his fault as he had two throw aways, on one pass he was hit as he threw the ball and the other incompletion was on an interception that was batted at the line and intercepted off the rebound.
TE Zach Ertz, 85.0 overall grade
The additions to the receiving core of Alshon Jeffery and Torrey Smith got all the headlines, the most important player could very well be the returning TE Zach Ertz. Ertz is at his most effective in the middle of the field and helping the Eagles extend drives while allowing the offense to try and get chunk yardage on the outside with other players like Jeffery and Smith.
DE Vinny Curry, 82.8 overall grade
Curry straight up ate Laremy Tunsil's lunch. On top of the sack fumble, Curry whooped Tunsil once more in the passing game and again for a stop in the run game. It was an encouraging display for only 14 snaps.
While last week Eagles fans saw the good Darby, this week is what you worry about with him. Two different times he was in absolutely perfect coverage, but simply lost at the catch point. That's been the story of his career. One resulted in a 72 yard near touchdown and the other a pass interference in the end zone.

Top 5 grades:
LB, Lawrence Timmons, 85.7 overall grade
DT Ndamukong Suh, 82.6 overall grade
DE Praise Martin-Oguike, 81.7 overall grade
DE William Hayes, 79.9 overall grade
LB Chase Allen, 79.9 overall grade
Performances of Note:
RB Jay Ajayi, 79.6 overall grade
Ajayi was running like he wants the season to start right now. He broke 3 tackles on nine carries and averaged a silly 5.1 yards after contact.
After Jay Cutler spent the past five seasons with Alshon Jeffery, he may have found his new favorite target. Cutler targeted him twice and the result was 78 yards.
If Lawrence Timmons played like he did today, he will be reminding Dolphins fans of the linebacker he was in his heyday at Pittsburgh. In only 35 snaps Timmons recorded a pressure and a hit (on 5 pass rushing snaps) and 5 stops on 6 tackles as he was all over the field in the first half.
The undrafted edge-rusher from Temple has made a name for himself this whole preseason to the point where it will be hard for the Dolphins to cut him. Against the Eagles, Martin-Oguike recorded just one pressure but was able to beat LT Dillon Gordon on a couple other occasions and record 3 stops in the run game.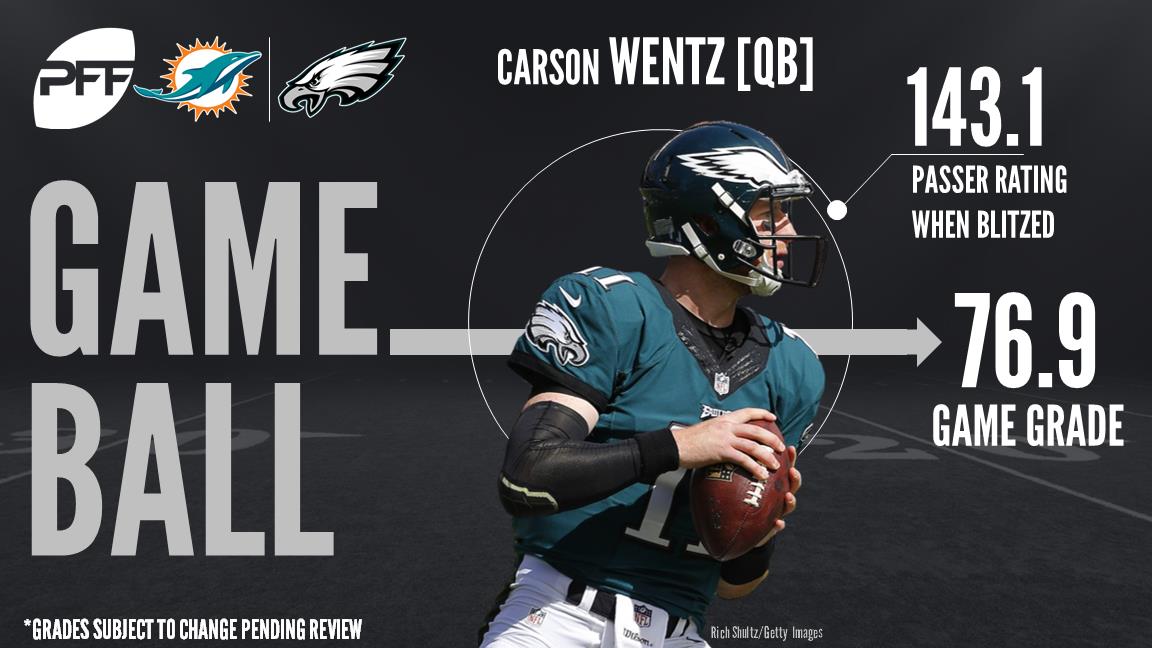 *Grades subject to change pending review