QB Derek Carr would throw an early touchdown to WR Amari Cooper, but QB Marcus Mariota would respond with his own rushing touchdown mid way through the first quarter. In the second, the teams would trade field goals, but a second Giorgio Tavecchio field goal just before half would leave the Raiders up 3 points at halftime.
The second half began with the team trading field goals, but the fourth quarter scoring began with a WR Seth Roberts touchdown catch from Carr. With another field goal, the Raiders would seal their win 26-16. With that, we give you our PFF exclusive takeaways from the contest for each team.

Top 5 Grades:
DE Khalil Mack, 93.8 overall grade
G Kelechi Osemele, 86.3 overall grade
CB Sean Smith, 86.3 overall grade
T Donald Penn, 84.7 overall grade
QB Derek Carr, 83.2 overall grade
Performances of Note:
QB Derek Carr, 83.2 overall grade
There was no doubt who Carr's favorite receiver was today with 12 targets headed Amari Cooper's way, though a trio of drops from Cooper on some slightly off target throws limited the productivity there. Carr got 50+ receiving yards from his top 3 targets as Carr ensured his combination with Cooper and Jared Cook saw John Cyprien have a debut to forget for the Titans. Carr was a perfect 4/4 for 75 yards into Cyprien's coverage today.
The Raiders' offensive line was at its physical best against the Titans and Osemele in particular was in fine form at the second level, bossing around the Titans' linebackers to help clear a way for 60 rushing yards on 11 carries in the gaps to either side of him today.
EDGE Khalil Mack, 93.8 overall grade
The NFL's reigning defensive player of the year picked up where he left off last season. 5 hurries, a batted pass, three stops and general havoc wrought on the Titans' offensive line show that Mack has no plans to relinquish his crown in spite of the return of J.J. Watt.
The Raiders' third-round selection out of UCLA had an impressive debut, with a quartet of pressures, including two hits on Marcus Mariota. Vanderdoes had some solid moments in run defense as well but his highlight play was contributing to a day to forget by Jack Conklin by running over the Titans' second year tackle to flush Mariota out of the pocket late in the second quarter.

Top 5 Grades:
TE Delanie Walker, 86.5 overall grade
T Taylor Lewan, 85.4 overall grade
G Josh Kline, 84.7 overall grade
EDGE Erik Walden, 84.1 overall grade
DI DaQuan Jones, 80.5 overall grade
Performances of Note:
A tale of two halves for Marcus Mariota, whose first half performance, especially on third down, looked set to fulfill the lofty expectations for the season ahead. However in the second half Mariota couldn't find the same rhythm, forcing throws and missing wildly on others as the Titans offense sputtered and came up short in the end. Prior to the final drive in the game Mariota was a disappointing 11/22 in the second half and 1/5 on third downs having, gone 6/7 on third downs in the first half with 5 conversions.
WR Corey Davis, 75.8 overall grade
After missing all of his pre-draft workouts and the entire preseason Corey Davis served up a reminder today as to why he was a top-five pick in April's draft. A contested catch down the right sideline announced his arrival on the opening drive and he followed that up with three more first downs in a promising first display since New Year's Day.
It was a game of high moments for Morgan rather than a consistently strong performance against the Raiders' fearsome offensive line. He took advantage of a brief appearance from Vadal Alexander to round the Raiders' backup tackle for a sack and capped off his game by driving back Marshawn Lynch for a third down stop on the Raiders' final drive but on a consistent basis Morgan was held in check especially in the passing game.
Rarely has Jurrell Casey been held so comprehensively in check as he was by the Raiders today. Casey had a solitary stop, no pressures for only the second time in the last four seasons and to cap it all off got completely run over by Marshawn Lynch near the end of the game. A rare performance to forget for Casey.

PFF Game Ball: Khalil Mack, EDGE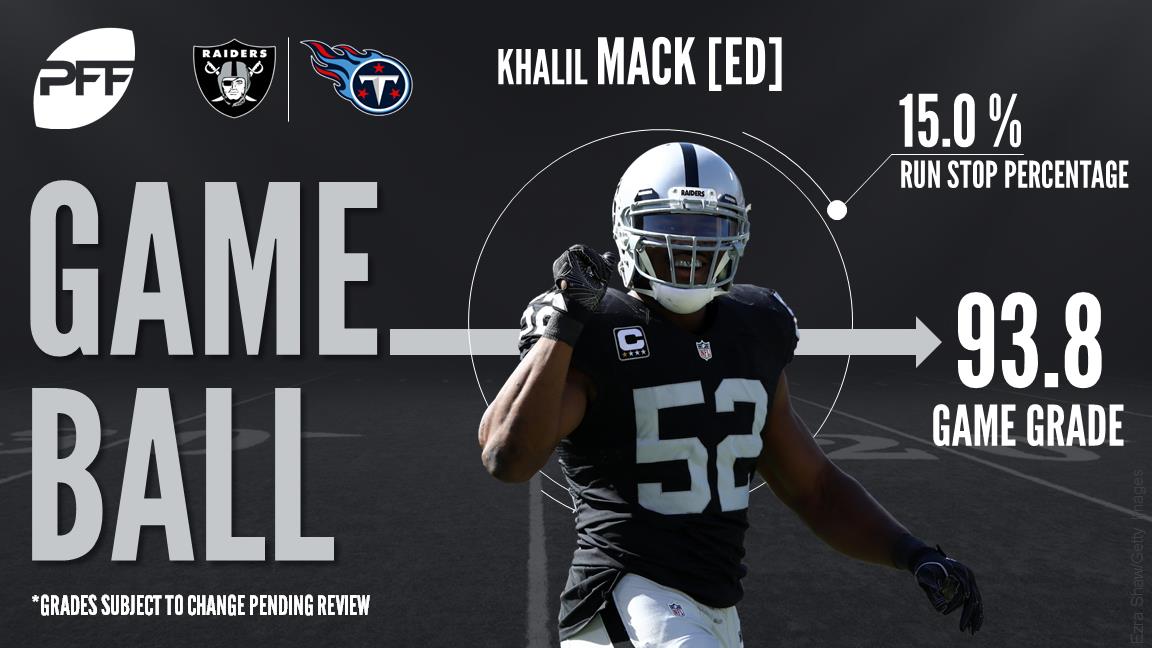 *Grades are subject to change upon review