The Washington Redskins defeated the Jacksonville Jaguars, 16-13, in Week 15 of the 2018 NFL season.
PFF's ReFocused series this season features immediate takeaways and a key to the victory from two Senior Analysts who graded the performance, watching every player on every play of the game. For more data and analysis from the game, utilize our Premium Stats 2.0 dashboard to expand your knowledge on the key players, signature stats and much more.

FINAL SCORE
Washington Redskins 16, Jacksonville Jaguars 13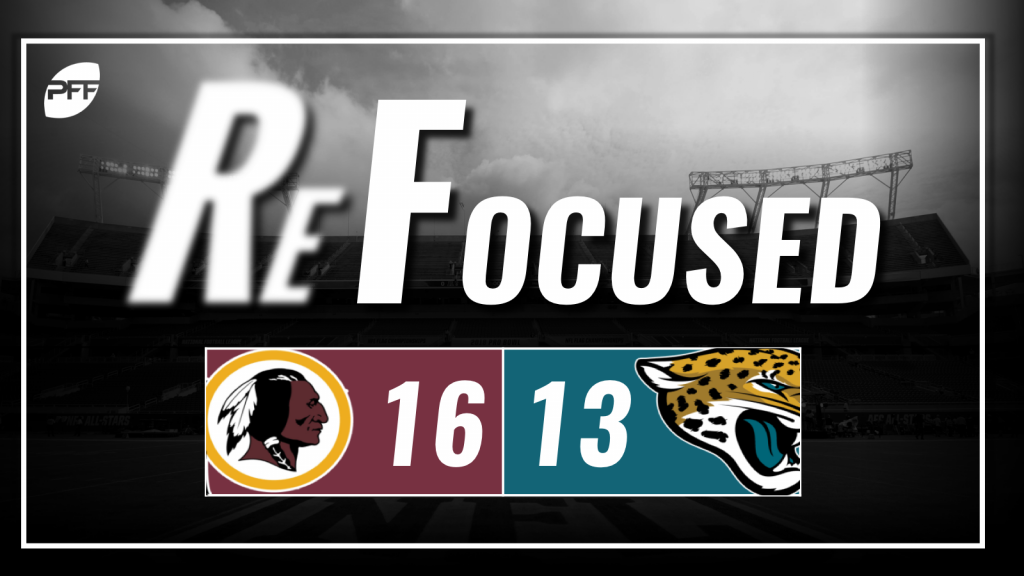 Cody Kessler had a day to forget, completing only 9-of-17 passes for 57 yards. He was completely unable to challenge down the field and failed to complete a single pass that traveled more than 10 yards in the air. In fact, he had few positive plays through the air to speak of at all, with his most significant contributions coming on scrambles, as he was able to pick up several first downs with his legs.
Leonard Fournette and the Jaguars ground game had very little success finding creases in the Washington front seven. As a team, Jacksonville totaled 172 yards rushing, but much of that came on Kessler scrambles and a jet sweep from Dede Westbrook. Fournette did manage to get loose once, reversing field and picking up 25 yards to open the Jaguars' final drive. However, he averaged just 2.1 yards per carry on his other 10 runs.
The Jags handled Adrian Peterson relatively well (until the final drive), but did not appear to have a great plan for Josh Johnson's scrambling ability. They surrendered a number of scrambles by him that either resulted in conversions or set up short yardage situations.
Calais Campbell wasn't extremely effective on his pass rushes today, but was a terror in run defense. He blew up a number of run plays with his ability to knife inside from the backside and helped keep the Redskins in long yardage situations.

Josh Johnson provided precisely the kind of effort Washington needed to pull out a win against a tough defense. While there was nothing special about his passing game, he did not attempt a single turnover-worthy throw and moved the chains effectively with his feet on scrambles.
What looked like a rough outing for reserve tight end Jeremy Sprinkle could not have ended better for him, as he pulled in the game-tying touchdown reception and set up the game-winning field goal on the final drive of the game with a key block to help keep the Redskins in field goal range. Before that, he missed on a number of run blocks and took a bad penalty, but it was his play down the stretch that helped secure a victory for Washington.
Jonathan Allen was a force for the Washington defense, picking up a pair of sacks and multiple additional pressures, while also making several stops near or behind the line of scrimmage in the run game.
Washington's pass defense was lights out in this game, holding Cody Kessler to just 57 yards passing. They were consistently able to pressure Kessler in the pocket, and tight coverage in the secondary gave him few options downfield.
Keys to the Game
Jacksonville:  The complete inability to generate any positive plays in the passing game was too much for the Jaguars to overcome.
Washington: The strategy of allowing Johnson to take off if his first read was covered paid off, as he did not put the ball in harm's way and moved the chains effectively with his feet.