[Editor's note: This article was originally published on March 20, 2017, and updated on April 25 to reflect PFF's final draft board.]
The quarterback class has a number of question marks at the top, and there is no consensus as to which signal-caller will be the best option a few years down the road. Perhaps more than ever, each quarterback's situation will determine their success, as all of the top players have strengths to accentuate, but also weaknesses to hide at the next level. There are a few quarterbacks with starting ability at the top of the draft to go with a number of potential backups who should be available in the mid-to-late rounds.
[Editor's note: A player's ranking within the draft class for each particular category is noted in the corresponding box.]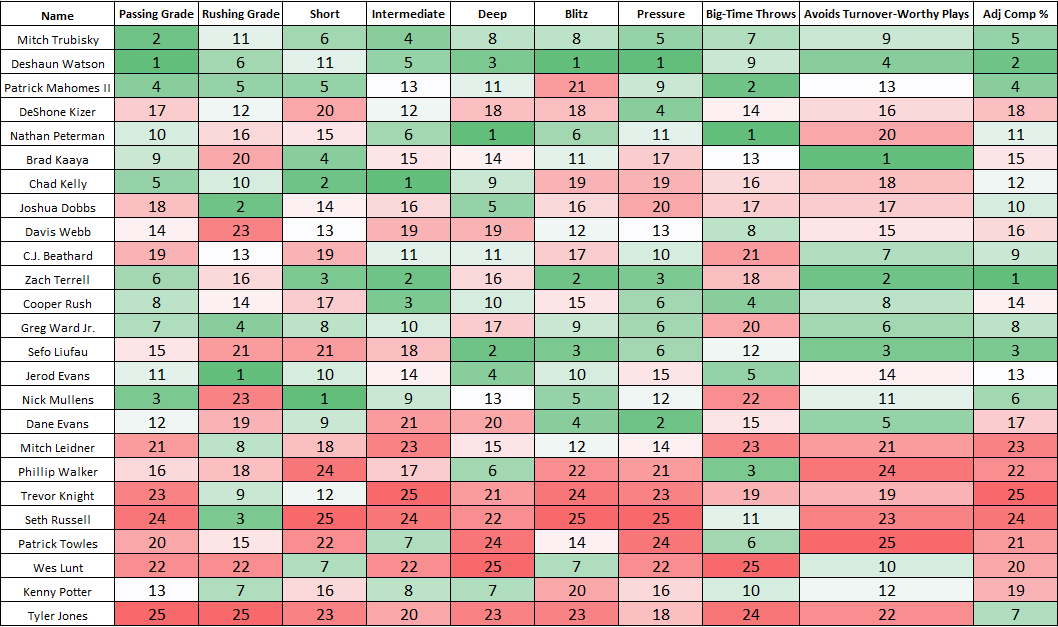 Rankings
A one-year starter, Trubisky showed good short-area accuracy, pocket presence, and the ability to make big-time throws outside the numbers. He can still improve his blitz recognition and deep ball, but his impressive one-year sample has pushed him to the top of our quarterback board.
PFF scouting report for North Carolina QB Mitch Trubiskyhttps://t.co/RxNNXlzyZ5

— PFF College (@PFF_College) March 7, 2017
One of the most difficult evaluations in the class, Watson can make the necessary throws to be successful at the next level. His ability to work through progressions and maneuver the pocket, however, present big questions he has to answer. Watson usually saves his best work for crunch time, either down the stretch or late in games, and that's the part that pushes him back up draft boards despite concerns about his game translating at the next level.
Scouting Report On Deshaun Watson. @PFF_College https://t.co/7dCV0IH5iB

— Biletnikoff Award (@biletnikoffawrd) February 27, 2017
3. Patrick Mahomes, Texas Tech
Mahomes has an incredible feel for making plays outside of the flow of the offense, and when combined with his special arm talent, that allows him to make any throw from any platform—a best-case scenario for Mahomes is tantalizing. The problem is the same feel for making plays also leads to a number of poor decisions with the football, and a prospective team has to find the balance of keeping Mahomes' aggressiveness and natural playmaking ability while harnessing him to make good decisions within the flow of the offense.
Texas Tech QB Patrick Mahomes "is not likely a Day 1 starter, but is certainly worth a first-round selection." https://t.co/9k0OyZyuti

— PFF (@PFF) March 14, 2017
Week-to-week—and often play-to-play–consistency is the big question for Kizer, who has at least shown the ability to make every throw, handle pressure, and maneuver the pocket like an NFL quarterback. He often makes difficult stuff look easy, but he also makes the easy stuff look difficult, and his overall accuracy is below the level of the other quarterbacks in the draft class.
5. Nathan Peterman, Pittsburgh
The best quarterback during the week at the Senior Bowl, Peterman showed an impressive combination of big-time throws and intermediate accuracy during the 2016 season. He also had one of the highest percentages of turnover-worthy throws, and his natural tools don't jump off the tape, but there's a lot to like about Peterman's game.
When throwing within the flow of the offense, Kaaya looks like a reasonable quarterback, able to make good decisions and get the ball out of his hand with solid short-area accuracy. He doesn't have great zip to drive the ball downfield, and most concerning about his game is how much he drops off when pressured, illustrated by his completion percentage falling from 68.5 percent in a clean pocket to 32.9 percent when under pressure.
It's often a combination of great throws and head-scratchers when watching Kelly, and when taking his off-field concerns out of the equation, he has a skill-set worth looking to develop at the next level. At the very least, Kelly is willing to take chances and let his playmakers make plays for him, but the same aggressiveness that can win a game will also lead to losses when he turns the ball over at inopportune times.
Dobbs has a knack for keeping you around just as you're ready to write him off. He's been wildly inconsistent with his accuracy throughout his career at Tennessee, but he tied for the national lead with 12 touchdowns when pressured, and he's the best running quarterback in the draft.
After four weeks in 2016, Webb was sitting at No. 4 in overall PFF grades among quarterbacks, but Week 5 through the end of the season saw him finish dead last at 142nd. At his best, Webb can make impressive downfield throws with touch or with zip, but his decision-making and accuracy was too inconsistent to rely on him as more than a developmental option.
There's little spectacular to Beathard's game, as he makes solid decisions and throws with good touch, but he's shown little to suggest that he can carry a franchise and be more than a backup option at the next level.
Class superlatives
Best arm: Patrick Mahomes, Texas Tech
Mahomes makes special throws regularly, whether putting passes into tight windows, making off-balance throws look routine, or even mixing in the no-look pass for good measure.
"Every time I watch Patrick Mahomes, I come away more impressed each time. I'm convinced he'll become a top 5 QB in the NFL."
@PFF_JohnKosko pic.twitter.com/HFpugDSdUn

— PFF College (@PFF_College) March 17, 2017
Most accurate: Mitchell Trubisky, UNC
Trubisky is excellent in the short-to-intermediate range, where he throws with good ball location that allows his receivers to maximize their yards after the catch.
Best under pressure: DeShone Kizer, Notre Dame
While he's inconsistent, Kizer had some of the best plays in the draft class when facing pressure. Whether maneuvering the pocket or making throws while taking a hit, Kizer has shown the ability to handle muddy pockets.
One thing that stands out the more you watch DeShone Kizer:

He makes difficult stuff look easy sometimes and easy stuff look difficult

— Steve Palazzolo (@PFF_Steve) March 17, 2017
Best deep ball: Nathan Peterman, Pittsburgh
With great touch and downfield ball location, Peterman can create chunk plays, and his 125.5 passer rating on deep passes ranked third in the nation. He is extremely accurate on over-the-shoulder throws, and that led to the highest percentage of big-time throws in the class.
Best running threat: Joshua Dobbs, Tennessee
Dobbs was often used as a designed runner in Tennessee's system, and his presence gave the Vols a viable run game despite their poor offensive line. He gained 1,029 yards while averaging 8.0 yards per carry last season.
For more positional prospect rankings and statistics, access PFF Draft Pass today.
Position ranks: QB | RB | WR | TE | OT | OG | C | EDGE | DT | LB | CB | S