Led by Andy Reid prodigy Matt Nagy, the Chicago Bears' offense has receiving seemingly unmatched firepower. Coming off a year where they had the second-lowest drop rate in the league at 4.1%, Chicago has added more standout receivers to their already stockpiled receiving arsenal. Here's why the Bears have the deepest receiving unit in the league.
WIDE RECEIVERS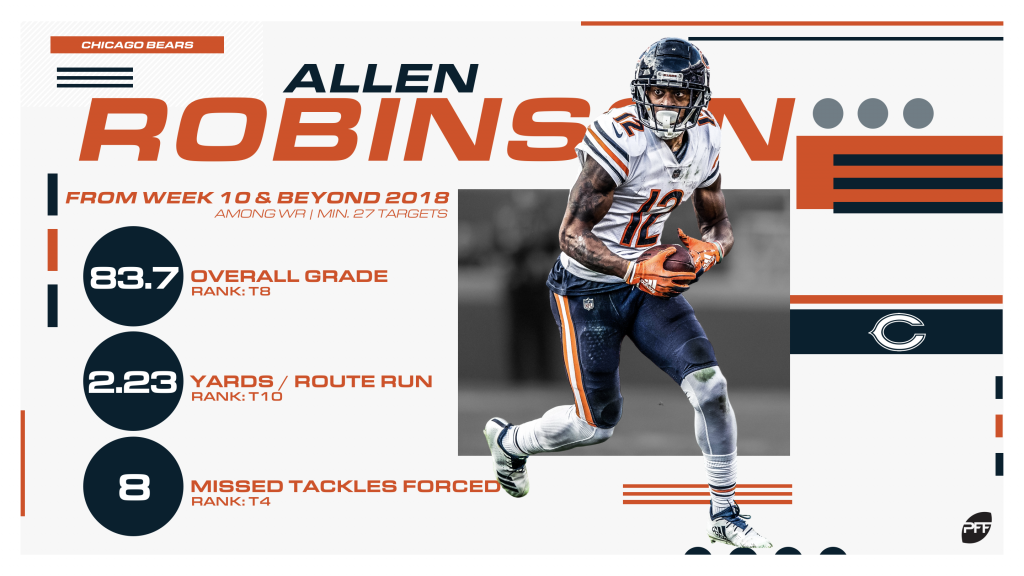 Before suffering a gruesome injury in week one of 2017 that sidelined him the rest of the year, wide receiver Allen Robinson II was making his mark as one of the top young receivers in the game. When he hit the open market last offseason, Chicago came calling and were willing to take a risk on Robinson, giving him a three-year, $42 million contract. With one season in the books, there is no doubt that the partnership of Robinson and the Bears paid great dividends on both ends of the deal. Robinson finished his first season in the Windy City with a solid 77.7 overall grade (28th among wide receivers). Once he got used to Nagy's unique offense and was able to build a connection with young signal-caller Mitchell Trubisky, Robinson was a top receiver in the game. From week 10 and beyond, Robinson ranked eighth among wide receivers in overall grade at 83.7.
Over the course of the whole season, Robinson proved he can easily win in a one-on-one battle with his coverage defender. On plays where he faced tight coverage, Robinson's receiving grade jumped to 88.2, which was good for fifth overall among 97 qualifying receivers. By putting up a 62.5% contested catch rate (tied for eighth) and 419 yards (12th) in such scenarios, Robinson did all that was necessary to show he is one of the best wide receivers in the game on physical, jump-ball type plays. Even when facing a zone coverage scheme, Robinson stood his ground and recorded an impressive 83.0 receiving grade (ninth), along with 10 contested catches (second).
Robinson remained hot for Chicago when he was hit on a quick throw — a throw that took less than 2.5 seconds from snap to pass. On such plays, Robinson's 82.9 receiving grade ranked 10th among wide receivers. With 2.41 yards per route run on quick throws in this Nagy offense and a 96.2% rate of catchable passes caught, there is no reason to doubt Robinson's ability to explode off the line and bully his way through the defense.
Further, Robinson's receiving ability with Chicago peaked on any and all in-breaking routes. Robinson's dominance showed once again here with a near-elite 89.1 receiving grade (20th), eight missed tackles forced (tied for seventh), 10 contested catches (sixth) and 3.28 yards per route run (20th). More specifically though, Robinson was the best receiver in 2018 when he was targeted on a hitch route. Robinson had 32 total hitch targets last season (second-most), and he averaged 3.60 yards per hitch route run (fifth) while being the only receiver to crack a receiving grade of 90.0 (90.5). His 6-3 frame allowed him to catch nine of 12 contested targets and 100% of his catchable targets.
Coming in during the same offseason as Robinson, wide receiver Taylor Gabriel had lesser expectations from the Windy City. However, Gabriel far exceeded these expectations by having the most reliable hands on this Bears team with a superb 2.7% drop rate (12th among wide receivers). Moreover, Gabriel's play in Chicago lived up to his long-time nickname of "Turbo" as he escaped from coverage defenders at an astoundingly high rate. On targets of five-plus yards downfield, Gabriel was deemed open on 41.2% of his targets last year (17th); even when he was hit with press coverage, Gabriel generated a step or more separation at a rate of 65% (16th). Turbo was Chicago's go-to guy on out routes, and he showed to be one of the best there is on this route with an 85.5 receiving grade (12th) and 4.3 yards after the catch per reception.
Subscribe to PFF Edge to continue reading
Already have a subscription? Sign In