The Seattle Seahawks don't have a high-volume passing attack, as first-year offensive coordinator Brian Schottenheimer has instead opted for a run-heavy script. Russell Wilson has just the 24th- most pass attempts in the league and the target leader for the Seahawks is wide receiver Tyler Lockett, who has seen only 57 targets on the year. So, as a Seahawks receiver, you must make the most of your opportunities because they are sparing – and that is exactly what Lockett has done this season. In fact, he and Wilson are putting together the most efficient connection of any quarterback and wide receiver since PFF began charting games back in 2006.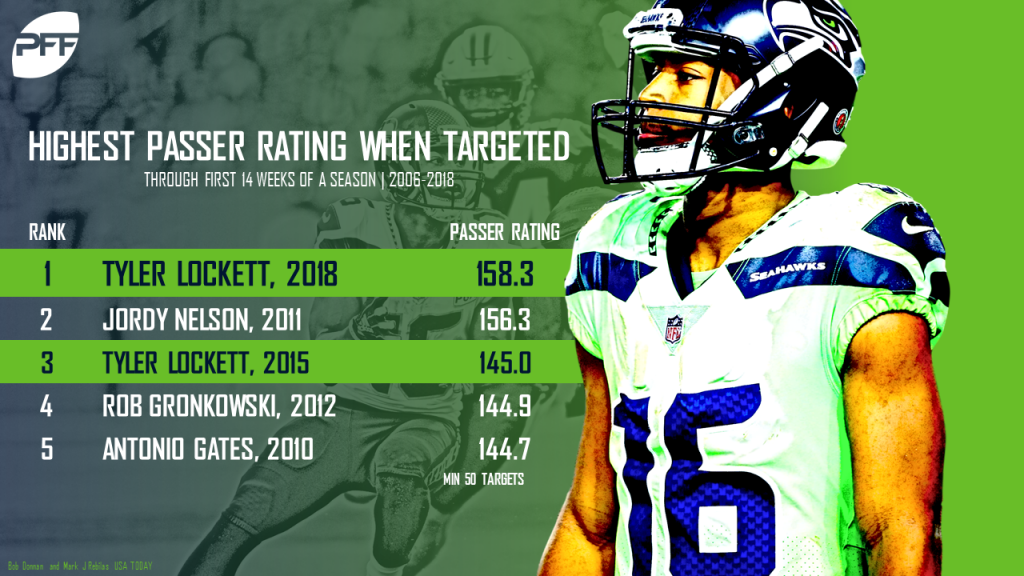 With his 57 targets, Lockett has compiled 49 receptions, 755 yards, nine touchdowns and none of the passes thrown his way have been intercepted. That equates to a perfect passer rating of 158.3. Not only is he the only receiver in 2018 to see at least 50 targets and field a perfect passer rating, but he is the only receiver to do so in the PFF era through 14 weeks. The previous best mark for any receiver since 2006 with 50 or more targets through 14 weeks of the NFL season came back in 2011 when Jordy Nelson generated a near-perfect passer rating of 156.3.
However, that isn't the only metric that shows just how remarkably efficient Lockett has been with his targets. He has caught all 49 of his catchable targets, and he's hauled in 86.0% of the total passes thrown his way. Among the 64 wide receivers with at least 50 targets through 14 weeks, only Michael Thomas has caught a higher percentage of his targets. What makes that all the more impressive is that Lockett's average depth of target of 13.4 yards is over five yards higher than Thomas' mark of 8.2 yards. Even with frequent attempts deep down the field, Wilson and Lockett have been on the same page at a high rate.
15 of Lockett's 57 targets have come twenty or more yards downfield. Of those 15, Locket has caught 11 for a league-high catch rate of 73.3% along with a share of the deep touchdown lead, with seven. Deep targets are generally low probability propositions with only 12 of the 55 wide receivers with ten or more deep targets having a catch rate above fifty percent. Despite that, Lockett has been able to defy the norm and maintain a high catch rate on deep shots downfield.

It hasn't just been the high completion percentages that have been impressive, either. As the perfect passer rating would suggest, Lockett's receptions have been impactful as well. He is currently averaging 2.06 receiving yards per route run. That comes despite only being targeted 57 times in 366 routes. Over the course of a full season, the last wide receiver to average over 2.0 yards per route run on fewer than 60 targets and more than 300 routes run was Rishard Matthews in 2015.
Put in the simplest terms, Lockett ranks tied for 57th in targets, 22nd in receiving yards, and tied for 4th in receiving touchdowns among wide receivers. That type of opportunity generally does not equate to that type of production. Although he has been the top receiving option for the Seahawks this season, Lockett doesn't get the workload of a typical number-one wideout. He has been able to put up big-time numbers despite that through a historically efficient season. Though it seems as though regression should be coming for Lockett, it hasn't hit yet, and the Seahawks will be hoping that it doesn't hit anytime soon.