We're almost halfway through the 2018 regular season, and while it just feels like yesterday that we started this journey, it's time to evaluate where we stand at this point.  Since last season, we've used our PFFELO system, as well as some other factors, to simulate all of (in the case of the preseason) or the rest of (in the case of now) the NFL regular season and playoffs to determine which teams have the best chance to win their division, make the playoffs, win the Super Bowl or earn the No. 1 overall pick in the draft.    
This is the same model that we used to offer our season win total picks, and there will be times in this write up where we offer some advice in terms of Super Bowl or division odds that have value.  We will also discuss situations where a team has a higher playoff probability than a team that has more projected wins, which can be confusing but happens more than one thinks.  
How does your favorite team stack up?  Where are your biggest disagreements. Give us a shout on Twitter @PFF_Eric and @PFF_George.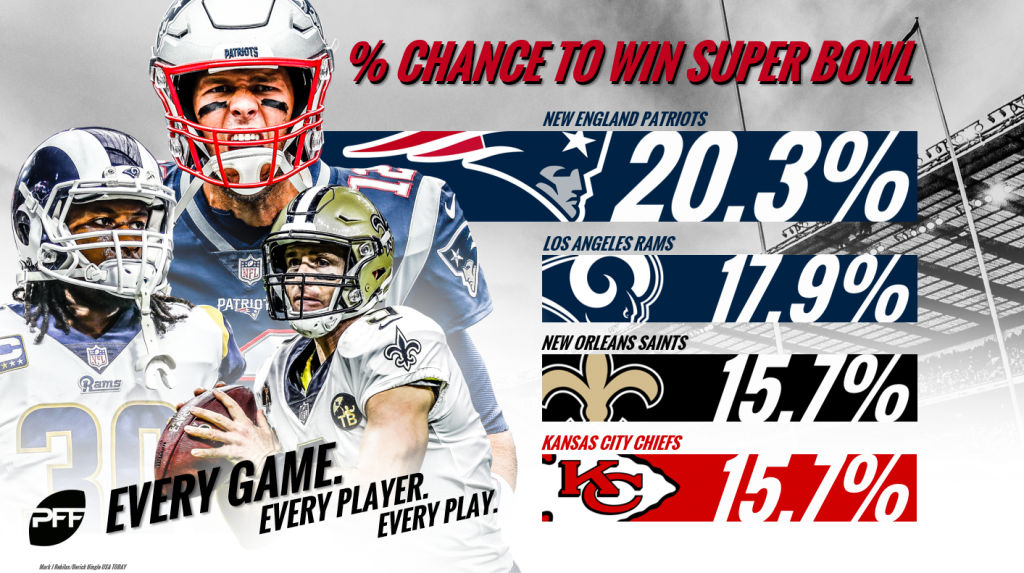 The Contenders

Wins: 12.9
Chance to make Playoffs: 99.2%
Chance to win Division: 95.2%
Chance to win Super Bowl: 17.9%

Wins: 12.2
Chance to make Playoffs: 99.0%
Chance to win Division: 87.8%
Chance to win Super Bowl: 15.7%

Wins: 11.5
Chance to make Playoffs: 98.4%
Chance to win Division: 95.7%
Chance to win Super Bowl: 20.3%

Wins: 11.5
Chance to make Playoffs: 92.1%
Chance to win Division: 72.9%
Chance to win Super Bowl: 15.7%

The Next Tier

Wins: 10.1
Chance to make Playoffs: 79.2%
Chance to win Division: 62.3%
Chance to win Super Bowl: 5.5%

Wins: 9.9
Chance to make Playoffs: 75.0%
Chance to win Division: 12.0%
Chance to win Super Bowl: 3.2%

Wins: 9.6
Chance to make Playoffs: 73.8%
Chance to win Division: 60.0%
Chance to win Super Bowl: 3.4%

Wins: 9.6
Chance to make Playoffs: 58.0%
Chance to win Division: 21.0%
Chance to win Super Bowl: 3.0%

Wins: 9.2
Chance to make Playoffs: 61.7%
Chance to win Division: 51.4%
Chance to win Super Bowl: 2.6%

Jim Mora: (Playoffs?) 

Wins: 9.1
Chance to make Playoffs: 48.9%
Chance to win Division: 4.8%
Chance to win Super Bowl: 2.0%

Wins: 9.1
Chance to make Playoffs: 68.0%
Chance to win Division: 60.5%
Chance to win Super Bowl: 1.5%

Wins: 9.0
Chance to make Playoffs: 53.4%
Chance to win Division: 24.1%
Chance to win Super Bowl: 1.2%

Wins: 8.6
Chance to make Playoffs: 40.9%
Chance to win Division: 31.0%
Chance to win Super Bowl: 2.3%

Wins: 8.5%
Chance to make Playoffs: 42.3%
Chance to win Division: 27.2%
Chance to win Super Bowl: 1.0%

Wins: 8.2
Chance to make Playoffs: 41.7%
Chance to win Division: 13.4%
Chance to win Super Bowl: 1.1%

Wins: 8.0
Chance to make Playoffs: 26.8%
Chance to win Division: 4.8%
Chance to win Super Bowl: 1.1%

Wins: 7.7
Chance to make Playoffs: 27.8%
Chance to win Division: 24.2%
Chance to win Super Bowl: 0.5%

Wins: 7.6
Chance to make Playoffs: 16.6%
Chance to win Division: 10.0%
Chance to win Super Bowl: 0.5%

Outside Looking In

Wins: 7.6
Chance to make Playoffs: 21.8%
Chance to win Division: 3.3%
Chance to win Super Bowl: 0.2%

Wins: 7.4
Chance to make Playoffs: 16.6%
Chance to win Division: 9.0%
Chance to win Super Bowl: 0.4%

Wins: 7.2
Chance to make Playoffs: 14.6%
Chance to win Division: 11.5%
Chance to win Super Bowl: 0.4%

Wins: 7.1
Chance to make Playoffs: 13.6%
Chance to win Division: 10.3%
Chance to win Super Bowl: 0.2%

Wins: 6.8
Chance to make Playoffs: 8.4%
Chance to win Division: 1.3%
Chance to win Super Bowl: <0.1%

Wins: 6.7
Chance to make Playoffs: 5.2%
Chance to win Division: 0.2%
Chance to win Super Bowl: <0.1%

Wins: 6.5
Chance to make Playoffs: 8.7%
Chance to win Division: 5.0%
Chance to win Super Bowl: 0.2%

Wins: 6.3
Chance to make Playoffs: 5.9%
Chance to win Division: 0.8%
Chance to win Super Bowl: <0.1%

The Race for the No. 1 Overall Pick

Wins: 5.4
Chance to make Playoffs: 0.8%
Chance to win Division: 0.2%
Chance to win Super Bowl: <0.1%

Wins: 5.0
Chance to make Playoffs: 1.0%
Chance to win Division: 0.3%
Chance to win Super Bowl: <0.1%

Wins: 4.6
Chance to make Playoffs: <0.1%
Chance to win Division: <0.1%
Chance to win Super Bowl: <0.1%

Wins: 4.4
Chance to make Playoffs: 0.2%
Chance to win Division: <0.1%
Chance to win Super Bowl: <0.1%

Wins: 4.4
Chance to make Playoffs: <0.1%
Chance to win Division: <0.1%
Chance to win Super Bowl: <0.1%

Wins: 4.0
Chance to make Playoffs: <0.1%
Chance to win Division: <0.1%
Chance to win Super Bowl: <0.1%