The product of today's results-driven, impatient league, New England Patriots rookie running back Sony Michel was scolded with harsh criticism across the league after totaling just 84 yards on his first 24 carries (3.5 yards per carry). Now, the seesaw has tipped back in favor of the first-round Georgia product in reaction to his 210 rushing yards across 43 carries (4.9 YPC) in Weeks 4 & 5. The seesaw, however, flipped for the wrong reasons.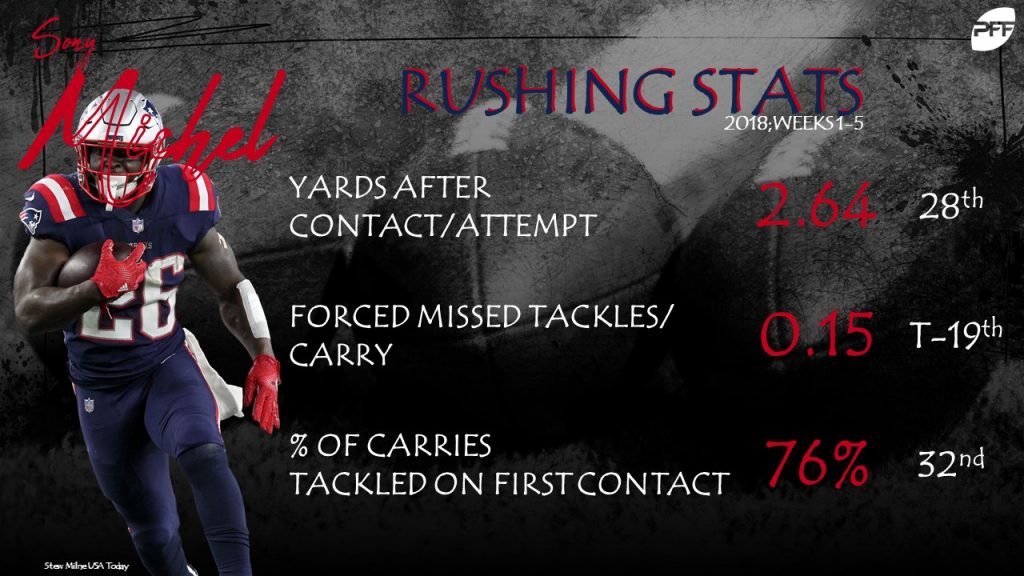 Michel has been contacted one or fewer yards beyond the line of scrimmage on 41 of his 67 carries (61.2%), and on such attempts, he's averaged just 1.61 yards per carry, ranking 33rd among the 47 running backs with 25-plus attempts so far this season. He has gained a whopping 77.5% of his total rushing yards (294) on runs where his offensive line provides at least two yards before contact, which is the seventh-highest mark among qualifiers.
Additionally, Michel ranks just 28th in yards after contact per attempt (2.64), and T-19th in forced missed tackles per carry (0.15) among the same group of backs. He has also been tackled on first contact on 76.12% of his carries, ranking 32nd among qualifiers.
In simpler terms, Michel hasn't come close to backs like Marshawn Lynch, Dalvin Cook, and Ezekiel Elliott in terms of creating extra yards through early adversity/contact. In Weeks 4 and 5, Michel has taken advantage of great push from his front-five to the tune of 173 rushing yards on 17 carries, while totaling just 37 on the 26 carries he had little to no room to work with. In turn, the spotlight has drawn to the rookie running back rather than the oft-overlooked men in the trenches.
In Weeks 2 and 3, Michel averaged just 1.33 yards before contact per attempt and gained 45% of his 84 rushing yards on runs where he was contacted within one yard of the line of scrimmage. In Weeks 4 and 5, New England's big men helped Michel average 2.00 yards before contact, and only 17.6% of rushing yards came on runs where he contacted within one yard of the line of scrimmage.
In fact, Michel averaged even fewer yards per carry (1.42) when contacted early in the play in his "best" games (Weeks 4 & 5) and gained 82.4% of his 210 rushing yards on carries without contact within the first two yards of the line of scrimmage.
Yes, Michel's speed was on display on his 34-yard touchdown run against the Indianapolis Colts on Thursday night, and his short-area quickness can be a difference-maker in the open field. But, calling his previous two performances a "coming out party" — while he has still created very few yards on his own — would simply be placing too much weight on his box-score production.