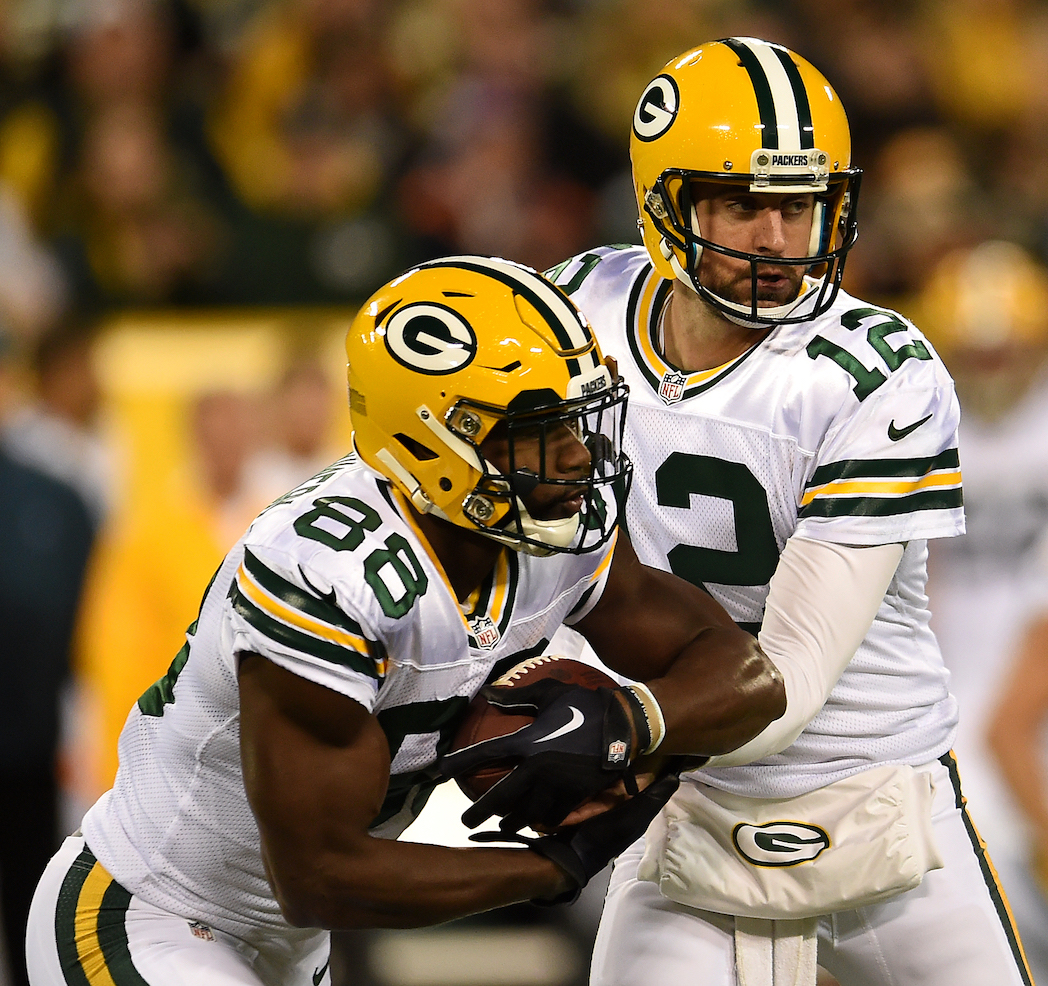 GREENBAY, WI - OCTOBER 20: Quarterback Aaron Rodgers #12 of the Green Bay Packers hands the ball off to teammate wide receiver Ty Montgomery #88 against the Chicago Bears in the first quarter at Lambeau Field on October 20, 2016 in Green Bay, Wisconsin. (Photo by Stacy Revere/Getty Images)
Ty Montgomery isn't just a better running back than he is a receiver—and the answer to Green Bay's injury crisis at the position—but he might just be the spark and X-factor that's been missing from this offense and causing it to drift in a funk all season.
Colleges are pretty good at just getting the ball in the hands of playmakers; the NFL…not so much.
Neither Stanford nor the Green Bay Packers have ever really had a great idea what to do with Ty Montgomery, but Stanford at least were pretty good at just getting him the ball while they tried to figure it out.
At Stanford, like in Green Bay, Montgomery was listed as a wideout, but most of his receptions were quick bubble-screen type throws, and they also used him everywhere else they could think of. He returned kicks and punts for the Cardinal, ran the ball out of the backfield and featured in a kind of Wildcat package in which they would direct-snap him the ball and let him run it behind a lead blocker—the same package you still see Christian McCaffrey run today for the team.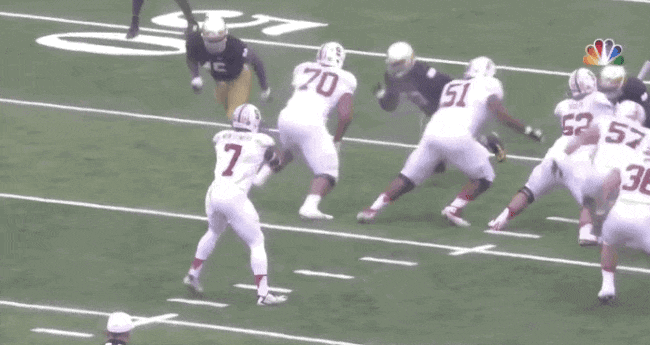 Montgomery was a tough player to evaluate as a draft prospect because they didn't use him as a traditional wide receiver, rather a dangerous ball-carrier that they just tried to get the ball to in space. His route tree was Spartan at best, and what routes he did run looked forced and unnatural. His hands were poor, and he routinely dropped even the easiest of catches. He looked like a player that was thinking about everything he did, step by step.
At the time, the PFF analysis team evaluated him as a low-level draft prospect who "had something to work with." What did he have to work with? Well, the key to it was that we thought he was a running back—and a pretty good one—masquerading at receiver.
To Montgomery's credit, he has looked far more natural as a receiver in Green Bay than he ever did at Stanford. The Packers have seemed less focused on just force-feeding him the football and have expected him to actually earn those touches the same way any other receiver does—by getting open.
That focus on the position has seen him look far more comfortable with running routes, and now that he knows what he's doing, his hands have seemingly improved, too. He has been thrown at 38 times so far in his NFL career, and has yet to drop a pass. He had five drops in 99 targets in his final season at Stanford, including three in one game against Notre Dame, and some very suspect-looking successful catches.
So far this season, Montgomery has been thrown the ball 20 times and caught all 20 of them.
But this week against the Bears, and with Green Bay's injury crisis at the running back position, we got to see Montgomery play what I believe to be his natural position—running back. He was in the backfield on 49 of his 62 snaps against the Bears, and carried the ball nine times for 60 yards. He ended the game with 126 yards from scrimmage.
At draft time, some likened him to Cordarrelle Patterson as a player with clear playmaking ability, but who just doesn't quite fit the cookie-cutter niches the NFL has carved out for players. I think there is a very real difference between the two players in terms of build, though. Patterson is built like a wide receiver, he just plays like a running back. Montgomery has the running back's build to go along with the skill set.
The latter isn't just a guy who needs gimmick touches and sideline run plays to space. He can carry between the tackles and deliver—not just take—contact.
The Packers have had Randall Cobb for several years now, another player that has dabbled with backfield carries, but again the difference is in size and build. Cobb's backfield carries have dried up over the years because he is under 6-foot and weighs around 190 pounds. They need to get him the ball in space, and he can only have a certain volume and type of backfield carry. Montgomery is two inches taller and has around 25 pounds on Cobb. Those are significant numbers when you're talking about taking on defenders between the tackles.
That extra bulk gives him not just the ability to carry the ball more and into tougher spots, but to do the dirty work of a running back, too. Take this play from last night's game where Montgomery steps up and picks up the blitz from a linebacker, allowing the ball to come out on rhythm. Now imagine Randall Cobb trying to do the same thing.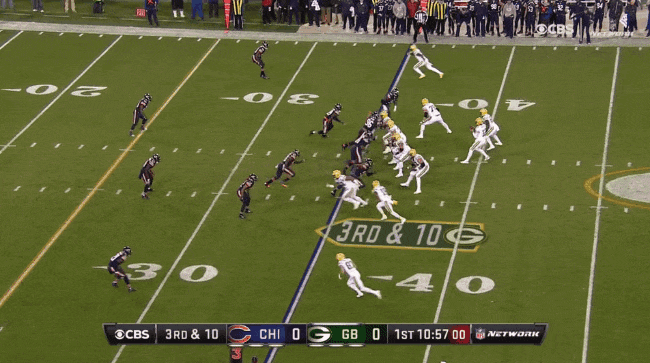 Montgomery is a natural running back, but the really intriguing thing about moving him back there now is that he has been seasoned as a wide receiver, at least to the point he is competent there—for a running back. Montgomery now becomes a far more dangerous matchup problem for a defense than if the Packers had just drafted him as a running back all along.
Against the Bears, the team repeatedly motioned him out of the backfield and lined him up at receiver, putting Chicago in a bind because they were usually treating him as a running back from a personnel standpoint. That left him matched up with safeties and linebackers, which for a slot receiver by trade, should be a huge advantage.
The bottom line here is that the answer to the Green Bay running back problems lies in Ty Montgomery. He has always been a natural running back, but just hasn't had a team commit to developing him there. If the Packers embrace this position switch, they could have a genuinely devastating playmaker on their hands, and one that could become a true matchup problem for defenses because of the work they have done to turn him into a real wide receiver.
Montgomery was always a dangerous playmaker, but one that didn't really know how to play any one position. Now he just may be on the verge of understanding two different ones, making him a huge potential weapon for an offense crying out for a catalyst.