The NFL offseason is upon us, and a handful of teams may be hitting the reset button on the quarterback position. One of those teams, the Jacksonville Jaguars, has been rumored to be moving on from their former third-overall draft pick Blake Bortles and could benefit most from a positive change given their current roster. The 26-year-old Bortles has seen more bad days than good in Jacksonville, culminating this past year in a midseason benching. Despite already accounting for $16.5 million in dead cap space this upcoming season according to Over the Cap, the front office appears ready to move on and evaluate their options in free agency and the draft. One potential name that's been tossed around is Bortles' fellow 2014 draft class member and current free agent: Teddy Bridgewater.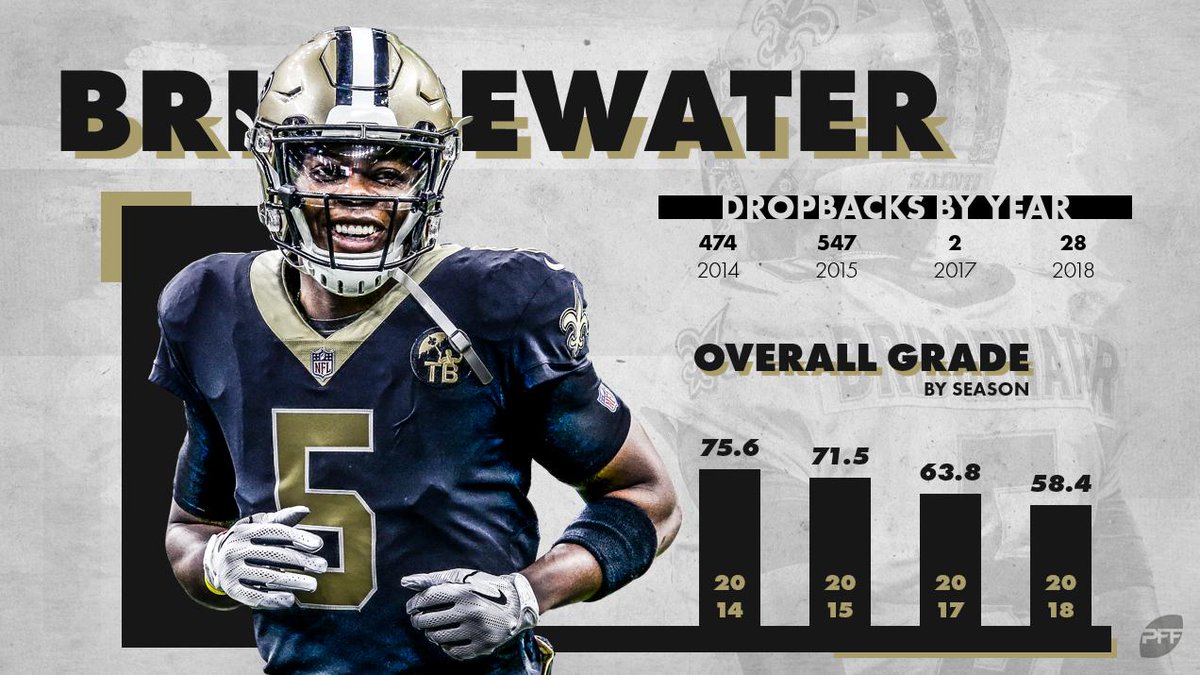 Both Bridgewater's and Bortles' career paths thus far have been unique, to say the least. Bortles has played 700-plus snaps in each of his first five seasons but has never amassed a single-season passing grade of 70.0 or higher. Bridgewater, on the other hand, hasn't played more than 100 snaps since the 2015 regular season because of a gruesome knee injury that caused him to miss over a full year of football. However, prior to that injury, Bridgewater showed quite a bit of promise, registering passing grades of 74.8 and 68.6 respectively in his first two seasons—both of which exceed Bortles' career high of 68.0.
Despite a smaller sample size, it's very apparent from Bridgewater's 2014-2015 numbers that he can distribute the football with pinpoint accuracy. During his rookie campaign, he started 12 games and finished with the fourth-highest adjusted completion percentage of all qualified quarterbacks. He followed this up in 2015 by leading the entire NFL in adjusted completion percentage at 79.3%. Not only is finishing first in adjusted completion percentage is no easy feat, but Bridgewater marks the only instance in the PFF era (2006-present) where a quarterback has done so in just their first two seasons. Making his 2015 accuracy numbers even more impressive is the fact that defenses were able to apply pressure on a league-high 46.5% of his dropbacks. Bridgewater also showed the ability to step up and deliver the ball in the pocket that season, finishing 12th in the NFL with a 102.5 passer rating when kept clean (higher than names like Rodgers and Rivers).
When comparing the two quarterbacks from a single-season standpoint, Bridgewater appears to be the more promising option over Bortles. Despite playing virtually three more seasons, Bortles has yet to post a higher single-year passing grade, passer rating, or adjusted completion percentage. The biggest risk with Bridgewater is that he's only attempted 25 regular season passes since his career-altering knee injury almost three years ago. However, albeit during the preseason he has shown signs of returning to his old self, registering a passer rating of 104.7 on 44 dropbacks. While it's unknown if Bridgewater will be able to hold up over a 16-game-season, should the Jaguars look to switch things with him they could be rewarded should he return to his pre-injury form.