Earlier this offseason, the San Francisco 49ers looked to bolster their 32nd-ranked coverage unit with the addition of oft-injured cornerback Jason Verrett. Signing the veteran cornerback is a low-risk, high-reward move for the 49ers, who didn't have a single player grade above 70.0 in coverage last season. Verrett has struggled with injuries throughout his time in the NFL — he's played just over 300 snaps in the last three seasons — but when he has been healthy, he has shown the ability to perform like one of the league's best cover corners.
Verrett had a short-lived rookie year back in 2014 when he played just 223 snaps. Although his time on the field was brief, his impact and high-level play did not go unnoticed, as he allowed just 50% of the targets thrown his way to be completed — a mark that ranked seventh at his position. The rookie impressed with an 85.1 overall grade and 82.5 coverage grade that year, which ranked sixth and ninth among qualifying cornerbacks, respectively, and he was no slouch against the run either, where he produced an 84.6 run-defense grade to go along with a hearty run-stop percentage of 6.6% which ranked third among cornerbacks.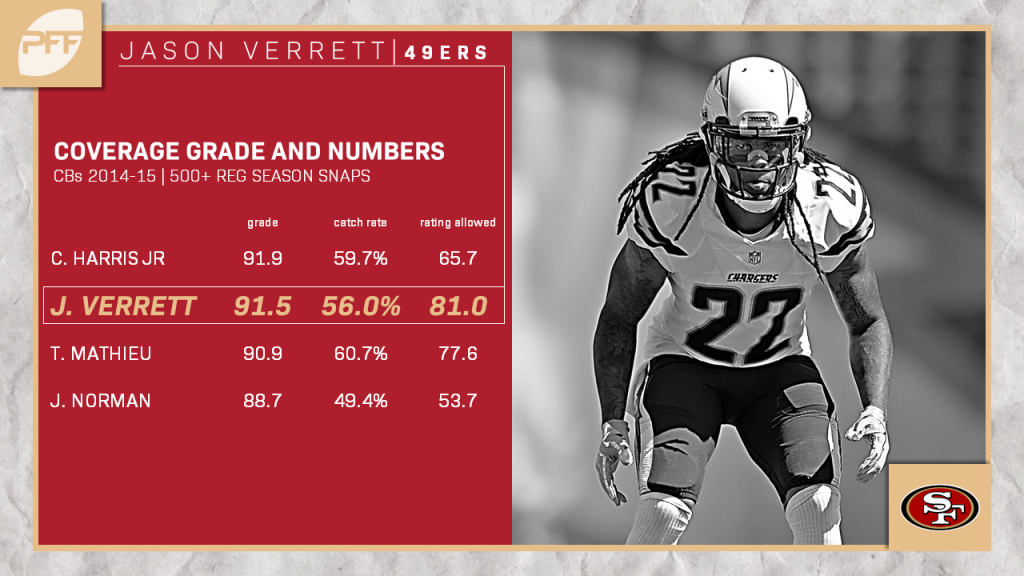 His 2015 breakout campaign was not only his best season but also his healthiest. That year, the TCU alumnus logged 720 snaps en route to an exceptional 88.4 overall grade that ranked second among qualifying cornerbacks. He was elite in coverage, where he generated a 90.9 coverage grade — the best mark at the cornerback position — after he logged three interceptions and three pass breakups on the year. While Verrett had an impressive year that seemed to predicate his ascension to the league's elite at the cornerback position, he did show the propensity to allow big plays, as evidenced by his average of 14.7 yards allowed per reception.
Jason Verrett is small in stature, standing at just 5'10" and 188 lbs., but his lightning-quick speed and surprising physicality can give receivers fits as they struggle to find separation. In 2015, Verrett used his physicality and impressive speed to shut down the dreaded go route: he saw 17 such targets but allowed just five catches and a passer rating of 18.6, all while corralling two interceptions. Verrett wasn't just a one-trick pony, either, as the second-year cornerback allowed a passer rating of 60.0 or less on quick outs, in routes, comebacks and hitches.
When Jason Verrett is on the field and healthy, he has the capability to be one of the league's best cover corners, wreaking havoc on opposing offenses by locking down his side of the field and using impressive ball skills to produce splash plays. In the play below, you can see Verrett covering Antonio Brown and refusing to give up ground and utilizing his trademark physicality to impede the star receiver, all while keeping his eyes on the quarterback before leaping in front of Brown to break up the pass.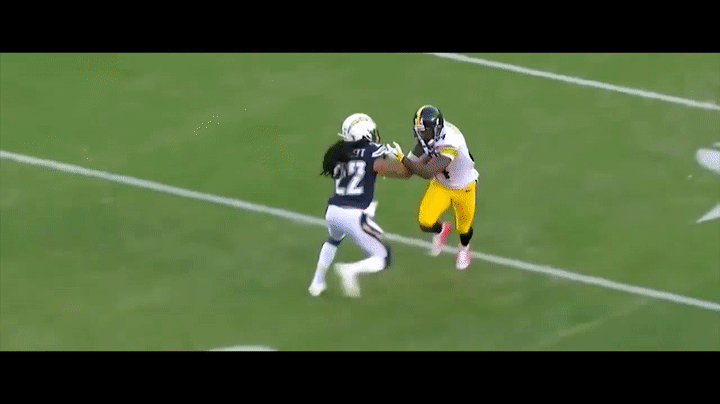 Below is another instance where Verrett displays his uncanny coverage ability and ball skills. The cornerback is lined up on former Chiefs receiver Jeremy Maclin, who is able to get the slightest step of separation after breaking inside. Smith puts the ball in front of Maclin, who has the inside leverage, for what would typically be a simple catch for a short gain or an incompletion. However, Verrett comes from behind and fights Maclin all the way to the ground for the ball, before ripping it free from the receiver for the impressive interception, dashing the Chiefs' hopes for any type of comeback.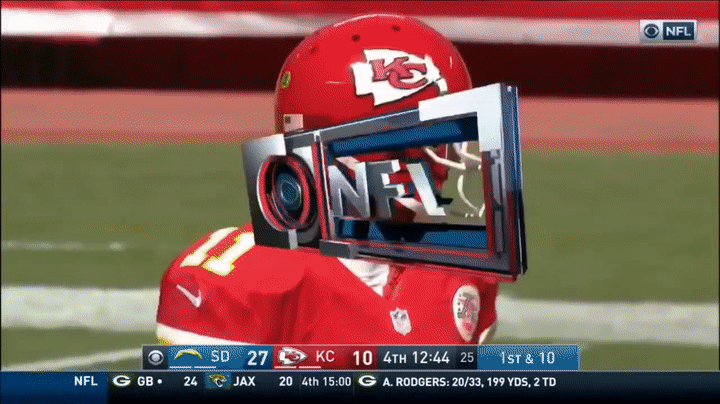 The peak for Jason Verrett when healthy is clear, but the question is if he can return to that form and be able to contribute for an entire season. Verrett didn't play in 2018 due to a torn Achilles, and he's torn his ACL twice already in the NFL, not to mention that he has played more than six games just once in his career and has failed to play more than 350 total snaps in each of the last three seasons.
The 49ers did not invest much capital into Verrett, guaranteeing only $600,000 on a one-year deal according to OverTheCap.com, but if the cornerback is healthy and can replicate numbers similar to his elite 2015 season, the payoff would be tremendous for a secondary in desperate need of some athleticism and playmakers.