Miami Dolphins DE Cameron Wake was recently named the winner of Pro Football Focus' Comeback Player of the Year Award for the 2016 NFL season. To see the winner of every PFF award, visit our NFL awards page.
Over the last few seasons, there seems to have been an influx of Achilles injuries. It's one of the most severe injuries in sports, one that requires a significant amount of rehab, and many athletes may never return to their prior form. It can be even more impactful for such positions as edge rusher, where explosiveness is one of the key components to success. Recent players to suffer the injury and return include Chiefs LB Derrick Johnson, Ravens OLB Terrell Suggs and WR Steve Smith, and Colts LB Robert Mathis, among a growing number of others. While each came back and played decently, none put forth anywhere near the same caliber of performance the following season as they had prior to their injuries. What's more, they—somewhat expectedly—graded worse than they did in their previous season.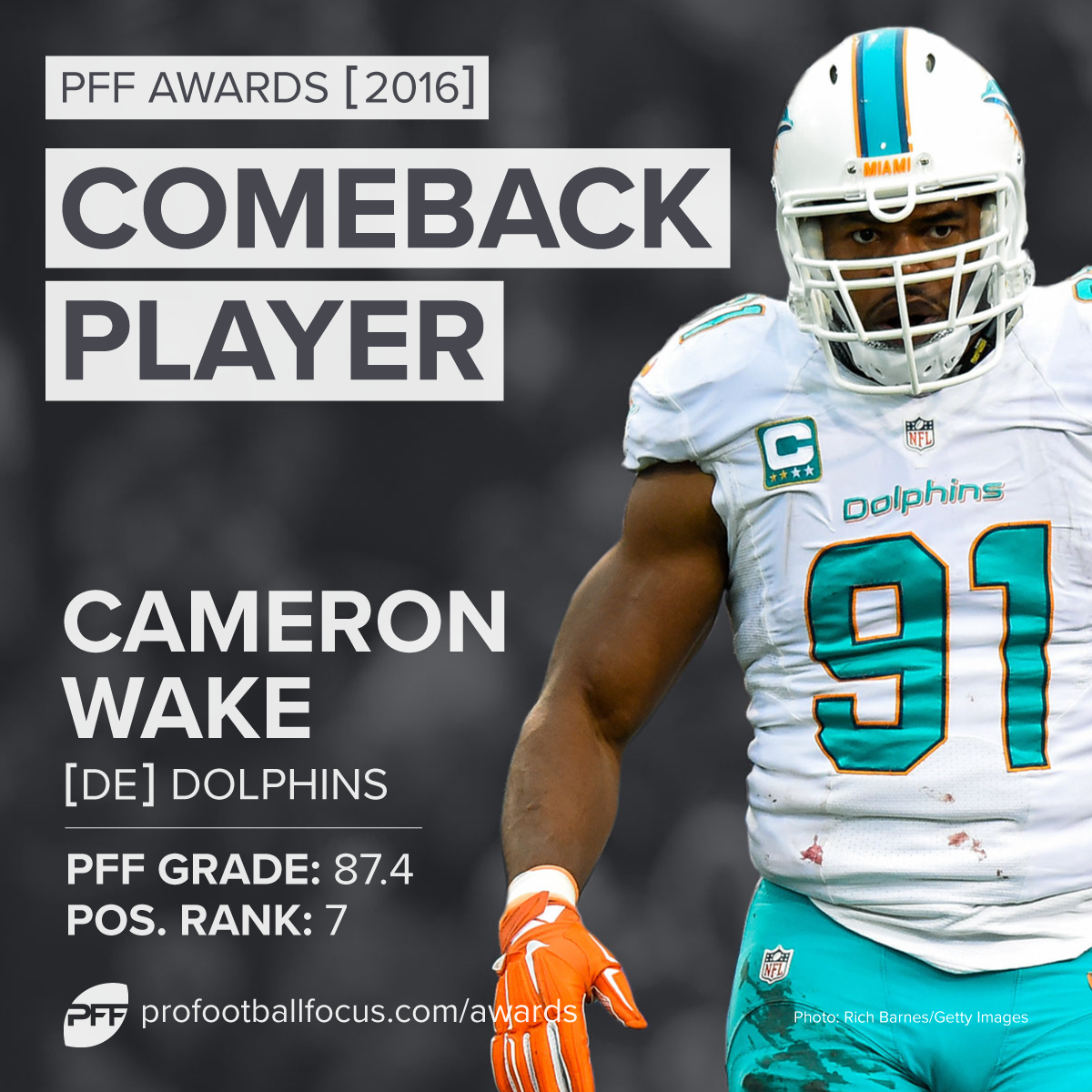 Pro Football Focus' 2016 Comeback Player of the Year not only returned to play, but Cameron Wake did so while continuing to be one of the best edge rushers in the league, edging out Packers WR Jordy Nelson and Colts QB Andrew Luck for the award. From 2012 to 2014, Wake ranked among the top three 4-3 defensive ends in pass-rushing productivity. Following his 2015 injury, Wake returned after less than a full calendar year to post a career-high 14.1 per-snap pass-rushing productivity. He even eclipsed his last full season with one more total QB pressure on 23 fewer snaps as the Dolphins eased him into playing time.
It's not just that Wake returned to his previous form so quickly, however; it's also that he played so well when compared to his peers in 2016. Wake's 87.2 pass-rushing grade ranked fifth among all edge defenders, and his 66 total QB pressures ranked 12th. When accounting for pass-rushing snaps and opportunities, Wake led all 4-3 defensive ends in pass-rushing productivity, and was third among all edge defenders (behind only Khalil Mack and Von Miller). If all of that wasn't impressive enough, he accomplished those feats at 34 years old. Wake hasn't received as much public recognition as the other top edge rushers over the past few seasons, but he has been among the best, and this season is just another example of that.