Making the selections for Pro Football Focus' All-Pro team each year is no easy task, and we had to make some difficult calls for the 2016 edition. You can check out all of our picks and explanations for why each player made the team, but there were still some omissions that many fans had questions about. We've included those below, along with our explanations for why each player didn't make it:
1. Vic Beasley, ED, Atlanta Falcons
Beasley was the NFL's sack leader this year, with two more sacks to his name than any other player, but as impressive as that number is, it flatters his overall play and even his pass rush. Beasley sacked the QB 16 times from 56 total pressures, a conversion rate of 28.6 percent, while the average edge rusher converts at just over 15 percent. That might be seen by some as evidence of elite finishing, but history says it's a completely unsustainable level, and owes more to bad tackles and other factors producing a run of clean up or unblocked sacks.
Beasley has four multiple-sack games that account for 11 of his 16 sacks, and all of them came against subpar tackles that have an average PFF rating for the season of 56.8. Beasley was good this year, but not as good as his sack total suggests, so he falls behind other pass-rushers that generated significantly more pressure (Khalil Mack had 40 more total pressures and just two fewer sacks).
2. Patrick Peterson, CB, Arizona Cardinals
Peterson routinely has as tough an assignment as any corner in the game. He will play a lot of man coverage, and is one of the few corners asked to track receivers all over the field – including to the slot. As a consequence you often have to weight his performance in the light of other players that have an easier role within their defensive scheme, and in the past it has been enough to leap him above players into PFF All-Pro and Pro Bowl teams, but not this year.
Peterson has been good this year, but he has allowed as many touchdowns (three) as he has interceptions, and allowed 60.6 percent of the passes thrown his way to be caught, a career high. When targeted he allowed a passer rating of 80.7, which wasn't bad, but ranks 30th in the league and not in the same ballpark as players like Aqib Talib, who led the NFL at 47.0.
3. Joe Thomas, OT, Cleveland Browns
Thomas has been the standard by which pass-blocking left tackles measure themselves since he entered the league back in 2007, but this season he suffered a little bit of a downturn in performance. He allowed four sacks on the season, double the number that he surrendered in any of the previous three-straight years, and a total of 34 pressures, the second-highest mark of his career.
Thomas was still very good, but he finished the season with the fourth-best PFF rating among tackles, and all of the three players ahead of him played on the left side, so as much as anything he was undone by a quirk of numbers and was just good but not quite good enough this season. He made PFF's Pro Bowl roster as the Pro Bowl deals with an expanded roster.
4. Aaron Rodgers, QB, Green Bay Packers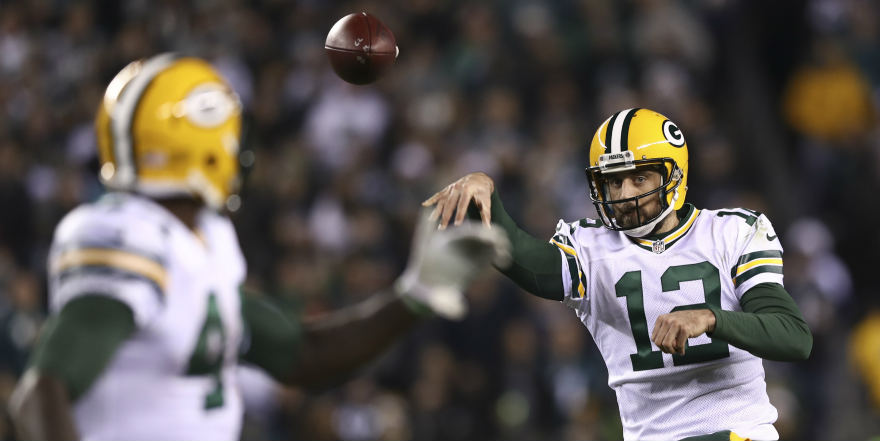 Rodgers might be the most hard done by of any player to miss the All-Pro team, but in his case the reason is obvious: the play of the two players ahead of him. As good as Rodgers has been recently, the first third of his season was average at best, while Tom Brady and Matt Ryan have been consistently excellent all season.
Brady has been nearly flawless since coming back from a four-game suspension, throwing just two picks over 432 attempts and ending the year with a passer rating of 112.2, while Ryan came 66 yards short of a 5,000-yard season while leading the league's No. 1-rated offense and throwing only seven interceptions to 38 touchdowns. Adjusting for drops, Brady (79.5 percent) and Ryan (78.3 percent) both (third and fourth, respectively) rank significantly higher in completion percentage than Rodgers with 74.6 percent (14th).
5. Tyron Smith, OT, Dallas Cowboys
Missing games is always a tough thing to overcome for an All-Pro selection unless you were head and shoulders above your competition, and that wasn't the case for Smith, who missed three games. As dominant as the Cowboys offense has been as a whole, Smith personally has enjoyed better seasons. His run-blocking has been average compared to a season ago, and he has allowed 20 total pressures in 13 games while being flagged seven times.
By comparison, Andrew Whitworth allowed just 14 total pressures in 15 games and even he couldn't do better than an honorable mention. Tackle was a fierce competition this season and Smith comes up short despite the performance of the offensive line he played on overall.
6. Harrison Smith, S, Minnesota Vikings
Smith had a solid season, but like most of the Vikings, tailed off in the second half of the year and wasn't helped by missing a couple of games later in the season. Smith had excellent coverage grades over the first half of the season but didn't post another strong one in the second half. He totaled 26 defensive stops in the first 11 weeks of the season and just one over his final four games.