No team in the NFL uses a fullback more than the Baltimore Ravens, whose offense creates some unique questions for the Pittsburgh Steelers defense to have to answer when they go head-to-head this week in a crucial AFC North divisional matchup.
If you go back a decade to the 2006 season, 14 fullbacks played more than 400 snaps over the season. 31 played at least 25 percent as much as the player that led the league, and that player (Seattle's Mack Strong) played 780 total snaps that year. This season there is just one fullback (Baltimore's Kyle Juszczyk) who has more than 300 snaps, and only 17 who have been on the field for more than 100.
There are only three backs of any description that are on pace to be on the field more than Mack Strong was back in the 2006 season, and they are all workhorse running backs through whom their respective offenses run.
The league has shifted schematically in a massive way over the past decade. Fullbacks gave way to slot receivers as the league tilted more pass-oriented and the focus moved toward spreading defenses out horizontally, not overpowering them in the box.
11 personnel (one back, one TE, three receivers) has become the most common NFL personnel package. This season, leaguewide, it is used 59 percent of the time, with 12 personnel (one back, two TEs, two receivers) another 17. Even when teams put a more run-focused personnel group out there, it tends to be with an extra TE now and not a fullback. A decade ago, 11 personnel was used just 31 percent of the time and 21 personnel (two backs, one TE, one wide out – typically your basic fullback formations) was used on 26 percent of snaps, compared to just seven percent today.
The Ravens aren't running a 2006 offense, but they do run more fullback formations than any other team, and run nearly double the amount of plays with 21 personnel on the field.
And it works as a strategy, at least in the run game. While Baltimore averages 4.1 yards per carry this season when they run without a fullback, with a lead blocker on the play that jumps up to 5.0 yards per carry. That isn't just a product of lead blockers producing better numbers overall, because league-wide (including Baltimore's numbers), teams average just 3.9 yards per carry with a lead blocker on the play. Fullbacks don't inherently improve the production of running backs, at least partly because there aren't many good ones around anymore. As the league lost the use of them, so did the quality of the players that played the position, given the reduced demand.
Baltimore's performance jumps not just because they deploy a fullback on the play to pave the way for their running backs, but because they can deploy a good one in Juszczyk, which makes them a difficult proposition for the Steelers to defend.
The meeting of fullback and linebacker in the hole used to be a collision of 250-pound monsters. When these two sides met in 2006, Bart Scott and Dan Kreider met in the hole on run plays in collisions that would threaten to split atoms, but as the league has changed, linebackers have become smaller. Juszczyk (at 245 pounds) has a significant weight advantage over any of the three inside linebackers the Steelers have deployed for meaningful snaps this season, none of whom top 240 pounds in weight.
Best fullback in the game this year is also the most heavily used. @Ravens Kyle Juszczyk. Watch the pass pro! pic.twitter.com/QqEaMssvKB

— Sam Monson (@PFF_Sam) December 22, 2016
But Juszczyk doesn't get as many snaps as he does just to act as a lead block battering ram for the Baltimore run game. The Ravens may use more 21 personnel than most teams, but they aren't running an offense from the 1990s, and the fullback only gets snaps because he can function in all areas of the game.
221 of Juszczyk's snaps this season have been run-blocking, but there are 88 snaps in which he has been kept in to pass block, four in which he has carried the ball on fullback dives, and 96 in which he has been sent out on routes, which has seen him rack up 255 receiving yards on 33 receptions, both league-highs among fullbacks. Those receiving numbers are comparable this season to running backs like Frank Gore, Latavius Murray and Todd Gurley.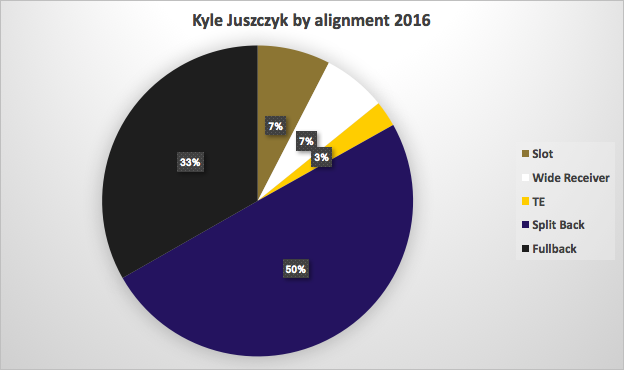 Being a complete fullback allows the Ravens to move Juszczyk around the offensive formation, and he has lined up all over this season, from typical fullback alignment in I-formation, to being split out wide as a receiver. Obviously, most of his work comes in the backfield, but that position flexibility allows the Ravens to move him around and exploit matchup advantages in the defense, or at least probe them for information pre-snap with motion.
The first time these two teams met, the Ravens put up 21 points, but one of the scores was a special teams victory, with a blocked punt taken back for six points before Joe Flacco hit Steve Smith for the two-point conversion. Pittsburgh's defense has improved since then, with rookies Artie Burns (cornerback) and Sean Davis (safety) in particular playing much better now than they were in the first encounter. Burns was roasted by Ravens WR Mike Wallace on a slant route that led to a 95-yard catch-and-run for the first score of the game.
This game likely won't be a high-scoring affair, with two solid defenses in action, but the unusual nature of Baltimore's offense with Juszczyk getting as much playing time as he does makes for some interesting sub-plots to the usual chess match of schemes. The Ravens have a fullback who is capable of playing in all facets of the game and testing Steelers defenders in ways they are not used to dealing with, and that just might give the Ravens the edge in what is a vitally important game between the two sides.