Derrick Henry put on a show on Thursday Night Football, stiff-arming his way to a 238-yard, four-touchdown performance and earning the highest single-game grade for a running back in the PFF era in the process.
Henry's 95.1 game grade pushes ahead of the 93.1 single-game grade given to the Minnesota Vikings running Adrian Peterson for his three-touchdown performance in Week 13 of the 2010 season. Henry recorded a whopping 226 of his 238 yards after contact, forced nine missed tackles and picked up four first downs in addition to his four touchdowns against what was a formidable Jacksonville Jaguars defense, all combining for a 93.3 rushing grade and an impressive 703.8  elusive rating.
But his unbelievable performance begs the question: Where has this Derrick Henry been all season?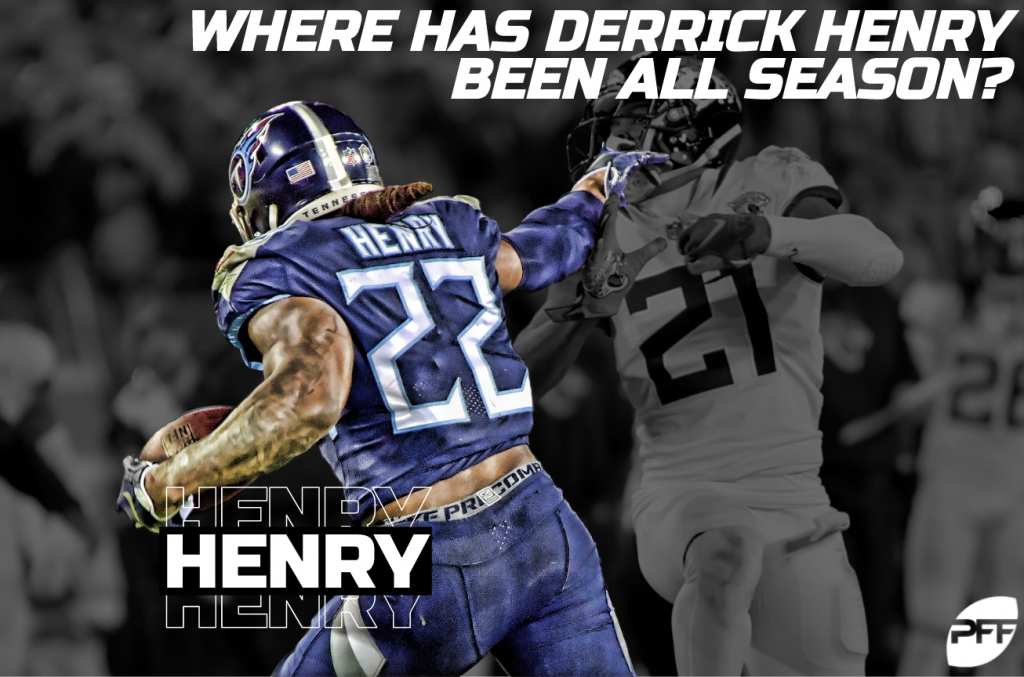 Prior to his Week 14 bludgeoning of A.J. Bouye, Leon Jacobs & Co., Henry had earned a 73.3 overall grade (22nd) across his 267 offensive snaps. He averaged 0.16 forced missed tackles per attempt and 3.2 yards after contact per attempt, ranking tied for 14th and tied for ninth among the 35 NFL backs with 100-plus carries – not terrible, but also not praiseworthy. His stiff arm was very much under wraps, and his 6-foot-3, 247-pound frame all are so eager to tout when he's playing well hadn't really been mentioned.
The issue, however, isn't as much on Henry as it is on the Titans' offensive line.
Henry earned just 14.3% of his 474 rushing yards in Weeks 1-13 before contact, the second-lowest percentage among backs with 100-plus carries. And his backfield counterpart, Dion Lewis, owns the sixth-lowest percentage at 25.4% on the year.
Only Detroit Lions' LeGarrette Blount has had a higher percentage of runs where he was contacted at or behind the line of scrimmage than Henry. The big Tennessee Titans back, who needs more room than most to get going, was contacted at or behind the line of scrimmage on 53.9% of his runs in Weeks 1-13. And Lewis, again, was not far down the list, as he owned the seventh-highest percentage among backs at 50.4% in said span.
Henry, however, had made the best of his disadvantageous opportunities. He ranked fourth in yards per carry (2.23) on runs where he was contacted at or behind the line of scrimmage, falling just shy of other talented backs like Chris Carson (2.45), Christian McCaffrey (2.29) and Nick Chubb (2.25). Lewis, on the other hand, ranked 32nd with an average of just 0.53 yards on such runs.
A better Henry came to play on Thursday, but the impressive, game-breaking display he put forth has indeed been in his wheelhouse all year; it's just been masked by poor offensive line play.
Against the Jags, Henry was contacted at or behind the line of scrimmage on 64.7% (!) of his 17 carries and turned them into 77 scrimmage yards (7.0 YPC) and two touchdowns. And he still only earned 5.1% of his yards before first contact, an even lower percentage than his total in Weeks 1-13.
It's a lot harder to have 238-yard, four-touchdown performances when more than 85% of the yards have to come after contact. Henry rose to the occasion on Thursday and made better plays at the second level, but he'll need to stiff-arm defenders into oblivion with similar efficiency in every game moving forward to garner repeat performances in the future.