The NFL's defensive rookie of the year in 2017, Marshon Lattimore looked like a star in his first campaign as a professional. The rookie out of Ohio State University finished last season ranked fourth among all cornerbacks with a 90.5 overall grade and he was one of just six cornerbacks (out of 119 qualifying players) to post a coverage grade of at least 90.0. The New Orleans Saints selected Lattimore with the 11th pick in the 2017 NFL Draft and he was instrumental in turning around a Saints defense that was one of the worst in football just two years ago.
In doing so, Lattimore was selected No. 32 on our list of top 50 NFL players for the 2018 season.
Today, we're going to highlight the areas where Lattimore really stood out.
Making plays on the ball
Lattimore tied for 13th among all cornerbacks last season with 10 pass breakups (we define a pass breakup as a play where the defender gets his hands on the football to disrupt a pass, leaving plays where a defender hits a receiver to disrupt a potential catch in a separate category) and he tied for third among cornerbacks with five interceptions. Lattimore was able to make plays on the ball at a high rate as he ranked fourth among corners with a playmaker rate of 22.1 percent (playmaker rate represents the percentage of targets either defensed or intercepted). He recorded at least one pass breakup or interception in every game in which he was targeted at least four times in coverage.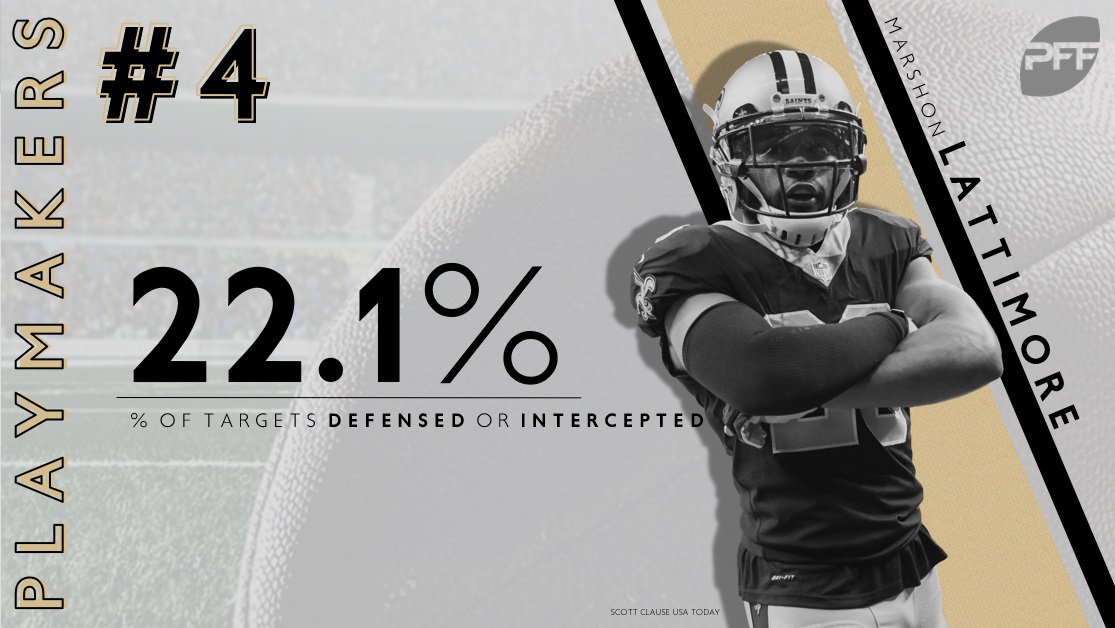 Man coverage
Lattimore had plenty of success last season regardless of the coverage he played (he held opposing quarterbacks to just a 57.1 passer rating when in zone), but he really shined when he was tasked with man coverage, holding opposing signal-callers to a measly 42.7 passer rating on throws into his coverage. When in man coverage, quarterbacks connected on 50 percent of their throws when targeting Lattimore to go along with an average of 7.3 yards per attempt, including no touchdowns and three picks. Lattimore contested (was at the catch point with the receiver) more than half of the targets thrown his way, as separation was not easy to come by when he was manned up with a receiver.
In-breaking routes
Lattimore was targeted 24 times last season on either a slant, post or in route, allowing 10 of those balls to be caught for a total of 145 yards, with four of his five interceptions coming while in coverage of one of those three routes. Opposing quarterbacks earned a paltry 22.4 passer rating when targeting Lattimore on one of the aforementioned in-breaking routes, they would have fared better by just chucking the ball out of bounds each time.
Go routes
In-breaking routes weren't the only routes Lattimore blanketed in 2017 as he was equally effective when it came to coverage of 'go' routes. He was challenged 18 times last season on 'go' routes, surrendering just four catches for a total of 112 yards while recording one interception. QBs posted an anemic 29.9 passer rating last season when throwing a fly route against Lattimore.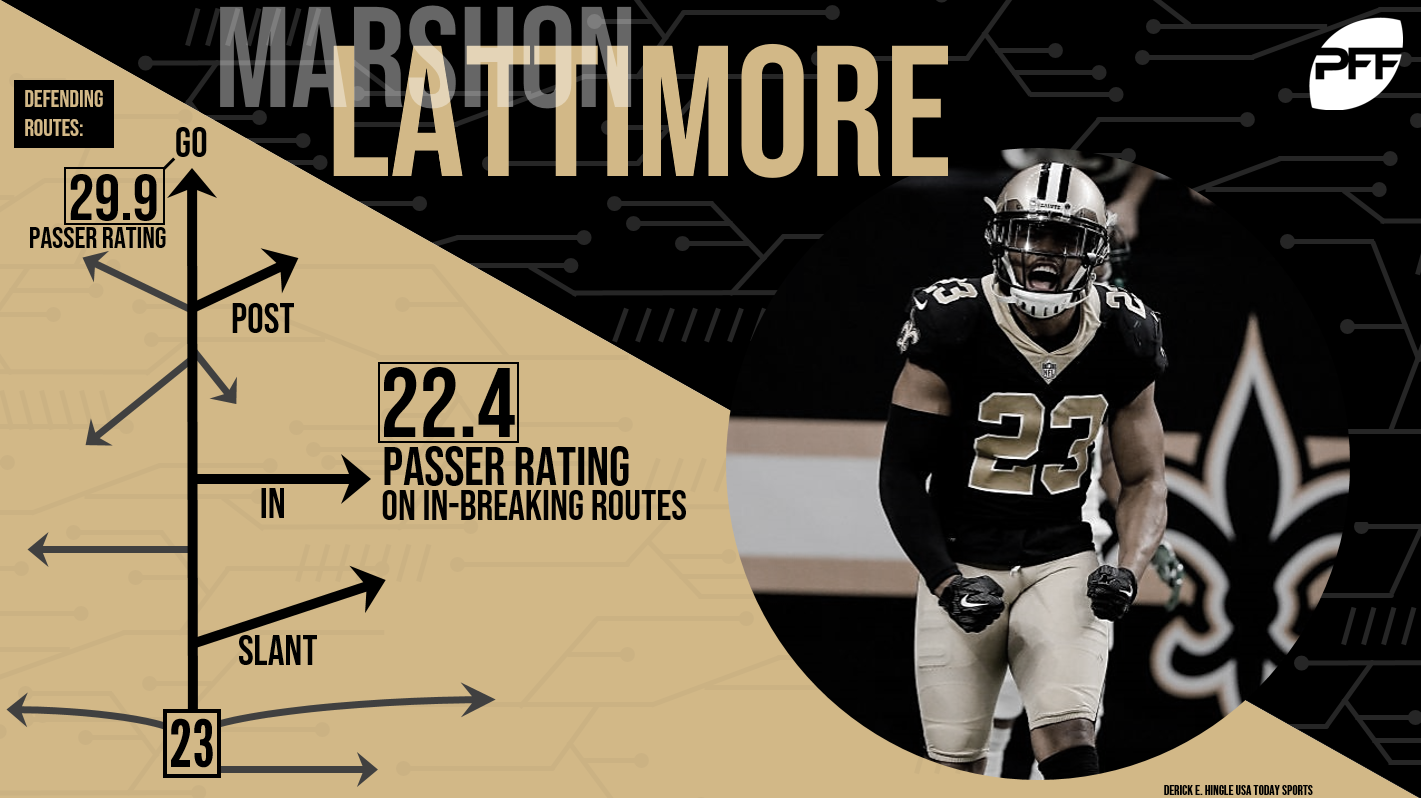 Consistency
Lattimore was forced to miss a few games due to injury as a rookie but he still logged 900 total defensive snaps, of which ranked 33rd among cornerbacks. In the 14 games (playoffs included, excluding Week 11 against Washington when he left injured after six snaps) that Lattimore participated, he finished 10 of those contests with an overall grade of at least 70.0, with eight of those games earning an 80.0 or higher. On a game-by-game basis last season, even as a rookie, few corners produced as consistently as Lattimore.