After having "the top draft of any team in the NFL," the Arizona Cardinals will enter the 2019 season as one of the most intriguing teams in the league. While a lot of that will have something to do with Kyler Murray — the first overall pick of the 2019 NFL Draft — entering the fold as the presumed starting quarterback, another reason for the hype is the hiring of former Texas Tech head coach Kliff Kingsbury, who is set to bring his high-flying offense with him to the desert.
During Kingsbury's tenure in Lubbock, the Red Raiders' potent offense ranked in the top 25 in points per game as well as yards per game, and that included two top-five finishes in each category. From 2015 to 2018, Texas Tech's offense ran their offense from 10 personnel (an offensive formation that utilizes one running back and four wide receivers) on around 60% of their plays, while the rest of the FBS lined up in that same package just 15% of the time.
Learning under the tutelage of Washington State's head coach Mike Leach, Kingsbury's style of offense has been referred to as the "air raid" offense, which is known for utilizing the 10-personnel package with a focus on passing from the shotgun. But Kingsbury threw his own spin on it by going five-wide with the running back splitting out as a receiver.
Insert running back David Johnson, who led running backs in receiving grade (90.0) and hauled in 80-of-107 targets for 879 yards and 42 first downs in 2016, all of which paced the league. In Johnson's breakout season, he saw 43% of his targets from either the slot position or out wide, and he gathered 40% of his total receiving yardage on such snaps. The Northern Iowa product generated a 110.0 passer when targeted from the slot or out wide that year, demonstrating just how dangerous he can be in Arizona's new-look offense.
But after such a promising 2016 campaign, the Cardinals' up-and-coming playmaker had all of the hype come to a screeching halt after he suffered a season-ending injury, only 46 snaps into the 2017 season.
Upon his return in 2018, Johnson's usage in the passing game plummeted. His targets dropped from 107 to just 70, but more than that, the way he was targeted changed. His percentage of targets while lined up in the slot or out wide dropped to only 21.4%, and the percentage of receiving yards from out wide dropped to just 24.9%.
Johnson's usage from the slot and out wide were not the only aspects that didn't fare so well in 2018 compared to 2016. His average depth of target dropped from 4.58 yards downfield (first) in his breakout campaign to just 0.60 yards downfield this past season (33rd). That was in part due to Johnson being targeted nearly twice as much behind the line of scrimmage in 2018 (41) as he was in his 2016 season (21).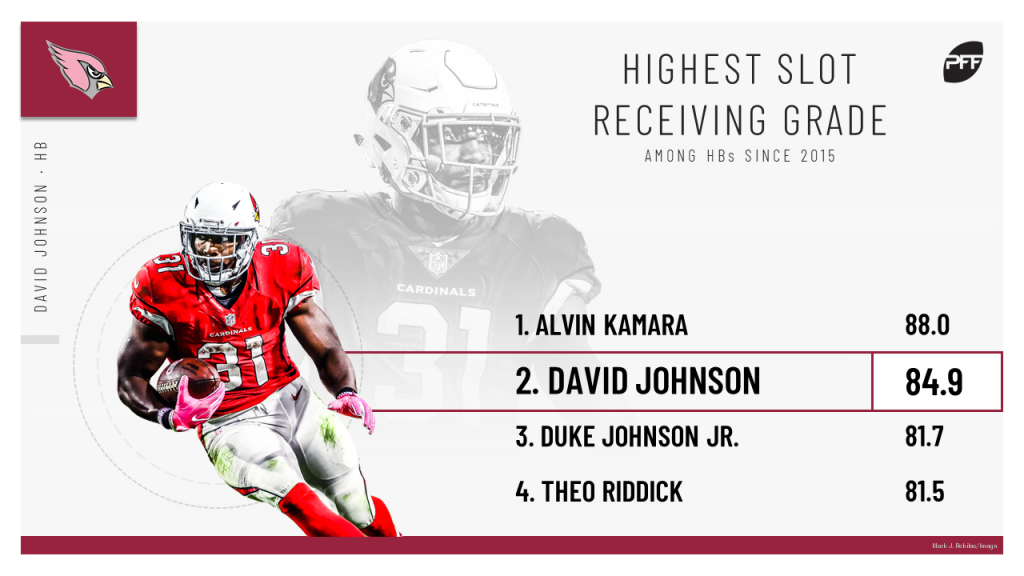 One sign for optimism entering next season is that Johnson's biggest strength — running routes from the slot — matches up well with his new quarterback and his new offense. Johnson has earned an 84.9 receiving grade from the slot since 2015, the 13th-highest among all pass-catchers in that span. Whenever he has lined up the slot, Johnson has made plays; he's converted 84% of his slot receptions into first downs or touchdowns in that span – first among running backs. While in college, Murray only targeted his running backs 3.4% of the time, but he did have a 95.1 passing grade when targeting the slot, a mark that ranked first in the nation.
One of the fundamental practices of Kingsbury's offense is to spread out the offensive lineman, which, in turn, spreads out the defensive lineman. This opens up rushing lanes from the shotgun, and running through those lanes was something that Johnson excelled at during his 2016 campaign. Running the ball from the shotgun formation isn't something that's common in the NFL, but Johnson and Kingsbury both are familiar with it from their days in the NCAA. Kingsbury coached teams have run the ball out of shotgun over 75% of the time since 2014, and the Red Raiders' team rushing grade of 82.8 ranked tied for 34th out of 130 FBS teams during that time.
Johnson, on the other hand, has had a tale of two seasons between 2016 and 2018 when rushing from the shotgun. While running behind an offensive line that earned the eighth-highest run-blocking grade (79.8) in 2016, Johnson thrived in shotgun with a 75.4 rushing grade — good enough for sixth in the NFL. He was also able to improve his yards per carry average from 4.2 overall to 6.3 when lined up in the shotgun, which was the third-highest average in the league.
But as the offensive line's run blocking dropped to 21st (55.8) in the NFL, it became harder for Johnson to find running room. The former Northern Iowa Panther's rushing grade dropped nearly 10.0 points to 66.5 with a less than stellar 2.3 yards per carry average, both of which ranked in the bottom half of the league in 2018.
That led to the Cardinals adding over a handful of offensive linemen through trades, free agency and the draft. That group includes a mix of veterans like former Steeler Marcus Gilbert and promising rookies like Lamont Gaillard.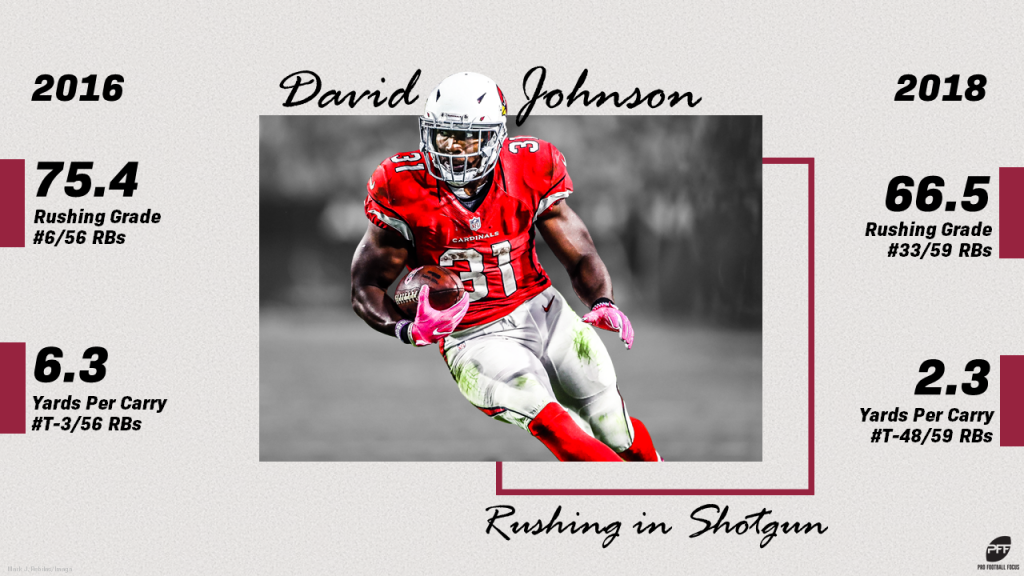 The current state of the Cardinals' offense is much different than that prior to the 2018 season. The front office traded away last year's first-round pick, quarterback Josh Rosen, just a day after selecting his replacement first overall. They followed up picking Murray by adding four more of PFF's top 50 players in the draft, including three wide receivers. They brought in Kingsbury to bring an "air raid" offense that has both terrorized collegiate defenses and fits the team's top skill players abilities like a glove. The future looks bright in the desert for Johnson and the offense altogether, and they will look to bounce back in a big way after one of the most intriguing offseasons in some time.